Devil's Ale
| SanTan Brewing Co.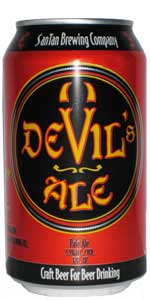 BEER INFO
Brewed by:
SanTan Brewing Co.
Arizona
,
United States
santanbrewing.com
Style:
American Pale Ale (APA)
Alcohol by volume (ABV):
5.50%
Availability:
Year-round
Notes / Commercial Description:
Devil's Ale is of the new breed of American West Coast Pale Ales. Devil's Ale won a Gold Medal at 2011 GAZBF. It is the highest rated Pale Ale in Arizona receiving 96 points from Draft Magazine. Deep, golden maroon in color, Devil's Ale is defined by a delicious citrus hop character derived from Cascade & Centennial hops grown in the Pacific Northwest, balanced with a firm caramel malt flavor.
45 IBU
Added by t0rin0 on 12-01-2009
Reviews: 63 | Ratings: 322
3.77
/5
rDev
+0.3%
look: 3.5 | smell: 4 | taste: 3.5 | feel: 4 | overall: 4
On tap in a sampler at the brewpub 4/8/11.
Lots of citrusy hops in the nose. I'm liking it already!
Clear amber liquid, topped with a lacy white head.
Definitely hop accented in the mouth, but with enough malt to back it up. Lots of flavor but not at all heavy, this one walks the balance line very well. The finish is hoppy with a slight coarseness in the lingering bitterness.
Nicely done, and eminently drinkable.
416 characters
3.92
/5
rDev
+4.3%
look: 3.5 | smell: 4 | taste: 4 | feel: 3.5 | overall: 4
Picked up a sixer new year's eve from Total Wine for $7.49.
Beer poured amber with a white head that dissapated quickly.
Nose is strong floral hops which is very inviting.
Taste is well balanced between the caramel malts and the grapefruit hops.
Mouthfeel is medium bodied and somewhat smooth.
Overall this is a solid beer, well balanced pale with enough hopping to make us hop heads happy. Definitely worthy of a shot!
424 characters

3.55
/5
rDev
-5.6%
look: 3.5 | smell: 3.5 | taste: 3.5 | feel: 3 | overall: 4
Served a bland sort of amber with a tan head - medium sized bubbles that don't stick much. Brew salts are notable in the aroma, with enough grassy hops to maybe suffice. Fairly herbal as well, with a touch of toasted grain and caramel sweetness. Not much to behold just yet - although we are at an establishment with no draft menu, where the waiter says "I have everything, so many taps..." and then can't even pull an IPA out of his ass. I ask for something hoppy, and get this...
Not the beer's fault. Fairly piney and menthol-like deep into the flavor. Pretty watery after all, as the malts just can't rise to the occasion. Too thin to handle the hops, which become unpleasantly acidic. Balance is way off and the brew salt/metallic note must be dealt with. I may give this a shot canned sometime.
801 characters

3.77
/5
rDev
+0.3%
look: 3 | smell: 3.5 | taste: 4 | feel: 3.5 | overall: 4
A - Poured into a snifter. Amber colored with a half inch of white head and quickly faded to the edges.
S - First rye bread, then lighter wet malt smell.
T - Hoppy, very nice. malt backup that balances the bitterness well.
M - Bubbly, moderate carbonation with a medium and crisp body.
D - Not super great looking or amazing smell, but the taste makes up nicely. At 5.5% this is a great session beer with flavor.
416 characters

3.99
/5
rDev
+6.1%
look: 3 | smell: 4 | taste: 4 | feel: 3.5 | overall: 4.5
Big ups and major props to my fellow CANquistador, indiapaleale, for sending me this and one other in support of my version of The CANQuest (TM)! I love where it hails from (Chandler, AZ) and I look forward to trying it out.
From the CAN: "Craft Beer For Beer Drinking".
It came in a RexAm CAN with a wide-mouth opening, which is always good for an interesting Crack & Glug. It poured with a nice Glugging sound which resulted in a finger-and-a-half of light-tan head with good retention. Color was a slightly hazy orangish-amber. Nose was big with pine hops. Man, this used to be what I would consider an IPA, not an APA. My mouth began to water. Mouthfeel was medium with a nice mix of caramel malt sweetness and moderate, not overwhelming, hops on the tongue. Hot dang, but this was just what I was looking for! Finish was slightly thin, with the hops barely winning out, but I found myself wishing for some more Ooomph. I would most definitely put this in my cooler if I had access to it on a routine basis.
1,013 characters

3.6
/5
rDev
-4.3%
look: 4 | smell: 4 | taste: 3.5 | feel: 3 | overall: 3.5
Fun fact: this beer was formerly known as Sun Devil Ale, but the fascists at my alma mater, Arizona State University, decided to crack down on SanTan and claimed the brewery was infringing on their copyright. Now known simply as Devil's Ale, this one was poured into a chilled glass from a can emblazoned with the saying "Craft beer for beer drinking."
The look is a perfectly clear pale orange-tinged dandelion. A 1.5 finger head of fluffy yellowish white sits atop, receding slowly to a hefty top layer of soapy film that grips the glass in jagged-edged sheets.
Smells dank. It's pretty hoppy for a simple pale ale. Notes of tangerine, orange blossom, honey and fresh fresh-cut grass are noticeable amidst a candy sweetness.
There's far more bitterness in the flavor than in the nose. Lots of orange peel, grass and pale malt. The substantial bitterness rolls in after the swallow, coating the mouth. Pretty standard.
A prickly medium carbonation makes the beer moderately fizzy as it moves about. Medium light body, just a bit watery. Clean, crisp.
An above-average pale ale and one of the better offerings from SanTan. I enjoyed it, though admittedly the experience was enhanced by watching the Sun Devils upset the University of Arizona in their own house. Victory never tasted so sweet.
1,299 characters
4.05
/5
rDev
+7.7%
look: 4 | smell: 4 | taste: 4 | feel: 4.5 | overall: 4
My fav of the SanTan brews so far.Pours with a nice, medium sized, thick, off white head that lasts, and good lacing. Color is a clear medium amber. Aroma is hop, floral, perfume, citrus, malt. Flavor is like nose, plus a real nice play between bitter and sweet which leads to the desire for another sip. Great body and carbonation. Finish is like flavor and as I said, a session brew.
385 characters
3.68
/5
rDev
-2.1%
look: 4 | smell: 3.5 | taste: 3.5 | feel: 4 | overall: 4
12oz can with no freshness date.
Brassy color has a good clarity, three fingers of head leaves behind a trail of lacing. Soft citric nose with a bigger caramel note. Snappy crispness with a creamy medium body. Citric hops and caramel malt battle it out but realize they are great together and meld for a bittersweet finish. Hint of toasted bread and pear-like fruitiness. The orange peel and piney hop flavor does seem to take the lead though as the dryness pulls towards the end.
Tasty, the hops surprise in the end with a broader stroke. A bit of a session ale as well.
573 characters

3.45
/5
rDev
-8.2%
look: 3.5 | smell: 3.5 | taste: 3.5 | feel: 3 | overall: 3.5
Copper color to me, not really amber. From the can it pours with a nice head of white creamy goodness. Nose had some pleasant candied aromas along with sweet pine. On the palate the malt comes through with a somewhat candied sweetness, grapefruit, and again the pine. Light bodied though, almost watery. Finishes with a piney aftertaste. In a way this is an IPA-light - some similar desirable flavors and aromas, but less bitterness, less alcohol, and lighter bodied.
467 characters
3.85
/5
rDev
+2.4%
look: 3.5 | smell: 3.5 | taste: 4 | feel: 4 | overall: 4
Note: although listed as a amber, SanTan classifies is as a Pale Ale.
A: received it with a nice full finger head. Slowly settles to thin film.. Body is dark orange/copper tone.
S: mild caramel with some citrus notes.. Mild grapefruit with faint toasty malt smells.
T: has a rich caramel/biscuity base throughout. Towards the back grapefruit bitterness comes in with slight lemon zest & some pine characteristics. Finishes bitter with toasted malts & grapefruit flavors..
Mf: nice light medium body with great carbonation..
D: really easy to put these down.. Surprised at the drinkability.
594 characters
4.28
/5
rDev
+13.8%
look: 4.5 | smell: 4 | taste: 4.5 | feel: 4.5 | overall: 4
I had this one last night at Another Pointe of View, and I didn't realize I hadn't tried their pale ale. It was a very pleasant surprise, smelling of citrus, malt and big dose of pine. Taste was a great blend of grapefruit citrus, a healthy dose of malt. Really hit the spot. A big white head and lacing down the glass. If their IPA was this good, they'd really be onto something. As it is, this is their best beer, imo.
420 characters

3.03
/5
rDev
-19.4%
look: 4 | smell: 3.5 | taste: 3 | feel: 2.5 | overall: 2.5
Sampled at 1702; March 2010
This arrives topped by a pale tan colored head that is just about half a finger in height. The beer is an amber color that shows a clear'ish copper hue to it when held up to the light. The aroma is somewhat hoppy smelling with a mix of grapefruit, light menthol, grassy pine and herbal notes. The finish of the nose has a touch of soap to it. If you really dig around you can find some notes of toasted grain and a hint of caramel maltiness.
The beer is nicely bitter, with pine like hop flavors from the beginning to the end of each sip. Actually, both of these become more prominent towards the finish. Some soap-like flavors and a body that is not quite big enough to stand up to the hop character are the most noticeable flaws in this brew. I find myself enjoying this less and less as I take each sip; thin, herbal, grassy and a way to subtle malt character that doesn't manage to play even the needed supporting role to the hops all sort of kill this for me. This isn't horrible, just way unbalanced.
1,035 characters
4
/5
rDev
+6.4%
look: 4 | smell: 4 | taste: 4 | feel: 4 | overall: 4
On tap with breakfast/lunch the other day.
The beer pours an amber/brown color, very clear, nice white head that doesn't last but laces the glass a bit.
Aroma is malty, caramelly, and a little citrusy.
Flavor is confusing because it seems to be stuck half way between a dry bitter not so flavorful ESB and a lightly hopped (fruity) amber ale. There is some flavor to be found but its all subtle and nothing too special.
The body is medium, carbonation was ample, and over all a pretty drinkable beer. This is one of those beers that a non beer enthusiast would describe as having that beery flavor. Pretty generic.
I went with the amber classification because of the appearance. As mentioned above the flavor could go either way.
746 characters
Devil's Ale from SanTan Brewing Co.
3.76
out of
5
based on
322
ratings.