Hefeweizen
| SanTan Brewing Co.
BA SCORE
84
good
37
Reviews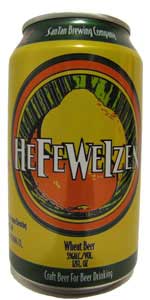 BEER INFO
Brewed by:
SanTan Brewing Co.
Arizona
,
United States
santanbrewing.com
Style:
Hefeweizen
Alcohol by volume (ABV):
5.00%
Availability:
Year-round
Notes / Commercial Description:
SanTan Hefeweizen is an unfiltered Bavarian wheat bear, effervescent and sweet, with an unmistakable banana-clove character. Often paired with a lemon or an orange, SanTan embraces this American enhancement of the beer however we still believe it is the best the way it is brewed.
15 IBU
Added by JamisonM on 09-24-2010
Reviews: 37 | Ratings: 159
3.65
/5
rDev
-0.8%
look: 3.5 | smell: 3.5 | taste: 3.5 | feel: 4 | overall: 4
A: cloudy orange.. one finger head..
S: sweet banana.. almost like a banana candy.. wheat. Clove/spices to round out the nose. Faint citrus..
T: again sweet banana upfront.. takes up a lot of the flavor.. the clove flavors come in next.. then u get more wheat.. maybe just a hint of citrus on the back end.. semi dry finish..
Mf:light-medium body with good carbonation.
O: a decent hefe.. light, crisp, & refreshing..
422 characters

3.92
/5
rDev
+6.5%
look: 3.5 | smell: 4 | taste: 4 | feel: 3.5 | overall: 4
Pours a hazy orange-yellow with a two finger head. Lemon peel, bit of banana and clove on the nose, along with a nice yeasty breadiness. Flavor follows suit with a refreshing tartness. Overall a nice American Hefeweizen with a bent towards the German style. So far, my favorite offering from this brewery.
305 characters
3.15
/5
rDev
-14.4%
look: 3.5 | smell: 3.5 | taste: 3 | feel: 3 | overall: 3
Reviewed from notes:
appearance: golden orange with a 1 finger white head
smell: banana, clove, biscuit, citrus,
taste: muted citrus, toast,
mouthfeel: light carbonation, thin to medium body,
overall: not impressed. not sure if it's my can or if it's the way the beer was intended. But I've had much better beers in this style.
Cheers,
The CPJ
349 characters
3.97
/5
rDev
+7.9%
look: 3.5 | smell: 4 | taste: 4 | feel: 4 | overall: 4
12oz can served in a weizen glass.
L - hazed dark yellow color with a white head that thinned out and left a few spots of lacing.
S - good wheat beer spiced aroma.
T - taste is banana and spices with some citrus thrown in and a solid malted wheat backbone.
F - medium bodied, it goes down smoothly.
O - a good example of a canned hefeweizen.
346 characters
3.42
/5
rDev
-7.1%
look: 3 | smell: 3.5 | taste: 3.5 | feel: 3 | overall: 3.5
(12oz can). Pours cloudy yellow with quickly disappearing white head. Aroma has yeast, wheat, banana and clove present. Taste has a sweet malt with a bit of hop bitterness. Thin bodied with oily texture. Finish is smooth. This is a very easy to drink beer and I'll be looking to pick up some more as the temps climb here in Arizona.
334 characters
4.17
/5
rDev
+13.3%
look: 3.5 | smell: 4 | taste: 4.5 | feel: 4 | overall: 4
Had it in a sampler at the brewpub 4/8/11.
Pours cloudy and yellow, with a small head (but it is just a sampler sized glass.)
Big banana in the aroma, with a hint of clove and maybe some peach? The flavor follows through with lots of banana and sufficient cloves to balance and a beautiful fruitiness. Bready wheat puts in an appearance, too.
Medium bodied, but feels full in the mouth with plenty of carbonation.
A great example of the Bavarian hefeweizen style.
463 characters

3.66
/5
rDev
-0.5%
look: 4 | smell: 3 | taste: 4 | feel: 4 | overall: 3.5
Is this really the first time I've had one of SanTan's beers in a can? I think so -- odd considering how much I enjoy the Chandler craft brewer's offerings on tap. Picked up a can from BevMo in Tempe, hoping it'll impress as much as this beer does on tap.
A: Like a cloudy Pils, straw yellow without much head.
S: Far less banana than I remember, this is a sweet and citrusy Hefe.
T: I SWEAR I CAN TASTE THE METAL. I know it's probably psychosomatic and they brew the stuff in big metal kettles but, really, I feel like I can taste a hint of it. Otherwise very good -- obviously lots of wheat, but also little wisps of honey and smoke.
M: Pretty hefty considering the style, which I enjoy.
D: Gimme a sixer!
712 characters
4
/5
rDev
+8.7%
look: 4 | smell: 4 | taste: 4 | feel: 4 | overall: 4
Review from BeerAdvocate Magazine Issue #46 (Nov 2010):
A swirl of the last splash of beer and in goes the yeast; cloudy pale amber with two fingers of head that stay. Banana taffy and faint powdered clove rest on a bready, malty nose. Smooth, with a slickness on the medium body--the palate was hoping for more crispness. Maltiness flexes right away with a straight bready flavor, and nuttiness from the yeast compliments this. Fruitiness and spice easily balance. Toward the finish, the brew goes a little lemony and earthy. Throw this one into a blind tasting and you'd never know it was American brewed. A gem from the Southwest.
635 characters
3.52
/5
rDev
-4.3%
look: 3 | smell: 3.5 | taste: 3.5 | feel: 4 | overall: 3.5
Not bad. Poured with a decent, off white head that settles down to a light cover and a little lace. Color is a hazy, dirty amber. Aroma is a weaker version of the real Bavarian Hefeweizens. Flavor is like aroma, with a very strong grain component. Body is good and so is carbonation. Finish is like flavor and of short to medium length. Ok for a local brew and if it's competitively priced.
390 characters

3.57
/5
rDev
-3%
look: 3 | smell: 3.5 | taste: 3.5 | feel: 3.5 | overall: 4
Can version fall 2010. Pours with little to no head, hazy straw color, from a colorful can. Some yeasty bready aromas are noted along with banana. On the palate light wheat cracker, banana, and clove near the end. Light and drinkable, and carbonation seems quite high.
268 characters

3.38
/5
rDev
-8.2%
look: 4 | smell: 3.5 | taste: 3.5 | feel: 3 | overall: 3
A vigorous pour from the can into my 25cl tulip glass produces a four finger thick, pale tan colored head. The beer is a nice gold hue that shows a lightly hazed, bright gold color when held up to the light. Spicy clove notes are noticeable as soon as I pop the tab and this is backed by a nice grainy character that reminds me a bit of dried grassy and barley husks. The nose has a light tartness to it and the clove accentuates a sweet fruitiness that is a bit like green apple or perhaps some sort of melon, but the fruit is definitely secondary to the clove. Soft banana like notes struggle to be noticed underneath the clove and there seems to be a touch of a tin like note to the nose at times.
Dry up front as it first hits my palate, but as it rolls across the tongue it picks up a perceived sweetness from an ample clove character. The finish has a touch of tartness and wheat character, but really it is the clove like phenols that seem to stick to the palate. Fairly light and refreshing, but this does have some body and texture to it; it is not as creamy as the best versions of the style, but neither is this too thin. Having said that, the texture seems simplistic somehow, though I really think it is the bland malt character that this is really attributable too. This has a bit too much of a green apple flavor to it and this seems to accentuate a touch of something that reminds me of a macro lager.
This is not horrible as this is a serviceable HefeWeizen. It just doesn't really integrate all together and it is missing much of the complexity and richness that is needed in a good example of the style.
1,624 characters

4.42
/5
rDev
+20.1%
look: 4 | smell: 4.5 | taste: 4.5 | feel: 4 | overall: 4.5
A: cloudy golden orange with a big white head
S: mostly banana with some wheat malt in there
T: Banana Orange peel Lemon Peal no clove very interesting and good taste drink this more to the 60 degree side and the orange and lemon come out drink it really cold and banana comes out much more interesting beer. Its finish is dry makes you want to take another drink.
M: light mouth high carbonation
D: real drinkable
overall: wow a very good Hefe and not the same old same old well crafted interesting unique beer that has its own take on a Hefe I was wondering why the hell they put an orange and a lemon on the can but now I know it really is there but its all the yeast they don't but any orange or lemon peel in this. A must try for any Hefe fan to be sure!
765 characters
Hefeweizen from SanTan Brewing Co.
3.68
out of
5
based on
159
ratings.