Arctic Alchemy
| Fegley's Bethlehem Brew Works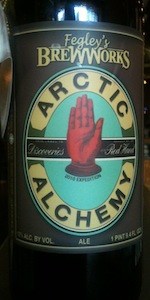 BEER INFO
Brewed by:
Fegley's Bethlehem Brew Works
Pennsylvania
,
United States
thebrewworks.com
Style:
English Barleywine
Alcohol by volume (ABV):
12.00%
Availability:
Rotating
Notes / Commercial Description:
No notes at this time.
Added by stingrayvr6 on 03-07-2011
Reviews: 10 | Ratings: 51
4.08
/5
rDev
+2.8%
look: 3 | smell: 4.25 | taste: 4.25 | feel: 3.75 | overall: 4
750 ml corked and caged bottle. Date is confusing - says 2010 Expedition, but I bought this bottle this year, so I don't think it's that old. I have no idea. The bottom of the cork was a bit deteriorated and there is a thick sediment layer, so maybe?
pours a muddy brown color, no head whatsoever, just a few bubbles. rich malty aroma - raisins, tobacco, dark cherry, brown sugar. similar in the flavor, but not overly sweet. body is thin to medium, very low carbonation.
overall - not bad, sort of like a poor man's JW Lees
537 characters
4.16
/5
rDev
+4.8%
look: 4.5 | smell: 4 | taste: 4.25 | feel: 3.75 | overall: 4.25
From the 650 ml bottle received as a gift from a non-BA member. 2010 batch. Sampled on June 27, 2015.
Gorgeous chestnut reddish pour.
Full barley and caramel malt aroma even after 5 years. Roasted peat moss and sweet.
Full body.
The taste is delightfully malty, sweet, and mellow with aging.
297 characters
3.78
/5
rDev
-4.8%
look: 3.75 | smell: 3.75 | taste: 3.75 | feel: 4 | overall: 3.75
A - Pours a dark burgundy mahogany color with a minimal head and lacing which dies down within minutes to leave nothing at all.
S - Dark fruit, raisons, molasses, slightly bready, and booze.
T - Sweet dark roasted caramel and toffee, some oak, slightly medicinal and with a significant alcohol presence.
M - Thick, full bodied, and slippery viscous.
O - Alot of alcohol from start to finish with warming in the back of the throat on the way down, not a shy beer by any means. For grins, would be interesting if the ABV was dialed back and this gets aged in a bourbon barrel.
578 characters

3.63
/5
rDev
-8.6%
look: 3.75 | smell: 3.75 | taste: 3.5 | feel: 3.5 | overall: 3.75
Appearance is a muddy brown with a copper hue. There is a finger of head that dissipates quickly leaving only a faint trace of lacing on the sides of the glass. The nose is sweet like the scent of raw cane sugar. The taste is sweet as well - too sweet. The caramel notes are nice, but the whole offering is just too syrupy. The only thing that breaks up the syrupy sweetness is a hint of dryness from the hops on the finish.
This one is a sipper for sure and not because of the alcohol (which is fairly well hidden). The sweetness was just a wee bit too much to handle.
My sense is that age would do justice to this offering. I thought about purchasing a 25oz bomber, but the $20 price tag was just too much for me to justify on an experiment.
745 characters
3.44
/5
rDev
-13.4%
look: 4.5 | smell: 3 | taste: 3.5 | feel: 3.5 | overall: 3.5
big thanks to stmgl01 for hooking me up wit a couple of bottles of this.
2010 expedition on the label
pours very deep brown with a thick looking 1 finger head
smell is very boozy...smells almost like rum raisin ice cream
taste starts off with a molasses like sweetness that finishes with a hazelnut like taste
mouthfeel is a pretty thick and carbonation is fairly high
overall a pretty good sipper. from what i understood this was just released, i think they brewed it in 2010 and left to age. they probably should have let it sit a while longer. i think in a few years this will be something wonderful. will open the next one 2015. thanks mike!
651 characters

3.67
/5
rDev
-7.6%
look: 3.5 | smell: 4 | taste: 3.5 | feel: 4 | overall: 3.5
Thanks to Kramer for sharing this one with us.
A - Pours deep brown with a nice one finger tall white head leaving little to no lace down the glass.
S - Smell is very sweet up front with hints of vanilla, stone fruits, molasses, and some very strong alcohol esters that grow even stronger as it sits in the glass.
T - Starts off with a big dose of sweet malt slowly giving way to a mix of stone fruits, molasses, vanilla, dark fruits, and a good amount of booze. The flavors help to keep the booze in check in the beginning but they are fighting a losing battle. Finish is pretty dry, lingering on the pallet for some time after consumption.
M - Medium body and flavor with moderate carbonation. Sweet feel initially growing quite dry at the end of each sip.
O - This one was just ok. It has some good flavors but it is nothing spectacular. I wouldn't turn down another sample but I wont be seeking out a bottle for myself.
928 characters
4.3
/5
rDev
+8.3%
look: 4 | smell: 4 | taste: 4.5 | feel: 4 | overall: 4.5
Just happened upon the very last drop from the very last keg at the Allentown brew pub location, this Limited Reserve Arctic Ale is a supposed recipe from the historic Queen Victoria Commission. A deep brown mahogany color with a fair off-white head that settles to more of a ring pretty quickly and leaves a decent trail of lacing. The aroma offers a tasteful malt/grain with a delicate forestal hop. Pleasant stuff. The flavor comes on with a bit of boozy root beer/herbal hops for a near minty bitterness. Malt and dark cereal grains marry with the dark fruits and the alcohol settles into a slightly warming mouthful of oaky wintery flavor. This stuff is medium plus bodied with pleasant carbonation and a mildly syrupy feel. I also detect some mild woodsy hop bite. This is good stuff in its present condition, sort of a cross between a winter warmer and a barleywine. Big kudos for this special release to Brew Works.
923 characters

4
/5
rDev
+0.8%
look: 4 | smell: 4 | taste: 4 | feel: 4 | overall: 4
This beer poured out as a deep brown color with a pretty nice looking white head on top. The retention wasn't anything great but it had some light lacing on the glass. The smell of the beer was boozy, big time. There were some malts on and some hops in the mix as well. The taste of the beer was like a big barley wine, it doesn't feel like an English IPA at all like the description says. The mouthfeel is heavy and has a good bite to it. Overall this brew is a powerhouse, I enjoyed it too but the price tag was a bit much.
525 characters
3.9
/5
rDev
-1.8%
look: 4 | smell: 4 | taste: 3.5 | feel: 4 | overall: 4.5
I enjoyed this at Stakem's Fish Fry/bottle share event, not sure who brought this, but from the corked and caged bottle into a snifter.
A deep bronze color with tan cap and tiny bead with some lace. The smell is strong sweet odors with slight vanilla and a light creamy odor w/ an almond-like accent and subtle fruity-stone fruit ester. The feel is sweet and has a mild dry slightly warming body with alcohol apparent in the finish with some drying of the palate.
The flavor is good but not as remarkable as the aroma and mouthfeel for me. There is a fairly strong dry maltiness w/ subtle medicinal edge and moderate spiced flavor w/ nutty, twiggy quality with a taste that has slightly anise accented and mild oak w/ subtle toasted element -very reminiscent of almond which I am not sure I have tasted this strongly in a beer before. I consider this a quality brew -overall I enjoyed it for what it is and there are some interesting flavors to be had in this for sure.
973 characters
4.65
/5
rDev
+17.1%
look: 4.5 | smell: 4.5 | taste: 4.5 | feel: 5 | overall: 5
I was lucky enough to have had this on tap at City Tap House in Philadelphia. Poured a clear reddish brown with a thick cream colored head. Great retention and lacing, leaves a thick ring wiht every sip. Smell of sweet and bready malts, molasses, vanilla with dry and earthy hop notes. Taste sweet and chewy up front, coats the mouth with sweetness then a dry lightly citrus hop bitterness. Good carbonation, hides the alcohol incredibly well and very drinkable for such a strong beer. If you have the opportunity, go for it.
525 characters
Arctic Alchemy from Fegley's Bethlehem Brew Works
3.97
out of
5
based on
51
ratings.