Dismiss Notice
Extreme Beer Fest:Los Angeles
Join us December 9th in Los Angeles for the ultimate throwdown of craft beer creativity!
Learn more...
Dismiss Notice
Sticke Alt
| Heater Allen Brewing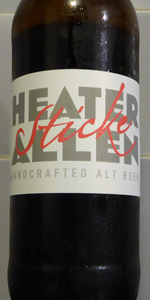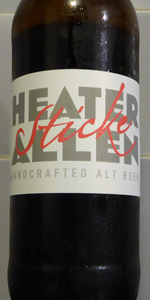 BEER INFO
Brewed by:
Heater Allen Brewing
Oregon
,
United States
heaterallen.com
Style:
Altbier
Alcohol by volume (ABV):
5.80%
Availability:
Rotating
Notes / Commercial Description:
A German style strong alt that is traditionally made in the fall and the winter. It is normally darker, stronger and roastier than a typical alt.
This beer was brewed by members of the Pink Boots Society. Malt was donated by Country Malt Group. Hops, yeast and labor were donated by Heater Allen Brewery. The money raised from the sale of this beer will be donated to the PBS for their scholarship fund.
Added by vkv822 on 11-17-2013
HISTOGRAM
Ratings: 14 | Reviews: 8
Reviews by DefenCorps:
4.18
/5
rDev
+12.4%
look: 4.25 | smell: 4.25 | taste: 4 | feel: 4.5 | overall: 4.25
Growler from Belmont Station. I have been waiting to try this.
A brilliantly clear deep mahogany with red highlights and a dense, long-lasting, light brown head, this looks great. Nice lacing too. The nose is great, with a lot of malty complexity - raisins, dark wheat bread, burnt sugar, dark caramel, a little toffee, - along with a modest hop character. As is appropriate for the style, there's a fresh, earthy hop character with a nice balance between oily bitterness and earthy, minty aromatics. As it warms up, the dark fruit character really grows, bringing to mind dates as well.
The palate opens with a quaffable blend of malty sweetness and hop bitterness carried on a relatively dry beer. Dark fruits (raisins, dates, some dried sweet cherries) and a blend of dark wheat, brown sugar, burnt sugar and toffee make for a delightful flavor profile. The hops assert themselves on the mid-palate, with a blend of herbal (pine, mint, earth) flavor and bitterness. The finish has lingering burnt sugar and hop bitterness. Medium light in body with a beautiful, creamy carbonation, the way the flavors come together on the palate in this beer is just astounding. Highly recommended.
1,187 characters
More User Reviews:

3.75
/5
rDev
+0.8%
look: 3.75 | smell: 3.75 | taste: 3.75 | feel: 3.75 | overall: 3.75
3.76
/5
rDev
+1.1%
look: 4 | smell: 3.5 | taste: 3.75 | feel: 4.25 | overall: 3.75
The caramel malts are smooth and subtle, but there's a long spicy hops finish that makes up for the light showing from the barley. I'd enjoy a pint, then try something else.
173 characters

4
/5
rDev
+7.5%
look: 4 | smell: 4 | taste: 4 | feel: 4 | overall: 4
I am guessing this is the same beer in bottle form 5.7% alc. 22 oz bottle purchased from Lifesource Natural Grocers in Salem OR. $4.99 Pours a dark amber/chestnut colour with a very small bubbly tan head. Very malty alt style aromas..earthy,leaves a bit of chocolate..nice stuff. Very balanced taste with a slight earthiness and bitter aftertaste. Mouth feel is excellent very smooth with low carbonation. Nice authentic alt beer.
430 characters

3.76
/5
rDev
+1.1%
look: 4 | smell: 3.5 | taste: 3.75 | feel: 3.75 | overall: 4
on-tap @ Belmont Station.
from notes
Deep coppery, brown-orange with a dense, foamy off white head.
Big, rich malt notes for the most part. Faint herbal, spicy, floral hop accents in the finish.
Creamy, medium+ body with mild, foamy carbonation.
A very nice Sticke Alt. Malt forward with just enough hops to keep it balanced.
329 characters

3.5
/5
rDev
-5.9%
look: 3.5 | smell: 3.5 | taste: 3.5 | feel: 3.5 | overall: 3.5

3.73
/5
rDev
+0.3%
look: 4 | smell: 3.5 | taste: 3.75 | feel: 4 | overall: 3.75

2.38
/5
rDev
-36%
look: 4 | smell: 2.25 | taste: 2.25 | feel: 3 | overall: 2
Attractive dark brownish amber with a long-lasting foam in the Petrus goblet. But flavor is weirdly bitter with a watery mouthfeel. Smell is musty with leaf mold. Aftertaste is an increasingly revolting medicinal bitterness. Faint sweetness disappears into the murk. From the 22 oz bottle purchased at Bottlecraft in San Diego. No date. Maybe it's old. This one's watering the plants.
384 characters
3.47
/5
rDev
-6.7%
look: 4 | smell: 3.25 | taste: 3.5 | feel: 3.5 | overall: 3.5
Appearance- Pours up a good amount of head which has okay retention. The head is a creamy and very light beige while the body is a maroonish brown which appears as mix of maroon and dark amber when held up to the light. Considerable lacing is left behind.
Nose- Lacks complexity and is dominated mostly by the malt bill. Slightly sweet malt that recalls brown bread, perhaps a little bit of caramel. Some roasted notes. A slight sweetness but nothing that I would define as fruity.
Taste- Very similar to the aroma- lots of malt but not many notes which really stand out. Some brown bread, some cereal. A slight sweetness that has a faint hint of raisins (this is very vague). Slight woody bitterness on the finish gives it a little more character. Seems to be a fair representation of the Sticke variant of the Dusseldorf altbier style. Some hint of chocolate (minute) and cocoa. Slight coffee and other roasted malts. Milder hops than BJCP guidelines suggest. Some pine and resin to the woody bitterness of the finish. The somewhat dry finish does cut the hops a bit. There is a bit of chalk or mineral on the finish as well. The hops do tend to build as I drink it. They also begin to linger longer. No flaws but also nothing that excites the palate.
Mouthfeel- Between light and medium body with low carbonation. Some grittiness. Some dryness to the finish.
Drinkability- Fairly easygoing but is a little boring for my palate. 4.50 is reasonable for a pint.
Overall- Above average beer that I feel needs a stronger malt bill. Worth a try but I can't strongly endorse it. My reason for trying this beer (other than ticking) was to educate myself further on variations in the style.
1,690 characters

4
/5
rDev
+7.5%
look: 4 | smell: 4 | taste: 4 | feel: 4 | overall: 4
4.19
/5
rDev
+12.6%
look: 4.25 | smell: 4 | taste: 4.25 | feel: 4.25 | overall: 4.25

3.54
/5
rDev
-4.8%
look: 3.75 | smell: 4 | taste: 3.25 | feel: 3.5 | overall: 3.5
With a nearly silent and unpromising pop of the cap, a pretty vigorous pour displays a deep rusted red color with hints of brown. "Unfiltered" clear would be the best way for me to describe it as it is almost clear. The khaki small head does show some promise as it coats the surface and does cling to the glass.
Sweet caramelized sugar, lightly toasted bread, raisin, and an earthy-flowery finish make me start to believe this smells like a true German bier. Now we are getting somewhere!
Nevermind. It's not very often that earthy and bitter are the first two perceptions received. The mild sugar and toasted bread come later on, but the flavors are so mild and distracted by the bitterness that they seem nearly transparent.
Having said that, it's obvious that this is not well balanced at all. It's kind of flat feeling, pretty watery thin, and bitter.
As impressed as I was by the Pilsner, Heater Allen sadly does not deliver on this one. I know that the style is interpreted differently all over, but without a strong biscuit and caramel presence I believe this is categorized incorrectly or I got a bad bottle. It falls short in too many areas for me. Prost.
1,178 characters

3.85
/5
rDev
+3.5%
look: 4 | smell: 4 | taste: 3.75 | feel: 4 | overall: 3.75
Original Review 5/12/15
Bomber bottled on 10/20/14 at 40 degrees into shaker
Aroma of malt
Head small (one cm, aggressive pour), light brown, creamy with rocks, diminishing to 3 mm ring and partial layer
Lacing excellent – complete rings of tiny bubbles
Body medium brown, cloudy
Flavor slightly bitter malt; no hops, no alcohol, no diacetyl
Palate medium, watery, lively carbonation
Appearance 4, Aroma 4, Flavor 4.25, Palate 4, Overall 4
Edited review 1/14/17
$ 13.57 (Including $ 6.57 shipping)/bomber ($ 0.617/oz) from Blackwell's, San Francisco, CA
Undated bomber at 42 degrees into a hand washed and dried JK snifter
Aroma – same as previous
Head - same as previous
Lacing – same as previous
Body – same as previous
Flavor – begins with bitter malt, has a dry, dusty mouthfeel. The bitterness remains as the only aftertaste. No alcohol, no diacetyl. No hops flavor but possibly some of the hop bitterness mixed with the bitter malt.
Palate – same as before
Alts are one of my favorite styles, to the extent that I brew my own every year. I have never had one this bitter. I would not buy this again.
Appearance 4, Aroma 4, Flavor 3.75, Palate 4, Overall 3.75.
1,187 characters
Sticke Alt from Heater Allen Brewing
Beer rating:
3.72
out of
5
with
14
ratings