Pils
| Heater Allen Brewing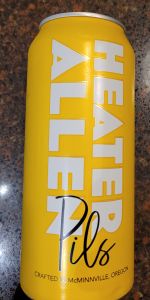 BEER INFO
Brewed by:
Heater Allen Brewing
Oregon
,
United States
heaterallen.com
Style:
Czech Pilsener
Alcohol by volume (ABV):
4.80%
Availability:
Year-round
Notes / Commercial Description:
Formerly known as "Pale Lager Beer".
1.012 BG, 5.0%, 38 IBU, 3.8 SRM
Added by msubulldog25 on 12-15-2007
Reviews: 37 | Ratings: 94
4.1
/5
rDev
+0.5%
look: 4 | smell: 4 | taste: 4 | feel: 4 | overall: 4.5
On tap at Belmont Station Fringe Fest during OBF week.
Finger and a half big bubbled white head, a bit rocky, medium dissipation with some lacing. Deep gold clear body, multiple streams of carbonation. Clean nose, a bit floral, with some sweetness. A really clean tasting pilsener, a bit on the dry side, not too sweet, slightly bitter floral and grassy notes on the backend. Smooth mouthfeel, medium, not sticky. A tres drinkable beer.
437 characters
4.4
/5
rDev
+7.8%
look: 4 | smell: 4 | taste: 4.5 | feel: 4 | overall: 5
Thanks to pecorasc for sending me one of the best pils I have ever had.
A: Pours a nice golden color. Nice foamy head that is cloud-like. Dissipates very slowly.
S: Nice blend of mellow aromas. Picking up some yeast and bready malts as well as nice hop smells and a tough of honey.
T: Nice malts up front which are perfectly complimented by hops. The honey I smelled in the aroma is also present with a touch of sweetness up front. Hops create a grassy, slightly spicy, bitter finish.
M: Well carbonated and nice light body.
D: Absolutely perfect drinkability. Super refreshing beer that I could drink all day. I was extremely impressed with this pilsener.
665 characters
4.01
/5
rDev
-1.7%
look: 4.5 | smell: 3.5 | taste: 4 | feel: 4 | overall: 4.5
On tap during the Belmont Station fringe fest.
The beer pours a slightly hazy gold color with a good size, rocky, pillowy white head. Head retention was quite good, and the beer left a considerable amount of sticky lacing. The nose is a bit reticent, but is otherwise pretty classic pilsener, showing light honey, cracker and considerable white pepper. Happily, the beer delivers a lot more flavor on the palate, and I really enjoyed the amount of hoppy bitterness I picked up on the finish. Without overdoing it, the hops really dominate and counter the light sweet honey and bread dough flavors. The beer comes across as a biy yeasty (which I don't think is a bad thing), and mouthfeel is light to medium bodied. Drinkability is exceptional, and I found this pils to be crisp, mouthwatering, and completely refreshing. Delicious, and another very nice effort from the folks at Heater Allen.
893 characters

3.7
/5
rDev
-9.3%
look: 4 | smell: 4 | taste: 3 | feel: 4 | overall: 4.5
Appearance - pours golden and clear with a one finger head, light traces of lacing as the head settles
Smell - yeast, floral aromas dominate, fresh smell
Taste - light floral and spice, with slight alcohol tinge, the taste lingers a bit in the finish, the flavors are all fairly subtle, has a clean taste
Mouthfeel - light to medium mouthfeel, some carbonation on the tongue
Drinkability - a good session beer but not a lot of flavor coming through
452 characters

4.5
/5
rDev
+10.3%
look: 4.5 | smell: 4.5 | taste: 4.5 | feel: 4.5 | overall: 4.5
Bottle purchased at Belmont Station recommended by maltmaster420. I poured this into my Moonlight pint glass. The beer appears straw golden with great clarity and apparent effervescence. The white head is frothy and about two fingers high. Retention is good and some thick lacing is left behind.
The aroma is biscuity malt with spicy, floral, and earthy hops. Alcohol is nowhere to be found.
The flavor is slightly sweet biscuity malt with a medium level of bitterness. The hops are spicy and the alcohol is well masked. The finish is clean.
The beer is light bodied with a medium - high level of carbonation and a crisp mouthfeel.
This is a pretty straight forward Bohemian Pilsner. Pretty damn enjoyable.
2/22/2013
Updated score from 4 to 4.5. This beer is fantastic.
776 characters
3.81
/5
rDev
-6.6%
look: 4.5 | smell: 3.5 | taste: 3.5 | feel: 4 | overall: 4.5
On-Tap @ Belmont Station poured into Pint glass.
Pours a pure golden that glows in your glass and has a fluffy white head that never fully dissolves. The aroma is yeast, earthy hops, some nice honey malt aromas and a little biscuit. The flavor has much of the same with the malts being in the forefront and the earthy hops rounding it out. Its flavor is nice and sweet and finishes dry. Its light and very well carbonated. I am by no means a lager-lover but this stuff was damn enjoyable. It wasn't complex but simple and certainly quenched my thirst and then some.
566 characters

3.47
/5
rDev
-15%
look: 2.5 | smell: 3 | taste: 4 | feel: 3 | overall: 3.5
Bomber, poured into a shaker pint glass.
Slightly hazy light gold body with a white head that struggles to fluff up to a half finger. Head retention isn't great, but the lacing is surprisingly decent considering the lack of bubbles involved.
The nose is fairly muted without a substantial head to pass anything along, but it's pleasant. A general clean light crisp maltiness and cut grass are the primary aromas. Tiniest hint of hops.
Much more lively in the mouth. A nice 1-2 punch of Saaz spiciness and light grains is backed up by cut grass and some bready sweetness. A somewhat surprising, but ejoyable level of lingering lemony bitterness in the finish.
Overall impression: Pretty nice pils. Good session brew.
719 characters

3.43
/5
rDev
-15.9%
look: 3.5 | smell: 3 | taste: 3.5 | feel: 4 | overall: 3.5
A surprise sunny day dictated my choice of beer. A local pils is hard to find, and this brewery's offerings showed up at my market this last week. The bottle sports a small, subtle label as if someone from a winery was involved. I half expected a comment about containing sulfites.
Anyway, I poured the beer in to a pint glass since I was splitting the 22oz bottle with 2 other people and didn't want to make extra dishes. The beer is a deeper golden with a slight haze to it. A quick, transient white head leaves just a thin rim after a few minutes. The carbonation seems a little low, though the beer isn't flat.
The aroma is rather more subdued than I was hoping for. There's the pleasant breadiness of the pilsner malt, but it's sweeter than usual, almost pilsbury crescent roll-like. The hop aroma is so mild that I'd consider it absent. I realize American pilsners have no bitterness, but it would be nice to break that mold.
The taste is again, pleasant, though the abundant and unbalanced sweetness could really use a tad more bitter. There's some bitterness , but it's so passive that this comes across as an American lager rather than a Czeh pils.
Still, it drinks really well and there's nothing that is the slightest bit unpleasant. I'd really like to try this beer again with Thai food, as it could readily replace a Singha in that situation.
1,360 characters
4.1
/5
rDev
+0.5%
look: 4 | smell: 4 | taste: 4 | feel: 4 | overall: 4.5
Pours clear amber from the 22 ounce bottle with one finger white head. Few lacings. Aroma is light malts. Taste is bitter hops with a good amount of sweet malts. Mouthfeel is perfect carbonation and a bitter dry finish. Overall a fabulous Pils with just the right amount of NW punch to make it a must have Pils. Sessionability is exceptional. I would like to see this beer in a face off with Prima Pils. I think H-A Pils would win.
Update: 03/23/09...
Body has become darker, almost a brown color. Still a nice Pils. Not a match for Czechvar PILS. So drink it fresh is my advice.
579 characters
3.89
/5
rDev
-4.7%
look: 2.5 | smell: 3.5 | taste: 4.5 | feel: 3 | overall: 4
Heater Allen's Pils has a delightfully refreshing taste of lightly toasted cereal grains with secondary, punctual bittering. It is warm golden yellow with a light yeasty aroma enhanced by Saaz spice. But as with other HA beers, it is stubbornly reluctant to throw up any real suds, and the potentially spry effervescence of a lager is notably absent beyond an initial release of CO2. This compromised visual presentation zaps the body and detracts from the beer's overall enjoyment even as its refreshing flavor profile still makes it worthy of repeat visitations.
Well composed, balanced, and fresh though some aspects struggle to survive the bottle.
653 characters
4.2
/5
rDev
+2.9%
look: 4 | smell: 4 | taste: 4 | feel: 4 | overall: 5
Purchased as a single at the Horse Radish, Carlton, OR.
A: Nice golden-orange with a modest cap that lingered and settled to a decent collar; light stream of carbonation.
S: Warm bread, hops, grass and a touch of spice.
T/M: Excellent pils! Nice malt along with some fresh cut grass, hops, and spices I can't really name but it's more than pleasant stuff! The refreshing but creamy mouthfeel complements this superb offering.
D: In spades - perfectly drinkable Oregon pils I wish could be obtained back east. Our loss.
523 characters
4.3
/5
rDev
+5.4%
look: 4 | smell: 4 | taste: 4.5 | feel: 4 | overall: 4.5
Note: ***This beer has been renamed 'Pils'***
Update request submitted...
Another of the bottles delivered by brewer Rick Allen; this 22 poured to a pint at "Beer Thirty", the end of Friday's workday...
From the H-A website: "This is our take of the renowned European Pilsner-style lager that you would find in Bavaria or the Czech Republic. Ours is a little more golden, rounder, and a little more malt driven than many other versions. The beer possesses strong hop character that is balanced by its rich, round, malty palate. Refreshing and balanced, this beer is a favorite of our winery friends during harvest. (1.013 BG, 4.8%, 40 IBU, 4.3 SRM)."
A: Pours a lovely, warm golden-orange. Gentle creamy white head sits atop briefly, 1/2 finger at the most, then fizzles away quickly to a scant film. Clarity is good, though the filtering leaves it just short of brilliance. Loads of rising carbonation.
S: Bold bready aroma and crisp hops, grassy and spicy. Smells like a Bohemian pilsener should...
T: An excellent full-flavored pilsener, loaded with big biscuity malts and fresh Saaz (floral, grass, tingly spice and lemon zest). Terrific balance shown here; this is already one of the best pils I've had.
M: Crisp, generally clean, quite refreshing. Malts are present upfront, with a bit of lip-smacking stickiness. They're followed by a creeping, sublime hopping that takes several sips to get the building effects of.
D: A very fine beer and something the Northwest really could use more of - bright, fresh and flavorful pilsners. The definition of 'drinkable' ('session beer' is an understatement at under 5%). Kudos to Heater-Allen for crafting this one; I'll definitely enjoy this one again and would recommend it highly to those who can find it.
1,765 characters
Pils from Heater Allen Brewing
4.08
out of
5
based on
94
ratings.