Smoky Bob
| Heater Allen Brewing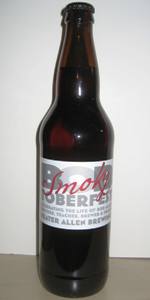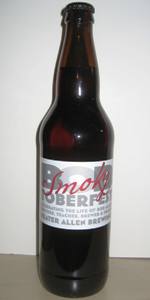 BEER INFO
Brewed by:
Heater Allen Brewing
Oregon
,
United States
heaterallen.com
Style:
Rauchbier
Alcohol by volume (ABV):
5.15%
Availability:
Rotating
Notes / Commercial Description:
1.015 BG, 5.15%, 24 IBU, 10 SRM
Added by msubulldog25 on 03-09-2010
HISTOGRAM
Ratings: 9 | Reviews: 6
Reviews by throwerbri:
More User Reviews:
3.83
/5
rDev
+0.3%
look: 4 | smell: 3.5 | taste: 4 | feel: 3.5 | overall: 4
Had a glass at Bailey's Taproom. It appeared clear, light brown with a short white head. Overall, this was a nice, dare I say "sessionable" take on the style. It had a brown ale backing for a little caramel and toffee while a well-balanced malt character complimented the malts without dominating the beer. Usually rauchbiers are big, thick, meaty things, but this was a much more reasonable take on the style
409 characters

3.92
/5
rDev
+2.6%
look: 3.5 | smell: 4 | taste: 4 | feel: 3.5 | overall: 4
22oz : tulip snifter
Pours a clear amber orange with a fizzy, foamy off white head.
Sweet, smoky malts.
Again, smoked malt accompanied with some sweet caramel notes.
Medium body, light prickly carbonation.
An enjoyable Rauchbier. Definite smokiness, without becoming over-whelming.
286 characters
3.99
/5
rDev
+4.5%
look: 3 | smell: 4 | taste: 4 | feel: 4.5 | overall: 4
Bottle from Belmont Station. One of my favorite things to do this time of year is drink rauchbiers at Maxs. Clearly, that isn't happening, so i'm making do with quality lagers brewed locally.
A brilliantly clear copper with a dense, light brown head that falls off to a disk leaving minimal lacing, this looks decent. The nose is great. Not as aggressively meaty and smoky as the best rauchbiers while retaining a decidedly continental aroma profile, this is nice. Moderately smoky (Schlenkerla-light) with an aroma of smoldering wet wood and a complementary earthy, leafy and woody hoppiness. A moderate sweetness, mildly bready and mildly caramel-like, is also present.
The palate opens with an approachable blend of smoke, sweetness and hop spiciness. The smoke character is more charred meat than fatty, smoky meat, if that makes sense. The sweetness is mild, with a blend of toasted wheat bread, caramel and dark honey. That said, the beer's dry, allowing the balance of flavors to shine. With an initial fruity whiff, the hops fall off to a firming bitterness, earthy, slightly dusty and leafy. Medium light in body with a wonderful, palate-satisfying fullness that comes from the exceptional balance of flavors, this beer has a creamy carbonation. The finish is long and delicate with a blend of honey, smoke, meat and hop bitterness. Excellent.
This beer, imo, straddles the line separating smoked beers and rauchbiers, and while that's not something i thought i'd care for, the execution here is great. Recommended.
1,528 characters
3.75
/5
rDev
-1.8%
look: 4 | smell: 4 | taste: 3.5 | feel: 3.5 | overall: 4
A half-pint (well, 10 oz), found at Bailey's Taproom. I enjoyed H-A's 'regular' Bob last fall and am interested to try this Bamberg-inspired smoked version.
A: Deep amber/garnet with a 1/2-finger of creamy/sudsy ivory head. Excellent clarity, virtually no carbonation. Coating lace in draped sheets.
S: Smoked sweetness comes and goes but intrigues with every snifff. Cereal grains and fruit-estered malts mingle with a smokiness that hints at an Islay Scotch: peaty, grassy, nutty roast.
T: Caramel/toffee and spices abound beneath a modest smoke veil. 'Smoke' arrives as a layered malty dryness with burnt breadcrust hints. A little sweet and indistinctly 'fruity' at times, then a dulled medicinal/herbal hops in the finish.
M: Surprisingly chewy but tapering to a gummier thinness. Mildest carbonation, just zesty enough to avoid dullness.
D: A likable and low-key/approachable smoked malt permeates but doesn't overpower. I recall meeting brewer Rick Allen last year and talking with him about this rauchbier he was crafting; I found this to be a very good first effort - I look forward to an even smokier version in future efforts. Certainly worth a try, a beer I'll have again.
1,191 characters

4.22
/5
rDev
+10.5%
look: 3.5 | smell: 4 | taste: 4.5 | feel: 3.5 | overall: 4.5
It appears red with a small off-white head.
It smells of dark fruit and smoked malt. I also get a bit of a grassy and citrusy smell to it.
It tastes initially a bit sweet and fruity. I get a bit of raw smoky flavor. There is a mild grassy hoppy flavor as well. The beer ends with a mild hoppy bitter finish. The beer is fairly light yet there is a nice strong smoky flavor. The smokiness is actually not overwhelming it is balanced by a sweet fruity flavor.
There is a moderate carbonation to the beer and there is a somewhat think mouthfeel to the beer.
Overall the beer is quite interesting. It is surprisingly very smooth and easy to drink. Another great beer from Heater Allen.
687 characters

3.38
/5
rDev
-11.5%
look: 4 | smell: 3.5 | taste: 3 | feel: 4 | overall: 3.5
From 11/13/10 notes. 22 oz. bottle shared by nimbleprop; thanks Mac.
a - Pours a nice amber color with one inch of white head and light carbonation evident. Looks pretty good.
s - Smells of smoke, fruity malts, caramel malts, and grain.
t - Tastes of caramel malts, roasted malts, some smoke, oak, and fruity malts.
m - Medium body and low carbonation.
d - An ok rauchbier, but the taste was a little weird to me; not bad, just weird. Would givenn another shot but wouldn't seek out again.
494 characters
Smoky Bob from Heater Allen Brewing
Beer rating:
3.82
out of
5
with
9
ratings