Burning Oak Black Lager
| Linden Street Brewery
BA SCORE
84
good
10
Reviews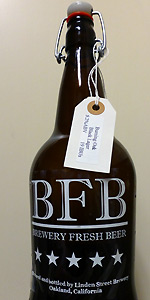 BEER INFO
Brewed by:
Linden Street Brewery
California
,
United States
lindenstreetbrewing.com
Style:
Schwarzbier
Alcohol by volume (ABV):
5.50%
Availability:
Year-round
Notes / Commercial Description:
No notes at this time.
Added by t0rin0 on 09-30-2009
Reviews: 10 | Ratings: 41
4.2
/5
rDev
+8.5%
look: 4 | smell: 4 | taste: 4.5 | feel: 4 | overall: 4
Had this on-tap at Beer Revolution. Very nice example of the style. The looks are solid. Very dark reddish brown in color, approaching black, with a creamy off-white head and excellent lacing. Smells roasty and there are also some piney hops and some very slightly soured grains. The taste is very nice. Roasty and slightly malty with bitter chocolate and biscuity flavors. Firm and smooth in the mouth. Very nice. I could easily drink a few of these.
451 characters

4.05
/5
rDev
+4.7%
look: 4.25 | smell: 3.5 | taste: 4.25 | feel: 4 | overall: 4.25
Beautiful beer in the tall Stella glass-- near black with a fine high foam. Plenty sudsy on the way down as well.
Pleasant smooth flavor. Another ideal sort of lager, only the dark type. A little malty sweetness along with the nicely darkened variety of malt flavors. Some grainy taste and just a hint of burnt sugar. Totally drinkable and one of the best Schwarzbiers I've had. Not much bitterness but the blackened grainy taste makes for a nice finish.
From the swing-top junior growler bought at the Bi-Rite Market on 18th St. in San Francisco. Beer was in very good condition. This batch says 5.2% ABV and 19 IBU.
619 characters
4
/5
rDev
+3.4%
look: 4 | smell: 4 | taste: 4 | feel: 4 | overall: 4
On tap at Flour+Water, served in a 14oz. cheater pint.
Dark brown, appearing black until held to the light, where it displays glints of ruby when backlit. Frothy tan foam that has a puffy irregular surface, slowly receding. Some spotty lace remains.
Nutty aroma, mild cocoa and coffee, wet roasted barley.
Mild bitter roast, husky wet grains, minor traces of coffee and bakers chocolate, not overtly "lagery" per se. Light feel, but full of character and flavor. Paired well with a margherita pizza.
505 characters

4
/5
rDev
+3.4%
look: 4 | smell: 4 | taste: 4 | feel: 4 | overall: 4
Draft at Beer Revolution. Dark brown body topped by a dense frothy foam. Nice head retention and plenty of sticky lacing. Nice crusty bready malt aroma that reminds me of a good Munich dunkel. A little coffee and roast, slight sweetness and sulfur. Smells great, and tastes great, too. More roasted and bitter than the aroma implies, it's dry and malty up-front, quite grainy, mildly charred. Medium-light in body, firmly bitter in the finish. Good stuff, I need to try more beers from this brewery.
499 characters
4
/5
rDev
+3.4%
look: 3.5 | smell: 3.5 | taste: 4 | feel: 4.5 | overall: 4.5
My first beer by Linden. Finally I allow myself an opportunity to try something from this new brewery.
The beer looks okay in the pour. The head is nice, but the body is murky. No big deal though. Flavor matters most, so let's see here. Mildly sweet tone with berries showing a fair bit. Mild bitter tone hits and grows stronger as it progresses. Consistent and fairly smooth, though quite hearty. A good beer which would probably be better with food. Oh wait, here are my sweetbreads. Time to feast.
501 characters
3.88
/5
rDev
+0.3%
look: 4 | smell: 3.5 | taste: 4 | feel: 4 | overall: 4
On tap at Pizza Antica in Mill Valley. Poured into a pilsner glass. No abv info is given.
A-The restaurant was fairly dark so I could not tell if it was dark brown or black. It has a one finger sandy head that collapses to a small layer that covers the majority of the top. Small patches of lace stick to the glass.
S-Somewhat muted at first. I get hints of roast malt and a touch of grain. As it warms I get touches of lager yeast and earthy, Noble style hops.
T-It starts out tasting like a lager. It has a lot of the same charactertistics as a pilsner. There are earthy Noble hops, lager yeast, and a little grain. There is also a decent amount of sweetness early on. I found the roast to be more prevalent towards the middle and end of each sip. It leaves a slightly roast taste in between sips, but it is by no means strong.
M-Medium bodied, smooth, and nicely carbonated.
D-Went down easily. Not overly complex and went will with the piadini I ate.
Another good beer that from these guys. It would make a great session beer.
1,037 characters
3.88
/5
rDev
+0.3%
look: 4 | smell: 3.5 | taste: 4 | feel: 4 | overall: 4
I looked up Linden Street brewery on the phone while sitting at Pacific Coast and the number that came up was the owners cell phone number. He directed me to the Trappist which turned out to be 2 blocks away. Well the steam beer keg was frozen and wouldnt pour so I only got to try this one.
Everything about this beer is about on par for a black lager. Pours clear, black/brown, beige head, low retention/lace/head.
Aroma is roasty and a tad nutty. Not much in the way of aroma though. Typical for the style but I'm not sure thats by design.
Flavor was roasty with a hint of smoke. Some lager yeast elements, crisp and clean. Medium bitterness for the style.
Body was thin and the beer is plenty drinkable if you are in to the style. Its always nice to see some more places popping up in the areas that I visit regularly.
835 characters

3.87
/5
rDev 0%
look: 4 | smell: 4.5 | taste: 3.5 | feel: 3.5 | overall: 4
On tap at the Linden Street Brewery. Adam, the brewer, poured it himself. Pours an opaque, dark chestnut-cola color with a short off white head. Unbrewed coffee and hazelnut aromas. Coffee and nutty flavors with coffee acidity at the finish. Somewhat thin, but decent. Very drinkable.
284 characters
3.82
/5
rDev
-1.3%
look: 5 | smell: 3 | taste: 4 | feel: 4 | overall: 4
Appearance: Black as sin.
Smell: Toasty.
Taste: Initial impression: charcoal on top, water on the bottom. It seemed to hit taste buds on the roof of my mouth, where, I believe, there aren't any. The charcoal didn't taste bad, but it didn't taste good. The beer was served cold, and after it warmed a bit, and after I got used to the taste assault, it began to mellow toward coffee grounds, in a good way.
Mouthfeel: Charcoal, then coffee. Pretty thick, though there was a sense of thin water in there too.
Drinkability: I never know how to rate for "drinkability." Does it mean, "goes down easy enough to get shi*tfaced once fine evening"? If so, I don't think drinkability ought to be considered. I probably wouldn't drink more than one of these taste bombs in a night, certainly no more than two. Should it lose points for this? I don't think so.
853 characters

3.03
/5
rDev
-21.7%
look: 4 | smell: 3.5 | taste: 3 | feel: 2.5 | overall: 2.5
What do you do when a brewery's flagship beer isn't something you care for?
I revisited the Linden St. black lager after a couple of years. I didn't remember enjoying it all that much when it first came out and, unfortunately, my first impressions still hold. Sorry guys.
This pours a delicious looking black with white foam.
I get a decent roast aroma with some muddled edges. The roast come across on the flavor profile as well but it has a too-thin body support it. Ultimately things don't quite jell together, something which becomes more apparent as it warms. It was decent, but not one I am inclined to try again. Death & Taxes does this far better.
666 characters
Burning Oak Black Lager from Linden Street Brewery
3.87
out of
5
based on
41
ratings.