Belgian Style Dark
| O'so Brewing Company & Tap House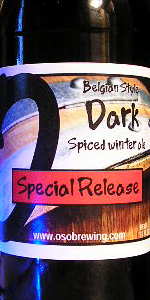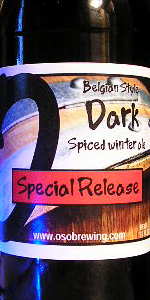 BEER INFO
Brewed by:
O'so Brewing Company & Tap House
Wisconsin
,
United States
osobrewing.com
Style:
Belgian Strong Dark Ale
Alcohol by volume (ABV):
9.00%
Availability:
Rotating
Notes / Commercial Description:
No notes at this time.
Added by DaPeculierDane on 06-07-2008
This beer is retired; no longer brewed.
HISTOGRAM
Ratings: 8 | Reviews: 7
Reviews by kickapoodude:
4.42
/5
rDev
+38.1%
look: 4 | smell: 4.5 | taste: 5 | feel: 3 | overall: 4
This beer hits you in every part of your tongue. First of all, you have the notes of cherry and caramel, then a cascae hop finish that stays on your pallet until the next sip. Notes of anise, coffee and vanilla lead to a subtle smokiness. I hope they release it again. This is by far my faorite4 O'so brew. They are a small brewery, so most of thier beer tatses like the best homebrew you've ever made, but they have the knowledge to make all of thbier beers very complex.
472 characters
More User Reviews:
4
/5
rDev
+25%
look: 4 | smell: 4 | taste: 4 | feel: 4 | overall: 4
Presentation: Dark Brown bottle with a black cap and cool label of a barrel? and a big O.
Brewer's Description: Get ready for a flavor explosion that is synonymous with with Belgian Style Beers. Made with the finest continental malts and punched up with the addition of candi sugar, this winter warmer will be sure to add color to your cheeks.
Appearance: Dark, dark brown with a steady and lasting tan head.
Aroma: big malt loads of dark malts, mild amounts of banana, syrup, slightly boozy, anise, and dates.
Taste: Meaty, and slightly smoky with lots of spice, touches of licorice, lots of roasted malt.
Mouthfeel: Warm but not boozy. Full body. Very malti and almost thick, more like a winter warmer than a Belgian dark ale.
Drinkability: Pretty good.
774 characters
3.1
/5
rDev
-3.1%
look: 3.5 | smell: 3.5 | taste: 3 | feel: 3.5 | overall: 2.5
Basically black as it sits in the glass (especially in low light) but magenta-brown highlights can be teased out with some concentration. The head is squat and sandy, and doesn't last very long.
The nose is a bizarre blend of Dr Pepper, prune juice, cherry skins, band aids, manure, and black tea. Roasted note peek out as it warms, and just add to the chaos.
It's equally arcane inside the mouth. A quick notion of chocolate covered peanuts is quickly shattered by a dousing of sour cherry juice, heading into balsamic vinegar territory. Yeast moves in and strews barnyard notes (complete with cow pies), and gauze bandages, and iron-rich blood. Small amounts of clove and vanilla pop up as it warms. Cola emerges from the tail end, and rides long into the finish, with a resurgence of black cherry. Hops are virtually shut out, but a bit of grassiness dots the swallow...but may well be a continuation of its farmy qualities. Alcohol doesn't really show up either.
Thick and flatish in the feel, though some struggling carbonation persists throughout. More than one 12oz bottle seems like a dare for someone else.
Weird shit, this. It's like a Sour Brown mixed with Mr Pibb. It's dangerously close to "hot mess" status, but I really don't hate it, and actually find it a bit intriguing. Wouldn't recommend it, though.
As a note, I've had the bottled version as well, and it's more of the same, with a couple notable differences: less barnyard funkiness, a touch less cherry sourness, and more cola sweetness. The numbers would stay roughly the same... as though it matters any.
1,581 characters
2.09
/5
rDev
-34.7%
look: 3.5 | smell: 2 | taste: 2 | feel: 2 | overall: 2
hard to say how long this has been "cellaring" - probably at least 2 years
12oz single
appearance: served in a GTTM taster glass in anticipation of drain pour. muddy brown body, foamy tan head but little retention
smell: yikes - rancid apple, caramel malts, sugar
taste: Not good - hard to tell whether something went wrong here or if anything was ever right in the first place...misplaced sourness, rancid trash, apple, caramel, residual alcohol
mouthfeel: rotten
drinkability: n/a
488 characters

2.29
/5
rDev
-28.4%
look: 4 | smell: 2.5 | taste: 2 | feel: 2.5 | overall: 2
Poured into a pint glass this brew has a dark brown color, with a 1/2 inch head that dissipates and leaves no cap. The smell is quite overpowering with cinnamon, ginger, and caramel. The taste is a kick in the face! Not sure I think taking the Belgian style brew is a good match for a spiced brew. I have had a number of extremely well crafted Belgian beers and none have had even a hint of "winter spices". The style is strong on it's own. This was just too much to handle. Need to go back to the drawing board Oso!
As of late I am coming to find the brews from this new establishment are mediocre at best. I think more tasting needs to go into the final products that are reaching the shelves, especially with this higher cost to purchase.
743 characters

3.93
/5
rDev
+22.8%
look: 4 | smell: 3.5 | taste: 4 | feel: 4.5 | overall: 4
This bottled cellared above 45 degrees since December 2008 (2 years).
A - Dark brown, slightly hazed body. The head is medium tan and starts out in the snifter at about a quarter inch. The head fades to leave a steady central and strong edge while being wispy otherwise.
S - Fig and pungent apricot.
T - The flavor is bitter-tart. The ginger that had originally ruled this beer has settled out. The tastes of dark cranberry and strong pungent plum over a thick medium roasted malt is what I pick up here. The flavors over the past two years have dramatically changed. This is a good tasting sipper.
M - The feel is that of soft massaging bubbles. It leaves a stickiness in the finish that's quite becoming while maintaining a thorough dryness.
~ This beer must be aged. If you have one or two paying around from its only release back in 2008, I suggest you either try it now, or hold onto it for a nice cold night while you're curled up on the couch. This was worth the wait.
~~~
I completed the below review on 1/2/2009.
A - Light brown, one inch tall, bubbly, and frothy head. The body is a real deep brown and blocks any attempt light may make at showing through. Once the head fades it leaves a thin layer with a solar system look. (4)
S - Ginger, spice and cinnamon. (3.5)
T - Too much spice throughout with a huge finish of ginger. These flavors are for too potent to enjoy. (1)
M - The texture is sandpaperish throughout with a strong abrasiveness at the finish. (2)
~ I cannot get over the flavors here. I feel I paid too much at Cellar 70, more than $8.50 for a six pack. (1.5)
NOTE: I have three bottles remaining from the 6 pack I purchased last week. Those three I will cellar and see if they grow better over time. Let's hope so.
1,756 characters
2.78
/5
rDev
-13.1%
look: 3.5 | smell: 3 | taste: 2.5 | feel: 3.5 | overall: 2.5
Murky caramel with coppery orange edges along the bottom of the glass. The cork colored creamy crown doesn't have a ton of character, but it looks decent enough. Sparse lace is a bit of a letdown.
The aroma is more sour dark fruity and more phenolic than it should be. That said, it isn't that far out of line for the style. What is acceptable in the nose may not be so acceptable on the palate. Given the last O'so beer that I reviewed, this one scares me a little.
Belgian Style Dark Spiced Winter Ale walks an extremely fine line between average and below average. I have a feeling that it'll slip to the lower score as I get deeper into the bottle and the flavors become even more bold with warming. Simply put, this beer does more wrong than it does right.
Medicinal phenols are desirable in Islay whiskey, but not in a BSDA. The fruity tartness is beginning to wear out its welcome as well. The flavor profile include raisins, Granny Smith apples, molasses and clove. What spices were used? I haven't got a clue. On a somewhat positive note, there's *almost* enough dark maltiness to cover the beer's more egregious sins.
The mouthfeel isn't too shabby. It's nowhere near the magnificence of a true Belgian ale, but it's pretty close to being medium in heft for the style and the carbonation is within the wide range of acceptable.
O'so Brewing Company releases a wide range of beers with (mostly) interesting names. What they need to do is concentrate their time, energy and resources on a few select styles, then expand their range once they have those down pat. Sorry, but this poorly constructed BSDA isn't worth your hard-earned money.
1,652 characters
Belgian Style Dark from O'so Brewing Company & Tap House
Beer rating:
3.2
out of
5
with
8
ratings