Doe In Heat/Buck In Rut
| O'so Brewing Company & Tap House
BA SCORE
79
okay
13
Reviews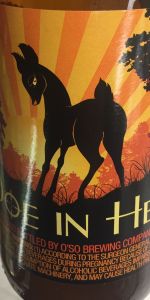 BEER INFO
Brewed by:
O'so Brewing Company & Tap House
Wisconsin
,
United States
osobrewing.com
Style:
American Pale Lager
Alcohol by volume (ABV):
5.00%
Availability:
Fall
Notes / Commercial Description:
No notes at this time.
Added by BoitSansSoif on 10-28-2008
Reviews: 13 | Ratings: 35

2.06
/5
rDev
-37%
look: 3 | smell: 2 | taste: 2 | feel: 2 | overall: 2
Bottled at The Branding Iron in Wisconsin Rapids. Nice golden color, half inch head that does not last long, no lacing. Grainy, corn, but slightly skunky aroma. Tasted clean, nothing special. Easy drinking, but suspect a few might leave a pretty good headache the next day. Clean enough, no mouthfeel, no aftertaste. Pretty average (or less) and underwhelming, but not much choice at the time.
Review from notes.
★
413 characters
2.65
/5
rDev
-19%
look: 2.75 | smell: 2.75 | taste: 2.5 | feel: 2.75 | overall: 2.75
Not sure what the plan is here. Trying to outdo the absolute masters of the spot market beers? Impossible, except if you get really lucky, win the lottery. Aroma is odd fruit and grain. Appearance is nice head/lace, but pale yellow color. Flavor is grain, corn, carbonic tang some bitter. Body is a bit thin. Forgettable.
★
321 characters
2.73
/5
rDev
-16.5%
look: 3.5 | smell: 2.25 | taste: 2.75 | feel: 3.25 | overall: 2.75
12 oz bottle poured into a pilsner glass.
No date or info.
A - Clear pale straw yellow in color, Doe in Heat looks the part of a pale lager, complete with the towering white head. Lower retention results in a skim of foam and specks of lace on the glass.
S - Stinky Swiss cheese usually smells great, but not when it's coming from a beer, and Doe in Heat has plenty of it. Grainy pale malts follow up with next to no hoppiness. The cheese swallows the rest of the nose whole.
T - Grainy pale malt is quite simple, allowing flaws to show in this light lager; cheese isn't quite as bad as the nose but it's still present as is a light cooked corn flavor. This doesn't much surprise me considering the style though.
M - Sharp carbonation starts off and continues through the light body and crisp, slick body to the dry finish.
O - Aside from the abundant and pungent cheese aroma, Doe in Heat is a fairly acurate representation of an American Pale Lager with harsh graininess, crisp and dry feel, and a sharp carbonation finish. Though, considering other reviews, maybe I have a bad/old bottle. Knowing O'so's reputation, I'd certainly try again.
★
1,148 characters
2.9
/5
rDev
-11.3%
look: 3 | smell: 1.75 | taste: 3.5 | feel: 3 | overall: 3
Reviewed from notes.
Pours out a clouded straw color with two fingers of white froth that lasts for about two minutes with some minimal lacing that gets left behind on the glass. Body is on the lighter side of medium thickness, and carbonation is a little bit lackluster.
Smells oddly like a -very- faint blend of bananas, vanilla, and sulfur. I'm not really digging the nose on this one. Maybe the sulfur is supposed to represent the musk emitted by the doe in heat? I don't know. Thankfully, it tastes of wheat bread with dry bananas, ghostly nuances of grassy hopping and no real off-flavors from the nose actually translate through onto the tongue. Still... that nose is a real problem.
★
692 characters
3
/5
rDev
-8.3%
look: 3 | smell: 3 | taste: 3 | feel: 3 | overall: 3
Light golden in color with a short-lived white head. The aroma has some caramel, vanilla, and a touch of oxidation. The mouthfeel leans a little on the this side with a slight carbonation. Sweet malty body with a cherry-like fruitiness. Some vanilla that was noticeable in the aroma also carries through into the taste. Overall, this is a pretty average ale.
★
358 characters

3.12
/5
rDev
-4.6%
look: 3.5 | smell: 3.25 | taste: 3 | feel: 3.25 | overall: 3
12oz bottle. Served in a pint glass.
Pours a clear light pale yellow body, looks like very light, fizzy lemon water. One finger white head, fair retention, bits of lacing. Smells of bread, light grassiness, touch of pineapple juice, biscuit. Nothing too complicated. Flavour is a fairly bland biscuit and touch of grassiness; a mildly sharp grassy bite on the finish. Mouthfeel is lighter bodied, good carbonation, grassy bite on the finish. Nothing special, a fairly bland pale lager.
★
486 characters
3.53
/5
rDev
+8%
look: 3.5 | smell: 3 | taste: 3.5 | feel: 3 | overall: 4.5
Reviewed at Doe in Heat.
Pours an extremely light gold with a short lived white head. Tiny bubbles are going crazy in the glass.
Has a sugary malt scent, not much by the way of hops.
Taste is list ang sugary with a hit of lactose. It is very carbonated.
It's hard to find words for this brew, it is ok but nothing exciting really.
★
334 characters

3.61
/5
rDev
+10.4%
look: 4.5 | smell: 3.5 | taste: 3.5 | feel: 4 | overall: 3.5
a slightly cloudy light yellow in color, TONS of visible carbonation.. seriously there's clusters of carb bubbles shooting up like a geiser, 2 fingers of foamy white head creating a great amount of lacing.. not for nothin' but i've never seen a lager of any kind look this damn good.
the smell os the tradition american lager smell of sweet malt and gym socks. i know it sounds weird, but you probably know exactly what i'm talking about. seriously, this is almost smelling like a dirty diaper in the background. aside from the shit stench, you can smell sweet malts and hints of lemongrass. thankfully it tastes nothing like the dirty diaper smell! a very sweet beer, bready, light citrus notes, sweet grain bill, kind of a plastic taste in the finish.
a lighter medium body beer with tons of carbonation and a creamy mouthfeel. drinks real easy.
i'm trying to put aside the 2 negative things (weird feces smell and weird plastic taste) but it's still pretty hard to get them off my mind. not a bad lager, but not as good as the better ones i've had.. if that makes sense. trust me, there's not many good ones i've tried - so this isn't a "turn your back on this one". try it, you may enjoy it.
★
1,197 characters

3.63
/5
rDev
+11%
look: 4 | smell: 3.5 | taste: 3.5 | feel: 3.5 | overall: 4
Caption on bottle reads: "The perfect deer camp companion while playing cards, telling stories, and hanging out with your no good brother in-law. Enjoy!" Label portrays leafless branches with an autumnal orange sky.
This brew is bottled under two names in what makes a clever marketing play on nature just in time for open season. Each 6-pack has 5 bottles of "Doe in Heat," and 1 bottle of a lucky "Buck in Rut." ABV is not listed, but Katina said it's on the lower end to give hunters something good that won't get them too loaded. Two guys came in while I was drinking a pint of this one on tap to grab 6ers.
A-Pours a slightly hazy yellow-golden hue with a thick two-finger head that fades slowly and leaves light tracing. Head fades into thin cap, but clings to the glass on the edges.
S-Lightly sweet creamed-corn, clean malt, faint lemon, earth, and a hint of noble hops.
T-Light grits, lemon, cereal and grain midway, and a steady but elegantly restrained taste of hops in the finish that lingers. Aftertaste is similar to that of a good lager with hint of creamed corn.
M-Light-bodied w/moderate carbonation. Balance is there, and the sweet corn is mellowed nicely in the finish by the hops.
D-Interesting and clean, dangerously easy to drink. I haven't hunted anything in 10 years, but the flavor of this brew is a perfect complement to the outdoors, and it is best consumed at an ambient outdoor fall temperature.
★
1,434 characters
3.74
/5
rDev
+14.4%
look: 2 | smell: 3 | taste: 4 | feel: 4 | overall: 4.5
I have drank many knock offs of spotted cow from Wisconisn breweries(O'so's Big O, Point's Horizon and Nude Beach, Lieneies Sunset, etc.), which is understandable because of it's popularity. So when I picked this brew up I thought it was another attempt. This beer pours like a pilsner with litte head. And looks like another lawn mowing beer. But the flavors prove that this brew is a sheep in wolves clothing: rich and fruity without being sweet. One thing I like about this brewery is the layers and complxity of each of their beers. This beer is pleasant and crisp while also being complex in nature.
★
604 characters
3.77
/5
rDev
+15.3%
look: 3 | smell: 3.5 | taste: 4 | feel: 3.5 | overall: 4
Appearance - Medium-light yellow. Cloudy. Short and short-lived soapy white head.
Smell - Corny. A hint of fruitiness.
Taste - Sweet light malt and corn. Lemony finish. More prominent hops finish than many beers of this ilk. A little something sweet an fruity.
Mouthfeel - Light and crisp.
Overall - Above average for an American lager, but no great shakes - kind of a hard category to stand out in. The bottle designs are pretty sweet. It might be worth buying this just to be seen with the bottles.
★
504 characters

3.85
/5
rDev
+17.7%
look: 3.5 | smell: 3.5 | taste: 4 | feel: 4 | overall: 4
Pours a soft, soapy, load, white head that dissipates fairly quickly. Nice, grainy hop aroma with a slight citric backing to it. turbid, straw-yellow color. Starts with a burst of bright, citric hops and an aggressively effervescent carbonation. Then there is a really nice welling of absolutely delicious biscuit, and low-bitter, grainy hop makes its way into the back of this. Finish is that grainy hop bitterness atop of soft malt.
Let's get this straight: This is not an IPA. It's not even an Ale. It's not SUPPOSED to be hoppy. BA reviewers seriously suck at reviewing malt-centric biers and lagers. For this style, it's actually quite good. It's not as sublime as "Totally Naked," but I'd take it over "Supper Club," and that's pretty good.
Definitely a light, almost "Lawnmower" bier, but there's nothing wrong with that. I enjoy this for what it is, and I like that mild citrus character to it.
★
904 characters
3.91
/5
rDev
+19.6%
look: 4.5 | smell: 3.5 | taste: 4 | feel: 4 | overall: 4
I enjoyed this beer from the comfort of my own living room. From the 12oz bottle to a standard pint glass.
Appearance: Pours a clear straw yellow with a fluffy white head that sticks around for a while.
Smell: Sweet and zesty lemon, mellow hops and a hint of the malt comes through.
Taste: Just as the smell suggests, but even less of malt presence.
Mouthfeel: Light-bodied and smooth with a nice crisp finish. Good amount of carbonation.
Drinkability: This is a very drinkable brew. It went down easy and satisfied my thirst which is what I think a good cream ale should do. This is a very good representation of this style. I would definitely recommend this to someone looking to enter into the craft beer world.
★
719 characters
Doe In Heat/Buck In Rut from O'so Brewing Company & Tap House
3.27
out of
5
based on
35
ratings.