Wee On The Lam
| O'so Brewing Company & Tap House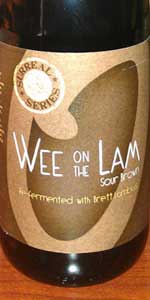 BEER INFO
Brewed by:
O'so Brewing Company & Tap House
Wisconsin
,
United States
osobrewing.com
Style:
Flanders Oud Bruin
Alcohol by volume (ABV):
not listed
Availability:
Limited (brewed once)
Notes / Commercial Description:
No notes at this time.
Added by 4DAloveofSTOUT on 02-01-2013
This beer is retired; no longer brewed.
Reviews: 9 | Ratings: 71
4.4
/5
rDev
+4.5%
look: 4 | smell: 4.5 | taste: 4.5 | feel: 4.25 | overall: 4.25
Date: 10/18/2013
Type: 750ml. Bottle
Vintage: Not marked, guessing 2012
Glass: Heady Stemless Glass
*Thanks to _Joe_ for getting me this one to sample, much appreciated brother!
Pours a brown mahogany in color w/ a 1 finger off white, slightly tan head that left medium amounts of lacing on the glass. Aromas of cherry pie filling, cherry skins, leather, oak, funk, and acidity. The flavor was of cherry pie sweetness quickly transitioning to very tart cherry skins, and ending w/ leather, oak, and bitter hop bite. Medium bodied and lush w/ higher end carbonation. Very drinkable and I had no problem finishing the 750ml. bottle myself.
Overall, awesome accidentally created Oude Bruin! I am glad _Joe_ sent me another bottle for the cellar.
745 characters
4.25
/5
rDev
+1%
look: 3.75 | smell: 4.25 | taste: 4.25 | feel: 4.5 | overall: 4.25
Big thanks to Jeff for this one. 750ml corked and caged bottle into Tired Hands stemware. Shared with schen9303.
Pours a foamy 3 finger light cream colored head with moderate retention. Beer is a dark, almost opaque mahogany. Lacing is spotty, stringy, and sparse with average stick. Solid.
Nose is sour cherry and raspberry. Brett presence along with alcohol stings and tickles the nose. Acidic with a slightly sweet vinegar presence. Aromatic and enticing.
Opens tart cherry and raspberry. Hints of vinegar, sour cherry, brown sugar, leather and oak in the middle. Moderately creamy too. Vinegar and mild acidity towards the end. Finishes tart, foamy and tanic. Sour fruit aftertaste. Nice.
Light bodied with medium carbonation. Prickly and tingly in the mouth and goes down dry and sticky. Finishes messy with a lingering aftertaste. Supports the flavor well.
I'm not the biggest fan of the Flanders style but I can certainly appreciate a well-made representation of it. That is what Wee On the Lam is. Certainly worth a try.
1,036 characters

3.84
/5
rDev
-8.8%
look: 3.5 | smell: 3.75 | taste: 4 | feel: 3.75 | overall: 3.75
"Re-fermented with Brett Lambicus." 40 IBUs. 23 Plato OG. 750ml brown glass bottle with hood-and-wire cap over a cork served into a Guinness goblet in me friend's gaff in high altitude Castle Rock, Colorado. Reviewed live. Expectations are high given its current ratings.
Served cold. Side-poured with standard vigor as no carbonation issues are anticipated.
A: Pours a 2.5 finger khaki colour head. Nice creaminess. Nice thickness. Retention is great (~6 minutes). Little lacing.
Body colour is a nontransparent ruby-brown. Yeast particles are visible. No bubble show.
Appearance is generally good for the style. Real excited to try this.
Sm: Smells like apple pie. Nice sourness. Good caramel malt body/well balanced body. Oak. Good sourness. Some bready malts. An aroma of moderate strength.
T: Apple pie notes. Bready malts. Cherry. Caramel. Nice sourness. Pie crust. Balance is excellent. No alcohol comes through. I do get some sour yeast; lacto and lambic. Nice complexity and subtlety. Really flavorful and good.
Mf: Smooth and wet. Good thicknesss. Lightly acidic. Complements the flavour profile well.
Dr: Drinkable and enjoyable. I'd definitely get it again. Hides its ABV well. A nice brewski from O'So Brewing Company.
B+
1,252 characters
3.89
/5
rDev
-7.6%
look: 4 | smell: 3.75 | taste: 4 | feel: 3.5 | overall: 4
Thanks to GRG1313 for sharing this one at his tasting.
Pours a murky orange-brown with a foamy khaki head that settles to a partial film on top of the beer. Small streaks of lace form around the glass on the drink down. Smell is sour, tart, and funky with malt, fruit, and wood aromas. Taste is much the same with fruit and wood flavors on the finish. There is a medium amount of acidity on the palate with each sip. This beer has a lower level of carbonation with a slightly crisp and medium bodied mouthfeel. Overall, this is a good beer that is tasty and easy to drink.
573 characters

4.59
/5
rDev
+9%
look: 4.25 | smell: 4.5 | taste: 4.75 | feel: 4.5 | overall: 4.5
Reviewed from notes. Poured from a 22 oz bottle into a Half Acre snifter.
A- pours a dirty dark amber with a 2 finger tan head. Amoeba lacing and blotches remain on the glass.
S- tart cherries and sour mash.
T- some caramel, sour and tart cherries.
M- medium body and carbonation. This beer is very easy drinking.
O- awesome Flanders with a perfect blend of sour/tart and sweet cherries.
392 characters

4
/5
rDev
-5%
look: 4 | smell: 4 | taste: 4 | feel: 4 | overall: 4
(Note: personal scoring system is in whole numbers only)
750ml bottle poured into my CCB snifter and based on my paper notes, consumed 2 days ago on 3/1/2013
Aroma: Nice! A decent bit of oak and wood with quite a bit of tart cherry pie-ish funk. You know there's something off about it, as on the label calls it 'funk' and I expect that smell. It's a nice combination of flavor, but I don't get much from the malt at all. (4)
Colour: Muddy red and brown body, rather fizzy looking on the side of the glass. Pours with a nice bit of white head that fizzes down quickly. Lacing is present especially when swirling but doesn't really contribute to overall appearance. It's actually quite the interesting looking beer, but I can't remember having a sour brown before. (4)
Flavour: Here's where you notice more of the malt that you don't get in the nose. There's some caramel, toffee hints throughout, but overall its dominated more by the deep oak tones and Brett funk manifesting itself as predominantly cherry tart flavours. I've never tasted anything like this before and I have nothing to compare it to. As an unique beer, it definitely makes for an interesting tasting experience, and it grows on you after the first few sips. I would liked it to have had some more malt contribution as the base is a Wee Heavy, though. (4)
Mouthfeel: Medium bodied beer, lots and lots of carbonation. Aftertaste is dry with a nice oaky twang. (4)
Overall: Unique beer, especially in light of the circumstances that led them to produce this beer. As I've been drinking more sours lately, I have some idea of what I like out of my sours and what I don't. Here, the oak contribution complements the sour cherry Brett funk really well. I would have expected more contribution from the Wee Heavy, but well. The first sip made me go "wtf?" but the ones that come after that get even better. Worth trying at least once for anyone who can get these, and I'm definitely glad I was able to share a bottle with the SWMBO. (4)
2,005 characters
4.04
/5
rDev
-4%
look: 4.25 | smell: 4 | taste: 4 | feel: 4.25 | overall: 4
Thanks to Furley for this one, shared with Dan & co. Quick review from written notes.
Used a towel to get a grip on the cork, once it popped it foamed up a bit so have a glass at the ready. Murky reddish brown color, compact head of foam on the surface with a little bit of spotty lacing around the edges. Skim breaks on the surface after the first couple sips, lasting tan foam around the edges of the glass.
Cherry pits, yogurt, light woody funk in the aroma.
Sourness is a bit mild, creamy yogurty feel with evident lacto tartness, toasty malts, dry oak tannin lending a lingering light bitterness in the aftertaste. The full bodied creamy feel is probably the best aspect of this Oud Bruin. The wild funk and sourness is a bit restrained here, mildly tart but balanced overall. Could use more complexity. I enjoyed it and would recommend trying it, though it's not in my personal top ten for the style. Just not in the same realm as Dissident, Haandbakk, Oerbier Reserva, La Folie, etc. Looking like homerism and artificial "trade value" at work...
1,058 characters
4.5
/5
rDev
+6.9%
look: 4.25 | smell: 4.75 | taste: 4.25 | feel: 5 | overall: 4.5
750 ml cork and caged bottle poured into a Bruery tulip.
40 IBUs, OG 23°P, 17 SRM.
A - After a tough cork pull (I use my teeth in these instances) Wee on the Lam pours a dark, murky raisin-hued brown color with a tight ivory head. Good retention for the wild funk within, the head leaves lacing clutching the glass as it dissipates.
S - A smooth malt body of the Wee Heavy underscores the wild funk aroma nicely. Sticky sweet caramel and dense breadiness provide just enough oomph behind the Brett funk that wafts out; plenty of barnyard funk takes over. Give this one a swirl to conjure up deeper toffee and mocha notes that work well with the beer's overarching oakiness.
T - Rich maltiness flourishes throughout Wee on the Lam, allowing the Brett funk to graze it's pastures openly. Toffee, mocha, and sweet caramel lay the groundwork and earthy oak compliments wonderfully while tart cherry skin, horse blanket, and a spritz of lemon finish out.
M - It's no surprise this beer is a bit beefier than most other wilds out there considering it's wee heavy base. Fairly full-bodied, a tickle of carbonation livens it up with a nice tart feel and twitch-inducing sour finish, though the overall impression remains balanced with sweetness.
O - I can't think of a beer I've had that embodies happy accident more than Wee on the Lam. Coming out of no where, this could possibly be the best O'so brew out there, and I enjoy plenty of 'em. Wee on the Lam tastes miraculously like a sour brown with it's deep malt complexity and nicely balanced sourness on the finish. Speaking of happy accidents; picking this up the weekend it was released while in central Wisconsin for Central Waters. Too bad I didn't get enough.
1,716 characters
4.33
/5
rDev
+2.9%
look: 4.75 | smell: 4.25 | taste: 4.25 | feel: 4.25 | overall: 4.5
nice loud pop after the cork came out of the 750 C&C bottle.
poured into tulip glass.
Appearance: muddled murky brown bodied beer with 2 tall fingers of creamy tan head dropping down to a thin cap. Decent lacing on the side of the glass.
Smell: malty and mild to moderate tart cherries. Meaty, bacony, peat like smoke and fruity malt character. Oak barrel and earthy notes. Not getting too much funk here.
Taste: moderate cherry tartness with a nice oak note. Nice malty sweetness to balance these flavors that is remicent of a flander red or an oude bruin. Earthy smoke in the finish. This is a really unique beer. I havent tasted anything like this before!
Mouthfeel: medium bodied beer with moderate carbonation. really smooth and easy drinking beer. It got a surprisingly clean finish from the sour notes.
Overall: SLEEPER BEER! Sorry, looks like the cats out of the bag now. Oso's really made a nice beer here. I gotta say Oso's is the last brewery that I would have expected a really good sour to come from. Unique and memorable beer here! It joins a wee heavy scotch ale and a sour beer together very nicely. According to Oso's its a "Soured Scotch Ale" and that pretty accurate statement.
1,203 characters
Wee On The Lam from O'so Brewing Company & Tap House
4.21
out of
5
based on
71
ratings.