Dismiss Notice
Dismiss Notice
Dark Seas
| Mission Brewery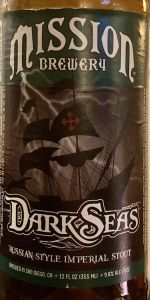 BEER INFO
Brewed by:
Mission Brewery
California
,
United States
|
website
Style:
Russian Imperial Stout
Alcohol by volume (ABV):
9.80%
Availability:
Year-round
Notes / Commercial Description:
No notes at this time.
Added by srandycarter on 12-08-2011
Reviews: 158 | Ratings: 669

4.11
/5
rDev
+1.7%
look: 5 | smell: 4 | taste: 4 | feel: 4.5 | overall: 4
Awesome thick tan colored head persists. Black and opaque like it should be.
Aromas of almost burnt toffee, roasted coffee. Some toast. Dark chocolate. Light floral/herbal hop note finds its way in there.
Milk chocolate and sweet caramel leads to some roasted malt undertones. Light roasted coffee. Floral hops come in to battle sweetness to balance. Alcohol warmth is pleasing.
Thick, viscous, full body. Some creaminess for sure. Low carbonation is pleasing. Just enough. Some alcohol warmth.
There's definitely some booze in there, but it's masked well with some really complex flavors. Surprised by the sweetness since the aroma was so roasty and hoppy. Could mellow out even more with age, but its nice with those fresh hops in there - those won't last long. Its still a little too sweet in my opinion.
★
811 characters

4.03
/5
rDev
-0.2%
look: 4.5 | smell: 4 | taste: 4 | feel: 4 | overall: 4
Picked this up at Rick's in Alexandria last week. $5.99 for a bomber. Poured into my Cigar City tulip.
a - Pours a pitch black color with one finger of tan han head and moderate carbonation evident. Light spotty lacing left on the glass, and a few dark brown bubbles left throughout drinking it. Looks like a great RIS.
s - Smells of dark chocolate, roasted malts, coffee, vanilla, milk chocolate, toffee, and caramel malts. Very nice chocolatey and roasty notes.
t - Tastes of roasted malts, coffee, bitter chocolate, toasted malts, light vanilla, and light dark fruits. Little more coffee here and not as much sweet chocolate; a tiny step down from the nose for me.
m - Full bodied stout and moderate carbonation. Thick and creamy; very nice.
o - Overall I thought this was a really good RIS. Nothing really jumps out as amazing, but everything about it is good and solid. Would certainly pick it up again.
★
913 characters
3.93
/5
rDev
-2.7%
look: 4.5 | smell: 4 | taste: 4 | feel: 4 | overall: 3.5
A: This beer is black. Stouts are black. There are only so many ways in which I can describe the way they look, and words like inky and obsidian are feeling overused... as are phrases such as "pitch-black," "black as night," and so forth. It does, however, have a nice, dark brown head that leaves a creamy and rather thick lacing on the glass. That wins it an extra notch on the appearance scale!
S: The aroma is a nice toffee and chocolate blend... more of a creamy milk chocolate, almost reminiscent of being in a candy store rather than that somewhat intense scent of bittersweet chocolate. There's almost a scent of smokiness in it... not like the rauch aroma, but a bit of a charred wood note. Quite nice.
T: A hop presence comes out a little more on the palate--one that I didn't pick up on (at least as much) in the aroma. This could be explained away in it being a bittering hop, rather than one of the more aromatic varietals, and it could also mean that I'm blowing sunshine out my ass. Along with it are some nice, traditional chocolate and coffee notes. While the coffee is perhaps a little more modest, the bitterness almost works with it to create a bit of a balance. Strangely, there's a sweet note that works in there as well, giving it a little bit of a milk stout quality, though there's not lactose thrown in here. This is a theme that I've now found with two Mission beers... a bit of sketchiness in balance. That said, I do still enjoy this one... just not beyond a 4 kind of like.
M + D: The body is pretty much appropriate to the style... I might have personally preferred it a little more chewy, but it works fairly well with the flavour profile. I'd say medium, verging on a heavy body, somewhat 'creamy.' This is a pretty pleasant stout, though I think the brewery might do well with a couple of tweaks to their hop selections.
★
1,859 characters
3.96
/5
rDev
-2%
look: 4.5 | smell: 3.5 | taste: 4 | feel: 4.5 | overall: 4
A- pours jet black with two fingers of espresso creama colored head. Very good head retention with lacing to boot.
S- big iced coffee and oily coffee bean on the front end. The middle has a touch of smoke with a soft roasted malt. Finishes with a plum dark fruit note.
T- soft roasted malt and iced coffee flavors on the front end. A touch sweetness comes in the middle with some dark fruit notes. Nice alcohol warmth and a hint of licorice on the finish. Lingering coffee in the aftertaste.
MF- pure velvet mouthfeel with a viscous full body and light soft carbonation.
D- nice and drinkable. A very solid RIS.
★
615 characters

3.86
/5
rDev
-4.5%
look: 4 | smell: 3 | taste: 4 | feel: 5 | overall: 4
With a hard pour from the growler into a tulip, a pale brown head rises and slowly sinks down to almost nothing leaving behind a few wisps of lace. The beer itself is an astonishingly dark brown. Little or no light sneaks through this one whatsoever.
Smells of crisp roasted grains, espresso and sour, overripe dark fruit. Very discouraging.
With a sip, this starts out surprisingly flavorless with just a distant ambiguous fruity sweetness, but after a moment a husky roastiness fades into view. The change up here is intriguing. I must say, this is about at the top of my tolerance for charred flavors. I'm still on the fence as to whether or not this is too much or just enough. I think this beer's saving grace is that the dry notes don't linger, tricking my palate into thinking I've just sipped a porter.
Feels really great with a delightful balance of viscosity and a trapped carbonation that artfully delivers and then retreats with the smokey notes rather than just exploding into a carbonated, charred fizz. The way this accentuates the flavor really carries a lot of weight. To top it off, it finishes smokey and clean. Kudos, Mission!
A bit startling in the nose at first, but the dynamism of the flavor, pushing the boundary of roasted barley without being a charred mess and an engaging mouthfeel make this a fine beer.
★
1,340 characters

3.78
/5
rDev
-6.4%
look: 4 | smell: 3.5 | taste: 4 | feel: 4 | overall: 3.5
On tap at Phileas Foggs, $3.50 for 10 oz during happy hour.
A - Black with mahogany colored head. 1/3 inch head with minimal lacing.
S - Toffee, roasted malts, and a hint of chocolate. Exactly what you would expect for a big imperial stout.
T - First taste is of bittersweet chocolate turning into a dry coffee bitterness on the mid-palate. Alcohol is not present at all and finish is smooth but not lingering.
M - Low carbonation that barely coats the mouth.
O - A tasty beer that would benefit from a touch more body. This is a one of the better beers I've had from Mission and I think it could be a good candidate for some type of barrel treatment.
★
657 characters
4.14
/5
rDev
+2.5%
look: 3.5 | smell: 4.5 | taste: 4 | feel: 4.5 | overall: 4
On-tap at Beachwood I,
A: Pour black with a medium dark brown head. Fair retention but with great colour.
S: Lots of dark chocolate, molasses, and licorice, classic.
T: Big dark chocolate flavour which dominates the taste. Nice sweet malt flavour, with notes of brown sugar and a good amount of backing hops, Yeti-esque.
M: Full-bodied and smooth, creamy and delicate.
O: A nice unbarreled throwback American RIS. Well made and tasty.
★
439 characters

4
/5
rDev
-1%
look: 4 | smell: 4 | taste: 4 | feel: 4 | overall: 4
12/12/2011
On tap at Mission brewery.
A: Black with a massive light brown head. Lacing is all over the glass.
S: Rich dark chocolate and pronounced earthy coffee with faint nutty notes. Molasses is evident, as is a whisper of licorice. Dark fruit is evident and restrained.
T: Pronounced earthy coffee with a strong roasted profile. Dark chocolate is bittersweet and pervasive. There's a lower moderate bitterness with evident molasses.
M: Lower full body with medium carbonation. 
Overall: A good Russian Imperial Stout.
★
528 characters
Dark Seas from Mission Brewery
90
out of
100
based on
158
ratings.