Mission Brewery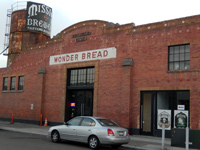 PLACE INFO
Type:
Brewery, Bar, Eatery
1441 L Street
San Diego
,
California
, 92101
United States
(619) 628-0500 |
map
missionbrewery.com
Notes:
No notes at this time.
Added by Stoneman78 on 11-02-2007
Reviews: 15 | Ratings: 71
4.5
/5
rDev
+12.5%
First brewery I stopped at in San Diego, early afternoon, soon after it opened so it was nearly empty. It is located in an old Wonder Bread factory, as evidenced by the sign that they kept on the side of the establishment. Just southeast of downtown, the area is a little dicy but once you get here it is ok (less rural, more industrial). The brewery itself is great - big, open, bright. Large bar with plenty of room, and high tables. I really enjoyed the atmosphere, and the big brew stills are out and visible behind you when seated at the bar.
And they do have some solid beers. I started with a pint of Shipwrecked double IPA and followed with the Dark Seas Russian Imperial Stout. Both were +9% abv, both were delicious. I was feeling pretty good after knocking those bad boys back, and was intrigued by their hard root beer up on the blackboard, so I had to try that too. That was also tasty, creamy with some noticeable astringency but still good.
Left with fond memories. Was off to Monkey Paw next, but I will def be back at Mission when I return to SD.
★
1,068 characters
4.5
/5
rDev
+12.5%
Great spot and great beer. Nice large bar and plenty of space for those who want to stand or huddle around one of the few tall tables. If you're not a baseball fan aim to arrive in the second inning of a Padres game and you'll have the place nearly to yourself. Taco truck outside the front door was also a nice touch. Can't wait to visit again.
★
349 characters

4.5
/5
rDev
+12.5%
vibe: 4.5 | quality: 4.5 | service: 4.75 | selection: 4.25
Located in an old Warehouse, close to Petco Park. Brewery is open to viewing from behind the seating area. They also can right off to the side of the seating area. The atmosphere is really cool. Went with a family member on a weekday and it was relatively slow,which was nice. Our bartender was very knowledgeable and even made recommendations for other breweries to visit while in San Diego. I purchased a 22oz of their imperial stout to go, i enjoyed the one i had on tap that much. This will be a regular stop each time I am in San Diego.
★
541 characters
4.25
/5
rDev
+6.3%
Large, open space with high ceiling and working brewery atmosphere. Long bar along one side and windows on the other side to see the brewery, with some table in between. Pretty loud and busy on this Saturday afternoon. Only had time for one beer, a porter, which was very good. Service was quick and servers were helpful with questions. Not sure about the food, since I didn't try any. Great place to try if you like beer and are downtown.
★
440 characters
4.2
/5
rDev
+5%
vibe: 4.5 | quality: 4 | service: 4 | selection: 4.5
Located in a massive warehouse (once storing Wonder Bread) in the East Village district, Mission is a wonderful place to quaff some great crafts. Step up to the huge and well-worn bar and try 20 taps. You can get a full pint ($6.00), a half-pint ($4.00) or a taster ($2.00) of a wide variety of styles: light or dark, hoppy or malty, low abv or high. Great selection that satisfies all. You can check out the brewing tanks on your way to the bathroom. I would definitely call Mission Brewery, a MUST visit. I enjoyed the following: Mission IPA, Citra Session, Shipwrecked IPA (and a Grapefruit Shipwrecked), a yummy porter and their Dark Seas RIS.
Your mission, if you choose to accept it......
★
696 characters
4.18
/5
rDev
+4.5%
vibe: 4.5 | quality: 3.5 | service: 4.5 | selection: 4.5
Went to mission as part of a 14-brewery San Diego trip. Went on the day of a Padre's game so it was bumpin pretty good. We walked to Mission from Monkey Paw - which was terrifying. Homeless people everywhere - I'm sensitive to their plight, but the volume was scary!
I loved the branding of the place and the history of the building (old wonder bread factory) were cool, but the beer wasn't very good. All passable, but nothing I considered taking home.
Out of the 14 breweries we visited this was probably in the bottom 3. I'd skip it unless it's really convenient to visit based on the rest of your trip.
★
614 characters

4.06
/5
rDev
+1.5%
vibe: 4.25 | quality: 4.5 | service: 3 | selection: 4.5
So I was at the Mission Brewery for the American Homebrew Association Rally that was held in January 2014. This was a big event, a lot of people were there because it was free for members to attend.
Aside from the EXTREMELY long lines to get beer, I really like the location. It's an old bread factory (I think) and it keeps a really nice open air feeling. The brewing system is right next to the tasting room, there really isn't any divider which is pretty cool.
The beer selection is really good, they had a couple of beers that I can't get in the stores. The particular day that I went they also had their zygoas (or something similar to that) in cask which was really good.
I would go back to this location but NOT during another rally. it was way too many people and too few bar tenders.
★
798 characters

3.99
/5
rDev
-0.2%
vibe: 4 | quality: 3.75 | service: 4 | selection: 4.25
The outside isn't much to look at, but the inside is pretty cool. Old building with deep history. Love the wood and Bricks. Decent selection on tap and nice vibe. Would come back to hang out before the baseball games.
★
217 characters

3.89
/5
rDev
-2.8%
vibe: 3.75 | quality: 3.75 | service: 3.75 | selection: 4.25
Located on the warehouse side of the large parking area off Petco Park. This is an old factory, so when you enter you see a large bar on the right side and all the brewing equipment in the back off to the left. Shuffleboard table is also here. Bags of grains and boxes are all over the place making the interior look a bit messy. There is a large beer list above the bar, and the few beers we had were very fresh and tasty. More locals here than tourists. Personally I preferred visits to some of the other San Diego breweries over this one, but is convenient for those staying in downtown area.
★
598 characters

3.89
/5
rDev
-2.8%
vibe: 4.25 | quality: 4 | service: 3.75 | selection: 3.75
This brewery is located across from Petco Park and in a brick building formerly a bakery (Wonder Bread?). Once you enter, it's a typical brewery with a bar and monitors. You can see their staff at work brewing beer which is kinda cool. There are games along with tables and seats. They have a few coolers with bottles to go and some merchandise.
It's probably a good place to have some pre-game beers. They don't have a kitchen, but had a BBQ or something at the entrance.
★
480 characters

3.86
/5
rDev
-3.5%
vibe: 4 | quality: 4 | service: 3.75 | selection: 3.75
Mission Brewery is located in the Gaslamp/Downtown area of SD, on the eastern side of the Petco Park complex.
Lots of seating at the huge bar and at the picnic tables/benches. Never a long walk to the bar for more tasters and the place had enough staff working to get everyone served quickly. The tasting area is right next to their brewing equipment so you can watch the action as the brew-folks do their thing.
Good selection of their brews on tap the day we went, the tastings are reasonably priced and they also had merchandise and beers to go. The staff is friendly, knowledgeable and was always available when needed. While they don't serve food they can help you place an order for something from local vendors that gets delivered right to the tasting room.
All in all a great experience and we'll be coming back soon. Cheers!
★
837 characters
3.83
/5
rDev
-4.3%
vibe: 4 | quality: 3.75 | service: 3.75 | selection: 4.25 | food: 3
Went to the brewery. They were out of Shipwrecked- the one beer I wanted to taste. Beautiful building but overall disappointed. Could be much better.
★
150 characters
3.77
/5
rDev
-5.8%
vibe: 4 | quality: 3.5 | service: 3.75 | selection: 4
Visited 3:00-3:45, 11/27/2013
I actually didn't realize that Mission Brewery was so close to the heart of downtown San Diego until an exploratory trip to the rooftop of the nearby and brand-new Central Library (besides beer, I like architecture) allowed me to spy the large logo-clad rooftop silo from several blocks away. That's good advertising!
Moved the car a few blocks and parked right in front of the brewery (beneath the "Wonder Bread" marquee, indicating a former life for this decades-old brick warehouse). On a Wednesday mid-afternoon (the day before Thanksgiving) the tasting room/bar portion of the massive space was only about 1/3rd full, a few small groups, some lone tasters scattered about, a few brewery guys ending their shifts, a guy with his dog. The space beyond the main entry is rather grand: ceiling probably 25-30 feet high and skylit, exposed wooden beams and brick walls, concrete floors and a long dark wooden bar to the right. Oh, and multiple pallets of cans stacked almost to the lofty ceilings - impressive. To the left are a number of tables, counters and benches beyond which are a couple dozen gleaming brewing tanks lined in rows and a bustling crew of brewers nearing the end of the workday. The din of classic rock (Led Zeppelin, Ozzy, etc) and occasional forklift traffic makes it known this is a 'working' brewery - no separation between the two (for example, try finding the restrooms and you'll see what I mean). I like breweries with an "open" atmosphere like this...
I pulled up a seat near the center of the bar, facing an expansive mural of Spanish ships moored in the bay. Obviously, the "Mission" reference in the name dates back to the early European seafaring explorers and their first visits to the region centuries ago (I did not know this prior to the visit). "Andie" was the server behind the bar and did a good job of managing the room, a little friendly chitchat and beer suggestions helped. I chose the 4 beer flight (ANY 4 off the 13 beer menu) for $6: Armada Saison, Adambier, Carrack Imperial Red and Mission Dark Seas RIS were my picks. I later got a pint of the Dry Hopped (Noble) Blonde ($5.50).
Beers were generally good; Dark Seas was definitely my favorite, Carrack seemed "off"/odd-flavored (for a style I usually like) and the other 3 were fine, if not remarkable. I took home a 32 oz(!) can of the El Conquistador Extra Pale Ale ($6) and 2 like-sized cans of the Shipwrecked IIPA ($8 ea), plus a bomber of the Dark Seas. Decent selection of styles overall, from Hefeweizens and Blondes to Cherry Porter, Imperial IPA and Imperial Stout. Also, 2 casks (including an upcoming "Amber with Fall Spice" that I'd have probably liked).
I didn't get any food; there are small bound books of local restaurants that will deliver should you be in the mood. All in all, a good time spent - I will return!
★
2,867 characters
3.73
/5
rDev
-6.8%
vibe: 4 | quality: 4 | service: 4 | selection: 3
Stopped in here for my lunch break while at a conference. Didn't get food but sampled their beers. I think they were a buck a sample. I had had the DIPA so I tried all the others. The beers are mostly solid. The single IPA was probably the best. The pilsener has some good character, it had a long bitter finish. The koelsch was pretty insipid but oh well. The brewing equipment is right in the middle of the place. It has a nice open feel. They sell some souvenirs and beer to go as well. Service was nice.
★
507 characters
2.74
/5
rDev
-31.5%
vibe: 3.75 | quality: 2.75 | service: 3.25 | selection: 1.75
I stopped in on a Sunday after a baseball game. The first 4 beers I asked for they did not have. Why not take them off the list? The bartender told me that they they did not have anything good. So I ordered a hard cream soda. The bartender tells me "we dont have that but you are not missing anything. The place was very dirty, floor was sticky, they only had a quarter of their taps in use and the bartender did not seem to care. Whith so many good places around that area like Monkeys Paw or Stone I dont think I would waist my time again.
★
541 characters
Mission Brewery in San Diego, CA
3.69
out of
5
based on
3,459
ratings.