Dismiss Notice
Ginger Pale Ale
| Northwest Brewing Company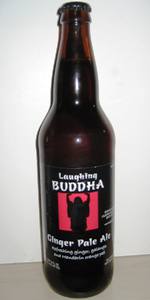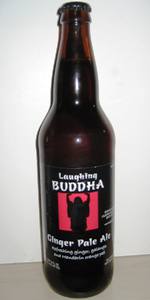 BEER INFO
Brewed by:
Northwest Brewing Company
Washington
,
United States
nwbrewingcompany.com
Style:
Herbed / Spiced Beer
Alcohol by volume (ABV):
5.00%
Availability:
Year-round
Notes / Commercial Description:
No notes at this time.
Added by Gavage on 08-12-2008
HISTOGRAM
Ratings: 31 | Reviews: 21
3.29
/5
rDev
-4.6%
look: 3 | smell: 4 | taste: 3 | feel: 3.5 | overall: 3
Appearance: Pours a cloudy amber color but despite a hard pour, it was difficult to raise much of a head; no lacing
Smell: Smells like a wit with ginger; rather enticing
Taste: Very light malt bill that provides a non-descript opening, almost like a macro lager; by mid-palate and after the swallow, the candied ginger flavor arrives to provide a sweet finish
Mouthfeel: Light body with low to moderate carbonation
Drinkability: Best with Asian food, this beer doesn't do much for me as a stand-alone brew
509 characters

3.87
/5
rDev
+12.2%
look: 3.5 | smell: 4 | taste: 4 | feel: 4 | overall: 3.5
Ok, this is a style worth trying as Ginger beers are far and few ( though two breweries in Vancouver brew one at around the same time). The beer is ginger on the nose and ginger on the finish which is cool as long as you like ginger(I love ginger). The ale is well made with decent hops and malt to back up the big ginger taste. Nice beer that is very different than anything else on the shelf.
394 characters
3.55
/5
rDev
+2.9%
look: 4 | smell: 4 | taste: 3.5 | feel: 3.5 | overall: 3
Pale amber with a good off white head that departed quickly leaving a ring of suds. Few lacings. Aroma was ginger. Taste is like an amped up ginger beer. If you like ginger this is your beer. If not pass on this one. No bad attributes if ginger is your thing.
259 characters
3.35
/5
rDev
-2.9%
look: 3.5 | smell: 3.5 | taste: 3.5 | feel: 3 | overall: 3
Served in pint glass. Poured a clear, straw color with a thin, quickly dissipating, white head that left moderate lacing. The ginger mixes well with the other aromas. The ginger is a clear, but not overpowering, presence in the flavor profile. Medium, leaning towards thin, body. Very drinkable but, depending on your tastes, could get tiresome. A solid and unique take on standard Pale Ales.
392 characters
3.57
/5
rDev
+3.5%
look: 3 | smell: 3.5 | taste: 3.5 | feel: 3.5 | overall: 4
pours a chill-hazed decently bring golden hue in the glass, capped with a fizzy off-white cap that fizzles and pops down to a thin cap fairly quickly. lacing, unfortunately, is kept to a minimum.
just incase there was any doubt, the aroma smacks you in the face with ginger. a bit of lemongrass, a hint of floral hop notes, and more ginger. smells like a strong ginger beer.
The aroma wasn't playing around... smells like a ginger soda, tastes like a ginger soda. A nice fresh-ginger note up front, fading to a more earthy gingering. There's a bit of hop bitterness and maybe a touch of pale malt hiding in the wings, but the ginger is definitely the star of the show. a bit of white sugar sweetness keeps it from being too spicy.
aroma and taste following soda is acceptable... the mouthfeel doing the same is unexpected. Light, even for a pale, with some ample carbonation. it actually works alright with the flavors, but a touch fuller body (or a touch less carbonation) would do wonders for this one. Clean and crisp, a touch drying, all in all not too bad.
This one went great with food, and I could see utilizing it in the same fashion in the future. not one I would session, nor would regularly seek out. but as far as ginger beers go, this one is nicely executed and sits at a fair price point. It's definitely ginger, ginger, and more ginger. If that's not your thing, don't bother with this one. If you dig ginger, than this one may be worth a shot.
1,464 characters

3.87
/5
rDev
+12.2%
look: 3 | smell: 3.5 | taste: 4 | feel: 4.5 | overall: 4
Chill hazed dull gold with a spritzy, noisy off white head that is quick to settle and leaves scattered lace. With the sound, bubbly body and quick forming and falling head, you really can't help but think of ginger ale!
Smell is mostly ginger, light orange, a bit floral, but not overly assertive.
Taste is also mostly ginger, with not much in the way of pale malts or hops, some bitterness and bread on the finish. Overall, it's really a pretty clean beer. The ginger is refreshing though and not overblown, and it's overall a nice little beer, paired well with my salmon salad.
Mouthfeel is very light and spritzy, again, like the soda version (or maybe the soda is a version of this, I'm not sure of it's historical provenance). As a pale, it would be thin, but the light body goes well with the crispness.
Drinkability was pretty high, the bomber went down with ease in a hurry, really nice to wash down my food, not to strong, light in the belly, pretty much everything I'd want from a Ginger Pale Ale. Still, it's not something I wanted another bottle of either, but this would be sure pick with food at a bistro or something, good hot weather bbq choice I'd reckon too, but not the only thing you'd want to stick to.
Of course this is a spiced beer so I'm not sure why I'd hold that against it...sure if if was just called a pale ale with not mention of the ginger or mandarin, I'd be put off. But I knew what I was getting into, even if I'm not a huge fan of spiced beers as a concept, and this one is pretty good.
1,531 characters
2.21
/5
rDev
-35.9%
look: 3 | smell: 2 | taste: 2 | feel: 2.5 | overall: 2.5
22oz bottle shared courtesy of Josh.
Poured a medium golden color with a small sized white head. Aromas of, drum roll please, Ginger. Tastes of, drum roll again, Ginger. This one was all about the ginger. Although the ginger wasn't as strong in the tastes, it was there. The ginger in this one got us into a Sushi conversation.
329 characters

2.99
/5
rDev
-13.3%
look: 2 | smell: 3 | taste: 3.5 | feel: 2.5 | overall: 2.5
pours a semi-clear orange with a very thin white head that goes away very rapidly, lots of carbonation, and some lacing.
smell of peach, spice, and ginger.
taste is watery, ginger, dry leaves, fruit, and just a touch of caramel.
overall it tastes okay just not my cup-of-tea.
278 characters
3.25
/5
rDev
-5.8%
look: 4 | smell: 4 | taste: 3 | feel: 3.5 | overall: 2.5
Appearance: Very minimal head, light amber color; good clarity. Nice amount of carbonation bubbles. Light foam and minimal lacing left in glass.
Smell: Mellow smell with a predominate ginger smell with hints of orange and slighty of cloves.
Taste: Kick you in the butt ginger! It was like drinking liquid ginger. Spicyness due to the ginger. You can taste a little bit of the citrus. A little on the sweet side.
Mouthfeel: Light, easy. Light carbonation and the ginger leave a tingly feeling and a long aftertaste.
Drinkability: Might go well with food and paired with something asian or ginger-friendly. Not very great by itself. I only had a small glass yet that was more than enough. At first it was easy to drink but the more I consumed the less I liked it and the ginger just was WAY too much. Definetly couldn't finish a whole bottle by myself!
855 characters
2.68
/5
rDev
-22.3%
look: 4 | smell: 3.5 | taste: 2.5 | feel: 2 | overall: 2
I admittedly was disappointed in this brew. The color and clarity was very nice in my tulip glass. Absolutely no head, which was reflective of the beer's very watery body. A rich orange/gold color which was very nice.
The smell was mostly ginger, a little mandarin tang and sourness. Couldn't pick up too much malt, and no hops at all.
Taste was not too complex. Very foward with ginger and mandarin. Very mild sweetness to back it, but overall very simple and not well balanced. It became increasingly difficult to drink after the first glass, but I managed to get through the bomber. This may be better as a meal pairing, but I would not purchase this again. I will definitely give Laughing Buddha another chance, because this may have just simply been a matter of taste. The beer was clean and it was evident that they used good ingredients, I just was not impressed by the recipe.
884 characters

3.95
/5
rDev
+14.5%
look: 4 | smell: 4 | taste: 4 | feel: 4.5 | overall: 3.5
Appearance: clear copper orange in color with a short 1/2" head that slowly breaks to a thick surface foam.
Smell: pleasant ginger and some malt sweetness is easy to detect.
Taste: ginger is the main flavor, but unlike others it is not overpowering and actually works with the other flavors. Some caramel, bits of orange citrus, and a soft bitterness rounds it out. Mildly refreshing.
Mouthfeel: lightly crisp throughout. Medium bodied beer. Aftertaste is long but mild as the ginger lingers softly on the tongue.
Drinkability: I did not pair this with any food, but it would work well with asian food. Drinking in a standalone fashion as I was, one pint was good and two would be pushing it. A beer worthy of a try.
729 characters
Ginger Pale Ale from Northwest Brewing Company
Beer rating:
3.45
out of
5
with
31
ratings