Purple Yam Porter
| Northwest Brewing Company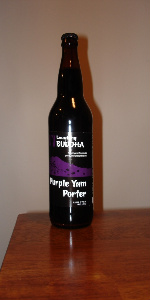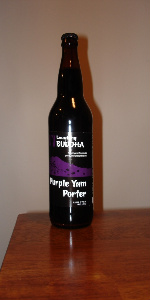 BEER INFO
Brewed by:
Northwest Brewing Company
Washington
,
United States
nwbrewingcompany.com
Style:
Fruit / Vegetable Beer
Alcohol by volume (ABV):
7.00%
Availability:
Year-round
Notes / Commercial Description:
No notes at this time.
Added by Wetpaperbag on 11-19-2008
HISTOGRAM
Ratings: 11 | Reviews: 11
Reviews by jojox:

2.99
/5
rDev
-14.1%
look: 2.5 | smell: 3.5 | taste: 3 | feel: 3 | overall: 2.5
Got this as an extra in a trade. If nothing else, it's unique!
a - Cloudy brown. Think head.
s - Malty, chocolate aromatics. No vanilla.
t - high CO2, smooth, kinda strange taste... think body. Not a lot of roasted or chocolate flavors. No vanilla.
m - too much CO2 and thin body.
d - I'm really not a fan. Interesting concept though.
Sorry this review is so short on words, but the beer was just that - blah, nothing much to say. I didn't notice any vanilla and what did the yams contribute besides cloudyness? Maybe mine got hot or something.
550 characters
More User Reviews:
3.53
/5
rDev
+1.4%
look: 4 | smell: 3.5 | taste: 3.5 | feel: 3.5 | overall: 3.5
intrigued by this one... poured from a 22oz into a bomber.
Pours a dark, woody garnet, to a near black in the glass with dark cherry tinges at the edges. A nice full one-finger mocha colored head has decent retention, fading to a collar with nice spotty lacing down the glass.
aroma is a bit muddled and murky... a roasty earthy malt aroma mixed with an intriguing sweetness. maple, vanilla, caramel, a touch of honey. A but if musty straw and an earthy funk.
Taste is interesting, and evolves greatly as it warms. Roasted malts, dark fruit, a bit of burnt caramel and sour burnt fruit. A bit of cocoa, a bit of earth (maybe the yam?). A bit of starchy residual sugar. maple. There's a definite hop presence that starts as a pleasant earthy hopping. As it warms, it melds with the sweetness to create a sour, almost acrid bitterness. gets difficult to finish.
mouthfeel is creamy and full. vibrant, yet dark. smooth. A bit chewy and starchy, gets dirty as it warms. A bit difficult to sip... almost too rich. The ample carbonation helps keep it from being cloyingly thick.
All in all, not what I was hoping. I had high hopes, but by the end of the bottle, I was contemplating whether or not to even finish it. I can't see drinking more than one of these, and frankly, with all the other excellent rich porter options out there, the purple yam aspects aren't really apparent enough to make it worthwhile. A noble effort, but a lackluster finish.
1,450 characters

3.48
/5
rDev 0%
look: 4 | smell: 3.5 | taste: 3.5 | feel: 3 | overall: 3.5
pours an opaque with a large tan head, and nice lacing.
smell is of dark fruit, and a touch of cocoa.
taste is slightly sour, some vanilla, touch of cocoa, some malt, and dried prunes, leaves the mouth very dry and a little bitter.
overall i didn't taste the yam, but was an above average brew.
297 characters
3.34
/5
rDev
-4%
look: 5 | smell: 3.5 | taste: 3 | feel: 4 | overall: 3
Aroma is big on fruit fermentation and some yeast and a little roast malt. I get a sugary smell too that might be yam. Not knowing what a mashed yam would smell like I'm not sure but it isn't malt.
Deep brown with very little light when held up. Nice thick tan head that never goes away. (Think of a draght guiness head. If I hadn't tossed the cap, it would float.)
Flavor is a little off for me. It has all the roast that I want in a porter but it has a weird sweetness like what I got in the aroma. I can't pin it down as malt so it must be yam. The more of it I drink, the more pronounced that sweetness seems. But there's also a bunch of fermentation esters and other flavors. It's not bad but I don't really dig it.
Big body with a nice creamy carbonation level so it is very smooth.
I had a hard time finishing this. It's just awfully heavy and sweet so it didn't work well for me.
891 characters
3.56
/5
rDev
+2.3%
look: 4.5 | smell: 3.5 | taste: 3.5 | feel: 3.5 | overall: 3.5
22 oz. Bottle bought at By The Bottle.
The beer pours a clear dark red/brown with purple highlights and a thick frothy head with sticky lacing.
The nose has pretty strong buttery notes that I'm having a hard time getting past. (I dislike diacetyl, but in porters it is acceptable in small amounts).
The flavor has some butter but then I get vanilla, chocolate, and roasted malt. It has a nice balance between the sweet malt and the roast and bitterness from the hops.
It has a medium body with a slightly chewy mouthfeel.
Overall it is a very drinkable and balanced beer. Nothing is overdone, which is often the case when a brewer uses vanilla. I'm not sure what the purple yams contributed to the beer other than the mouthfeel and the purple highlights. I do know it goes very well with a chocolate chip cookie.
818 characters

4
/5
rDev
+14.9%
look: 4 | smell: 4 | taste: 4 | feel: 4 | overall: 4
A- A nice one finger width head formed, but has the abilities to become pretty heady. The head is tight with a matrix of large and small bubbles that fade into the darkness that is this beer. Now with Purple Yams being used I was expecting this to be purple in color, but no. It is a nice dark porter color.
S- Earthy, yet sweet. The vanilla that was used is very faint in smell. There is a nutty/roasty smell coming though, and very, almost non-existent coffee smell.
T- Wow this is a different beer for sure. Huge earthyness with this beer. Lots of roasted flavors as well. A slight bitter taste is playing, but I still am amazed at the eartyness, I'm guessing that is coming from the yams. The vanilla is there, but only just barely. Talk about different for sure, but different in a good way.
M- The bitterness is different then that of hops, its a dryer taste for sure. But not too bad feeling in the mouth, the carbination does well for this.
D- I would have to say that this is a solid beer. Laughing Buddha puts together some unique flavors, and they achieved that again. Solid tasting beer.
Added Pic
1,115 characters
3.35
/5
rDev
-3.7%
look: 3.5 | smell: 3.5 | taste: 3.5 | feel: 3 | overall: 3
Thanks to BVC for this extra.
Poured a deep reddish color with lots of color highlights. Had a thin whittish head, decent carbonation. Nose is caramel, yams. taste is pretty good. I wish the yams would have come through a little more. Mouthfeel was rather thin and runny. Drinkability, ahhh one was enough for me.
313 characters
2.67
/5
rDev
-23.3%
look: 2.5 | smell: 3 | taste: 2.5 | feel: 3 | overall: 2.5
I had to admit, this one made me skeptical. Did I really want a vanilla porter brewed with purple yams? Probably not. But I deliberately prepared myself with a reminder to keep an open mind.
Vanilla aroma at first achieved a welcome gesture. The aroma was modest and came with a shallow dive of coffee. Visually, the beer showed an eclipsed head with zero lace on a body of dark tawny. Shine a light through it and it emits a bruised purple red.
But the taste actually caused me to gasp involuntarily. I wasn't sure what I'd tasted at first, but I knew for certain I didn't care for it. It's just too dirty and off the wall. It has a sharp, acrid property evoking a burnt bitterness that only progresses towards the finish. And the underlying porter elements are stillborn. It's doubtful that this would be a workable vanilla porter in the absence of purple yams, but the yam element is convoluted and achieves no worthy enhancement. Pass.
945 characters
3.41
/5
rDev
-2%
look: 4.5 | smell: 3.5 | taste: 3 | feel: 4 | overall: 3.5
22oz bottle.
Pours dark red/black. Moderately hazy. Tall tan head that lasts, good lacing.
Aroma is roasty and buttery. I can see how people would say vanilla but I think its just sugar mixing with the buttery smell. Also a touch of alcohol in the nose.
Flavor is roasty and buttery. Maybe a little sweet and possibly fruity. Not real complex but smooth and mildly bitter.
Decent drinkability, medium CO2, medium body.
424 characters
3.92
/5
rDev
+12.6%
look: 3.5 | smell: 4 | taste: 3.5 | feel: 4.5 | overall: 4.5
bomber by way of RiversideAK...
pours a bit darker than the standard porter ruby brown with a tan head and modest amounts of spotty lace trails.
there's a definite earthly sweet cooked potato smell to this although i could never had pulled it out had i not known. other aromas include chocolate, char, faint vanilla, flowers, roasty malt and a hint of smoke as it warms.
i don't get the yam in the flavor but the vanilla is more prominent... lots of roasted grain, mild chocolate, mid palate light sourness and cinnamon with a dry floral hoppiness on the finish. there's some ash in the finish as well which lingers into the aftertaste along with some cocoa. medium body. carbonation gets super creamy when sloshed. mild acidity and ash make it kick ass as well as balance it out incredibly.
solid well crafted porter!
7/4/7/4/16/3.8
840 characters
4
/5
rDev
+14.9%
look: 4 | smell: 4 | taste: 4 | feel: 4 | overall: 4
Appearance: Dark, not in your face purple but when I held it up to the light it looked like the water left in the pot after steaming beets. With the pour there was a lot of tan head that reduced down to about half an inch. A little bit of lacing left in the glass.
Smell: Smells a little bit like roast coffee with a malty scent. Also a hint of cloves.
Taste: After my first sip, I had to smile, it was really surprising compaired to other Laughing Budda beers. It doesn't kick you in the butt with strong flavors. It has a nice taste that is typical of a porter but with root vegetable taste. The aftertaste reminds me of beets, not yams. It isn't overly sweet nor do the flavors overpower each other - they blend nicely.
Mouthfeel: Smooth, light carbonation.
Drinkability: Really easy to drink. I really like this beer and can drink the large bottle with ease. Goes well with the end of the day calm and really well with a dinner of meatloaf and a sweet potato chipotle mash! Overall, a really nice beer.
1,010 characters
Purple Yam Porter from Northwest Brewing Company
Beer rating:
3.48
out of
5
with
11
ratings