Infidel Lime IPA

Northwest Brewing Company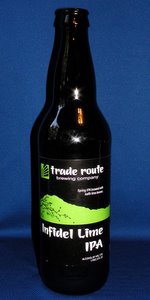 Write a Review
Beer Geek Stats:
| Print Shelf Talker
Style:

ABV:

7.5%

Score:

Avg:

3.29

| pDev:

9.42%

Reviews:

12

Ratings:

From:

Avail:

Spring

Wants

Gots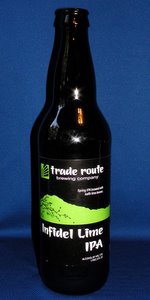 Notes:
Reviews by weeare138:
2.8
/5
rDev
-14.9%
look: 2.5 | smell: 2.5 | taste: 3 | feel: 2.5 | overall: 3
Thanks to hopdog for the sampling...
Appears a clear orange with a small white head that quickly fades into a mild cap. Gentle spots of lacing are left around the glass.
Smell is of lemon & lime, herbs, minerals, and dirt.
Taste is of bitter lime with a funky(not in a good way) bittersweet flavor.
Mouthfeel is medium bodied, citrusy, bitter, and dry. Lime citrus that is very strange zinging along the palate.
411 characters
More User Reviews:

3.58
/5
rDev
+8.8%
look: 4 | smell: 3.5 | taste: 3.5 | feel: 4 | overall: 3.5
22oz bottle.
Pours hazy gold with an orange hue and an inch-plus head of bone. A partial skim coat and streaks of lacing throughout the glass.
Aromatics are laced with spicey hops, biscuity malt, and a hint of lime leaves with bark. Slightly chaulky and herbaceous. Far from pungent or floral.
Medium bodied with a crisp, drying mouthfeel.
Bright, bitter citrus with plump malt starts the palate. Grapefruit pith, tangerine, and lime oil. Shades of pine and black pepper follow through.
Finishes with a lingering bitterness, a trace of spicy heat, and a slight puckering tartness.
Interesting beer but the lime is so subdued that you wouldn't know it was there unless you were told. Also the hops in the nose are very lacking for the style. It would probably be exceptional with Pad Thai though.
802 characters
3.35
/5
rDev
+1.8%
look: 4 | smell: 4 | taste: 3 | feel: 3.5 | overall: 3
Barely blurry pumpkin orange with golden honey highlights. The beer looks good and the head looks even better. It's toasted peanut shell in color, rocky as it melts, and has the stickiness of whipped marshmallow. Thick splatters of lace are blanketing all available surfaces. This is the best looking TRBC beer yet.
The style designation now makes perfect sense. Infidel Lime IPA doesn't smell like an IPA, it smells like a kaffir lime leaf-added ale... which is exactly what it is. The aroma might be too perfume-like for most people, but I love its aromatic, exotic character. The danger is that it will be overpowering on the palate.
Good call on my part. Bad call on the brewery's part. What is enjoyable in the nose is too overwhelming in the mouth. Cutting the lime leaf by at least 50% and allowing the hop flavor to shine would have made for better beer. It has an IPA's worth of bitterness though, I'll give it that.
The beer's color suggests that some of the mid-range malts were used. Trouble is, no malt flavor can fight through the lime leaf either. This is one of the most boldly flavored herbed ales that you'll ever run across. If you don't like bitter citrus peel with an intense floral quality, then give this one a pass.
While the mouthfeel is on the lighter end of the style spectrum, it's still above-average thanks to silky smoothness, just enough 'hang on' and perfectly calibrated carbonation.
The good thing about Trade Route Brewing Company (formerly Laughing Buddha) is that they aren't afraid to use exotic ingredients... and lots of them. Having said that, Infidel Lime IPA would have benefitted from a slightly lighter touch. Sorry, I'm not a believer.
1,687 characters
2.8
/5
rDev
-14.9%
look: 3 | smell: 3 | taste: 2.5 | feel: 3 | overall: 3
Trade Route: formerly Laughing Buddha
this is a 7.5% ipa brewed with kaffir lime leaves
golden orange pour, heady enough. really smells of sweet, citrusy lime, which is odd, because i never got much lime from kaffir. perhaps it's partially hops.. some amarillo or something. the beer has a real distracting fruit juiciness about it, and the hops provide inadequate bitterness. there's more of a tartness than anything. what kills me is that i can taste a really good base beer here screaming to be noticed, without results. i wonder if they put some sort of flavoring in this beer.. it's totally drinkable and strangely refreshing, but not something i will revisit. have a mango weizen in the fridge which i have much more hope for. i give these clowns points for trying something new, but i have to say that they didn't quite pull it off. it seems like their beers all require a gimmick, but i'd bet they could churn out a good standard ipa if they tried.
962 characters
3.07
/5
rDev
-6.7%
look: 3 | smell: 3.5 | taste: 3 | feel: 2.5 | overall: 3
22oz bottle acquired in trade with riversideAK (thanks!).
Poured a mdium and clear golden/amber color with a small sized off white head. Aromas of herbalness, citrus, lime rinds, and some graininess. Tastes of the same herblalness, citrus/limes, and some earthiness. On the sweeter side.
289 characters
3.85
/5
rDev
+17%
look: 4 | smell: 4 | taste: 4 | feel: 3.5 | overall: 3.5
Pours hazed golden amber with an off-white head. Lacing sticks.
The smell is of citrus and herb with bready notes. I expected more of a lime smell, but looking at the bottle again, it says kafir lime leaves, and there is a minty leaf character.
The taste is of a citric/herbal bitterness with a bready, caramelish maltiness. There's a hint of alcohol in an herbal/minty finish.
It is on the lighter side of medium bodied with medium carbonation. Pretty smooth.
This is a "more balanced" IPA with a refreshing leafy/minty quality. Alcohol is reasonably well covered for 7.50. A "different" ipa...
599 characters
3.68
/5
rDev
+11.9%
look: 4 | smell: 3.5 | taste: 3.5 | feel: 4 | overall: 4
Thanks to SeaBass.
A: Pours a orange like orange highlighter in water. Nice tall white head. No retention with some lines of lace.
S: Aromas of fresh pine, lime, and earthy tea.
T: Earthy for sure... like fresh tea. Mild citric notes but lime does not necessarily stand out.l Caramel malt, mild more pale ale than IPA.
M: On the lighter side of medium, smooth.
D: Good, light, can't believe this one is nearly 8% ABV.
422 characters
3.41
/5
rDev
+3.6%
look: 4.5 | smell: 3.5 | taste: 3.5 | feel: 3 | overall: 3
So, this looks like, and probably is, a gimmick, but it sounded too interesting to pass up. I did not look this up on Beer Advocate before buying, nor did I look it up after buying.
A - Poured into my Squatters IPA goblet. I have to say, it is a very nice-looking IPA (though let's be fair, most are). Thick head that retains like hell, a little burnished gold body.
S - So, I'm searching for kaffir lime in the aroma, obviously, and it's not immediately apparent. I guess this is not surprising, since you usually get citric hop aromas in IPAs to begin with. Maybe, just maybe, I can pick out a little lime-detergent, but I really think I'm stretching. It just smells like a citrusy IPA, one of many, though the lime does come out a bit more as it warms. As a big fan of limes of all persuasions, this makes me happy.
T - OK, I taste something, but I wouldn't immediately recognize this as kaffir lime. Decent little piney/citric hop profile, decent bitterness builds with a small amount of residual sweetness. That extra something that has to be the kaffir lime leaves. In fact, I think they add a little bitterness. I will give these guys credit for going the natural route and brewing with kaffir leaves rather than making an IPA and dumping some lime flavor in. Pretty cool....taste is not overtly odd or unusual, but cool.
F - A little thin and watery, which is surprising since the carbonation looks so substantial. Not bad, though.
D - Somehow, I was hoping this would be one of those Wow! Love-it-or-hate-it beers. I wanted something odd, something unusual, something I'd be really surprised by, positive or negative. This is neither. It's a decent, perfectly enjoyable IPA. Pretty strong too at 7.5%. Worth a try, and decent, but ultimately there are other IPAs I'd rather have.
1,797 characters

3.15
/5
rDev
-4.3%
look: 3.5 | smell: 3.5 | taste: 3 | feel: 3 | overall: 3
Had most of these guys beers on many a business trip to Seattle, and have found most if not all a nice take on the classic. Found this at an asian supermarket in Renton, by the way, Renton is awesome, reminds me of Modesto.
Beer poured nicely, deep dark amber, but I got nothing on the nose, i guess it was citrusy and limey, but not really. The taste was light, which is a challange at 7%+, and had the uncanny ability to suck the moisture from my whole mouth, sounds like a porn, but I got nothing but a dry taste. This is a good beer to try, but sorry, last one i'll have. As a stand alone body of work, this is average to above average, but the dry mouth kills me.
668 characters
3.4
/5
rDev
+3.3%
look: 4 | smell: 4 | taste: 3 | feel: 3 | overall: 3.5
The Infidel lime IPA poured a hazy orange with a 1 finger foam head. It had a cake batter consistency and tight bubbles around the edges. The smell was really citrusy and nice. You got a good bitterness quotient from the first sip as well as an alcohol presence. The bitterness cloyed to the tongue. Overall I couldn't get much of kaffir lime leaf in this. I have used them for cooking before but maybe it is too slight to be noticed.
434 characters
3.32
/5
rDev
+0.9%
look: 3 | smell: 3.5 | taste: 3.5 | feel: 3 | overall: 3
I wish there were originality points. This beer would get some. I guess I could just compensate in another category.
Appearance, nothing remarkable. Really, the upside of this beer is its bitterness. It isn't the usual grapefruit/tangerine hop bitter quality you so frequently get. . . its lime, as it says on the label. Makes for a high ibu beer.
Other than that, nothing special with the beer. Nothing I'd drink everyday, or even more than once a year, but its cool to say you've had it or something like it.
513 characters

3.18
/5
rDev
-3.3%
look: 3.25 | smell: 3.25 | taste: 3.25 | feel: 3 | overall: 3
Standard ipa appearance in terms of color and head (just under 1/2"). Aroma, well lime bitterness.
Taste is the usual ho hum bitterness, but unlike the plethora of examples that just kick down pithy grapefruit, this one is supplemented by the lime bitterness. Other than that, its just standard fare all around. Its bitter, its got an average malt bill. It comes in a bomber, so that kind of sucks.
405 characters
Infidel Lime IPA from Northwest Brewing Company
Beer rating:
78
out of
100
with
12
ratings