Harveys Old Ale
| Harvey & Son Ltd.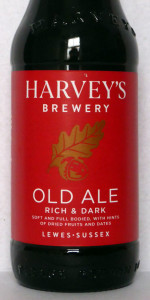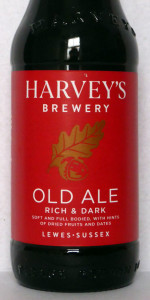 BEER INFO
Brewed by:
Harvey & Son Ltd.
England
,
United Kingdom
harveys.org.uk
Style:
Old Ale
Alcohol by volume (ABV):
3.60%
Availability:
Year-round
Notes / Commercial Description:
No notes at this time.
Added by rastaman on 08-06-2002
HISTOGRAM
Ratings: 10 | Reviews: 6
None found.
More User Reviews:

3.72
/5
rDev
+4.5%
look: 3.5 | smell: 4 | taste: 3.75 | feel: 3.5 | overall: 3.5
A 275ml bottle with a BB of Feb 2018. Acquired a while back from the Harvey's brewery shop in Lewes. The label describes it as rich and dark with hints of dried fruit - perfect for the winter months.
A: Poured into a tulip. A very deep ruby-chestnut hue with light carbonation. Appears almost black in the glass. Yields a decent head of creamy off-white foam that lasts for a minute or so before reducing to a patchy surface layer.
S: Aroma of rich, fruity malt with hints of dried fruit, raisins, dates, mild molasses, subtle wood, a twinge of vanilla, caramel malt, fruity ale yeast and faint leafiness. Very nice, particularly given the strength.
T: Tastes of fruity dark malt with notes of raisins, figs, dates, dried fruit, molasses, mild wood, a hint of vanilla, caramel malt, fruity yeast esters and a subtle leafiness. Quite sweet, accompanied by a delicate bitterness upon swallowing.
M: Mouthfeel is smooth and tingly, with light carbonation and good body for the strength. Veers towards insubstantial though (unsurprising for 3.6%). Aftertaste of fruity malt, dried fruit, caramel, ale yeast and leafiness.
O: A quality ale from Harvey's with a rich character. Looks OK, while the aroma and flavour are great - sweet malt, dried fruit, ale yeast and caramel all blended together. Body is alright but a shade thin. I'd rate this higher but it isn't as good as it could be; cask-conditioning adds depth that this bottled version just doesn't capture. I had this in the brewery grounds on release day a couple of years ago - a memorable event. Well worth sampling, particularly if you can find it on cask.
1,618 characters

3.72
/5
rDev
+4.5%
look: 4 | smell: 3.25 | taste: 4 | feel: 3.5 | overall: 3.75
From a cask at the 2016 Atlanta Cask Ale Festival.
Murky dark brown body with a bubbly light tan head.
Decent aroma despite some of notes. The malty flavor is better and has hints of raisins and vague dark fruits.
Near medium body.
232 characters
2.32
/5
rDev
-34.8%
look: 2 | smell: 2.5 | taste: 2.5 | feel: 2 | overall: 2
Low ABV once agian, sweet jammy raisiny nose and flavour, thin and watery texture aswell, virtually no head whatsoever, and a bit sticky and sweet for me, no bitter bite in the finish, really short finish.
205 characters
3.7
/5
rDev
+3.9%
look: 4 | smell: 4 | taste: 3.5 | feel: 4 | overall: 3.5
Cask at The Royal Oak in London.
Mahogany pour. Not much of a head, thin film around the glass. Thin lines mark progress.
Loads of dark fruit on the nose, this will be a malt-fest.
Dates up front with some red fruit sweetness. Earthy flavours give it a darker character, holding the sweetness back from, say, red ale territory. Clean finish.
This old ale is a session champ. Quite flavourful, but also pretty utilitarian, not that there's anything wrong with that.
468 characters

3.96
/5
rDev
+11.2%
look: 4 | smell: 4.25 | taste: 4 | feel: 3.5 | overall: 3.75
3.53
/5
rDev
-0.8%
look: 3.75 | smell: 3.25 | taste: 3.5 | feel: 3.75 | overall: 3.75

3.5
/5
rDev
-1.7%
look: 3 | smell: 3 | taste: 4 | feel: 3 | overall: 3.5
From a 500ml bottle.
L: Dark brown with a couple of off-white spots for a head.
S: Black treacle...but very faint.
T: Smoke, dates, burnt sugar, dark fruit. Moderate sweetness with very low hoppy bitterness.
F: Slightly thin body with no carbonation and a sweet finish.
O: Complex, attractive flavours that fall flat because appearance, smell and mouthfeel are so thin. Much prefer old ales with a higher ABV. 3.6% makes this version easy drinking but ultimately empty.
470 characters
3.4
/5
rDev
-4.5%
look: 3.5 | smell: 3.5 | taste: 3.5 | feel: 3.5 | overall: 3
Back in my "Brightonian days" as a doctoral student, I frequented a local pub (The Mitre, a Harveys' tied house) and this ale (on cask) was featured there during the winter seasons almost every time I walked in. Naturally I love it; I always cherished the soft, winey texture, buttressed by the mysterious yeasty magic and generous amount of Sussex hops as a solid backbone. But this is the first bottled (filtered) version that I have ever tried - can't complain since I don't live in Sussex anymore.
Got this bottle at the Harveys Brewery Shop three months ago, it comes in a 275ml slim, classic brown bottle, subtitled "Exhibition Brown". BB OCT 09, served cool in a pint-size jug (the same way I had my many a "pint of Old" at my local).
A: pours a dark mahogany hue with light carbonation and a beige fluffy head retreating gradually to a thin blanket.
S: a perfumy fruity-maltiness dominates the nose, quite hard to describe - it rings a bell of Chinese dried red-dates and red-bean paste plus some flowery hints (jasmine) but not exactly that, but definitely the magical work of the Harveys' open-fermentation tanks interacting with spicy-aromatic hops (possibly Styrian Golding) and a rich malty base.
T: a lightly spritzy entry of red bean paste again, with hints of brown sugar and brown malts... then, slowly, the rich fruity-malty theme expands, full of sweet prunes, earthy hops, faintly nutty malts and a firmly biscuity hint of pale malts, finishing with a mixed palate of Harveys' unique yeasty flavour (with an intriguing kick of "cobweb") and lightly dry and faintly spicy Sussex hops.
M&D: if served on cask, the hop elements would come in abundance in the form of a dry-ish bitter aftertaste, in an intriguing contrast to the quiet sour-sweet malty foretaste, although here, in this bottle, hops are not overly subdued, either. A soft, easy-to-quaff, medium-bodied old ale that one should try when it's served fresh on cask - this little bottle fails to do it justice I'm afraid.
2,002 characters

Harveys Old Ale from Harvey & Son Ltd.
Beer rating:
3.56
out of
5
with
10
ratings