Dismiss Notice
Extreme Beer Fest:Los Angeles
Join us December 9th in Los Angeles for the ultimate throwdown of craft beer creativity!
Learn more...
Dismiss Notice
Harveys Imperial Stout
| Harvey & Son Ltd.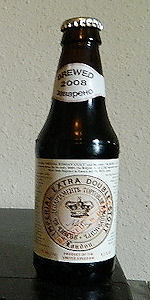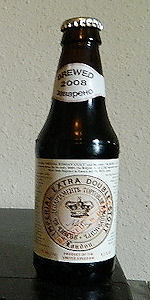 BEER INFO
Brewed by:
Harvey & Son Ltd.
England
,
United Kingdom
harveys.org.uk
Style:
Russian Imperial Stout
Alcohol by volume (ABV):
9.00%
Availability:
Rotating
Notes / Commercial Description:
No notes at this time.
Added by Zimbo on 01-30-2012
HISTOGRAM
Ratings: 13 | Reviews: 7
Reviews by Zimbo:

4.85
/5
rDev
+22.8%
look: 4.5 | smell: 4.5 | taste: 5 | feel: 5 | overall: 5
Its about time things were put right about this beer. Its earlier incarnation, also called Harveys Imperial Stout (strangely referrred to as Le Coq Imperial Extra Double Stout here) was a cork sealed 10% ABV beer which was brewed to a different recipe and suffered badly from oxidation (many bad corks) and poor storage among other indignities. Personally, I would be very skeptical about anything from 2007 or earlier. But this crown capped Imperial Stout has been available since 2008 and is now brewed to 9% ABV and the contrast between the two versions is more than just massive.
The nose in the bottle starts with just a tinge of cola, vinous notes, and some very deep very well integrated brown sugar sweetness. Very seductive. Pours a huge dark dense rich dark tan head. Slightly glossy dark jet black. That nose from earlier remains but is joined by superbly integrated roastiness, rich dark chocolates, beautiful sour cherries, light acidity, soya, dryness with a full smooth velvety sappiness. And its all brought together by a magical full vinous frame. So well integrated, full and so superbly complete and sophisticated.
Easily ranks as one of my best ever beer experiences.
Bet Captain Ahab wish he had this.
1,225 characters
More User Reviews:

3.87
/5
rDev
-2%
look: 4.25 | smell: 4 | taste: 3.75 | feel: 4 | overall: 3.75
Nose sour dark fruit, chocolate, wood, molasses, roasted malt, soy, nice head retention. Taste wood, plums, raisins, tobacco, licorice, molasses, leather, vanilla, soy, cocoa, slight coffee, full bodied.
203 characters

3.7
/5
rDev
-6.3%
look: 3.5 | smell: 3.5 | taste: 4 | feel: 3.5 | overall: 3.5
Cheers to Dennoman for sharing this one at his house a few weeks back. Good times man!
From a botte into a tasting glass
APPEARANCE: A dark brown pour yields a small, medium looking, light tan head with lousy retention. Head quickly fades to a light wisp and bubbly ring. Black body with no carbonation evident. A swirly wisp and ring remain leaving some decent dots of lacing down the glass.
SMELL: This is quite a different aroma for a stout. Somewhat lambic like with plenty of tart lemon, orange peel and floral notes. Brett cherries, some raspberries, and only a hint of roast under the tart fruits. Interesting, but not quite as balanced as I'd hoped.
TASTE: Matches the nose quite well. Sour, tart lemon and raspberries with bretty cherry flavors and a touch of roasted malts up front. A bold and persistent aftertaste of salty licorice and caramel sweetness, a touch of dark chocolate, as well as more sour, tart cherries and lemon esters. Interestingly flavorful and more stout qualities than the nose had suggested.
PALATE: Medium body and medium levels of carbonation. This one goes down smooth and finishes slightly sticky on the palate. A touch of booze lingers as well.
OVERALL: This was an extremely interesting beer that is tough to score. The sourness was obviously intended, so in that respect, this is a job well done. While the nose is a little heavy on the tart aspects, the sour and stout flavors meshed really well together, making this a fun and enjoyable drink. Thanks again Dennoman!
1,518 characters

3.82
/5
rDev
-3.3%
look: 4 | smell: 3.75 | taste: 3.75 | feel: 3.75 | overall: 4
2008 on the neck label.
A-Pours a dark brown. The pour gives off a thin, tan head that quickly recedes. Random dots and stripes of lace.
S-Very shocked by the aroma. Had no idea this had a tart element; is this intended? Apparently so. Dark, sour cherry, soy sauce and some other dark fruit. There is also a solid amount of roast and chocolate, which I what I was expecting.
T-Sweet and sour and hard to grasp. During each sip, as I let it sit in my mouth, I really enjoy the flavor but after the swallow, the finish is a bit too odd. Tart, rotten fruit- specifically cherry and blackberry. Roasted coffee and milk chocolate. Finishes with a sour/swee combination that I find to be mildly off-putting. A bit like old jam.
M-Medium bodied with medium carbonation. Lingering flavors.
O-Quite unique. One sip I would love, the next one it would be far less enamored with, then I'd love it again. Regardless, this was a cool surprise to try.
942 characters
4.09
/5
rDev
+3.5%
look: 4.25 | smell: 4 | taste: 4 | feel: 4.25 | overall: 4.25

4.04
/5
rDev
+2.3%
look: 4.5 | smell: 3.5 | taste: 4 | feel: 4.75 | overall: 4.25
served in a pint glass - vintage 2008
Appearance: this is pitch black…I cannot adequately convey how black it is; nice creamy head-dark mocha colored; looked like syrup coming out of the bottle
Aroma: smells sweet-almost like cola; there is some toasted malt in the background there; mostly fruits in the aroma-cherry, pear, prune, citrus and others I can't quite identify; a little chocolate gets in there too; slightly medicinal
Taste: this is very fruity which is somewhat startling for an impy stout, but follows the nose true enough; starts with some tart cherry and some lemon zest; this is balanced by some toasted malt flavors and very subtle bitter chocolate notes; the finish is brown sugar and a ton of fruit-big time pear, prune, raspberry, cherry; aftertaste is surprising as well-big toasted chocolate malt
Mouthfeel: superb; full-bodied; rich; thick; creamy; wonderful; perfect carbonation
Overall Impression: I have never had a stout quite like this; the fruit flavors are huge, which I was definitely not expecting; a pretty excellent brew
1,065 characters

4.41
/5
rDev
+11.6%
look: 4 | smell: 4.25 | taste: 4.5 | feel: 4.5 | overall: 4.5
Purchased from John's Grocery online, 9.3oz bottle 2008, imported by B. United International Inc in Redding CT.
A- Stouts, double/imperial, whatever don't get any blacker than this. Small tan head of foam with a vigorous pour, very good lacing.
S- Big notes of roasted malt, sour fruits follow very closely, and, maybe?, some sort of Brett like aromas? Chocolate is there but the Brett is puzzling me.
T- Wow. On the sweet side= caramel malt and brown sugar. Some roasted malt here but it goes quickly to a sour fruitiness that works splendidly. Not too darn sour for the style lest people say it's probably infected. No no. I detected raspberries, maybe some red cherries, and they work good as gold in this IS. The 9%abv plays it low key though there's a nice warming after the swallow.
M- near full bodied with lowish level of carbonation, this beer just feels right in the mouth.
O- oh my, 'tis a very fine drop indeed. I need to get some more!!!
955 characters
4.32
/5
rDev
+9.4%
look: 4 | smell: 4.5 | taste: 4.25 | feel: 4 | overall: 4.5
9.3 oz bottle into a snifter, 2009 vintage. Note I'm simply moving this review to the more appropriate beer.
A: Pours a pitch black color. The head is a one finger tan shade that fades away gracefully. A creamy ring of lace remains on the glass before that fades, as well.
S: Man, my fellow reviewers weren't kidding when they said this had a sour edge. The aforementioned tartness has a wonderful cherry tone to it, as well. When given a chance to open up, it develops stronger notes of chocolate, molasses, soy, and smoke. In a nutshell, the aroma is basically chocolate-coated tart cherries. Epic.
T: The first sip bowls me over in terms of layered complexity. It's also roastier than the aroma suggested. Because I had every expectation of this being sour, its opening presence doesn't bother me. Flavors become roasty near the middle, and smoky on the back end. A distant aftertaste of earthy notes become prevalent, as well. It's far more complex than I described, though - the more I sip, the more distinct flavors I pick up (dark fruits, licorice, caramel, tobacco, peat, and leather). The only real flaws I can find is that the depth of flavor isn't perfectly cohesive, and the finish develops a bit too much char flavor at times. Otherwise, this is some stunningly contemplative stuff.
M: It's creamy, but at the same time, airy and VERY dry. The feel gradually becomes 'wetter' as more is sipped, giving it the proper decadence it deserves. As a nitpick, it could stand to be a bit beefier in its body - especially since this isn't something that I'd call 'easy to drink'.
O: This ain't for everyone. I like to think of this one as a rite of passage for most beer drinkers - many will hate it, but those that aren't initially put off by its strange chocolate-meets-soy sauce-meets-char-meets-sour cherries approach to a RIS will be rewarded spectacularly. In a word, superb; how fitting something of this magnitude was my 500th review.
1,951 characters
3.88
/5
rDev
-1.8%
look: 4 | smell: 4 | taste: 3.75 | feel: 3.75 | overall: 4
Harveys Imperial Stout from Harvey & Son Ltd.
Beer rating:
3.95
out of
5
with
13
ratings