McKinnon's Market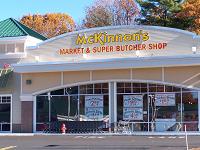 PLACE INFO
Type:
Store
236 N Broadway
Salem
,
New Hampshire
, 03079-2131
United States
(603) 894-6328 |
map
mckinnonsmarkets.com
Notes:
No notes at this time.
Added by Bierman9 on 11-16-2007
Ratings: 14 | Reviews: 10
Reviews by gameface23:

3.7
/5
rDev
-9.3%
Definitely worth a visit. The first time I went up there, I was surprised by the beer selection, and they have great prices. Their selection is varied: A lot of Allagash, Ommegang, Unibroue, St. Peters, Flying Dog, and a lot of New Hampshire regional stuff (Smuttynose, etc). Most of the beer is cold, but they do have two or three random stands that have 750mL bottles.
It's a market, so the service isn't really oriented towards helping people with beer. I don't think I've ever been asked if I needed any help the few times I've been there.
544 characters
More User Reviews:

3.68
/5
rDev
-9.8%
vibe: 4.25 | quality: 3.75 | service: 3 | selection: 4

3.75
/5
rDev
-8.1%
vibe: 3.75 | quality: 3.75 | service: 4 | selection: 3.5


3.58
/5
rDev
-12.3%
vibe: 3.5 | quality: 3.75 | service: 3.25 | selection: 3.75
Being from Salem I always wanted a solid place to go and buy craft beer in town. I live out in Arizona now but whenever I get back in town visiting this place is a guarantee for me. Great beer selection and value here for sure. Plus, this is mainly a large market/butcher shop so you can pick up some great food as well.
320 characters

4.43
/5
rDev
+8.6%
vibe: 5 | quality: 4.5 | service: 4 | selection: 4.5 | food: 4.5
I dug info using the beerFly and went over on my last visit to MA. The place is deceving, because from the outside it looks good but not great. But once inside the atmosphere changes completely, everyone is very sociable and know their stuff. The beer selection was great They had Sams Adam, North Coast, Unibroue, Stone, Sierra Nevada, Brooklyn, Chimay, Pete´s, Smutty´s, Redhook, Saranac, Ayinger, Pike, Rogue, Ommegang, DFH, Genesse, Fullers, Bear Republic, Leffe, Van Steenberg, Guiness, Geary´s,Samuel Smith, Goose Island, the ususal BCM Lineup and lots of other great brews that i dont remember. But it was a great place to get beer and I´ll defenitly visit them as many times as i can next time I´m over there. If you live in the close by, its worth the trip.
771 characters

3.7
/5
rDev
-9.3%
Located just over the MA/NH line a few miles down from the crowded strip mall areas. McKinnon's is a moderately sized butcher shop/grocery store that has a surprisingly large beer and wine section located all the way in the front-left part of the store.
The craft section is separated by singles and six packs/12 packs. The six/twelves occupy a fairly large cooler space and consist mainly of regional offerings (e.g., Harpoon, Long Trail, Magic Hat, Sea Dog, Gritty's, Trout River, Shipyard, etc.). The singles selection is not to be outdone with offerings from Victory, Unibroue, Rogue, Shipyard, Smuttynose, etc.).
Overall quality is some of the best for what you can get in New Hampshire, but again...what is that really saying.
Service is average given that it is a supermarket, and you lose that smaller store feel with more noticeably involved staff members offering assistance and advice.
899 characters
3.9
/5
rDev
-4.4%
OK, I'm somewhat ashamed to admit that I've gone to this McKinnon's about a dozen times since it opened, but I had NO IDEA they had the beer section in the back! I live in MA, and really close to the McKinnon's in Everett, and they're stuff is phenomenal. But it's strictly a butcher shop; no alcohol, as per usual in MA. So I never equated beer with McKinnon's. However, my folks live in Salem, NH, so when I heard that McKinnon's opened this palace there a few years ago, I immediately stopped in and bought my father a gift certificate to turn him into a fan. It worked, and for the past 3+ years, I continue to use this as a go-to gift for a hard-to-buy for guy like him. Little did I know, until I checked these reviews, that they have a decent beer section. Tons of Belgians to choose from, lots of Victory, Stone, Smuttynose (obviously), Sam Smith...you name it. I'd say 'decent' is a modest understatement. Because it's in NH, the prices are tough to beat considering there's no tax. I picked up a Smutty variety pack for about $13 and a Stone Ruination bomber for about $6. Since it's a butcher shop/grocery store first, I didn't expect someone to be standing around ready to answer my questions about their beer, so I don't know how knowledgable the staff would be about the great selection they have, but again, I wouldn't expect that type of service at a grocery store/butcher shop.
1,394 characters
4.5
/5
rDev
+10.3%
I was very impressed with the selection here. They clearly attempt to have a good selection of local-ish brews like Manchester Brewing, Smuttynose, and some of the harder to find Pennechuck stuff. American craft beer and imports are well-represented too with Victory, Brooklyn, Blue Point, Magic Hat, Shipyard, Chimay, Bornem, Samuel Smith, etc. Prices are reasonable at worst and some offerings are a bargain (most notably Brooklyn Local 1 for 6.99$/bottle last I checked). Far and away the best selection in the area I've been able to find, plus I've had good luck with talking to those who work there about beer the few times I've been able to. Cheese selection right by the beers and wines is a definite plus too! I love this place!
736 characters
4.5
/5
rDev
+10.3%
This place opened at the end of 2007 and as of March 15, 2009 is the Massachusetts-based company's only store in New Hampshire. In New Hampshire you can sell beers in grocery stores while in Mass. you need a special license. McKinnon's exploits that by offering about the best beer selection available in the Salem area. Go through the front door, up the main aisle, and go all the way to the left. There were many New England crafts and micros. On the day I was there the Sam Adams rep. was stocking the shelves with all their current Imperial brews. Lots of Belgian stuff like Bormen, Bavik, Petrus, Augustine Ale, and Wittekerke. I also saw a couple bottles of Krusuovice, which I had not seen in New Hampshire until then. A good selection from Rogue and Flying Dog. It is a specialty grocery store with an emphasis on meat of all shapes and cuts, cheeses, sauces, rubs, mustards, and marinades. A decent deli and fish market. Plenty of free food samples throughout the aisles and knowledgeable staff. A great place to stop for Southern New Hampshires residents and on the north side of Rt. 28 away from the mall crowds.
1,123 characters

4.2
/5
rDev
+2.9%
I stopped in here today after urging from my bother who lives in the area. First impressions are that this is one small parking lot and I'm trying to find a spot on a Saturday afternoon. I finally park and get in to check out the huge selection of meat available for sale. I'll be back in the summer to buy some pork butt to smoke, but enough about that.
Basically this is a butcher shop/supermarket in a strip mall on rte 28 in Salem NH.
The beer and wine section are on the far left hand side of the store. Most of the beer is in a very large L shaped cooler. There are four or so warm racks set up at locations around the store as well.
I would have to say with few exceptions this store carries just about everything available in NH. Victory, Southampton, Brooklyn, Sea Dog, Smuttynose, Allagash, Chimay, Harpoon, Magic Hat, just to name a few. They have lots of Imports that I rarely see anywhere else.
A couple of things I didn't see were Smuttynose Robust Porter, Victory Hop Wallop, Pennichuck anything
Great selection for NH Great prices too!
1,056 characters
4.35
/5
rDev
+6.6%
A friend of mine told me about this place and their butcher shop - he didnt even mention the beer section. I stopped in on my way home from work and while the butcher shop was decent, it was the beer area that caught my attention. Mainly becuase it's in NH and there aren't that many places that have a decent selection along with decent prices. A good mix of locals, micros, imports and the usual BMC, warm and coolers, 6xers, 12-packs, 22 oz bombers, etc. Not an overwhelming selection, but enough variety to find pretty much whatever you're in the mood for.
In addition to the butcher shop and beer, its a grocery store as well. Fairly new, so its nice and clean as well.
674 characters
4.22
/5
rDev
+3.4%
vibe: 4.5 | quality: 4.5 | service: 4 | selection: 4
A fairly good-sized building located in a small strip-mall on Rt 28 in Salem. McKinnon's itself is a well-appointed grocery store/supermarket. One stop shopping.... The bier area is in the far front left corner of the place after you enter. There's the requisite BMC stuff, then loads and loads of micros and craft bier, local stuff and imports. A small portion of the shelves are warm, but the majority are cooled, which is nice if you want to buy and quaff shortly after getting home. Among the biers I espied were Wychwood, St Peters, Fullers, Rogue, Shipyard, Smutty, Stone, Unibroue, Ommegang, Spaten, Paulaner, Grimbergen, Otter Creek, Magic Hat, Sam Adams, Brooklyn, Grittys, Sierra Nevada, Dogfish, Long Tail, Samuel Smith, Flying Dog and Allagash, to name but a "few". Staff members were helpful in trying to locate specific biers, as well as for checking stocks for sold-out items. Unsure of their knowledge of the products, though. All-in-all, a very nice selection at reasonable prices (Arrogant Bastard 22oz - $4.59; SN Bigfoot 6-pack - $8.99, for examples....).
Prosit!!!
overall: 4.22
vibe: 4.5 | quality: 4.5 | service: 4 | selection: 4 | $$
160
1,165 characters
McKinnon's Market in Salem, NH
4.08
out of
5
based on
14
ratings.