Churchill
| Oxfordshire Ales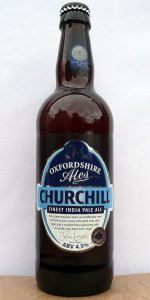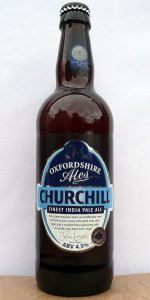 BEER INFO
Brewed by:
Oxfordshire Ales
England
,
United Kingdom
oxfordshireales.co.uk
Style:
English India Pale Ale (IPA)
Alcohol by volume (ABV):
4.50%
Availability:
Year-round
Notes / Commercial Description:
Our Honourable Pale Ale is brewed in association with Churchill Heritage as a tribute to one of the world's greatest statesmen, political thinkers and orators.
With its livery in Sir Winston's racing colours, this Pale Ale's citrus tasting malt and hops impart a spicy and refreshing edge to a right honourable provenance. It is made using natural mineral water from Sir Winston's place of birth, Blenheim Palace, malt from England's oldest floor maltings, and Kent Goldings hops, as traditionally grown on the Weald of Kent, overlooked from Chartwell, the Churchills' family home.
Added by jazzyjeff13 on 09-20-2011
HISTOGRAM
Ratings: 14 | Reviews: 10
Reviews by damndirtyape:

3.65
/5
rDev
+9.6%
look: 3.75 | smell: 3.75 | taste: 3.75 | feel: 3.25 | overall: 3.5
1pt, 0.9oz bottle (no date) poured into a Tulip Stout glass.
Appearance: Slightly hazy copper-amber with a very thin persistent off-white head. Some small strands of lacing noted.
Smell: Herbal (sage?) with some malt underneath. Some quick hints of sweet orange citrus with a swirl.
Taste: Hoppy in a very English way. A bit of tart apple in the middle. Finish has metallic notes and some of that classic English bitterness (tea, leafy).
Mouthfeel: Well carbonated but not fizzy. A tiny bit sticky on the teeth, otherwise a bit watery under it all.
Overall / Drinkability: Overall, I think I would categorize this as an English Pale Ale - it's not quite hoppy enough to be an English IPA. So with that, tasty and aromatic and above average. Went well with fish and peas and easily drinkable, but I don't think I would go out of my way to purchase again.
862 characters
More User Reviews:

3.11
/5
rDev
-6.6%
look: 4 | smell: 3 | taste: 3 | feel: 3.5 | overall: 3
A 500ml bottle with a BB of Aug 2012. Purchased from Sainsburys as part of their British beer hunt. The label mentions that this was created in tribute to Winston Churchill.
Poured into a Sam Smith's pint glass. A coppery-amber with faint haze and low carbonation. Yields a decent head of white foam that lasts for a couple of minutes before subsiding. Aroma of sweet, biscuity malt with a hint of caramel and stewed hops.
Tastes of sweet malt with a mild, dry bitterness. Notes of roasted grain, biscuits, caramel/toffee and stewed hops. No aromatic hops to be discerned, although there is a slight diacetyl hint in the background. Mouthfeel is smooth, tingly and astringent. Aftertaste of stewed hops and malt.
A reasonably rounded ale, yet a poor attempt at an IPA (especially in this day and age). Drinkable but lacking in the aromatic hop character that the style demands. Needs more late hop additions during the boil. Pass this one over for something better.
974 characters

3.61
/5
rDev
+8.4%
look: 3.25 | smell: 3.5 | taste: 3.75 | feel: 3.75 | overall: 3.5
Enjoyed from the bottle in a snifter. This nice little pale pours a clear light amber color with little head and little lacing. Nose of moderately rich caramel and butterscotch as well as a dash of lightly spicy hop notes. Flavors exceed the nose with butterscotch and citrus hop notes that range in flavor from lightly spicy to a light orange zest flavor. Smooth and lightly slick mouth feel with minimal carbonation and a lightly bitter hop aftertaste that cuts through the sweetness. Very nice and subtle as most English ales are. Solid.
Cheers
554 characters
3.46
/5
rDev
+3.9%
look: 3.25 | smell: 3.5 | taste: 3.5 | feel: 3.25 | overall: 3.5
A: The beer is slightly hazy yellowish amber in color and has a moderate amount of visible carbonation. It poured with a thin off white head that died down, leaving a layer of bubbles on the surface and a collar around the edge of the glass.
S: Moderate aromas of fruity yeast are present in the nose along with notes of toffee.
T: Compared to the smell, the taste is a little more complex with flavors of mineral water, pale and toffee malts, as well as fruity yeast. Little if any bitterness is perceptible.
M: It feels a little more than light-bodied on the palate and has a moderate amount of carbonation.
O: This beer is very drinkable and can be considered sessionable. I really enjoyed tasting the diversity of flavors—particularly the toffee—in a beer with such a low alcohol content.
796 characters
2.83
/5
rDev
-15%
look: 4 | smell: 3.5 | taste: 2.5 | feel: 2.5 | overall: 2.5
500ml Bottle: best before 28 July 2012, poured into a 'Batemans' badged pint sleeve on 17 July 2012.
Impressive looking brew: lovely amber body. The head a deep, lasting crown of tight bubbles.
The nose is a hoppy mix of citrus fruits and piney nut aromas.
The taste is also hops all the way with a dry bitterness from the first sip to the last: sadly as the beer warmed in the glass a metallic and sour presence showed itself. Might have been the fact it's BBD was only 10 days away?
Slightly over carbonated for my taste, just a bit too 'fizzy'.
What began as a great tasting turned into a nasty mid-way through: I'll not be having another of these.
656 characters
2.71
/5
rDev
-18.6%
look: 4 | smell: 3 | taste: 2.5 | feel: 2.5 | overall: 2.5
500 ML bottle into a tulip
Something different I suppose
4/12/2012 BB
A-- Looks nice enough. Pours a nice orange amber color. Almost clear. Good hues to this. Half finger of light brown head that recedes to just a thick film and collar. Good retention on swirling. Good, thick one finger head. Some spotty and streaking lacing with this.
S-- Copper, caramel, stale bread, and stewed hops. EKG hops have a citrus tone to them and a bit of metal, or maybe better a slight mineral quality to this. Like the malt body though. Needs aromatic hopping though.
T-- Bread, caramel, stewed vegetables and citrus with some heavy mineral or metal. Malt body is good but hops add nothing of note to this. More like stewed hop water.
M-- Medium bodied and medium carbonated. Thin and watery in spots but that is to be expected. More like dank hop water. Much better in front and mid palate than in back of palate as dull citrus takes over in the back. Biscuit sweetness finish to this that helps erase the mineral like hop citrus in the back palate.
O-- One and done. Better options than EKG I think. Malt body is fine and nice in spots but the flavor does not work well.
1,166 characters
3.85
/5
rDev
+15.6%
look: 4.5 | smell: 4.5 | taste: 3.5 | feel: 4 | overall: 3.5
Appearance is a very pretty, grapefruit red amber. White head that fades, with nice lacing.
Nose has fruity with an autumn spice, with apple brandy and clove. Mild malt base.
Taste is quickly alcoholic, with apple juice and baked rye bread. Consistently light malt.
Mouthfeel has plenty of carbonation, with an oil-slick mouth coating and alcohol heat.
Overall, this would be a great session beer for scotch ale aficionados.
428 characters
3.34
/5
rDev
+0.3%
look: 4 | smell: 3.75 | taste: 3.25 | feel: 3 | overall: 3
Poured from a 1pt .9oz bottle into a pint.
L - orange/brown color with a thick tan head and lots of lacing.
S - Butterscotch and biscuit.
T - Malty up front with a slight bitter hoppy finish. Slight hints of citrus.
F - Decent carbonation with good drinkability.
Nothing new or exciting, but a quality British Ale. Not bad for a $.99 purchase.
350 characters

3.65
/5
rDev
+9.6%
look: 3.75 | smell: 3.75 | taste: 3.5 | feel: 3.75 | overall: 3.75

3.09
/5
rDev
-7.2%
look: 2.25 | smell: 2.5 | taste: 3.5 | feel: 3.5 | overall: 3
Short lived off white head gives way to island and ring leaving spotty lace on the glass. It is a clear amber color.
Caramel and a bit of rooty herb and butterscotch the main flavors in a light aroma that has little going for it.
Medium strength taste, fronted by caramel and brown bread, which transitions pretty abruptly into a rooty bitter hop end of sip.
Nicely light carb, medium viscosity and body, with a decent finish that features the slow rooty "burn" of English hops.
Decent beer, probably not as fresh as optimal (date code on this bottle unreadable), and for $2.00 a bargain. Wouldn't go out of my way to try it again, but if any left on the sale table next visit it is a likely repeat pickup
713 characters

3.51
/5
rDev
+5.4%
look: 4 | smell: 3 | taste: 3.75 | feel: 3.5 | overall: 3.5
500ml bottle into a nonic.
Pours a nearly clear light copper with a fairly thick one finger light tan head. Great head retention and lacing.
The aroma is slightly metallic but beyond that, there is a nice hint of toffee and caramel along with a little coffee. Dark bready malt and a slight fruityness round out the aroma. It is nice and a little different but also not very strong.
Loads of caramel in the taste along with lots of toast and coffee. The flavor packs a bit more punch than the aroma. There is a little must and earth along with some light fruit in the background. Light bitterness along with a watery mouthfeel.
Overall, a nice but pretty typical English IPA. A very sessionable beer but unremarkable at the same time.
737 characters
3.29
/5
rDev
-1.2%
look: 3.25 | smell: 3 | taste: 3.5 | feel: 3.25 | overall: 3.25
Churchill from Oxfordshire Ales
Beer rating:
3.33
out of
5
with
14
ratings