'na Biretta Nera
| Birrificio Ostiense Artigianale (BOA)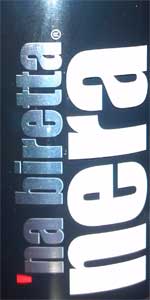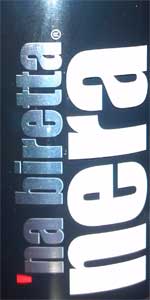 BEER INFO
Brewed by:
Birrificio Ostiense Artigianale (BOA)
Italy
boabirra.it
Style:
Schwarzbier
Alcohol by volume (ABV):
5.50%
Availability:
Year-round
Notes / Commercial Description:
No notes at this time.
Added by CrazyDavros on 12-10-2011
HISTOGRAM
Ratings: 9 | Reviews: 6
Reviews by ryan1788a5:
3.87
/5
rDev
-3.3%
look: 4.75 | smell: 4 | taste: 3.75 | feel: 3.75 | overall: 3.75
11.1oz bottle poured into a pilsner glass. Best before date of November 2013.
A: Black on the pour with two fingers of bubbly khaki-colored head. Retention is phenomenal, and a jagged, foamy ring of lacing remains on the glass.
S: A fair amount of toast on the nose with a most enjoyable milk chocolate aroma backing it up. Hints of nuts and faint grassy hops. Very clean overall. Slight acidity from the dark malts. Black cocoa powder and just the slightest kiss of char. A very fragrant nose that stays relatively true to the style.
T: Bitter dark chocolate, black coffee, slight twang of acidity. Toasted grain. Slight grassy and hay-like hop tastes. Very subtle metallic edge. Hint of smoke. Dry throughout. Lingering finish of melted dark chocolate and a faint woodiness.
M: Lighter in body, but very full, lush, and creamy in the mouth. Little to no carbonation. Slight malt astringency.
O: This schwarzbier flirts with a slight burnt malt edge that is not normally seen and usually discouraged within the style. It stays very clean throughout yeast-wise, but the burnt malts lend some acidity and astringency that does detract a bit from what the style should be. Being a fan of Irish dry stouts, I felt right at home. Others may not. Technicalities aside, I liked the beer as a whole. Just like a good Irish dry, I can see it making a great pairing with oysters.
1,377 characters
More User Reviews:
3.62
/5
rDev
-9.5%
look: 3 | smell: 3.5 | taste: 4 | feel: 3 | overall: 3.5
Pours black with a massive, growing, dark tan head fed by lively carbonation.
Nose shows complex roasted malt, with coffee beans, cocoa and nutty notes all quite noticeable.
More roasted coffee beans and cocoa as flavours, along with a smoky character. Pretty moreish.
Could go a little less carbonation.
307 characters

4.05
/5
rDev
+1.3%
look: 4.5 | smell: 4.5 | taste: 3.5 | feel: 4 | overall: 4.5
Aroma: Wheaty bread, milk chocolate, slightly nutty, toasty
Appearance: Super dark brown, not quite black. Sandpaper colored head, medium size bubbles, low-moderate lacing/retention
Flavor: Slightly sweet toastiness, lacking floral characteristics/hop presence, tastes like rye toast w/ some chocolate spread on top. Slightly reminiscent of Nutella.
Mouthfeel: light, silky, smooth, low carbonation, easy drinking, hints of residual bitterness.
Overall: Walks a fine line, almost watery, but stops just short and packs some great flavor into a very easy drinking beer. Well balanced, overall pleasant experience.
616 characters

3.85
/5
rDev
-3.8%
look: 4 | smell: 4 | taste: 3.75 | feel: 4 | overall: 3.75
Poured a dark brown with two-finger never die head (it seemed) with good amount of lace. A mostly coffee and roasted malt aroma and I think I get the black licorice smell b/c of the label and not from my own nasal powers. Light bodied and smooth like a good schwarz, but underwhelming and not one of the better ones out there. Very minimal chocolate and other sweet notes as the roasted coffee malts are the star. I liked this beer but the lack of true balance made it a chore to finish at the end as the beer gets a tad harsh as it warms.
539 characters

4.17
/5
rDev
+4.3%
look: 4.25 | smell: 4 | taste: 4.5 | feel: 3.5 | overall: 4
Surprisingly light on the palate, this drinks like a nicely toasted porter that I could session. Coffee and roasted malt mated to a clean, easy finish had my (heavy) 11.1 ounce bottle gone in a flash. The brewers claim it is in the style of a schwarzbier. I haven't had one of those, but the description on the bottle matches my experience drinking the contents.
Poured a slender finger of dark tan head into a BBC (Berkshire Brewing) 8 ounce beer glass. Very little lacing, though I drained it in short order.
The initial mouth feel is light - not syrupy in any way - but the taste lingers for quite some time on the rearward sides of the tongue. Once the tongue decodes the message this puppy goes down like a -- well, you get the idea. Buy two bottles.
757 characters

3.93
/5
rDev
-1.8%
look: 4.5 | smell: 4 | taste: 4 | feel: 3 | overall: 4
There is a nice strong roasty aroma to this beer. It reminds me of freshly ground coffee beans rolled in chocolate. Slight hint of smoke on the tail-end.
Nera pours out a brown that is so dark it may as well be black. The dark leather head was abundant for a few minutes then dropped to a half finger size, lacing sticking to the glass.
Flavors in Nera are simple: coffee roast and dark chocolate. These two flavors play well at different levels at the start, mid-palate, and finish. The aftertaste carries a slightly smokiness with it to finish it off.
I'm surprised with this one, I like it a lot. The carbonation is light, with a supremely light body. It's a great almost-session beer, I would like to have this with smoked meats or grilled cheese.
754 characters
'na Biretta Nera from Birrificio Ostiense Artigianale (BOA)
Beer rating:
4
out of
5
with
9
ratings