Brasserie Beck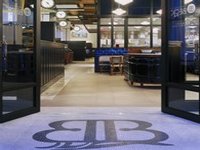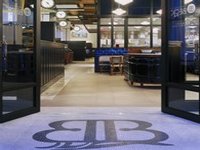 PLACE INFO
Type:
Bar, Eatery
1101 K St NW
Washington
,
District of Columbia
, 20005-4210
United States
(202) 408-1717 |
map
beckdc.com
Notes:
No notes at this time.
Added by TuckerCarlson on 11-26-2007
PLACE STATS
Reviews:

41

Ratings:

pDev:

9.73%
HISTOGRAM
View: Place Reviews
Ratings: 59 | Reviews: 41
4.38
/5
rDev
-0.9%
vibe: 5 | quality: 5 | service: 3 | selection: 4.5 | food: 5
Wow! So happy that we made a point to trek to the Beck! Had brunch, a bit pricey but it was worth it. Beer prices are higher than the average beer drinker would be willing to pay, but for those in the know reasonable price/quality ratio. For the first time ever I had the chance to try one of my favorites on draft...Kasteel Rouge ($10.00 proper glassware).
Scrambled Eggs with Scottish Salmon was exceptional ($14.00, a bit pricey).
They were short-staffed when we went due to graduation celebrations in the nieghborhood and the SAVOR event happening down the road (note to bartender...NEVER let them see you sweat!)
I would by far recomend this a stop next time you are in the area, and I will return again. Again, it ain't cheap but it is worth it.
754 characters

4
/5
rDev
-9.5%
vibe: 4 | quality: 4 | service: 4 | selection: 4
When one speaks of trendy, this place would hit the mark. A well decorated, upscale bar that was crowded the night we were there and probably always is.
No food was ordered, so I cant go there.
Ordered a Delirium Tremens and it was served in a nice goblet with elephants on it...right on the mark. Price was $9.00 or so, but hey, its DT and worth it. Could have been warmer, but it was great none the less.
I really liked this place, good service, great atmosphere and great selection/beer.
Even the bathrooms were cool as hell
527 characters
4.88
/5
rDev
+10.4%
vibe: 5 | quality: 5 | service: 4.5 | selection: 5 | food: 5
The beer list is primarily Belgian, which makes sense. The executive chef/part owner is Belgian (his primary restaurant, Marcel's is one of the best in DC, swank and fantastic). The list of Belgian's is long and will likely have a number of selections that even the most insufferable of beer snobs have never had or even seen before.
As for the food - it's outstanding and is the primary draw. There are a number of Belgian staples and modern dishes. After going for lunch, brunch, and dinner, I could happily eat here every day. They have a beer sommelier, who will happily pair beers with your dishes. The guys at the bar are also happy to talk and select some nice beers for you.
It's not a cheap place and it's certainly upscale. If you're not looking sharp, you'll feel out of place. It's more of a nice restaurant that happens to have an outstanding beer list. The bar area is a great place to get some frites, hit up some raw bar selections and enjoy the beers. But, I've yet to see an open seat, even at lunch.
1,021 characters

3.4
/5
rDev
-23.1%
vibe: 4 | quality: 3 | service: 3 | selection: 4
Ok, the bathroom in the bar area alone is worth a visit. Coolest pisser I've ever been in. Floor-length urinals, cool wallpaper (you have to see it really, description would do it no justice) and amazing disposable hand-towels that are probably better quality than the ones normal people wash and reuse at home.
We popped in just for a DT draft on a recent pub-crawl kind of visit to DC. The beer was good although served incredibly cold. Once warmed between the legs (sorry, but it's the fastest way I know) it was delicious.
Trendy as hell, and very popular on a Friday night. Hot chicks abound, mostly rude and unfriendly. Just an observation from afar though since I would never try to interact with them.
We did not eat there, but were accosted upon entry to see if we had a reservation. Yes we know you are trendy but if we actually approach the host/hostess are looking for a table then you can ask us if we have a reservation.
Bar was cool and I'm glad to have had the chance to check this place out.
1,013 characters
4.44
/5
rDev
+0.5%
vibe: 4 | quality: 4.5 | service: 4 | selection: 5
Atmosphere was solid. Very high ceilings, with bar area set off from most of the tables. A nice joint. Quality was good. Everything was clean and well set up. Service was good, although some of the bartenders give off that "I know more than you" vibe, which always pisses me off. It also took me forever to get someone to notice me once I found my way to the bar, and there wasn't a damn soul in there other than myself, so I'd say I was a little unimpressed on that front. They do know their shit though: tons of info on styles, history, everything. The selection of beers is incredible, although, of course, they are all Belgian. Just make sure you know what you're getting yourself into. But there's a nice variety of both taps and bottles, from your malty to your sour, and from dark to light and everywhere in between. Didn't try the food (but it smelled good) because...I couldn't afford it. The brews are mostly $8 to $15 for the on-tap, and from about $6 to $60 for the bottles, depending on what you're in the mood for. It's expensive, is what I'm saying (and those people who don't say so have to be pulling loot).
1,124 characters
4.66
/5
rDev
+5.4%
vibe: 4.5 | quality: 5 | service: 4.5 | selection: 4.5
Finally got a chance to visit the bar just for drinks and some frites. I ordered the Kasteel Rouge, not completely reading the description and was promptly served a cherry, slightly sour, slightly cough syrupy Belgian. It was good, but I should have chosen elsewhere. The fries were really nice, the "trio" or mayonaise always makes me happy as I'm a complete mayonaise whore. Service was prompt and very accomodating for a bar, our server approached us soon after seating, and not having to order from the bar is a huge plus.
Atmosphere was a lot of fun, my girlfriend who joined me said it's unlike Brussels only in that it's a lot bigger, but I really liked the nice touches like the "napkins" and the bathrooms were nice too. Overall, the beers were pricey ($7 and up), but not overly so for DC. If you're looking for a great selection of Belgian beers on draft or rarities in bottles, this is the place to be.
915 characters

4.72
/5
rDev
+6.8%
vibe: 4 | quality: 5 | service: 4.5 | selection: 5 | food: 4.5
Had the pleasure of meeting Guinnessdoc and his wife for dinner on 2/8/08 at Beck. Located about 2 blocks north of Cap City Brewery, Beck is situated in the 1st floor of an office building. Upon entering this busy restaurant/bar, you are greeted promptly by the very friendly Matre D. We had reservations for 8:00 and were seated immediately. The decor is like and old european train station, with lots of exposed duct work and clocks. Very sleek and stylish. Also, if you are lucky and can get a table overlooking the open kitchen. A forewarning, this place can get crowded in a hurry, so reservations are a must if you like eating at a normal hour. Anyway, once seated the waitress handed handed us a leather bound menu just for BEER !!, you typically get this type of menu with a wine list but this was a 1st for me. About 15 high quality Belgians on tap and at least another 75 or so bottles can be had. Started with a Bacchus on draft. Refreshingly tart flanders red. As for food, we ordered Frites with 3 sauces and a cheese platter. Frites were fantastic. Entrees at the table were a luscious Red Snapper, roast port with cabbage and mustartd sauce (tart and outstanding), steak and beef carbonade. All the dishes were memorable. We ordered a couple of bottles of different beers (sorry can't remember the brewers) and we able to meet Bill Catron, who is the beer Sommelier. He is one of the few people in the US that has been Knighted by the The Belgian Brewers Guild. He is so enthusiastic about his job and talking beer. It was a pleasure to meet and to talk to him. He also took away our glasses and came back with the appropriate matching goblet to the bottle we were drinking. Overall, this is a must try restaurant for the food and the beer. Another warning, this place isn't cheap but its well worth it. Highly Recommended.
1,838 characters
4.94
/5
rDev
+11.8%
vibe: 4.5 | quality: 5 | service: 5 | selection: 5
Possibly one of the best places I have ever drank beer! Never thought I would say that about a place but it's true. A co-worker and I checked this place out during a recent work trip and loved it! We didn't have reservations and did not end up eating here but enjoyed several beers at the bar later. That's my #1 tip make reservations, the place can get packed. That's also my only complaint, the place can get packed. However, who am I to be elitist or wish ill against the owners success. People flock here because it's great. The few dishes I saw people eating at the bar looked and smelled great. The place has a train station / transportation feel to it with frosted glass, tile, dark wood and lots of world time-zone clocks. It's basically a higher end Belgian restaurant and bar. The beer list is to die for if you are a fan of Belgian beer and they serve each in its own signature glass. Very nice! They have a lot of Belgian beer I have never been exposed to and I can't wait to return. Other than great service and selection the thing that sealed the deal was talking to resident beer expert Bill Catron. Awesome dude! I really enjoyed talking with him about beer and all the joy associated with it. If you see him there, strike up a conversation. Oh yea! Check out the wallpaper in the Men's restroom, nice! Do yourself a favor and stop by the Brasserie Beck if your visiting DC, you won't be sorry!
1,410 characters
4.65
/5
rDev
+5.2%
vibe: 4.5 | quality: 5 | service: 4 | selection: 5 | food: 4.5
Great Belgian beer is a conversation stopper. One sip and the neon "WOW" sign flashes in your brain. Your generous side thinks, "Hey, everybody, try some of this!" But your selfish side says, "Excuse me, guys, while I just zone out and commune with this beer."
This happens a lot at Brasserie Beck, which has by far Washington, DC's best selection of Belgian beers. If you like these beers, or if you've just heard about them, don't miss this place.
Eleven Belgians are on tap. Bavik, which is always available, raises the pedestrian flavor profile of the typical light pilsner (including Stella Artois) to amazing new heights. Others taps offer glorious versions of red ales, golden ales, and brown ales. There are also generally a few rarities -- like the Petrus Dubbel and Kasteel Rouge that the bar is currently pouring. More familiar, but always welcome, Belgian beers like Corsendonk, Lucifer and St. Bernardus round things out. The famous Trappist ales are often available on tap, too.
The real treasures are on the bottled beer list, however. It's a leather-bound list that runs sixteen pages, individually (and accurately) describing the more than 120 Belgian beers that the restaurant carries. The beers are kept at the right temperature and carefully poured into the glassware that each brewery recommends.
Folks, if you like Belgian beer, it truly doesn't get much better than this. You'd have to head to Monk's Café in Philadelphia, or to a few bars in Belgium itself, to find the rare bar that has a wider selection of these wonderful beers.
And even the few places with more Belgian beers don't necessarily have better ones. The main reason Beck's does is Bill Catron, their beer guy. Chat him up if you go in; he's usually around. Unassuming and easygoing but passionate about beer, this guy knows Belgian beer like nobody you'll ever meet. Bill would never tell you this, but according to a recent article in the Washington Post, he's one of the very few Americans ever "knighted" by the Belgian brewers guild. Bill's many pals in the Belgian brewing community make sure he gets a steady stream of the best stuff.
The food menu is also excellent. Of course, Belgian style fries and mussels are available to accompany your beer. But you may also be tempted to try other Belgian specialities like chicken waterzooi (a soup/stew), beef carbonnade, braised pork belly, and shrimp croquettes. Even the humble but delicious side dish "stompe," rarely seen outside working class cafes in Belgium, is available.
All of this comes for a price, alas. Brasserie Beck is not cheap. Few beers are less than $8. Most are $10-$12. Larger size bottles are typically around $28, and ascend to over $60. The food menu is expensive, too. A couple of beers, mussels and fries, taxes and tip -- and you're north of 40 bucks.
It's a shame that Beck's doesn't offer "beer flights" like Birreria Paradiso in Georgetown, so you can try a bunch of the tap beers without flattening your wallet.
Two more negatives: it's mobbed at happy hour and most people are wearing somewhat upscale clothes. Go in before 5:30pm or after 7:30pm to count on getting seats at the bar. (For the restaurant, reserve ahead.) Dress up a little if you care what other people are wearing.
Beck's is a splurge; there's no getting around it. But, hey, it's OK to live a little now and then!
Public transport access: great. Brasserie Beck's is three short blocks up 11th St. NW from the Metro Center stop on Metro's Blue, Orange and Red Lines. It's only five short blocks to the Gallery Place station where you can catch the Green and Yellow lines.
Also, Washington's red "Circulator" busses run along K Street, right in front of Beck's.
Walking from the Metro Center subway stop, you'll pass the Capitol City Brewpub at 11th and H Streets. A word of advice for those tempted to stop in: do so BEFORE you hit Beck's, not after. Cap City is a pleasant enough place, but their pretty good beers will seem very disappointing after you've had a few at Beck's.
.
4,081 characters
Brasserie Beck in Washington, DC
Place rating:
4.42
out of
5
with
59
ratings