Mulholland Brewing Company
BEER AVG
-
none
Awaiting 10 Ratings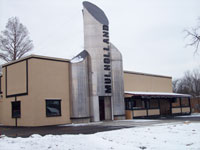 PLACE INFO
Type:
Brewery, Eatery
7679 E. Main St
Reynoldsburg
,
Ohio
, 43068
United States
(614) 806-2295
// CLOSED //
Notes:
No notes at this time.
Added by Raymond69 on 11-30-2007
Ratings: 5 | Reviews: 5
Reviews by Yetiman420:
3.93
/5
rDev
+17%
vibe: 4.5 | quality: 4 | service: 4 | selection: 3.5 | food: 4
In my quest to visit every brewpub in North America, this was stop number 239.
MBC is located on the east side of Columbus. I visited Sunday evening around 7:00. the main bar area was 80% full and the surprisingly nice dining area had 4-5 tables occupied. I was fortunate in that there was only one bartender working (very hard) and the crowd started to die down when I arrived.
MBC had five beers of their own on tap - Highlander (Scottish), Shocker Dubble (which the bartender described as a Belgian brown), Saison DuMonde, Vanilla Frambois, and the Lighkt. I had a full Saison and Dubble and a sample of the Vanilla Frambois. All the beers were equally good - nothing exceptional but certainly drinkable. You really have to admire such an ambitious offering. Vanilla Frambois? Hey, it was pretty good.
What I really found interesting about MBC was their exceptional guest tap list.
Southern Tier Raspberry Porter
Lagunitas Hairy Eyeball
Founders Red Rye
Bear Republic XP
Stone Ruination IPA
Delirium Tremens
Elevator IPA (local beer)
Great Divide Double IPA
Weasel Boy IPA
New Holland Lucid Kolsh
Abita Purple Haze
Unibroue Ephemere Black Current
St. Louis Framboise
Original Sin Hard Cider
Old Rasputin RIS (on nitro)
I sampled the Ephemere Black Current and it was not pure Ephemere. I'm not sure about this beer and either was the bartender.
A local came in an ordered a house-brewed stout that was not on the beer menu so I took a sample as well after my nitro RIS. It may have been the best house beer.
I had an order of the wings which took forever and were ok. Last call was at 8:30 and the bartender told me they were considering closing on Sundays because it was so slow.
I'd recommend MBC for their ambitious brewing, excellent guest tap list, and pretty nice dining atmosphere. If you're in town, you will also want to head downtown for Barley's and Elevator.
1,888 characters
More User Reviews:

2.9
/5
rDev
-13.7%
vibe: 3 | quality: 3.5 | service: 2.5 | selection: 2.5 | food: 3
It's a nice clean restaurant, but there does seem to be a lot more emphasis on getting you in to eat and then out, instead of creating a convivial brewpub/brewery atmosphere.
The waitress was nice and friendly, but not the most knowledgable about the beer. She also did not drop by to check on the table as much as possible, especially given there were only a couple of tables being sat at in the whole place. Had to wait much too long for a beer, too, as the bartender/manager was not keeping a close eye on bar tickets.
Although the overall selection of their beer list looks great, they only have a few at any one time. Seems like it's hit or miss as to what they'll have any given day. I was sad to see the Scotch Ale was out. If it wasn't for their small, but excellent, selection of brews from other places, it would've been rated even lower.
The food was good, though, if a bit overpriced. Again, seems like they're going more for a restaurant than a place to really try out their beer selection.
1,007 characters

4.13
/5
rDev
+22.9%
vibe: 4 | quality: 4 | service: 4.5 | selection: 4 | food: 4
This relatively new Brewpub is located in Reynoldsburg on Main Street just a few miles from I-70 and/or I-270. There is a decent-sized private lot.
Mulholland seems to be suffering from a bit of an identity crisis as far as what type of establishment they want to be. The upstairs has more of a brewpub feel with a bar that features the brewing equipment behind glass. There is a collection of steins around a nice fireplace in the dining area. However downstairs is more of a schlocky sports bar. Needless to say I would stay upstairs.
The beer selection is pretty robust. There are 10 Mulholland beers on the menu (although a couple were available that were not on the menu and vice versa) plus an equal number of craft and macros on draught, including a beer from Weasel Boy in Zanesville. I did not see any bottles listed. The styles are rather unique, and it appears the brewpub is out of the gate with some interesting offerings. After their Light ("Lighkt"), the styles range from a Vanilla Framboise, to Imperial Red, to Black Rye, etc. All in all a refreshing change from the typical Light->Amber->Pale->Stout menu that is prevalent at a lot of brewpubs.
Service here was great on a late Tuesday afternoon. The bartender took the time to write down all the beer samples she was providing, and even threw in a plate of Pub Chips at no charge so I could "cleanse my palate".
Speaking of Pub Chips, that is the only food I had but it was a great appetizer.
Overall it appears that Mulholland has worked out a lot of the kinks that were there when they first started. I would definitely recommend a visit for anyone travelling on the east side of Columbus.
1,675 characters
2.85
/5
rDev
-15.2%
vibe: 2.5 | quality: 4 | service: 2 | selection: 2 | food: 4
I must say I was not impressed at all with my visit to Mulholland. It was a pretty poor visit from start to finish.
The evening started when we walked through the door...there were signs at the reception podium talking about the bar in the basement...so we headed that direction, all the while seeing more signs referring to the bar downstairs. We walked past the bar while the wait staff watched us walk by...we went through the doors and down to the basement to find no tvs on and no one anywhere in sight. After a minute of looking around we walked back upstairs and asked one of the people who watched walk down whether there was anyone down there...and he informed us that the downstairs bar is now closed from Monday thru Wednesday because the business was so poor.
We were then seated at a regular table and as soon as I rested my arms on the table it wobbled terribly...I looked under the table and there was a screw hanging out...
We then proceeded to order beer only to find out that 5 of the beers on the list were unavailable.
We then orded what we could and drank a few of what were available. At 8:50pm we were told that if we wanted to order food we should do so because the kitchen closes at 9pm...so we ordered.
After that we were told at 10:50 that if we wanted anymore beer we should order now because the bar closes at 11...all the while they were turning the lights up and cleaning up while we were trying to enjoy our beers.
Basically, the beer was good, the food was good...but the service and availability was TERRIBLE. I tell you now that I most likely won't go back again and will certainly not recommend Mulholland to anyone.
1,658 characters
3
/5
rDev
-10.7%
vibe: 4 | quality: 3.5 | service: 2.5 | selection: 2.5 | food: 3
Visited the newly opened Mulholland Brewing Company last night to try their food and beers. Everything was a mixed bag, some good, some bad. I understand they have only been open a few weeks and hope they can work out some of the kinks.
The place is a very non-descript building on Main St in Reynoldsburg. The parking lot was packed, which is a good sign. When we signed in, we were told the wait would be 1.5 to 2 hours. We gave our names and headed to the downstairs bar for some drinks.
They only have 4 beers on tap right now, but thier website shows many more fermenting. Kind of disappointing. I think if you are a brewpub, you should make pretty damn certain you have beer ready when you open. I understand they only have a 3.5 bbl system, but didn't Dogfish Head open while making 5 gallons at a pop?
The downstairs bar is more of a sportspub feel. TVs everywhere. In addition to their 4 beers, they have a decent selection of 10 or so other beers on tap. All in all, pretty nice. Unfortunately, the servers with which I spoke knew very little about any of the beers. They couldn't differentiate between the various styles or offer any recommendations. When they poured the beers, they poured them like a macro lager, tipping the glass and dumping off the head. Maybe I am being nit-picky, but I expect more from a brewpub.
The place was busy, but service was still a little slow. Everyone seemed very busy, but they weren't coordinating well. I think a lot of people got lost in the shuffle.
The food was hit and miss. We had two appetizers, bruschetta and brewery chips, and they were amazing! Lots of rich and spicy flavors. Some of the best food I have ever had and unlike anything I have ever had. When we moved on to the main courses however, both my wife and I were very disappointed. In hindsight, we should have just ordered more of the appetizers.
The whole meal including drinks was pretty reasonable, but this is a more upscale restaurant that serves more than pub food.
All in all, I think the place has promise and I always like to see a non-chain place open. Hopefully the bad aspects we experienced were simply kinks that will be worked out later.
2,179 characters
Mulholland Brewing Company in Reynoldsburg, OH
0
out of
5
based on
0
ratings.