No Name IPA
| Cody Brewing Company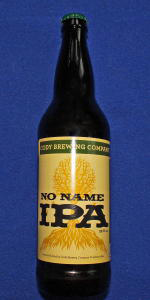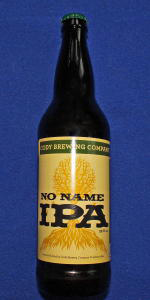 BEER INFO
Brewed by:
Cody Brewing Company
Massachusetts
,
United States
Style:
American IPA
Alcohol by volume (ABV):
5.50%
Availability:
Year-round
Notes / Commercial Description:
No notes at this time.
Added by Bierman9 on 11-12-2010
This beer is retired; no longer brewed.
HISTOGRAM
Ratings: 65 | Reviews: 30


3.58
/5
rDev
+14%
look: 4 | smell: 3.5 | taste: 3.5 | feel: 4 | overall: 3.5
Poured a 1.5" off-white head. Hazy copper in color. Smell is medium fruity hops. Taste is same, not as stong as many other IPAS, and as it warmed there was malt coming across too. Finish was rather long and bitter. Acceptable but pretty much a mid-range IPA. And there's really no hint why this IPA in particular is "No Name".
326 characters

2.4
/5
rDev
-23.6%
look: 3 | smell: 3 | taste: 2 | feel: 3 | overall: 2
Had on tap at the Bacon and Beer festival in Boston. On tap, cool, served in a tasting glass.
A-amber body with an off white head.
S-cereal, pine, raw bread dough
T-pine, jolly rancher quality to it.
M-medium mouthfeel
D-I kind of felt that for the style it was a bit light on the hops. I know that traditional IPAs are not as hoppy as some brewers make it out to be but this one was still short.
401 characters
2.86
/5
rDev
-8.9%
look: 3.5 | smell: 2.5 | taste: 3 | feel: 3.5 | overall: 2.5
Review adapted from notes taken 1/8/11
Appearance: Golden copper/amber with a decent fluffy head and some lacing
Smell: Unexciting at best - some piney, floral hops, but not IPA-level - some sweet, caramel malts in the background, something that smells like wax
Taste: Not bad, but not particularly good - tastes like an IPA homebrew made with malt extracts and fermented with poor temperature control - I can say this because I have homebrewed a beer extremely similar to this - hints of waxy off-flavors - some sweet malts, some hops, decent balance, but nothing special
Mouthfeel: Smooth, medium-bodied without too much carbonation
Overall: Disappointing, but not terrible
I probably should mention that I grew up in Amesbury, MA, and I was really excited to hear about a brewery opening up in my home town. I had dreams of going home to visit my parents and getting some growler fills... Sadly, I will never be filling a growler with this beer. I've had other Cody beers that are better, thankfully, for this one just tastes like mediocre homebrew. If you've ever attempted to brew an IPA with an unexciting selection of hops and a fluctuating fermentation temperature, you've had this beer. For everyone else, it's just an average IPA in a very crowded market of better IPAs.
1,287 characters
3.68
/5
rDev
+17.2%
look: 4 | smell: 3.5 | taste: 3.5 | feel: 4 | overall: 4
Picked this up today at The Liquor Shoppe, at $4.99 (plus dep) for a 22oz bomber. Brewed in 2010, at 5.50% ABV and 60 IBUs.
Nonic filled; medium copper colored, with a touch of haze. Carbo is slow and scattered, with a thin, off-white head of fine bubbles laying up top. Some lace is left behind, though not in abundance. Aroma is citrussy, with some sweeter, apricot-like notes present as well. Body is medium, solidly in the middle of the road, while the feel is rather smooth, overall.
Flavor has a subtle malt sweetness, with a little toastiness. In general, though, this is all about the hops. As with the nose, there are some apricot notes lending a touch of fruity sweetness. More hops come into play, with some grapefruit as well as rindy, pithy characteristics. I can almost pick up a hint of mint in there somewhere, though it may just be my imagination. There's lots of bitterness here, with the aforementioned rindy, pithy action lingering long on the palate. A decent IPA, all-in-all. There must be some consistency issues, as I see from other reviews that this can be a hit-or-miss bier. Me? I thought it was more hit than miss. Prosit!!
3.68 rDev +16.8%
look: 4 | smell: 3.5 | taste: 3.5 | feel: 4 | overall: 4
1346
1,235 characters
2.92
/5
rDev
-7%
look: 3.5 | smell: 1.5 | taste: 3.5 | feel: 3.5 | overall: 3
Modest head that settles into mainly rim bubbles. Spotty lace on the glass. Light chill haze on an otherwise solidly amber brew.
Overly fruity (berry punch?) smell--perhaps it was fermented at too warm a temperature. No hop aroma. Not good for the style.
The flavor is much better. The up front is not as sweet (or fruity) as the the smell indicates. Also, there is a biting bitterness in the swallow as well as a long lasting peppery finish. Not very complex but it does fit the profile. The body is typical for the style.
525 characters

3.03
/5
rDev
-3.5%
look: 3.5 | smell: 3 | taste: 3 | feel: 3 | overall: 3
A - Pours deep amber color that is very clear with a minimal head.
S - The aromas are subtle, but present. Caramel and pine wafts, but not with the intensity other top IPAs.
T - Very aqueous with little hop flavor. The flavors that are present quickly fade leaving a disappointing longing for more hops.
M - Light-bodied, little carbonation
D - This beer has an appeal for sessions due to the low ABV and price, but the taste will quickly have you asking for a Racer 5 or Finestkind from Smuttynose. I wanted this to be so much more due to its MA heritage, however it falls short. I am glad I picked it up, but wont be having another.
639 characters

3.18
/5
rDev
+1.3%
look: 3.5 | smell: 3 | taste: 3 | feel: 3.5 | overall: 3.5
22oz bottle served in a standard shaker pint.
(review from notes of 5/30/11)
pours a cloudy amber tone while yielding about a 1" beige/off-white head; decent retention and lacing.
nose is middling; lacks that big, aromatic hoppiness i look for in my IPAs; muted pine and caramel malt.
flavor mostly follows the aroma. decent, drinkable IPA but won't raise many eyebrows: pine/floral hops balanced with caramel malt; secondary notes of citrus and even funk.
medium-bodied mouthfeel with slightly below average carbonation.
overall this is a middle-of-the-road IPA. wouldn't turn it down if offered but with so many options out there i can't see seeking it out for a revisit.
678 characters

2.98
/5
rDev
-5.1%
look: 3.5 | smell: 3 | taste: 3 | feel: 2.5 | overall: 3
Pours a two-finger cream head that fades slowly leaving a good lace. Almost clear amber color. Light carbonation and medium bodied. Nose is light grapefruit hops, flavor is grapefruit hops and some caramel. Lingering bitter finish. Good name for this indistinguishable IPA. Batch #6, $4.99 for a 22oz bottle from Kappy's Fine Wine & Spirits Peabody, Ma.
353 characters
1.54
/5
rDev
-51%
look: 4 | smell: 2.5 | taste: 1 | feel: 1 | overall: 1
Was having a birthday celebration and I was picking up the tab and wasn't entertaining and BAs, so I went with some cheaper beers and a couple local growlers. Picked this one up, mostly because I needed an IPA to balance out the wheats and lagers I had already selected, and the label made me think it was going to be something special. The label was extremely bare, basic, and seemed as if someone had printed it off microsoft word and sharpied in the beer style and name. This made me feel like I was in for a small, local treat that was not focused on the marketing, but purely focused on the brewing. I was wrong...
I'll start with the goods and wrap it up with the complaints:
- A: Great golden caramel color with a formidable head that never seemed to disappear. Best part of the beer.
-S: Okay smell, hints of malt and some hop character, though it left more to be desired.
-T: The most peculiar tasting beer ever. It was like I had drank two bottles back to back to back to back, one of IPA and one of water. My tastebuds were tantalized, and then drowned with watery nothingness, then tantalized, then drowned, etc. After three good swigs (tried to give it the good ol college try) I was decided: no more. I have no idea if my growler was bad or what was going on, either way I made my friends taste it to confirm my suspicions, and then we dumped the remaining 50 or so ounces.
-M: You'd think with such prominent head that the mouthfeel would benefit from carbonation, but the wateriness exhibited in the taste was duplicated in the mouthfeel because I was in a constant limbo and just couldn't handle it.
-D: I could only have three swigs, and my friends could barely choke down one. Enough said.
If you have had a positive growler experience with this beer, please shoot me a beermail and I'll give it another try. Otherwise, the no-name IPA should become a no-existence IPA in my opinion.
1,909 characters
4.18
/5
rDev
+33.1%
look: 4.5 | smell: 4 | taste: 4 | feel: 3.5 | overall: 5
Grabbed some Cody's for some growlers to ride out the storm. It poured out golden in color with a think creamy head, which was funny because there didnt seem to be a whole lot of carbonation to it. The aroma was light but had hints of sweet malt and spicy hops. The taste was great, a bit of malt and caramel with citrus, as well as a spicy pine hop, which was different but had a great flavor. Over all a really good session IPA. Highly recommend.
448 characters
2.85
/5
rDev
-9.2%
look: 3.5 | smell: 3.5 | taste: 2 | feel: 4 | overall: 3
22oz bottle into .3l tulip
no bottle date - Batch 4.
Pours nicely, dirty body, little feathering of the color; somewhere mid-auburn with darker fingers. The head is exceptional, moderate pour yielded a full 1.5" head that left pillowsoft bubbles and a whole lot of sticky lacing.
There is a pleasant aroma, but not one I typically associate with an IPA. While there are floral hop notes and a slight burnt citrus note, there is an obvious vanilla bean note as well.
The taste just isn't here. There is a good bit of hops bitterness but there is no depth to the flavor. The vanillabean and the floral hops aren't at all. There is an unfortunate soapy taste at the finish.
Surprisingly nice mouthfeel. I could almost see giving it a 5 except that it is so bitter and the bitter sticks at the end leaving a sour finishing note.
May well be someone elses cup of tea, but not mine. If your IPA is going to be a one-trick bitter pony, fine, but I at least want it to be clean and leave the palate without a sticky bitter note at the end.
(89th)
1,047 characters
1.74
/5
rDev
-44.6%
look: 3 | smell: 1.5 | taste: 1.5 | feel: 2 | overall: 2
I don't know if I got a bad bottle but this beer was pretty darn awful (batch #3). I got this as a gift from my wife's godparents who live in Mass. The color is appropriate (amber) but it goes downhill after that. Smell is of wet horse blanket. Taste is bitter but downright strong overwhelming presence of wet horse. This is clearly contaminated probably by brettanomyces. If it were labeled as a funky belgian IPA it may fly but it's still pretty nasty in my mind. Bitter yes but no floral citrusy hop aromas. I guess I'll probably never know if it was a bad bottle....
571 characters
3.73
/5
rDev
+18.8%
look: 4.5 | smell: 4 | taste: 3.5 | feel: 3 | overall: 4
Picked up a bomber at a shop up in Salem, MA.
Nice amber/orange body with a huge fluffy head. Really amazing head on this beer, persists throughout and really opens up the aroma. Aroma is of big flower hops, slight biscuit, some pine. Flavor is florally sweet, slightly piney, caramel sweet, and well balanced. Somewhat bitter / astringent finish that leaves the mouth watering for more. Very drinkable, big flavors even at 5.5% abv. Glad I picked up a few beers by this brewery. Definitely will seek out again.
512 characters
3.92
/5
rDev
+24.8%
look: 3.5 | smell: 4 | taste: 4 | feel: 3.5 | overall: 4
Growler from Redstone Liquors. Brought fresh from the brewery today. (11/12)
Batch 3 59 IBU
A- Dark golden color, unfiltered. Very thin head and minimal lacing.
S- Piny hop aromas predominate.
T- Well hopped with piny bitterness, but balanced with a hit of malt sweetness.
M- medium bodied. carbonation is low. Could definitely use more here.
D- Nicely hopped, but not over the top. That combined with the 5.5 % make a nice hoppy session beer. This was very fresh and happy to see I can get local, fresh craft beer so close to my home.
Keep on truckin' Cody!
567 characters
No Name IPA from Cody Brewing Company
Beer rating:
3.14
out of
5
with
65
ratings