Ryely
| Davidson Brothers Restaurant & Brewery
BA SCORE
80
good
10
Reviews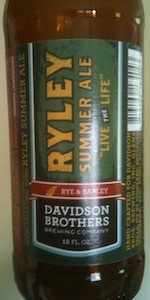 BEER INFO
Brewed by:
Davidson Brothers Restaurant & Brewery
New York
,
United States
davidsonbrothers.com
Style:
Rye Beer
Alcohol by volume (ABV):
4.80%
Availability:
Summer
Notes / Commercial Description:
No notes at this time.
Added by tempest on 06-17-2011
Reviews: 10 | Ratings: 35
2.16
/5
rDev
-34.9%
look: 3 | smell: 2 | taste: 2 | feel: 2 | overall: 2.5
Had on-tap at The Gutter in Williamsburg. Somewhat misleadingly named the "Summer Rye Ale" on the board.
Pours a clear, lagery yellow colour, with a filmy and insubstantial head of white. Fine bubbling rushing up the sides of the glass, and some patchy lace forms as it goes down. Light body. Colour is bright at least, otherwise a bit unappealing.
Nose is yeasty and dirty. Big whiffs of earthy dust and an awful aroma that almost reminds me of Pride of Ringwood, that most hated of Australian hops. Very pongy.
Taste is extremely light and mild, until and earthy bready yeast character and lashings of metallic bile give an encore on the back-palate which genuinely conjures up Aussie macro lagers. Minimal rye character, with an aftertaste of rye crisps. On top of this, the feel is very light and lacking.
Urgh. It's cleaner than a lot of the worst Australian beers, and it's not actually vomitous to drink, but still, it's very light and bland, with some genuinely unpleasant characters. I might be being harsh just because it reminds me so much of the worst beers I know, but that's probably reason enough to mark it down.
1,132 characters

2.96
/5
rDev
-10.8%
look: 3.75 | smell: 2.75 | taste: 3 | feel: 2.75 | overall: 3
12 oz bottle at fridge temp poured into an SA pint. Best before NOV 2013 notched.
Ours a deep golden color with some slight haziness. Thin white head fades to a skim layer, decent lacing.
Earthy, mine rally, lager like yeast?, sweet grain, no rye.
Quite a bit of sweet cereal grain, not really getting any rye, maybe a hint only because I know some is in there. Comes off a bit lagery again, maybe more so in the aroma.
Light, crisp, refreshing.
Drinkability is all this has going for it. Despite its bland, light flavor, this still would have been a decent summer drinker had it had some rye qualities. Similar to an adjunct lager, only slightly better.
664 characters

3.18
/5
rDev
-4.2%
look: 3 | smell: 3 | taste: 3.25 | feel: 3.25 | overall: 3.25
Snagged up a mixed 12 pack of Davidson at a supermarket while traveling through Glens Falls, NY. Definitely a a lager which poured golden in color from the bottle. Floral sweet smell almost as if belgian yeast was being used. Session beer lager style, low abv. Overall midle of the road beer.
292 characters

3.23
/5
rDev
-2.7%
look: 4 | smell: 3.5 | taste: 3 | feel: 3.5 | overall: 3
Best-by date on the bottle is notched at December 2012. Consumed on 7/13/12.
A: Poured into a Lindeman's stange. Body is clear golden with a 1+ finger foamy whitish head. Good splotchy lace.
S: Not a lot going on in the nose - some cereal grain and florally, perfumey notes.
T: Cereal grains - sweeter than expected, makes me think there's corn in there as an adjunct. I'm not really getting much rye here, if at all. Maybe a hint of spiciness in the aftertaste is about it. Otherwise I'm getting a mainly sweet impression, with some florally hops. Warmth felt in belly - could be the ABV or I could just be hungry.
M: Light in heft. Slightly slick feel.
O: Average sums it up. I like a lot of rye in my rye beers, and it ain't here. . ..
743 characters
3.5
/5
rDev
+5.4%
look: 3.5 | smell: 3.5 | taste: 3.5 | feel: 3.5 | overall: 3.5
A: The beer is clear yellow in color and poured with a thin layer of bubbles covering the surface which gradually dissipated.
S: There are light aromas of bready malts in the nose.
T: The initial taste has a light amount of sweetness and is followed by hints of spices from the rye. The rye is slightly more noticeable in the finish.
M: It feels light- to medium-bodied on the palate and has a light to moderate amount of carbonation.
O: It seems that this beer could use a little more hops; however it's refreshing enough for being a summer rye beer because the spicy flavors aren't that strong.
600 characters

3.5
/5
rDev
+5.4%
Poured a medium copper hue with a one finger foamy white head. There was good retention and lacing.
The smell and taste featured doughy malts, a grassy hop and a touch of diacytl.
The mouthfeel was soft with a lingering spice.
Overall a decent ale.
255 characters

3.53
/5
rDev
+6.3%
look: 4 | smell: 3.5 | taste: 3.5 | feel: 3.5 | overall: 3.5
Pours a clean golden yellow color with an off white head. In the aroma, mellow green apple and malts. In the taste, green apple ryeness, a small hop, and rounded out with a small, sweet malt. A small bite, but mainly smooth and a medium to lighter bodied mouthfeel, with a small dry green apple rye flavor in the aftertaste. Nice green apple like rye, mellow and just above average.
382 characters
3.58
/5
rDev
+7.8%
look: 4 | smell: 3.5 | taste: 3.5 | feel: 4 | overall: 3.5
Had an imperial pint at Drop Off Service in the East Village. It was billed as a summer rye ale, and I believe it. This is just a nice, satisfying session beer in the same vein as an American wheat ale in that it's simple and clean, showing off a non-barley specialty malt. Instead of the sweet, bready wheat taste, this has the spicier rye character. Very drinkable and though it wasn't the most complex rye beer I've had by a long shot, I'd happily have a couple more pints.
476 characters
3.69
/5
rDev
+11.1%
look: 3.5 | smell: 3.75 | taste: 3.75 | feel: 3.75 | overall: 3.5
fashioned as a session summer brew, i think its mostly successful in that way. very light copper in color with a nice nose of floral hops and extremely laid back rye malt peppery zest. its not as flavorful as it could be, especially on the rye front, and it cant hold much head in the glass. those are my only two real critiques of this otherwise satisfying pale ale type. the rye adds just a little uniqueness to a grain bill dominated by pale two row. the hops are long in the finish, fresh and bitter, which again works with the rye element. carbonation is pretty solid despite the lack of head in the glass. the low alcohol also keeps it flowing. a good intermezzo type beer in a session. something interesting enough and easy down enough to cleanse the palate but not waste precious alcohol capacity or belly room. best in that context, less so in isolation on a chilly fall afternoon, but i think its quite a serviceable ale overall.
939 characters

4.1
/5
rDev
+23.5%
This is a wonderful beer that is set up to be completely misunderstood by the craft beer public in my opinion. It has been my experience that when people hear rye in a beer they expect to be knocked over by spicy, zesty malted rye. Not so the case here and it is a subtle and masterful use of the rye that makes this one so good to me.
A) 3.8 It pours a bright almost clear golden hue with a hint of haze. White head is nicely sized and leaves some nice lacing. A gentle stream of carbonation is constantly moving up to the surface in my tradition pint ale glass.
S) 3.8 The aroma of malt is peppered with subtle rye notes. Lemongrass and honey lean into a bit of earthy hops alone with spicier Saaz flashes.
T) 4.2 Light sweet golden malt is seriously amped up by the rye undercurrent. This is a golden ale that drinks like a hybrid between a hoppy pilsner and an earthy english ale. The malt is more ale like but the rye gives a peppery zing that makes it dryer and crisper. Yeast give an English fruitiness that couches a bit of the lemon and honey from the nose. Hops are firm but laid back and make for a wonderful finish. Some hop oil and citrus linger for a bit but it is basically a clean finish with a delightful crispness.
M) 4.0 Feel is light with spot on carbonation and a light creaminess that makes for a quenching and refreshing brew.
O) 4.0 A great summer session ale that hits the spot for me. More complex than a pilsner but just as crisp and refreshing. Great english ale yeast component. Excellent and wonderful refreshment.
1,556 characters
Ryely from Davidson Brothers Restaurant & Brewery
3.32
out of
5
based on
35
ratings.