New Zealand Pilsner
| Croucher Brewing Co.
BA SCORE
84
good
14
Reviews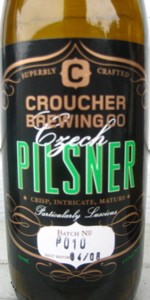 BEER INFO
Brewed by:
Croucher Brewing Co.
New Zealand (Aotearoa)
croucherbrewing.co.nz
Style:
Czech Pilsener
Alcohol by volume (ABV):
5.00%
Availability:
Year-round
Notes / Commercial Description:
Originally Czech-inspired, our New Zealand Pilsner is a showcase of Kiwi hops. Released in January 2007.
Added by VitBAficionado on 02-22-2008
Reviews: 14 | Ratings: 16
4.32
/5
rDev
+16.8%
look: 4 | smell: 4.5 | taste: 4 | feel: 4 | overall: 5
Croucher rebranded their Czech Pils as their "New Zealand Pilsner", brewed with Motueka and Riwaka hops to showcase what a unique character the new New Zealand varieties can give to beer.
Pours a clear and bright golden colour, with very refined streams of tiny bubbles. Love the clarity in the body--it's a classic attribute for a pilsener. Head is crackling and full at first, leaving an airy mess of huge bubbling in the top of the glass. As the beer settles it forms a centimetre or so of frothy egg-shell white. Looks great for the style.
Nose is just gorgeous: a full bouquet of New Zealand hops that's like being smacked in the face by a demolition ball made of pot-pourri. Crisp and sharp herbal characters, plenty of citrus and bite and pungent, sharp characters of ozone and chlorine. Phew. What a nose.
Taste is also very good, and drags it nicely back into the crisp drinkable territory of good pilseners. Sharp hop oil on the front delicately balances with mild light grain characters that give a husky but subtle finish. Feel is crisp throughout, and though there's some lingering bitterness on the back, it complements the feel.
Very drinkable, and extremely light-bodied--again hallmarks of the style--this beer showcases New Zealand beautifully; not just their unique hop varieties, but the truly masterful brewing skills their industry possesses. Great work.
1,380 characters

4.22
/5
rDev
+14.1%
look: 4 | smell: 4.5 | taste: 4 | feel: 4 | overall: 4.5
500ml bottle poured into tulip 12/10/12
A clear golden yellow with lots of bubbles evenly spread throughout, large three fingers of soapy foam slowly falls leaving a few random patches
S lovely tropical hop aroma, passion fruit, pineapple and guava with some faint hay and floral notes, with some lager yeast
T some cracker and metallic notes on top of what I smell but the tropical notes have faded a little and there's just a hint of pine on the finish
m light bodied and it fluffs up a little from the bubbles and has a bit of a bitter snap to it, just a little grit left behind on my gums
O A Kiwi twist on a classic style and it works very well, I like the Kiwi hops they use in this one and perhaps the hay I could smell was just in my head but however you brand this brew its good
I could smash a few of these with no issues but would find myself broke in no time with these costing 8$ a bottle in these parts. well made stuff and it leaves me wanting more Kiwi craft brews and hops
998 characters
4.19
/5
rDev
+13.2%
look: 3.5 | smell: 4.5 | taste: 4 | feel: 4 | overall: 4.5
Crystal clear golden, medium carbonation. Frothy white foam with a touch of lacing.
Fantastically hoppy aroma. Floral, fruity and a bit grassy. Manages to put its own twist on the style but without straying too far from the text book.
Light malt with a dry bitter finish. Hop flavor doesn't come into play too much leaving the rest of the beer to shine.
Superb stuff. An excellent beer I would not hesitate to try again.
424 characters

4.1
/5
rDev
+10.8%
look: 4 | smell: 4 | taste: 4 | feel: 4 | overall: 4.5
A - Pale straw colour, remarkably crystal clear with a one finger foamy head.
S - Tropical fruit (mango especially), citrus, floral notes.
T - Peach, lemon, grass, the unique Kiwi hops balance with biscuity malt to complete a very tasty pils.
M - Very light and crisp, moderate carbonation.
O - Perfect summer sessionable pilsner. So refreshing.
349 characters
4.07
/5
rDev
+10%
look: 3.5 | smell: 4 | taste: 4 | feel: 4 | overall: 4.5
They use New Zealand Pacific Hallertau and Cascade hops to create this pilsner. It poured a light cloudy golden hay- orange with a bleach white head. It had a fantastic hopped nose to it with tons of juicy fresh grapefruit, pine and some mango. It tasted light but with some bitterness, light biscuit, and grapefruit. It had a nice dry, bitter finish. Now I am not a fan of Pilsners, but I really enjoyed this one. I honestly think it was the best Pilsner I have ever had. It's not the run of the mill Pilsner style, which is why I like it- it actually has some interesting flavors.
582 characters
4
/5
rDev
+8.1%
look: 4 | smell: 4 | taste: 4 | feel: 4 | overall: 4
500ml bottle.
This beer pours a crystal clear, pale golden hue, with three fingers of densely foamy, cakey off-white head, which leaves some nice natural arch formation lace around the glass as it gently recedes.
It smells of biscuity, bready pale malts, restrained tropical fruit esters, a bit of fresh-cut grass, and a mild, crisp yeastiness. The taste is more softly rendered fruitiness, a bit of pineapple, a bit of papaya, and a bit of generality, some nice crackery, biscuity, grainy malt sweetness, just the faint of echo of that aromatic yeast, and a slight forest floor leafy bitterness as things warm up.
The bubbles are a tad spritzy, but flatten out for the most part, the body a decently flabby medium weight for the style, and unaffectedly smooth. It finishes well off-dry, the sweetness of the graininess prominent, but still offset by a general south-seas fruity, and timidly bitter hoppiness.
A surely interesting endeavor, to recreate a classic style a half a world away, and successfully, at that. The hops are definitely more fruity than hay or grass-like, but the grain bill is more or less bang-on. A tasty tipple, as seen through a Kiwi filter - totally worth giving a go.
1,199 characters

4
/5
rDev
+8.1%
look: 4 | smell: 4 | taste: 4 | feel: 4 | overall: 4
From notes.
Pours a lovely filtered straw yellow with good head/lacing.
Smell is grain, slight fusel, floral hops, Kiwi candied hops.
Taste is very bitter and crisp.
Mouthfeel is smooth and creamy.
A great lager but for my money these Kiwi hops aren't the best choice for it, then again I do have a slight prejudice against them in general.
345 characters

3.92
/5
rDev
+5.9%
look: 4 | smell: 4.5 | taste: 3.5 | feel: 4 | overall: 4
Pours a shiny pale amber colour, clear body, flat without much carbonation. Head is white, interesting with big bubbles on the top, and retaining a decent but modest crown. Some pleasant lacing left behind. Good-looking pilsener.
Oh, beautiful NZ hop character on the nose, but classic pilsener character as well. Grassy aroma is predominant but it's an underlying character, with a citrus and passionfruit tang layered over the top. Slight grain notes underneath, unusually detectable. But yeah, that's a beautiful nose.
Taste unfortunately doesn't quite have the nice tangy hop character. Citrus and passionfruit on the assault fade away for the mid-palate which is grainy, with barley and a touch of wheat. Hops return for the finish with a fresh cut grass flavour, balanced with fruity notes of passionfruit and lemon. They fase away nicely and slowly and the final notes are crisply bitter, but there's this grainy, almost bready residual left behind. Still, it's the unfortunate side to an otherwise very nicely-hopped crisp pils.
A bit of carbonation sizzle on there, but not overly done; just detectable without being harsh and it goes well with the flavour.
Overall I'd say this is even more flavoursome than a pilsener really needs to be. But I'm not complaining, it's a tasty brew.
1,296 characters

3.8
/5
rDev
+2.7%
look: 4 | smell: 4 | taste: 3.5 | feel: 4 | overall: 4
Pours a pale gold with almost 2 fingers of head. Constant activity from the carbonation. Looks refreshing. Smells awfully good too, although a little restrained. Grassy hop and doughy malt with additional notes of white grape and passionfruit.
Taste wise it's maybe a little too tame. Good balance is achieved between aforementioned doughy malt and the hops, which give white grape, passionfruit, lemon and bubblegum but it's lacking a certain sharpness. Not crisp. Slightly less aggressive than it should be. Definitely a refreshing and tasty beverage, though. Long grassy bitter finish. Appropriately mouth-filling and well-carbed. Very nice overall.
654 characters
3.78
/5
rDev
+2.2%
look: 3.75 | smell: 3.75 | taste: 3.75 | feel: 4 | overall: 3.75
My wife & I were on vacation in New Zealand yesterday, and we tend to make our vacations into wine and beer tours of the particular country or city we are in. This was one of our many stops.
This beer pours a clear, golden straw color that features heavy carbonation and a white, frothy head that dissipates quickly to a very thin lacing. 3.75/5 The aroma features a heavy does of both lemon zest and lemon fruit (I noticed over time that this is very typical of Pilsners made in New Zealand). The pilsner malt provides a light, grainy sweetness with a bit of cracker to cut into the fruity, zesty, and tart aroma of the lemon. 3.75/5 A lemony fruit sweetness hits the tongue right away leading into the cracker and grainy maltiness of the Pilsner malt before a good dose of lemon zest and tart fruit comes through. There is a bit of pine on the back end (surprising) with the result being a bitterness that is quite high and a long lingering bitterness. 3.75/5 This is a clean and crisp beer that has a light body and drys out the mouth quite easily. The dryness lingers for a good amount of time after swallowing. 4/5 This is a Pilsner that is more in line with the German style than the Czech style, although it is advertised as being Czech in nature. It pairs well with a wide variety of foods and drinks very easily. 3.75/5
1,343 characters
3.77
/5
rDev
+1.9%
look: 3.5 | smell: 4 | taste: 3.5 | feel: 4 | overall: 4
I have been told that this is one of NZ's best pils. The earthy, spicy hop aroma is good with a light honey like malt playing out well as well.
The clear, golden colour with a moderate sized white head is good.
Earthy with a moderate bitterness. A nice moderate malt profile backs it up with notes of honey and pils malt. Definitely more classic European in style that the typical NZ pilsner.
Medium bodied with moderate carbonation. Not bad.
A decent pilsner. I was just getting used to the more new world style pils in NZ and for me this is just a touch sulphury.
573 characters
3.25
/5
rDev
-12.2%
Pours amber with a small head.
Nose shows floral hops, soft peach blossom and a little orange peel alongside grainy, bready malt. Pretty much a Czech pilsner with new world hops.
Flavours pretty much mirror the aroma. Spicy, floral hops followed by light grainy malt and an assertive bitterness.
295 characters
3.22
/5
rDev
-13%
look: 3 | smell: 3.5 | taste: 3 | feel: 3 | overall: 3.5
This beer states on the label that its from batch no P033,it pours a pale straw golden colour with average carbonation and leaves a half finger that dissapates quite fast and doesnt leave any noticable lacing at all,it actually smells quite sweet for the style like abit of a grape bubblegum/mango aroma to it,it has a nice average mouthfeel and on tastes im definately getting some biscuty,malty flavours and also some honey,bubblegum tastes which leaves the beer actually tasting a little sweet for the style but still easy enough to drink more than one of.
559 characters
3.1
/5
rDev
-16.2%
look: 3 | smell: 3 | taste: 3 | feel: 3 | overall: 3.5
Crystal clear gold with a medium off-white head and low carbonation. Aroma of floral hops, citrus and sweet malt. Biscuit malt backbone accompanied by (at times harsh) saaz hops throughout. Hints of honey and passionfruit at first with a bitter finish. Soft, lightly-carbonated medium body. Nothing too uninviting in the flavors but lacks that crisp, clean and fresh taste I'm looking for in a pils.
399 characters
New Zealand Pilsner from Croucher Brewing Co.
3.7
out of
5
based on
16
ratings.