Beverages & more!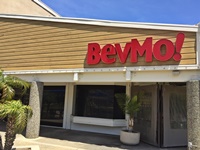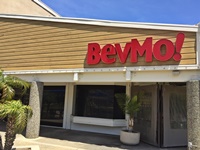 Store
6521 E Pacific Coast Hwy
Long Beach
,
California
, 90803-4202
United States
(562) 598-1850 |
map
bevmo.com
Notes:

3.68
/5
rDev
+1.9%
vibe: 3.75 | quality: 3.75 | service: 3.75 | selection: 3.5
This BevMo is located in Long Beach in a shopping center at PCH and 2nd Street.
The layout and inventory is similar to other BevMo's, but this location is smaller than most. I found your standard craft beer offerings. The prices are good.
The cashier and employees were friendly. If you know what you want and they carry it then it's the place for you.
354 characters
2.73
/5
rDev
-24.4%
vibe: 3 | quality: 3 | service: 2 | selection: 3
This place is very, and I mean very tiny compared to any other BevMo I have been to. What seems to really suffer the most is the selection of beer. I went a few times to pick up some beers, and each time I left regretting not going out of my way to stop off at Stearns or California Heights. Definitely not a spot for beer collectors. I come sometimes when I am in the area and I know there is a mass released beer, like the Stone Collaborations, or something from Dogfish Head. If you want something with a bit more a selection thats really close by, swing by Whole Foods, its just down PCH.
592 characters
4.2
/5
rDev
+16.3%
A very good selection of basic brands, crafts brews and foreign brews to choose from. Many Quality offerings to say the least.
Service is normally o.k not much more! I've always had a struggle getting help, then waiting for that help for items I ordered online for quick pick up. might as well not bother! Online is a great way to lock in something available in the store without having to make a trip to the store!
Selection is a solid A to A+. Much to choose from. Wish they had more in the fridge!
Good Value. Price's competitive and better in many cases than some of the other local liquor stores offering crafts and import brews.
637 characters
4
/5
rDev
+10.8%
Stopped in here after a failed attempt to swing by Beachwood BBQ on a Monday.
Quality is good. The beer is near the back of the store with some windows but pretty well protected from light. No dusty bottles were noticed.
Service was good. Everyone was friendly enough and I even got a "Welcome to Beverages and More" as I entered the door.
Selection is good, better than I was expecting. Many offerings from Deschutes. Lost Abbey, AleSmith, etc., along with a decent amount of other local breweries I hadn't heard of. Nothing too crazy was there - the only RR was Damnation - but for a chain store I was impressed. They even have some of the aisles split up by country.
Value was good. I found the prices pretty fair and have seen the prices higher elsewhere.
Overall if you're in the area this is the best option I found for a good selection. Worth a stop if you're looking for a wide variety.
899 characters
4
/5
rDev
+10.8%
This is the local BevMo for Long Beach. It's down off PCH and 2nd Street. It is sort of hidden since it's not it's own store and the sign isn't that noticeable. Like many BevMos, this place has a huge amount of alcohol.
The beer is toward the back left of the store. There are 4 rows of beer there. One is import, two are craft and a small one is BMC/ciders. There is also some cases sitting around in front of the beer isles. There are also 4 coolers or so that have beer that can be found on the shelf so unless you want it cool, you can find it on the shelf most likely. There are a ton of different brews here ranging from CA all the way to some east coast stuff. Always able to find something here that I haven't seen at other BevMo's or other local stores around Long Beach. Not much else to say about the selection other then you can find some of the rarer beers from time to time but it really depends on the beer buyer. I think the Long Beach guy does a really good job, really like the selection.
The service here is nice and was willing to help me find stuff I was looking for. Not sure how beer savvy they are but the one guy I did talk to awhile back seemed to know a fair amount of knowledge. They also have tastings every week on Friday, when I stopped in today they were holding a Firestone tasting (would have indulged but I go to school about 20 minutes away from the brewery).
This is like your typical BevMo, lots of different beers available and friendly service.
1,487 characters
3.4
/5
rDev
-5.8%
Located on the corner of 2nd St./Westminster Blvd., and PCH in South Long Beach, this is the newest BevMo to open up in the Southland. Originally went on Nov. 2nd, the day it opened, but reviewing it now, as it is now up on the website. Located to the left, or south of Trader Joe's this BevMo is smaller than average, and has much more of a pointy shape. The beer is easy to find walking in, to the left, and they have a selection typical of other BevMos I have been to in this area. Highlights include Staropramen, a Czech Pils I've heard good things about, but have never seen before or been able to try, and Hopsickle, which was refrigerated, unlike other BevMos which just leave it out on the floor, when I had it, it was incredibly fresh and vibrantly hoppy, very good. Service was good, but it seemed that they hired too many workers, there seemed to be 3 times as many workers in a store that is about 3 times smaller than an average BevMo, Huntington Beach, for instance. Also bought a Paulaner Salvator, prices were about normal. Another good BevMo, and one that's pretty close, if you're in the Seal Beach Marina or Marina Pacifica/Studebaker-Loynes area.
1,166 characters
3.85
/5
rDev
+6.6%
I was very happy when I went home to my parents' house this past weekend to find that they now have a "Bevmo" very close to their house. Before that, whenever I was in town (Long Beach), I would have to travel to Cypress or even Huntington Beach to visit one. No more.
My first impressions of this store, located to the left of the Trader Joe's, was that it was a fairly small Bevmo as far as Bevmo's go. However, I think that impression was mainly created by its layout, which is less rectangular and with less of a high ceiling that other Bevmo's I've been into, because they seemed to have just as good of a selection. Wine tasting was going on under a big "TASTING!" sign, but, of course, I went straight to the beer.
They had some nice selections, as usual - Port Hop 15, Sam Adams Hallertau Imperial Pils, Port Old Viscosity, Double Bastard '07, Samichlaus '06, Okocim Porter, etc. A good mix, comparable if not, perhaps, slightly better in some respects to Wine Country near the airport.
Service was a bit menial, I thought, compared to other Bevmo's. Usually the staff seem fairly happy to be working there and are enthusiastic and knowledgeable, but I had a rather awkward and fumbling girl in her early 20's helping me and another customer. Nothing exceptionally wrong with her service, just not very impressive. Additionally, another woman was asked, by two other customers, as I was looking at the beer isles, if they had any "stout beer." She took some time with them looking at the isles but not finding much, and seemed confused at the request, which I think is a pretty simple one. Still, I'm giving them the benefit of the doubt since this seems like it's a very new store.
Prices are reasonable, as at all Bevmo's.
A worthy addition to the Long Beach area, certainly.
1,791 characters
Beverages & more! in Long Beach, CA
Place rating:
3.61
out of
5
with
10
ratings