Beacon Hotel (Sarah Hughes Brewery)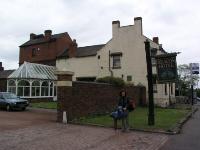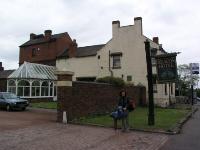 Brewery, Bar
129 Bilston Street
West Midlands
Sedgley
,
England
United Kingdom
01902 883380 |
map
sarahhughesbrewery.co.uk
Notes:
Reviews by TheLongBeachBum:
TheLongBeachBum from California
4.22
/5
rDev
-4.3%
vibe: 4.5 | quality: 4.5 | service: 4.5 | selection: 3.5
The Beacon Hotel. Ah! There is no more appropriate name for this fine establishment. I worked at my local Wakefield CAMRA Beer Festival since the first one in 1991, and every year the one beer everyone asked for, and the one that ran out first every time – was – Sarah Hughes Ruby Dark Mild. A **huge** beer brewed in the Sarah Hughes Brewery at the back of the Beacon Hotel, the renewed home of Sarah Hughes since 1987.
Set back from the road slightly, down a side street in Sedgley, deep in the Black Country, it has a large Car park to the left hand side. The front rooms are restored Victorian marvels. They sell mainly the Sarah Hughes range of beers from its single centrally located bar. You will never see who serves you, just their arms and hands. For the entire Bar is surrounded in Snob Screens, with only 12" high slots, that are just enough to pass your beer through onto the bar counter. Most perturbing! This Pub is a marvel for psychologists, for they could base their entire PhD Thesis on the behaviour of human visitors to the bar in this Pub. Newcomers are easily spotted, for they are the ones who stoop down awkwardly to look under the chest high snob screens in a vain effort to gain eye contact with the hands of the server. Why? I don't know – human behaviour? but I have done it myself on numerous occasions, its just a natural reaction.
Serving anomaly's aside, this is a great Bar; it is a true BrewPub that has expanded over the years into a Brewery that now supplies its unique Mild and other beers to a thirsty Free Trade. The Beacon serves 3 regular beers from Sarah Hughes, with the Ruby Dark Mild being the staple regular beer of many of the locals despite its "non-Mild" strength of 6% ABV. Also sells a Guest beer, sometimes two, when demand is high for the house beers. There are other newly added rooms at the back including a huge glass Conservatory that reminded me of the Amazon with all of its plants. If you can get to tour the Brewery - do so, it's a real 'Tower-system' gem. If not, sit in the front room with the locals and if you can survive 5 minutes of their ribbing, piss-taking and wrath for taking their seats, then they may just talk to you and let you join in their conversation – well if you can understand the local accent that is. I did, and could, fortunately.
The home of England's best known "Mild", and well worth a visit.
Jan 16, 2003
More User Reviews:

Idler from England
4.7
/5
rDev
+6.6%
vibe: 5 | quality: 4.5 | service: 4.5 | selection: 5
This is my local pub. It serves Dark Ruby, Sedgeley Surprise and Pale Amber, the home brews. There are usually two Guest beers, as well as Sam Smiths lager, cider and Danish Dynamite in bottles. Staff and locals are very friendly. and the little lounge, to the left as you walk in, is cosy and the nicest spot in the pub, with William Morris wallpaper, and a piano.
The beers are tremendous, and the Black Country should be the place all transatlantic Beeradvocates head to first for British Ale and British pubs.
Aug 03, 2009
BlackHaddock from England
4.22
/5
rDev
-4.3%
vibe: 4.5 | quality: 4.5 | service: 4 | selection: 4
The traditional Tower Brewery and Beacon Hotel of Sarah Hughes is a very welcoming place, the locals and staff are friendly and the beers top notch at all times.
The old till in the central bar is worth seeing, let alone trying all the Sarah Hughes beers on tap, Sedgley Surprise and the famous Dark Ruby Mild to name but two. The serving area covers all drinking areas and must be difficult to work in, with screens and openings on all sides, certainly not your ordinary bar space.
No Black Country tour would be complete without a visit here for any roaming BA.
Aug 24, 2006

Clembo1957 from England
4.14
/5
rDev
-6.1%
vibe: 4 | quality: 4 | service: 4 | selection: 4.5
Deep in the heart of the Black Country of Englands West Midlands area, the Beacon Hotel is a fine pub both architecturally and beer wise. Entering through the front door you encounter a choice of rooms with an island bar in front of you. As has been noted the snob screens surrounding the bar tend to obscure the customers view of the staff and vice versa.
The pub is well worth a visit for it's range of Sarah Hughes brews, brewed at the rear of the premises, as well as the famous Dark Ruby other Sarah hughes beers include Sedgley Surprise (named after the area). Guest beers on my visit included Kelham Island and Stonehenge Brews.
The brewery was reopened in the late 1980's after being closed for 30 years.
The pub is situated just off Sedgley town centre with easy access by public transport (545 bus) from Dudley.
May 06, 2004
Beacon Hotel (Sarah Hughes Brewery) in Sedgley, GB2, United Kingdom
Brewery rating:
3.78
out of
5
with
34
ratings