Dismiss Notice
Dismiss Notice
Blue Magic
| Right Brain Brewery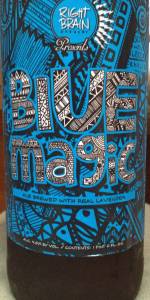 BEER INFO
Brewed by:
Right Brain Brewery
Michigan
,
United States
|
website
Style:
Herbed / Spiced Beer
Alcohol by volume (ABV):
4.50%
Availability:
Rotating
Notes / Commercial Description:
Blue Magic Lavender Wheat Ale is a uniquely different & refreshing brew. Did we mention it's magical too? It's brewed with local honey from Honey Pot Priory & fresh local lavender from Light Of Day Organics. This is a straight forward wheat with dried lavender. This brew has a floral nose and a wheat finish.
Added by TheBrewo on 10-10-2013
Reviews: 3 | Ratings: 43
3.75
/5
rDev
-1.3%
look: 3.5 | smell: 4 | taste: 3.75 | feel: 3.75 | overall: 3.5
650 mL bottle poured into a snifter.
Appearance - Hazy orange. Not very bright. Small white head.
Smell - Lavender is really nice. Super floral. I love the aroma of lavender. Very grainy wheat.
Taste - Initial slight citrus. Then lavender. Much more of the wheat ale comes out though. Grainy. Light spice and lavender in the finish.
Mouthfeel - Light. Grainy. Medium carbonation.
Overall - Lavender is delicious in every way and this beer showcases it really well.
★
471 characters
3.9
/5
rDev
+2.6%
look: 4 | smell: 4 | taste: 4 | feel: 4 | overall: 3.5
22 ounce bottle into pint glass, bottled on 8/28/2013. Pours moderately hazy golden straw color with a 2 finger dense white head with great retention, that reduces to a small cap that lingers. Spotty soapy lacing clings down the glass. Aromas of lavender, lemon, pear, apple, wheat, bread, honey, floral, grass, ginger, light cinnamon, light clove, and herbal earthiness. Very nice and interesting aromas with good lavender, malt and light hop balance; with good strength. Taste of lavender, lemon, pear, apple, wheat, bread, honey, floral, grass, ginger, light cinnamon, clove, pepper, and herbal earthiness. Light floral/pepper bitterness on the finish; with lingering notes of lemon, pear, wheat, bread, honey, floral, light cinnamon, light clove, and pepper on the finish for a good bit. Very nice complexity and balance of lavender, malt, and light hop flavors; with nice robustness and zero cloying flavors after the finish. Medium carbonation and body; with a slightly creamy, smooth, and crisp mouthfeel that is nice. Alcohol is very well hidden with no warming present on the finish. Overall this is a very nice spiced wheat ale! All around good balance and robustness of flavors; and very smooth to drink. A very enjoyable offering.
★
1,242 characters
3.88
/5
rDev
+2.1%
look: 3.25 | smell: 4 | taste: 4 | feel: 3.75 | overall: 3.75
We open a bomber, pouring a brew of pale straw coloring into our Bell's Weizen glasses. It holds a solid two finger head of active, creamy white bubbles, showing nice retention. Wet lines of lacing are left dripping around the glasses. A definite haze cuts clarity, and no sediment is noted. Carbonation appears to be light, but the bubbles that rise are large. The aroma gives spicy and massively floral notes of dried lavender, oily hoppy grassiness, light phenolic clove, chalked wheatiness and pale malt grit, metallics, chemically sunscreen, mineral water, coriander, chamomile, and celery seed, under ripe banana fruitiness, and blue cotton candy sweetness. Our first impression is that the lavender is certainly there, and rides high along the palate for the entire sip. This is inherently a wheat beer at heart, with a sturdy bill of grain to support it. As we sip, the taste begins with oily lavender herbal qualities, that sunblock chemical bite, eucalyptus, dull cantaloupe juiciness, lemon rind, green grassy and dried pale straw graininess, cinnamon sugar, and freshly plucked mint leafiness. The middle comes to a peak chamomile, lemon balm, orange pith, heavy and dirty wheatiness, mineral earthiness, gravel, sticky bun syrupiness, oily herbal hoppiness, black pepper spiciness, subdued hollow vodka booziness, and chalk vitamin crunch. Washing through the finale is a blend of wet wheatiness, sweaty saltiness, green pea vegetals, iron, continued sweet lavender spice, rosehip, heavy honey sweetness, mineral water, jasmine, chamomile, and tannic black tea leafiness. The aftertaste breathes of more lavender, standard wheatiness, grassy and lightly citric hops, gravel, plastic phenols, salicylate, blackberry juiciness, clover and raspberry honey, wet paper towel, light gingerbread toast, and black pepper booziness. The body is light to medium, and the carbonation is medium to actively prickly. Each sip gives nice slurp, smack, cream, froth, glug, and pop. The mouth is lightly coated with wet foaminess, but this eventually gives way to puckering tartness and bite of the spice and the heavy wheatiness. The abv is appropriate, and the beer drinks nicely.
Overall, what we enjoyed most about this beer was its unusual, innovative flavoring. This is really a bizarre but uniquely tasty beverage!! The lavender is out-of-this-world strong, affording it a heavily medicinal, apothecary type of presentation. That vibe, mixed with the name and retro label, make you kind of question what's going on around you, and even make you a bit uneasy. That's a bit beside the point, but it is an interesting experience nonetheless. We feel that wheat, while down-low and dirty, was the perfect base to support such a robust showing of florals and spice, which seemed to morph and include other similar aromatics and flavors throughout the tasting. The honey only helped this along, adding sweetness where you wanted it, but without taking too much from lavender that drove this guy home. Very, very interesting beer, and you should try it if you can, if not for just the experience of the thing.
★
3,114 characters
Blue Magic from Right Brain Brewery
-
out of
100
based on
3
ratings.