CakeWalk Vanilla Cream
| Right Brain Brewery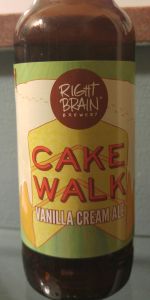 BEER INFO
Brewed by:
Right Brain Brewery
Michigan
,
United States
rightbrainbrewery.com
Style:
Cream Ale
Alcohol by volume (ABV):
3.80%
Availability:
Rotating
Notes / Commercial Description:
Cream Ale conditioned with vanilla bean
Added by tectactoe on 06-28-2013
Reviews: 6 | Ratings: 48
3.99
/5
rDev
+7%
look: 4.25 | smell: 4 | taste: 4 | feel: 3.75 | overall: 4
Recently I've gotten to know Right Brain's offerings a bit more in depth. It seems they do quite a few cream ales, and it shows in CakeWalk. Classic cream Ale in appearance, aroma, and flavor. Pale gold and clear, with not much noticeable carbonation. A few fingers of head dissolves over time to nothing, some sticky dots of lacing here and there, but not much. Aroma is heavy with corn and biscuit malt aroma, with grassy and vanilla bean notes popping through. The flavor hits very much the same way, crisp and clean. Creamed corn, biscuit malts, grass/floral hops and fresh vanilla bean ice cream. Finish clean with no aftertaste. While not quite cake, the aroma alone paints an image of nilla wafers half submerged in a dish of vanilla ice cream.
751 characters

3.75
/5
rDev
+0.5%
look: 3.75 | smell: 3.75 | taste: 3.75 | feel: 3.75 | overall: 3.75
I picked up a bottle of Right Brains CakeWalk Vanilla Cream Ale for $1.79 at The Lager Mill. I haven't had this one before, but I've been meaning to try and I'm interested to see how it turns out, so lets see how it goes. 2016 Vintage. Poured from a brown 12oz bottle into a imperial pint glass.
A- The label looks nice, it goes well with the name and it's just a little eye catching. It poured a hazy golden orange color that took on more of a nice yellow color when held to the light with a finger and half worth of creamy slightly off white head that died down to a thin ring that stayed till the end and it left just a little bit of patchy lacing. This is a pretty nice looking Cream Ale, but I wish it was clearer.
S- The aroma starts off with a medium amount of sweetness with a noticeable floral aroma being the first to show up and that goes into that goes right into a grainy corn aroma that's followed by the the malts which impart impart a pale malt, bready and biscuit like aroma with some doughy yeast showing up in the background. Towards the end there's a noticeable vanilla aroma. This beer has a pretty nice aroma, it'seems on par for the style and the vanilla shows up just enough to be noticeable.
T- The taste seems to be similar to the aroma and it starts off with a slightly higher amount of medium sweetness with the floral aspect still being the first to show up and it goes right into the malts which impart all those same aspects that they did in the aroma and they are even more grainy with the corn joining it this time. Up next comes little bit of doughy yeast which leads into the vanilla which shows up just enough to be noticeable. On the finish there's pretty much no bitterness with a grainy, light corn, malty and pretty light vanilla like aftertaste. This is a pretty nice tasting beer, it's true to the style and the vanilla shows up just enough to add a little to this beer.
M- Smooth, pretty crisp, a little clean, on the thicker side of being light bodied with a lower amount of high carbonation. The mouthfeel is pretty nice and it works well with this beer.
Overall I thought this was a nice beer and it's a pretty nice example of the style, it's got everything that I look for in a Cream Ale and the vanilla ended up being pretty light, but it showed up just enough to add a little complexity to this beer and I liked that. This beer had nice drinkability, I could drink a couple. What I like the most about this beer is how true to style it is, it's just what I expect from a good Cream Ale. What I like the least about this beer is the appearance, I wish it was a little clearer. I would buy this beer again when I want a Cream Ale with a little vanilla and I would recommend it to anyone looking for the same. All in all I was happy with this beer, everything came together well and not single aspect ever got too overpowering. It's not a favorite Right Brain Brew and it's a nice example of the style. Nice job guys, this is a pretty solid beer, keep it up.
3,040 characters

3.33
/5
rDev
-10.7%
look: 3.75 | smell: 3.75 | taste: 3.25 | feel: 3 | overall: 3
A bit too watery and sweet for my liking. I thought the vanilla flavors were decent enough - sniff of ice cream on the nose going into a very cream driven flavor profile, almost to a soda level. In fact, this would have no problems being amped up as a dessert beer with more weight behind it. Just felt the overall feel was too light.
334 characters
3.9
/5
rDev
+4.6%
look: 4 | smell: 4 | taste: 4 | feel: 4 | overall: 3.5
22 ounce bottle into pint glass; no bottle dating, but is a recent release. Pours fairly crystal clear deep golden yellow color with a 1-2 finger fairly dense off white head with good retention, that reduces to a small cap that lingers. Light spotty soapy lacing clings down the glass, with a good amount of streaming carbonation retaining the cap. Aromas of cracker, corn, vanilla, light honey, herbal, grass, light pepper, light pear/apple, and yeast earthiness. Very nice aromas with good balance of pale malt, vanilla, and light-moderate earthy hop/yeast ester notes; with good strength. Taste of cracker, corn, vanilla, light honey, herbal, grass, light pepper, light pear/apple, and yeast earthiness. Light herbal/spicy bitterness on the finish; with lingering notes of cracker, corn, vanilla, light honey, herbal, grass, light pepper, light pear/apple, and yeast earthiness on the finish for a good bit. Very nice robustness and balance of pale malt, vanilla, and light-moderate earthy hop/yeast ester flavors; with a great malt/bitterness balance and zero astringent flavors after the finish. Light-moderate dryness from bitterness and lower body. Medium-high carbonation and light bodied; with a very smooth, moderately crisp, and lightly grainy/creamy/sticky balanced mouthfeel that is nice. Alcohol is very well hidden with zero warming present after the finish as expected of 4.5%. Overall this is a very nice creamy ale style! All around good robustness and balance of pale malt, vanilla, and light-moderate earthy hop/yeast ester flavors; and very smooth, crisp, and easy to drink. A very enjoyable offering.
1,622 characters
3.59
/5
rDev
-3.8%
look: 3.75 | smell: 3.5 | taste: 3.5 | feel: 3.75 | overall: 3.75
I had Cakewalk on tap at Right Brain on 8/9/2013. I was disappointed that Strawberry Fields was not on tap, but thought this and Blue Magic were solid.
Appearance - The beer was a bright golden with a slight bubbly white head topping the beer.
Smell - I was a little disappointed in the aroma. The promised vanilla aroma was present, but the Earthy notes stood out more.
Taste - The beer did remind me of crème soda. The vanilla did not stand out enough to make this a desert beer. Much like the aroma, Earthy notes that are more reflective of an ale were most dominant. The aftertaste is largely dry.
Mouthfeel - Carbonation was fairly potent which is probably why the vanilla notes do not list long.
Overall - This would be a great beer for a hot summer day. I think the recipe for this one could stand to be improved if it is given a name that is reflective of a desert beer.
885 characters
4
/5
rDev
+7.2%
look: 4.5 | smell: 3.75 | taste: 4 | feel: 4.25 | overall: 4
On tap at the Oak cafe. I always love trying new cream ales, especially to go alongside a nice, medium-rare burger. Golden amber with really nice clarity and a foamy, thin, white skin that settles atop the beaming brew and leaves some nice, sheety lacing on the glass. Very nice, clean looking beer; certainly a thing of beauty.
Somewhat expected, the aroma is pretty light and forgiving; faint and relaxed without much "oomph", but that's pretty much how I want my cream ales to be. Lightly toasted grains, some stale, musty hops, and a good amount of thick, lager yeast. The finish contains just a touch of lemon zest. Simple, yet refreshing and easy-going.
Cakewalk's got the signature crisp mouth feel that I was looking for; carbonated generously, it tingles the palate and has a very nice, dry feel to it. A brash bitterness hits first in the form of some musty, earthy, and dirty hops that are seemingly of the Noble type. The lemon and citrus zest is a bit heavier, and works very well with the bitterness in terms of balance.
The backbone is grainy and yeasty; solid, light, and again, refreshing. The malt gives a pretty solid, bready-sweet finish. It's got many of the things you'd expect in a cream ale and executes them quite nicely. A pint of this went down quickly with my burger, you can't really ask for more than that.
It's nice to see Michigan breweries growing in popularity. I haven't had too much from Right Brain (yet), but a cream ale is something that many breweries wont even attempt or bother with. You can't go into this beer expecting some crazy-complex and layered sipper. But if you want a summer slammer that goes great with food, this beer is great.
1,686 characters
CakeWalk Vanilla Cream from Right Brain Brewery
3.73
out of
5
based on
48
ratings.