Black Betty Imperial Stout

Nebraska Brewing Company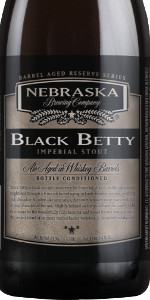 Write a Review
Beer Geek Stats:
| Print Shelf Talker
Style:

ABV:

9.3%

Score:

Avg:

3.89

| pDev:

13.88%

Reviews:

12

Ratings:

From:

Avail:

Rotating

Wants

Gots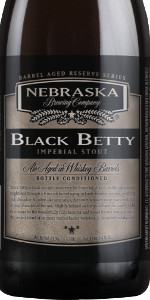 Notes: This listing is for the "virgin" version (i.e. not barrel aged). It is a draught-only beer that is *occasionally* served at festivals out of unlabeled bottles.

4.1
/5
rDev
+5.4%
look: 4 | smell: 4 | taste: 4.25 | feel: 4 | overall: 4
Poured from a can into a tulip glass. Very dark brown color with a nice brown head and good lacing. Nice chocolate smell and taste. Easy to drink. Smooth feel. Enjoyable beer.
175 characters
4.14
/5
rDev
+6.4%
look: 4.5 | smell: 4.25 | taste: 4 | feel: 4 | overall: 4.25
Why the low scores? Wow.
On tap at brewery.
Deep rich black pour with fuzzy creamy head of 1 finger.
Aromas of tobacco, leather, dark chocolate, oats, and caramel.
Flavor is huge. Earthy, piney bite followed by dark burnt chocolate, char, and caramel, and the piney bite returns and follows through to the lingering finish.
Feel is thick but not as thick as most RIS. Nice carbonation.
Overall a lot like Ten FIDY but with more piney bite and less chocolate sweetness or complexity. Not a miss even by a mile. A solid beer no doubt.
537 characters
4.02
/5
rDev
+3.3%
look: 5 | smell: 4.25 | taste: 4 | feel: 3.5 | overall: 3.75
Pitch black and very tight, creamy team head.
Pit fruits, dark cherry. Fruity earthiness, especially espresso and tobacco
A little on the thin side. Not helped by a noticeable dryness that really paves way for ethanol.
Dark currants dipped in unsweetened chocolate. High bitterness level, roasted espresso and tobacco. Marshmallow type sweetness lingers in background.
372 characters

4.15
/5
rDev
+6.7%
look: 4.25 | smell: 4.25 | taste: 4 | feel: 4.25 | overall: 4.25
Jet black with a tan froth. Smells of milk chocolate, oak, grain and black cherry. Quite smooth going down with a noticeable hit of fusel alcohol followed by black grape, candied syrup, pine, faint wood, prune and burnt sugar. Despite the complexity it still feels a tad weak, although some creaminess comes into play at just the right time. **Scored 4.1 on 4/21/16**
371 characters
3.1
/5
rDev
-20.3%
look: 4 | smell: 4 | taste: 2.5 | feel: 3 | overall: 3
It looks good, but it didn't taste as well as their other Reserve Series beers, like Melange a Trois or Hop God. It just wasn't well balanced, almost a bit sour and oaky as well as whiskey forward. Maybe I'm just not into this type of beer but I was definitely disappointed by it's taste in comparison with their non-bourbon barrel aged beers. I would definitely recommend their others but I can't recommend this.
413 characters
3.62
/5
rDev
-6.9%
look: 3.75 | smell: 3.5 | taste: 3.75 | feel: 3.5 | overall: 3.5
Bottle
A.Black with a two finger tan head.
S.Whiskey with a hint Coffee.
T.Mostly whiskey with malt, coffee, and coco.
M.Alot thinner than I expected. Not smooth in any way.
Overalls I feel this beer is overrated. It's not bad but did not meet the hype.
258 characters

3.33
/5
rDev
-14.4%
look: 4 | smell: 3.5 | taste: 3 | feel: 3.5 | overall: 3.5
2011 vintage. Poured from a 750 ml bottle into a Pipeworks snifter.
A- pours black with a 2 finger dark tan head. Big blotches and trails of lacing remain on the glass.
S- whiskey dominates. Faint; chocolate, vanilla and oak.
T- whiskey dominates. Whiskey, dark fruits, bitterness, sour mash.
M- medium body and carbonation. Slightly acidic and effervescent.
O- bummer! Not sure why I waited to open this because time hasn't done it any favors. Way to one dimensional. Whiskey is almost all you pick up. This is why I will never buy Nebraska beer. Way overpriced for the product they put out.
597 characters

4.45
/5
rDev
+14.4%
look: 4.5 | smell: 4.5 | taste: 4.5 | feel: 4 | overall: 4.5
A: 4.5 rich and dark pour into a snifter with a slight head with full dark bubbles
S: 4.5the whiskey comes out first on the nose followed by the oak
T: 4.5 sharp fruit taste followed by all of the oaky whiskey-ness that you could want from a beer.
MF: 4.0 very full body that does not disappoint
O: 4.5 this is a beer that I would always drink when someone else buys it. At $21 a 750 ml it is hard to justify to wife that it is NEEDED but it is still a great beer and I am glad to have tried it.
495 characters

4.5
/5
rDev
+15.7%
look: 4.5 | smell: 4.5 | taste: 4.5 | feel: 4.5 | overall: 4.5
"Oh my. There's the whiskey!" my wife exclaims after her second sip of Black Betty. The dark brown head of this Russian Imperial Stout falls quickly with a bit of lace. The whiskey is apparent in the nose. And familiar. According the Nebraska Brewing website, Stranahan's Colorado Whiskey barrels is the source.
We did the Stranahan's tour earlier this summer and the whiskey is smooth and strong, which leaves a robust imprint on the beer. The 9.3% alcohol shows with light legs on the side of the swirled glass. As it warms, the whiskey actually smooths out and compliments the oily slickness of the ale. Very sweet and malty, it keeps from being cloying by the 83 IBUs bringing a sharp bite the flows through the end.
A slightly imbalanced RIS that's heavy on hot alcohol from the beer and the barrel aging, but I like it a lot. If you haven't read me in the past, I readily admit that I lean toward the big, bold, and slightly over the top.
Side note: At the Stranahan's tour, they mentioned that they let breweries use their barrels, but I understood that the Stranahan's name wasn't to be used. Obviously I misunderstood since it's listed on the website; however, the bottle says "fresh whiskey barrels," so maybe the limit is to the actual beer.
1,258 characters

4.22
/5
rDev
+8.5%
look: 4 | smell: 4.5 | taste: 4 | feel: 4 | overall: 4.5
Beer is dark brown to black with a tan head and some lacing on the glass. Low carbonation.
Lots of chocolate, roast, and tobacco in the nose.
This is a good beer, carbonation is low, medium to heavy body, the whole beer is sweet and thick with great tobacco bitterness and other chocolatey flavors. The finish is moderately bitter from a coffee like roast with the tobacco. Very nice, a great beer.
400 characters

4
/5
rDev
+2.8%
look: 4 | smell: 4 | taste: 4 | feel: 4 | overall: 4
Bottle at SAVOR 2011. Served in a goblet.
Pours a very, very dark brown color that borders on black with a moderate mocha head and some spotty lacing on the way down. The nose carries a heavy amount of chocolate and roast with a tad bit of coffee. The flavor melds chocolate and roast together really well atop a medium-full body. Light carbonation. Feel and flavor go together quite well. Very solid brew from Nebraska Brewing.
429 characters
3.81
/5
rDev
-2.1%
look: 4.5 | smell: 3.5 | taste: 4 | feel: 4 | overall: 3.5
Poured from a growler into my Duvel Tulip.
Pours black with some very faints hints of crimson around the edges, and a dense two finger head. The lacing is thick and very sticky, leaving a nice webbing behind.
Smell; wow, very hoppy nose right out of the gates. Pnine and a little citrus, then fades alcohol. A touch of coffee, chocolate and dark roasted malts meld with some dark fruits, such as prunes and black currants.
Taste; as with the aroma, the hops hit right away with a bitter pine resin and spicy alcohol. Fortunately they a fade some as the beer warms a little, which gives the roasted/sweet malts a chance to come through. Coffee and bitter dark chocolate, followed by prunes and just some faint hints of licorice, fading to a little bit of a sweet toffee.
Mouthfeel is full bodied with a nice/fine carbonation. The drinkability is decent, but definitely is hurt by a high ABV (though I'm not sure what ir is). Reminds me of very fresh BR Big Bear Black Stout.
Edit: Finished the second half of the growler the next day, and it held up extremely well, maintaining a veryy good level of carbonation, with no real noticeable signs of oxidation. Will definitely be going back for some more.
1,215 characters
Black Betty Imperial Stout from Nebraska Brewing Company
Beer rating:
89
out of
100
with
69
ratings