Inception Series #02 - Microbe Rue
| Nebraska Brewing Company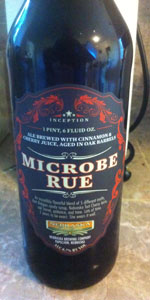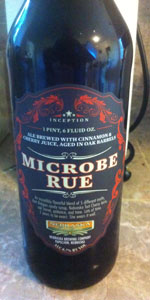 BEER INFO
Brewed by:
Nebraska Brewing Company
Nebraska
,
United States
nebraskabrewingco.com
Style:
American Wild Ale
Alcohol by volume (ABV):
6.70%
Availability:
Limited (brewed once)
Notes / Commercial Description:
No notes at this time.
Added by pigc on 12-11-2011
This beer is retired; no longer brewed.
HISTOGRAM
Ratings: 9 | Reviews: 6
Reviews by SHODriver:

4.34
/5
rDev
+1.6%
look: 3 | smell: 4 | taste: 5 | feel: 4 | overall: 4
A: Pours a light reddish brown with nearly no head. what was there was tan but never made a great appearance and was very quick to depart with no trace of itself
S: Smells of sour cherries, cinnamon and spice, plus a little bit of funk
T: tart cherry flavor at the front, with a hint of woody oak, the cinnamon comes in and is followed by another solid smack of sourness and some sweet vanilla and flavor from the candi sugar. aftertaste is bitter cherry and candi sugar that is slow to go away.
M: light on the mouth with minimal carbonation. it's there but it doesn't overburden.
O: The appearance and smell threw me off but the taste is fantastic. If you like sours this one will likely not let you down.
709 characters
More User Reviews:

4.42
/5
rDev
+3.5%
look: 4 | smell: 4.5 | taste: 4.5 | feel: 4 | overall: 4.5
A: Auburn hue; no head; minimal lacing but looks like a wild ale often does
S: Tart! Cranberry juice, cherry juice, with some nutty grains; some funk and oaky quality, but mostly tart tart cherries and other fruits
T: So refreshing: dry and fruity--cherries dancing around beautifully; this is sour but balanced; the oak really comes out
F: A touch thin up front but creamy and nicely carbonated in the finish
O: This is a great sour: fruity, slightly funky, woody, and so good
481 characters
3.92
/5
rDev
-8.2%
look: 3.5 | smell: 4 | taste: 4 | feel: 3.5 | overall: 4
A phenomenal offering from Nebraska brewing that I was stoked to get from a Nebraska BA.
Pour is a deep ruby mahogany color with little to no head.
Smells is a heavily perfume of sour mashed cherries, wood, cinnamon, and something I can only describe as tartness.
The taste follows the same lines: sour, cherry, a bit of vanilla, oak . . . Very earthy, fruity, and smooth. Nothing is outrageous and it is all carefully put together.
Overall: great beer. Carbonation throws it off. However: Seek it out if possible.
522 characters

4.29
/5
rDev
+0.5%
look: 4 | smell: 5 | taste: 4 | feel: 4.5 | overall: 4
Bottle shared thanks to bstyle, poured into a Hill Farmstead glass.
Pour: Comes out a hazy cherry red, with quite a bit of carb grabbing onto the glass. Head is lightly pink and fizzy, and recedes quickly.
Smell: Lots of tart cherries and some cranberries up front, followed by a nice funk. Sweetness on the nose is a combination of bready yeast, some dark sugar candy, and fruit juice. Very nice.
Taste: Follows the nose, but is much more subdued. Tastes amazing, the flavors just feel muted in comparison to the brightness of the nose. Tart cherries and cranberries, as well a caramelly sweetness from the Belgian dark sugar candy. Oaky vanilla on the finish.
Mouthfeel: Pretty drinkable, with a very refreshing carb. Cherries don't wreck your palate, or coat it in the way they sometime do in other cherry based wilds. Lightly sweet and finishes pretty dry.
Overall: A really nice beer. Maybe not the best of the evening, but delicious in it's own right.
962 characters


3.95
/5
rDev
-7.5%
look: 4 | smell: 4 | taste: 4 | feel: 3.5 | overall: 4
Per the label: An incredibly flavorful blend of 5 different malts, dark Belgian candy syrup, Nebraska Tart Cherry Juice, oak barrel, patience, and time. Lots of time. 2 years to be exact. She wears it well...
Looks like I'm the first to review this beer released late November 2011 so I'll try to do it justice.
22oz. bottle poured into snifter.
A - Pours a dark brown, ruby reddish color with minimal head that fades quickly. Small carbonation bubbles float their way to the top.
S - Tart cherries, slight sour funk, oak.
T - Starts out with slight cherry tartness. I'm picking up some of the oak characteristics of the barrel. Very faint hint of cinnamon.
M - Light and tart, thin.
O - Interesting second beer of NBC's Inception series. The sourness if fairly tame and the carbonation seems to be low. Overall enjoyable but not quite up to Russian River standards.
887 characters
4.02
/5
rDev
-5.9%
look: 2.5 | smell: 4.25 | taste: 4.25 | feel: 3.5 | overall: 4
From: Purchased from brewery on release day
Date: None on bottle, 2011 November release
Glass: Girardin degustation glass
Microbe Rue is a very good barrel-aged beer in the tradition of a Flanders Red Ale, with interesting accents from the cinnamon, oak and leaf characters involved, making me wish I had saved this until fall. Tart, tangy, and fruity nearly two years after release, an excellent beer, one I would welcome to try again.
Pours with a small cap of lacy foam atop the body of the beer, which dissipates nearly as quickly as it forms, leaving a thin ring of off-white foam around the perimeter of the glass. Lacing is modest, a few small spots and blotches cling to the inner walls of the glass. The body is a fairly dark reddish-brown color, nearly opaque (80-90% opacity) with light revealing brownish-orange colors and a slight red hue. Carbonation is visible rising along the sides of the glass.
Aroma of mellow, but notable, sour and tangy raspberries and cherries with an underlying caramel sweetness, as well as faint cinnamon and oak barrel.
Front of palate is rich with ripe, tangy raspberries and cherries, caramel malt, cinnamon, ginger snaps, slight red/white wine blend, and oak barrel. Mid-palate of sour and tangy raspberries and cherries, with flourishes from the caramel malt base, some cinnamon, spicy dried leaves, and oak barrel. Back of palate increases fruitlike tartness (still raspberries and cherries) and intensity of the caramel malt base and dried leaves, with a slight vinous nature. Aftertaste of flavors of sour and tangy cherries, raspberries, cinnamon, burned-out caramel malts, dried leaves, and oak barrels.
Beer is medium to medium-light in body, with medium-low levels of carbonation, resulting in a mouthfeel that is lightly carbonated and slightly fizzy, diminishing to a crisp tartness with time. Closes semi-dry, with moderate stickiness lingering around the lips and palate.
1,934 characters
Inception Series #02 - Microbe Rue from Nebraska Brewing Company
Beer rating:
4.27
out of
5
with
9
ratings