Hub City Amber Ale
| Hub City Brewing Company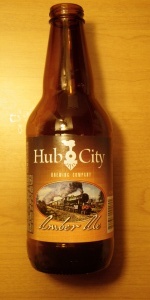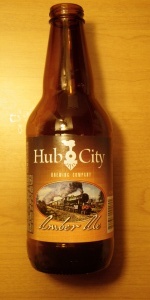 BEER INFO
Brewed by:
Hub City Brewing Company
Iowa
,
United States
Style:
American Amber / Red Ale
Alcohol by volume (ABV):
not listed
Availability:
Rotating
Notes / Commercial Description:
No notes at this time.
Added by maximum12 on 01-10-2009
This beer is retired; no longer brewed.
HISTOGRAM
Ratings: 12 | Reviews: 10
Reviews by exonthebottle:
3.05
/5
rDev
+15.5%
look: 3 | smell: 3 | taste: 2.5 | feel: 3.5 | overall: 4
the beer is pale amber color. smell sour bitter
I couldn't taste much at first but the faint smell of hops/citrus not enough malt either taste is like a bitter/ English ale not really sure where this is going not balanced enough.
Surprisingly drinkable since it is light, watery and sweet but not nearly as good as hub city's stout beer.
339 characters
More User Reviews:
2.56
/5
rDev
-3%
look: 3 | smell: 2 | taste: 2.5 | feel: 3 | overall: 3
Reviewed from notes. Consumed 08/04/09
Poured from a 12oz bottle into a standard water glass. Firm pour pushes up a 1/8 inch of head that falls very quickly, leaving a faint trail of spotty lace. Color is a clear amber.
Nose- The faintest of citric hops, sort of a sweet straw aroma.
Pallate- Sweet with the faintest touch of citric hops. Very light malt. Some straw and faint biscuit. Touch of bitterness in the finish.
Mouthfeel- Active
Drinkability- Very drinkable.
473 characters
2.9
/5
rDev
+9.8%
look: 3 | smell: 3 | taste: 3 | feel: 3 | overall: 2.5
A - Medium orange copper color with a good sized, foamy, and slightly sticky, white head. Pretty good retention with a nice sticky layer of lace left.
S - Pretty strong apple and mineral aroma with a good amount of caramel malt as well. Somewhat sweet smelling. Some grassy and a bit of malty aroma as well.
T - Nice caramel malt base with a fair amount of grassy taste. A nice grassy and floral hop kick comes out mid sip and it lingers after the sip a bit. Very leafy feeling with a nice touch of bitterness as well. A bit of apple taste and a touch of alcohol taste as well. Slight metallic finish.
M - On the lighter side of medium body with a fair amount of carbonation. Fairly smooth, but not as creamy as I was hoping as it is a little thin.
D - Fairly drinkable beer, not the most balanced but a nice mix of leafy hop bitterness and sweet caramel malt. Sometimes it seems quite drinkable and other times it's a little harder.
Notes: Decent Amber Ale that isn't as creamy as other Ambers I've had and a bit hoppier and bitter. Not the best beer but it is ok.
1,071 characters
1.63
/5
rDev
-38.3%
look: 2.5 | smell: 2 | taste: 1.5 | feel: 2 | overall: 1
Presented in a 12 oz twist off with no production or best by date.
A - Pours a cloudy red/orange with a 1/2 inch off-white orange head that is comprised mostly of large bubbles. It is short lived and leaves no lacing on the glass.
S - Bready and alcoholic. I also get some fruity character. Not pleasing.
T - Something is off here. Taste is puckering and sour.
M - Biting. Cannot get past the sourness. Thin.
D - Sorry, I poured this one out.
Overall - I have to believe that there is something wrong with this batch. I tried the Hub City Stout and liked that. I don't think that anyone would purposefully market this beer. I may have to try it again in a few months just out of curiosity.
695 characters
2.68
/5
rDev
+1.5%
look: 3 | smell: 2.5 | taste: 3 | feel: 1 | overall: 3
Jan 29, 2010
I had my first Hub City (Olde Brown Porter) and was pleasantly surprised. This slop made up for it. Skunky aroma, flat appearance, skunky grainy taste, and a metallic, bland finish and aftertaste. And I'm being nice. Hope my next Hub City swings back the other way.
279 characters
3.35
/5
rDev
+26.9%
look: 3 | smell: 3 | taste: 3.5 | feel: 3.5 | overall: 3.5
Pours a clear, copper color. 1/5 inch head of white color. Slight retention and poor lacing. Smells of yeast, slight sweet malt, grass, and grain. Fits the style of an American Amber / Red Ale. Mouth feel is smooth and crisp with an average carbonation level. Tastes of hops, sweet malt, yeast, slight citrus, and some grain. Overall, a much better body than the aroma and appearance alluded to.
395 characters

1.8
/5
rDev
-31.8%
look: 2 | smell: 2 | taste: 2 | feel: 2 | overall: 1
My first beer add on BA! Woohoo!
Thanks to pepsican for the extra in a recent trade. I enjoyed the Hub City Old Browne Porter so much last night, I thought I'd grab another mystery Hub City brew. Here goes.
Well...their Porter was delicious, their Wheat adequate, and this...this...is not good. It's a rather sickly hue of red, with no head at all even with a hard pour, & the taste if off, to put it kindly. The taste is foul, a nose-wrinkling mix of water, boot-stomped grasses, & wheat that wasn't harvested until a damp spring. It does appear that someone waved a sprig of hops at it, but maybe dunked the roots instead? Ugh.
One of the worst beers I've had. If I'm ever in the neighborhood I'll be sucking down the porter & trying to keep upwind of this brew.
769 characters
2.2
/5
rDev
-16.7%
look: 2.5 | smell: 2.5 | taste: 2 | feel: 2.5 | overall: 2
Yeah, I have to agree with the other reviewers, this is not a well made beer.
a: Color is clear red. No head nor lacing.
s: Stale. Not skunked, just... stale.
t. kind of watery, with some unwanted alcohol taste, and aforementioned staleness. Real thin, not balanced.
m: Very poor.
I'm not sure what the problem was with this brew, but it's hard to imagine it was intended to taste this way. I guess now I know why it was $4.99 a sixpack. Oh well.
--EDIT--
After a few more bottles of this, my opinion of it has improved. I think the quality is somewhat uneven. It's still not especially good, but not as objectionable as my first bottle.
640 characters

3.06
/5
rDev
+15.9%
look: 4 | smell: 3 | taste: 3 | feel: 3 | overall: 3
I would have to say this was not a terrible beer like others say. It's a medium amber color with a creamy white head that leaves just a little lacing. The aroma is very light, and unfortunately so is the taste. It just doesn't have much punch to it. Not one to go out of my way for.
282 characters

2.97
/5
rDev
+12.5%
look: 3 | smell: 3.5 | taste: 2.5 | feel: 3.5 | overall: 3
A.Poured a hazy orange, witha a short one half finger white fluffy head. A little lacing on the glass.
S. Malt, not a great nose. Some floral, some citrus.
T. Carmel, sour, a little off on the flavor. Starts bitter finishes sour.
M. Medium bodied lightly carbonated.
D. I got this brew in a mixed 6. I thought it was below average as the style goes.
354 characters
Hub City Amber Ale from Hub City Brewing Company
Beer rating:
2.64
out of
5
with
12
ratings