Dismiss Notice
Hub City Paradise Ale
| Hub City Brewing Company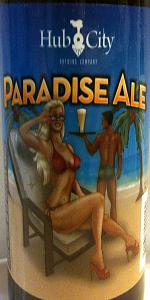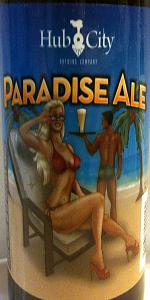 BEER INFO
Brewed by:
Hub City Brewing Company
Iowa
,
United States
Style:
American IPA
Alcohol by volume (ABV):
6.20%
Availability:
Year-round
Notes / Commercial Description:
Paradise Ale is brewed with a simplified malt bill to give this tropical IPA its light color and allow the hops to shine. A variety of American hops are used to give Paradise Ale its characteristic hints of grapefruit, orange, and mango.
Added by FreshHawk on 09-20-2010
This beer is retired; no longer brewed.
HISTOGRAM
Ratings: 13 | Reviews: 9
3.41
/5
rDev
-5.5%
look: 4 | smell: 3 | taste: 3.5 | feel: 3.5 | overall: 3.5
Poured into a pint glass and it yielded a huge head with a fantastic hoppy aroma and nice amber coloring. The hoppy taste is decent that is not overpowered by the malt undertones. It is not overly bitter and is very refreshing with a soothing dry aftertaste. Fine beer, very drinkable - a good session brew. I would highly recommend it.
336 characters


4.22
/5
rDev
+16.9%
look: 3.5 | smell: 4 | taste: 4.5 | feel: 3.5 | overall: 4.5
Poured from 12oz brown bottle into a Samuel Adams Perfect Pint glass. No freshness date. Recieved in gift beer of the month shipment.
A: Orangey amber with 1-2 fingers of off-white head, pretty sticky, good head retention and decent lacing.
S: Good aroma profile of pine and citrus hops on a solid malt backbone of mostly pale malt. Some tropical fruit in there too.
T: Wow -- this one is a very pleasant surprise. Very substantial bitter hoppiness with big pine, citrus, and tropical fruit hops hit. Malt is a tad caramel but mostly plain pale which allows the hops to show their stuff. A really interesting hops bill with a almost puckering lemon and orange citrus and pine resin punch. Nice job Hub City.
M: I wish this had a touch more heft to give it a little more body and a coating feel but there is nothing really wrong here. Low carbonation and a lemon hops aftertaste.
D: I liked their Oatmela Stout fine, but Paradise Ale, aside from the cheesy label, is a fine American IPA with a staunch bitterness and flair for the West Coast IPA and really good job in putting out a hopsmonster with fruity and pine character.
1,130 characters
3.75
/5
rDev
+3.9%
look: 3.5 | smell: 3.5 | taste: 4 | feel: 3 | overall: 4
A - Clear, crisp golden color. Very light for the style. Small, foamy, sticky, fluffy, soapy white head. Disappears pretty fast with a thin, sticky lace.
S - Plenty of juicy grapefruit along with some other sweeter citrus and hints of tropical fruit. A touch of grassiness and maybe just a touch of pine resin. Pale malt backbone, but the grapefruit and citrus hops are dominant. Not too bad actually.
T - Like the nose, citrus, grapefruit, lemon and just hints of tropical fruit are strongest. Unlike the nose, it is much more bitter than sweet. Also has a fair amount of grassy and pine flavors, more pine than the nose suggests. Bitter hoppiness is pretty strong. Some pale malt with just a hint of breadiness toward the finish. Bitter, zesty citrus comes out strong at the finish as well (lemon and other citrus).
M - Light body with average to lower carbonation. Thin feeling with a drying finish.
D - Refreshing bitterness and zestiness. Just enough malt to balance it out.
Notes: Not a bad IPA, and a good offering from Hub City. In the past I have been wary of them, but they seem to possibly be turning a corner. Very citrusy IPA, but it has more lemony citrus and it does have a strong bitterness. I like the crisp, drying citrus and bitterness, but there are definitely better IPAs you could get.
1,312 characters


3.58
/5
rDev
-0.8%
look: 4.5 | smell: 4 | taste: 3 | feel: 3.5 | overall: 4
Poured from a 12 oz. bottle into a nonic glass.
A: Slightly hazy, medium golden color with one finger of diminishing white foam head. Heavy lacing remains on the glass.
S: Pina colada with floral accents. No trace of grain.
T: Begins dry, with weak pale malt and floral hop aromatics. Acidity is mildly citric into the middle, where rye, tropical fruit, and an unusual whiff of sulfur are all encountered. A shock of pure bitterness arrives late in the finish, where herbaceous onions and crisp, powerful minerality are also present.
M: Thin to medium viscosity, wet but a little limp on the palate, with low carbonation.
D/O: Surprisingly not terrible, this IPA brings some rather familiar midwestern qualities that are evocative of Bell's Two-hearted's Centennial-centric hop qualities and Goose Island IPA's sheer drinkability. Flavors are out of balance with the preference shown toward hops--applied in obvious good measure post-boil. The result is an ale with taut West-coast aroma, but a flavor that cannot totally escape being muddled and a little confused. The best that can be said about it is the flavor becomes more appealing with repeated exposure and a rise in temperature.
1,192 characters
4.75
/5
rDev
+31.6%
look: 4.5 | smell: 4.5 | taste: 5 | feel: 5 | overall: 4.5
The final of the latest BOTMC to arrive at my door. Looks like they took the picture for the label in my backyard! Let's give it a whirl. Popping the top I get a nice citrus hop smell with grapefruit and pineyness. Pours into a Dogfish pint to cloudy yellow-orange with a pillowtop foamy head. Taste is prime American IPA. Starts with a big hop bite off the bad, pine taste and grapefruit very prevalent. Extremely fresh tasting. Carbonation is no less than perfect allowing the flavors to come through completely. This brew is a benchmark for Amercan IPA. I'm impressed. I will seek this out before 60 minute IPA!
614 characters

3.2
/5
rDev
-11.4%
look: 3 | smell: 3 | taste: 3.5 | feel: 3 | overall: 3
Taste is the most important element for me and this beer is a medium-to-high amount of hop flavor (and bitterness). I like that, so it was a good selection.
I drank it out of the bottle so I didn't get a good look at it, but it had a mild citrus smell. It was not heavy in the mouth and I found it very drinkable. I could imagine having more than one of these -- it was certainly light enough for summer heat. It is billed as a tropical IPA, so I suspect that was the brewer's intent.
485 characters
3.78
/5
rDev
+4.7%
look: 4 | smell: 3.5 | taste: 4 | feel: 3 | overall: 4
Hub city has some cheesy sexist bottle label art and I wish they would go back to the trains (I hate seeing sexist art it really rubs me the wrong way). I brought this on whim to see how bad it was this from a mixed 6 pack case so I am surprised to see they made an AIPA. hub city is an odd brewery I have respected their beer in the past but this is just a bit below average AIPA. the head and appearence is good nice clear golden body, light tropical hop smell, taste sweet malt and hop lingers on but not dry enough pretty smooth taste even if your hop threshold is high the taste is good for an AIPA. the feel is too watery too light kinda loosens the taste but I am not too disappointed since I didn't know this beer was going to be AIPA overall I think Paradise is one their best beers if they increased production on this I would maybe buy a 6 pack when looking for a summer AIPA. Not as good as Single wide overall but complexity of this AIPA is good above average but weaker because of being watery. I just wish they would made this beer before their weaker offerings. I think they can improve this and I think DIPA or a stronger IPA would be a good move
1,163 characters

4.32
/5
rDev
+19.7%
look: 4 | smell: 4.5 | taste: 4.5 | feel: 4 | overall: 4
Poured into a pint glass at the appropriate temperature yielded a huge head with a fantastic hoppy aroma and nice amber coloring. The hoppy taste is divine, a true gift of the beer gods, that overpowers the malt undertones. It is really bitter but also refreshing with a soothing dry aftertaste. Fine beer, very drinkable - a good session brew. I would highly recommend it without mental reservation.
400 characters
3.64
/5
rDev
+0.8%
look: 4 | smell: 2.5 | taste: 4 | feel: 4 | overall: 4
12 oz. bottle poured into a beer mug.
Appearance- Sorta "orangey" color might be a little disconcerting, however, I see a bit of sediment has settled in the bottom of my glass, which is usually the sign of a beer I'm going to enjoy. Now I'm excited.
Smell- Nothing but hops, really I can detect little else.
Taste- As simple as the aroma was, the taste is really quite complex. Changing pretty drastically from open to finish. Opens very hoppy but seems to turn malty and sweet upon finishing. Delicious!
Overall- I enjoyed this beer very much, but then again there aren't many IPAs that I don't. Worth the time and money.
626 characters
Hub City Paradise Ale from Hub City Brewing Company
Beer rating:
3.61
out of
5
with
13
ratings