Stonecutter
| Renaissance Brewing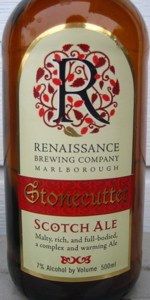 BEER INFO
Brewed by:
Renaissance Brewing
New Zealand (Aotearoa)
renaissancebrewing.co.nz
Style:
Scotch Ale / Wee Heavy
Alcohol by volume (ABV):
7.00%
Availability:
Year-round
Notes / Commercial Description:
No notes at this time.
Added by VitBAficionado on 02-12-2008
Reviews: 64 | Ratings: 121
3.75
/5
rDev
-3.4%
look: 3.5 | smell: 3.5 | taste: 4 | feel: 4 | overall: 3.5
A - Pours a dark brown with ruby red highlights when held up to light. A 2cm beige head falls away fairly quickly and leaves a bit of lacing.
S - Smell is all about the dark fruit and is backed up by some caramel maltiness.
T - Dark fruit also comes through very strongly in the taste and has some caramel sweetness as well as a herbal/earthy touch.
M - Medium to full bodied with a fairly low carbonation.
D - Not something I'd drink heaps of but a fairly decent beer and example of the style. I'd drink it again.
★
514 characters
3.74
/5
rDev
-3.6%
look: 4 | smell: 3.75 | taste: 3.75 | feel: 3.5 | overall: 3.75
Poured from 16.9oz bottle into Chimay goblet.
A - Hazy, medium to dark brown pour with thick, highly-laced, souffle-like head.
S - Peaty malt, funky yeast, bread, toffee, raisins.
T - Rum raisin, toffee notes, smoke and peat.
M - Smooth, rich, but not cloying. Thins on the palate to a dry finish.
More complex than many of the scotch ales. An interesting and intriguing beer overall. Not the best, but worth trying.
★
421 characters

3.73
/5
rDev
-3.9%
look: 4 | smell: 3.5 | taste: 3.5 | feel: 4.5 | overall: 4
Another New Zealand brewery now available here in NC.Poured into my Isle of Arran glass a mix of ruby and russet with a one finger toasted almond colored head.Aromas are kinda muted,some light peat smoke and cocoa powder are what I picked up on most.Somewhat different on the palate than expected,its quite earthy and dry,cocoa powder in the finish,seems to be almost American in its rendition.It does have a full chewey feel but it lacks the deep fruity flavors that I like in the style.Its a good beer but maybe a bit off on the style in my opinion.
★
551 characters

3.69
/5
rDev
-4.9%
look: 3 | smell: 4 | taste: 3.5 | feel: 3.5 | overall: 4
Pours a rich red colour. Head is beige, whispy, really, with disappointing lace. Good colour, bit underwhelmed by everything else.
Smells malty. Lots of English toffee with slight vanilla notes. Cedar wood and pine add some interest, and decent scotch ale smell anyway.
Taste is quite scotchy, really. Lots of caramel fudge and toffee upfront, gets boozey midway but enjoyable woody notes and a slight burnt sugar character that verges on bitter late. Pleasant, not too heavy, not too sweet either.
Lots of body as one would expect, but not too syrupy. Decent.
Yeah, I can't feign a great fondness for the scotch ale style, and I think Renaissance have done a good job toning down the potentially more extreme aspects, just leaving the nice aspects, the sweet booziness without the hot syrupy aspects.
★
805 characters
3.65
/5
rDev
-5.9%
look: 4.25 | smell: 4.25 | taste: 3.25 | feel: 3.75 | overall: 3.5
500ml bottle from Good Spirits Co, Glasgow (£5.80):
Quite a nice first beer from Renaissance Brewing for me, I'm never quite sure about Scotch Ales going in due to the fact that most of the mass-produced Scotch Ales out there are quite poor and loaded with alcohol, at least in my experience anyway but this one was a pleasant beer to sip away at. There was a lot going on, particularly with the smell but the beer had a good balance that stopped it from seeming overly sweet or sickening; good stuff but probably not one I'd be likely to pick up again.
★
554 characters
3.65
/5
rDev
-5.9%
look: 3.5 | smell: 3.5 | taste: 4 | feel: 3 | overall: 3.5
Pours dark brown with deep red highlights at the edges. Medium creamy tan head. Nose of roasted malts, chocolate and liquorice. Taste is dominated by a grainy roasted malt backbone accompanied by sweeter caramel notes and some chocolate. Bitter raisin giving way to slightly alcoholic finish. A bit thin. A little too unruly but not a bad brew at all.
★
351 characters

3.6
/5
rDev
-7.2%
look: 3.5 | smell: 3.5 | taste: 4 | feel: 3.5 | overall: 3
500ml brown glass bottle with standard pressure cap served into a Disneyland thistle glass (it's the only thistle glass I have!) in low altitude Los Angeles, California. Reviewed live.
A: Pours a three finger head of great cream, nice full thickness and foam, and great retention. Colour is a solid black.
Sm: Heavy toasted malt, caramel, and biscuity bready notes. A moderate strength aroma.
T: Pleasant warm toasted malt alongside biscuity caramelized malt notes and a bit of bready cream. Rich and balanced, if a bit simply done for the style. It's everything you'd expect from a Scotch Ale, but it doesn't rise above expectations. Built well. An enjoyable Scotch Ale.
Mf: Smooth and wet, but with some hefty thickness that limits the drinkability. Suits the flavours well, and is to style.
Dr: Drinkable and enjoyable for the style. It's everything you'd expect, but nothing more. Fans of the style would do well to try this one.
B
★
946 characters
3.52
/5
rDev
-9.3%
look: 3 | smell: 3.5 | taste: 4 | feel: 1 | overall: 4
Pours brown with a large, growing head.
Nose shows chocolate, sultanas, caramel, and nutty malt. Pretty moreish.
Flavours include more caramel and chocolate alongside nutty malt. Quite sweet.
Spoiled a little by the excessively high carbonation though.
★
252 characters
3.5
/5
rDev
-9.8%
look: 3.5 | smell: 3.5 | taste: 3.5 | feel: 3.5 | overall: 3.5
Bottle: Poured an amber color ale with a medium size foamy head with good retention and some light lacing. Aroma of dry caramel malt with light cereal notes is pleasant though not as rich as I would have expected. Taste is also dominated by cereal notes with dry caramel grainy notes. Body is about average with good carbonation and no apparent alcohol. Not bad though I prefer scotch ale sweeter and with bigger malt profile.
★
426 characters

3.47
/5
rDev
-10.6%
look: 3.5 | smell: 4 | taste: 3.5 | feel: 3 | overall: 3
500ml into a tulip. Pours an opaque midnight mahogany, dense tan head is minor but retains well.
Aroma is complex. Charred bittersweet chocolate, nicely roasted backed by toffee, very nice.
Taste is a meld of a scotch ale and an imperial stout with a strong emphasis on the stout. The charred malts lead to a simply minor bitter aftertaste which lingers on the tongue a good while. The complexity of the nose is not carried through the taste which is relatively simple. Light bodied mouthfeel. If unbeknownst to me, I would never guess this was a scotch ale.
cheers
jd
★
571 characters
3.45
/5
rDev
-11.1%
look: 4 | smell: 4 | taste: 3 | feel: 3.5 | overall: 3.5
Moderately strong toffee aroma with notes of toasted nut, milk chocolate and coconut. Nice.
Fairly clear, amber colour with a big, long lasting light tan head. Quite creamy in appearance.
I'm not so keen on the flavour. The big toffee flavour is slightly muted and feels a bit empty. There is a touch of oxidation and an emptiness to the whole beer which lets it down. Not as complex as it should be.
Medium-full body with moderate carbonation. Reasonable.
A reasonable attempt at the style. Unfortunately, there is no date on the bottle so I don't know how old it is but for a beer of this strength it tastes just a bit too oxidised given it has to be less that 18 months old.
★
681 characters
3.4
/5
rDev
-12.4%
look: 3 | smell: 3 | taste: 3.5 | feel: 4 | overall: 3.5
A- Pours a deep garnet red colour with a head that fades quickly.
S- Aromas of toffee, nuts and brown bread with a hint of sweet single malt scotch.
T- Rich palate with initial prune and toffee notes running in to a dark chocolate and brown sugar note on the end. Fresh effervescent slightly dry finish with a metallic tang.
★
326 characters
3.17
/5
rDev
-18.3%
look: 3 | smell: 3.5 | taste: 3 | feel: 3.5 | overall: 3
Tried at the Local Taphouse's Kiwi SpecTapular. Part of my ongoing effort to write up my reviews from that event.
Pours a deep bronze colour, with a fine head of white that sits strong and robust to begin with, but turns filmy rather disappointingly. Light body. Not a strong look for a scotch ale.
Nose is rather mild, with some cracked grain and a whiff of dry lucerne. Some biscuity characters, but not a lot else. It's quite mild, and very underwhelming.
Taste is light and reminiscent of an English Pale Ale. Mild and light, with a little toffee on the finish, that is indeed too little, too late. No hint of the 7% ABV, but giving a hint of it would have stopped this from being quite so insipid.
No, I'm afraid I'm not a great fan of this one. Too weak to be a proper Scotch ale.
★
790 characters

3.15
/5
rDev
-18.8%
look: 3 | smell: 3 | taste: 3.5 | feel: 2.5 | overall: 3
Pours mahogany, half a finger head, dies quickly. Zero lace.
Malty on nose, dry, earthy. mrs heygeebee described it as a 'matte' aroma, not glossy.
Taste is dry malt, a little bitterness, lacking something.
Mouthfeel light/watery, thin for ABV.
Overall, better as it warms, but really so middle of the road flavour wise it just doesn't stand out.
★
350 characters
Stonecutter from Renaissance Brewing
3.88
out of
5
based on
121
ratings.