Stonecutter
| Renaissance Brewing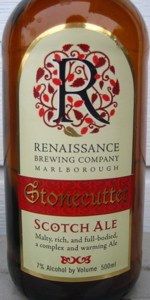 BEER INFO
Brewed by:
Renaissance Brewing
New Zealand (Aotearoa)
renaissancebrewing.co.nz
Style:
Scotch Ale / Wee Heavy
Alcohol by volume (ABV):
7.00%
Availability:
Year-round
Notes / Commercial Description:
No notes at this time.
Added by VitBAficionado on 02-12-2008
Reviews: 64 | Ratings: 121

3.9
/5
rDev
+0.5%
look: 3.5 | smell: 3.5 | taste: 4 | feel: 4.5 | overall: 4
Disclaimer: I have no idea what I am doing with Scotch Ales at this point...
A: Pours a dark, rich looking reddish brown. Not much clarity, but thick and inviting. The head is small, maybe half of a finger, but constant in my tulip glass. The bubbles are small and creamy. Lots of carbonation rising from the bottom of the glass.
S: First impressions were light alcohol notes, followed by lots of breadiness.
T: Malty, very lightly bitter. Also slightly sweet, but the sweetness wears away as the beer is enjoyed. There is no presence of alcohol in the taste. As I drink this, I can really enjoy the rich malty flavor, combined with a proper amount of bitterness. The malt flavor in this beer is really well crafted. The bitterness lingers on the finish. With the bitterness and carbonation, the light sweetness finishes well with only an aftertaste, which I find enjoyable. I detect just a slight hint of vanilla in this, although that could be due to the wonderful mouthfeel of this beer.
M: This is perhaps my favorite thing about this beer. The mouthfeel is thick. The malt is sweeter than other styles, but too sweet at all, and so this thickness in the mouthfeel is quite enjoyable. It also contributes to the aftertaste of this beer, which I think is finely crafted.
O: Although this isn't my favorite style of beer, and there is nothing particularly special about this beer that stands out, it is very enjoyable. I would consider this to be a very casual beer, but flavorful enough to keep the pallet interested.
1,528 characters
3.87
/5
rDev
-0.3%
look: 3.5 | smell: 4 | taste: 4 | feel: 4 | overall: 3.5
A pleasure to have this beer, spot on the style. Reddish brown, no head in sight. A nose of fruit, chocolate, sherry, mild booziness. Soft mouthfeel; rich malting. Very drinkable, hops are felt mid-sip through the finish. Lovely.Bottle from Premiere Gourmet.
258 characters

3.69
/5
rDev
-4.9%
look: 3 | smell: 4 | taste: 3.5 | feel: 3.5 | overall: 4
Pours a rich red colour. Head is beige, whispy, really, with disappointing lace. Good colour, bit underwhelmed by everything else.
Smells malty. Lots of English toffee with slight vanilla notes. Cedar wood and pine add some interest, and decent scotch ale smell anyway.
Taste is quite scotchy, really. Lots of caramel fudge and toffee upfront, gets boozey midway but enjoyable woody notes and a slight burnt sugar character that verges on bitter late. Pleasant, not too heavy, not too sweet either.
Lots of body as one would expect, but not too syrupy. Decent.
Yeah, I can't feign a great fondness for the scotch ale style, and I think Renaissance have done a good job toning down the potentially more extreme aspects, just leaving the nice aspects, the sweet booziness without the hot syrupy aspects.
805 characters
3.86
/5
rDev
-0.5%
look: 4.5 | smell: 3.5 | taste: 4 | feel: 3.5 | overall: 4
I love the bottle and the label; states it's basically a malt bomb. Can't wait.
Nice looking beer. Dark brown, rich off-brown head. A bit murky, but overall fairly clean.
Aroma is malt, smoke, caramel and some soft earthy spice. The malt is sweet and smoked, some chocolate, some caramel. Sweet bread, almost sticky.
While this is not a malt bomb, it sure isn't shy with the malt. I think it's just right---for my taste--with perhaps a bit of a short fall on the sweetness. Smoke and caramel dominate without being over the top, this is a Scotch ale after all. Baked cocoa and a bit of green twig. The smoke is noticeable throughout.
The mouthfeel is a bit thin, which belies the malt a bit. Not as chewy as I had hoped. Nonetheless, this is a very nice beer
763 characters

4
/5
rDev
+3.1%
look: 4 | smell: 4 | taste: 4 | feel: 4 | overall: 4
A: Poured from a bottle to a pint glass. Had a brownish color with ruby tints and a slightly hazy consistency. There was an inch of foamy, fairly long-lasting head. Good lacing.
S: Aroma consisted of lots of malt, caramel and some grains.
T: Tasted of malt (a good deal of it), caramel, a slightly grainy quality. This is a solid flavor, just what you expect from a Scotch Ale. gets better as you go along.
M: A generally well-carbonated beer with a smooth finish. Medium-bodied.
D: An all around, well made, drinkable beer.
528 characters

3.73
/5
rDev
-3.9%
look: 4 | smell: 3.5 | taste: 3.5 | feel: 4.5 | overall: 4
Another New Zealand brewery now available here in NC.Poured into my Isle of Arran glass a mix of ruby and russet with a one finger toasted almond colored head.Aromas are kinda muted,some light peat smoke and cocoa powder are what I picked up on most.Somewhat different on the palate than expected,its quite earthy and dry,cocoa powder in the finish,seems to be almost American in its rendition.It does have a full chewey feel but it lacks the deep fruity flavors that I like in the style.Its a good beer but maybe a bit off on the style in my opinion.
551 characters
3.85
/5
rDev
-0.8%
look: 3.5 | smell: 3.5 | taste: 4 | feel: 4 | overall: 4
Stonecutter | 500 ml. | 7.0% ABV | Q4 2010
Brewer: Renaissance Brewing
Style: Scotch Ale / Wee Heavy
Glass: Pint glass
|---<~>---| APPEARANCE |:
It pours clear maroon with a lackluster head.
|---<~>---| AROMA |:
Thick and rich, roasted malts predominate, backed by a chocolate powder and dark fruit scent.
|---<~>---| TASTE |:
A roasted malt base--toasted grains, caramel, and hints of chocolate come through--sits under a thin layer of jelly preserve--plum or cherry, plump raisins, and a sprinkling of dry spices. Hops are light, provided only the slightest edge of bitterness.
|---<~>---| MOUTHFEEL |:
Medium-bodied and crisp. It has a balanced feel in the mouth.
|---<~>---| HARMONY |:
It's quite enjoyable as a sipping beer. It's chalky sweetness is nicely balanced with bitterer flavors and the aftertaste is pleasing.
Would I get it again?:
No. It's fine, but I've had better Scotch Ales.
Bottled: ?
Served: January 31, 2011
979 characters
3.45
/5
rDev
-11.1%
look: 4 | smell: 4 | taste: 3 | feel: 3.5 | overall: 3.5
Moderately strong toffee aroma with notes of toasted nut, milk chocolate and coconut. Nice.
Fairly clear, amber colour with a big, long lasting light tan head. Quite creamy in appearance.
I'm not so keen on the flavour. The big toffee flavour is slightly muted and feels a bit empty. There is a touch of oxidation and an emptiness to the whole beer which lets it down. Not as complex as it should be.
Medium-full body with moderate carbonation. Reasonable.
A reasonable attempt at the style. Unfortunately, there is no date on the bottle so I don't know how old it is but for a beer of this strength it tastes just a bit too oxidised given it has to be less that 18 months old.
681 characters

3.91
/5
rDev
+0.8%
look: 2.5 | smell: 4 | taste: 4.5 | feel: 4 | overall: 3
A- pours a dark ruby/brown, lets a good amount of light through when held up to it. the head foams up to a dark tan, but quickly dissolves into nothing, and leaves NO lace at all.
N- LOTS of caramel, toffee, and licorice. there is also a faint berry fruitiness to it.
T- Heavy licorice and caramel flavors. there is a hint of the berry taste toward the middle of the mouthful, and a hint of alcohol also that seems strongest on the finish.
M- Very smooth and malty. just what one would expect from a wee-heavy.
D- doesn't hide it's "7%"(right Andy?) very well, not a session ale, but none the less a good winter warmer.
624 characters
4.12
/5
rDev
+6.2%
look: 4 | smell: 4.5 | taste: 4 | feel: 4 | overall: 4
Ordered at brew quay in Auckland.
Appearance: Dark brown, rub highlights. Attractive, high head with good retention and leaving plentiful lacing.
Smell: rich and malty, with dark fruits and a hint of peat in the background. Very earthy. More and more cocoa powder as it warms, German chocolate cake comes to mind.
Taste: Well balanced malt centric beer, with enough bitterness to keep things from getting overly sweet. Toffee, roast, cocoa, raisins and what seems to be a touch of smoke.
Mouthfeel: medium body, carbonation reasonable and creamy. finishes dry.
Drinkability: very good, one of the best nz beers I have tried
628 characters
3.75
/5
rDev
-3.4%
look: 3.5 | smell: 3.5 | taste: 4 | feel: 4 | overall: 3.5
A - Pours a dark brown with ruby red highlights when held up to light. A 2cm beige head falls away fairly quickly and leaves a bit of lacing.
S - Smell is all about the dark fruit and is backed up by some caramel maltiness.
T - Dark fruit also comes through very strongly in the taste and has some caramel sweetness as well as a herbal/earthy touch.
M - Medium to full bodied with a fairly low carbonation.
D - Not something I'd drink heaps of but a fairly decent beer and example of the style. I'd drink it again.
514 characters
4.01
/5
rDev
+3.4%
look: 5 | smell: 4 | taste: 4 | feel: 4.5 | overall: 3.5
A 500ml bottle into a tight necked glass.
Appearance- A dark caramel brown, slight amber highlights. A nice 1/2` creamy retaining head. Slight carbonation. Appropriately limited lacing, keeping the brew for drinking and not stranded on the sides of my glass.
Smell- A real strong malt nose. There is some peat and sweet fruit notes. Maybe the slightest spice from hops.
Taste- A real strong malt body and slight caramel notes. A end note of dark cocoa and slightly sweet dates. However mostly exuded a roasted flavor.
Mouthfeel- Initially a medium bodied brew that began thick and somewhat chewy towards the end as it warms. The carbonation is appropriate. The ABV is warming and slightly present in the background.
Drinkability- Very Nice, however 500ml was perfect for me. This beer stacks up very well against the Belhaven Lines and other Wee Heavy beers.
861 characters

4.03
/5
rDev
+3.9%
look: 4 | smell: 3.5 | taste: 4.5 | feel: 3.5 | overall: 4
Big thanks to nyctreal for breaking this one out!
A-Dark brown with ruby highlights. Nice, creamy medium tan head. Reduced and left good lcaing.
S-Sweet caramel and roasted malts with hints of chocolate and figs. All in all somewhat muted.
T-Rich and bold roasted malt backbone with sweet caramel notes ending with a bite of bitter chocolate and dark fruits.
M-Medium body with a very nice smoothness. Just a tad on the thin side of things....wouldn't mind a bit more body
D-Nice job overall. This wasn't a hard one to like as the melding of flavours upheld the slight lack of body. Well done.
598 characters
3.65
/5
rDev
-5.9%
look: 3.5 | smell: 3.5 | taste: 4 | feel: 3 | overall: 3.5
Pours dark brown with deep red highlights at the edges. Medium creamy tan head. Nose of roasted malts, chocolate and liquorice. Taste is dominated by a grainy roasted malt backbone accompanied by sweeter caramel notes and some chocolate. Bitter raisin giving way to slightly alcoholic finish. A bit thin. A little too unruly but not a bad brew at all.
351 characters
Stonecutter from Renaissance Brewing
3.88
out of
5
based on
121
ratings.