Discovery
| Renaissance Brewing
BA SCORE
82
good
14
Reviews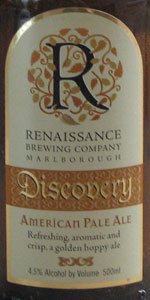 BEER INFO
Brewed by:
Renaissance Brewing
New Zealand (Aotearoa)
renaissancebrewing.co.nz
Style:
American Pale Ale (APA)
Alcohol by volume (ABV):
4.50%
Availability:
Year-round
Notes / Commercial Description:
No notes at this time.
Added by brendan13 on 05-07-2009
Reviews: 14 | Ratings: 25
3.18
/5
rDev
-9.7%
look: 3.5 | smell: 3 | taste: 3 | feel: 3.5 | overall: 3.5
A - Pours a slightly hazy orange colour with a 1.5 centimetre of white head that falls to a thin whisp leaving a touch of lace down the glass.
S - Floral and herbal hops, light bready malt notes.
T - Much like the smell; floral and herbal hops up front backed up by a light bready maltiness.
M - Fairly light bodied with a medium to high carbonation.
D - Nothing wrong with it but nothing to get excited about. Drinking it fresh in NZ would be better.
★
455 characters
3.24
/5
rDev
-8%
look: 3.5 | smell: 3.25 | taste: 3.25 | feel: 3 | overall: 3.25
Bottle: Poured a light hazy golden color ale with a medium to large foamy head with good retention and some light lacing. Aroma consists of light bitter hops with timid citrus notes. Taste is also dominated by timid citrus hoppy notes with a dry and bitter finish. Body is quite full with good carbonation. Not bad but somewhat disappointed as I was hoping for a hop bomb based on the commercial description but the Cascade hops were hard to notice.
★
449 characters
3.26
/5
rDev
-7.4%
look: 4.5 | smell: 3.5 | taste: 2.5 | feel: 4.5 | overall: 3.5
Dusty brass with a well-kept crown of white foam.
Very very metallic aroma, with some tropical fruitiness behind a wall of coinage. Pineapple, lychee, and peach. Gooseberry, potato shochu, and mowing the lawn. Kinda delicious but kinda underwhelming.
The flavor is pretty damn flat. Refreshing for sure, but without much character. Tangy citrus with touches of cherry blossom and jasmine. Nice, but it all feels a bit hollow. I think I want more malt flavors, but not more sweetness – the viscosity, carbonation, and attenuation is pretty much spot-on.
A slightly above average beer, but not nearly above enough to warrant the cost – or even to warrant importing it. Good, but I'd rather have a SNPA for a quarter of the price.
★
734 characters
3.42
/5
rDev
-2.8%
look: 3.5 | smell: 4 | taste: 3 | feel: 3.5 | overall: 3.5
Appearance- A golden light with a almost amber body. Moderate carbonation, small head.
Smell- Moderate noses of citrus and a wee bit of bready malt and resin.
Taste-A strong malt base that seems pretty powerful but is outshone by the fruitiness of the hops. It is some what like an amber ale because my mouth is confused by a weak hop showing. The malt is also more complex with a similarity to multigrain bread.
★
413 characters
3.45
/5
rDev
-2%
look: 3.5 | smell: 3.5 | taste: 3.5 | feel: 3 | overall: 3.5
This beer pours a honey orange colour with nice carbonation that leaves a one finger head that slowly changes to a constant smearing over the top,it has fresh aromas of honeydew,passionfruit and fresh citrusy filled hops,it has an average mouthfeel that is quite thin and tastes abit more watery than the APA's im used to,but in saying that a very easy drinking session beer just wouldnt care either way if i didnt see it again for a while.
★
440 characters
3.48
/5
rDev
-1.1%
look: 4 | smell: 3.5 | taste: 3.5 | feel: 2 | overall: 4
Pours amber with a large lasting head.
Lots of juicy fruity hops on the nose, mostly lighter fruits like apples, grapes, pears and grapefruit. Underneath is loads of sweet malt with honey and toasty characters.
Malt dominates the flavours as well with toasty overtones. The hops here are straight resin and a little grapefruit. Unfortunately there's a slight metallic character in the short finish.
Carbonation is way too high, only exacerbating the very dry finish. Watery body.
★
479 characters

3.5
/5
rDev
-0.6%
look: 3.5 | smell: 3.5 | taste: 3.5 | feel: 3.5 | overall: 3.5
500ml Bottle from the Ottawa LCBO for $6
Appearance - Slightly hazy amber colour with a small size fizzy off-white coloured head. There is a high amount of carbonation showing and there is some fair lacing. The head lasted for around 5 minutes before it was gone.
Smell - Malts, bread/grains, grapefruit, hops
Taste & Mouth - There is an average amount of carbonation and I can taste malts, caramel and hops. There is also some grapefruit, floral notes and a graininess. It ends with hoppy floral aftertaste.
Overall - Very drinkable and probably much better when fresh. It tastes like a bevy of other APA's out there and most are priced well under $6. Worth a try I guess, but won't be a repeat purchase.
★
709 characters
3.56
/5
rDev
+1.1%
look: 4 | smell: 3.5 | taste: 3.5 | feel: 3.75 | overall: 3.5
Bottle from the LCBO. No date.
Clear golden in colour with a moderate-sized white head. Good retention.
Smell is pretty faint. Orange sticks out, along with slight bready notes. I don't get a lot else. Pleasant enough but very mild.
Like the nose, the taste is pretty subdued. Mildly bitter, a bit of citrus and some bread. Finish is bitter without a lot of flavour- not the best.
Light to medium bodied, strongly carbonated.
Overall, pretty mediocre. Fine but not much going on.
★
486 characters
3.58
/5
rDev
+1.7%
look: 3.5 | smell: 3 | taste: 4 | feel: 3.5 | overall: 3.5
Slightly cloudy golden color. Thin white frothy head with good lacing. Medium to high carbonation.
Pretty mellow aroma. Light honey and some floral hops when given a god sniff. Not sure of the age of this but seems yo be missing some fresh hop character.
Super smooth taste. Not as bitter as other examples but very well balanced and clean. Mild bready malt is offset by a light spicy hop character.
They say it's harder to brew lighter beer styles as there is less to hide any faults. The positive with this beer is there are certainly no faults present, though it does lack the expected hop characters that efine the style.
★
630 characters
3.69
/5
rDev
+4.8%
look: 3.5 | smell: 3.75 | taste: 3.75 | feel: 3.25 | overall: 3.75
An excellent session ale, although expensive - have to wonder at the logistics of bringing beer in from New Zealand. Would love to try fresh!
Doesn't have the carbonation I expected and looks more like a weak tea, but has an enjoyable tropical fruit hop-forward aroma. Some tea elements as well. Sweet and easy to drink, this is a perfect summer beer. The finish has an inoffensive bitterness, with the tropical fruit tones lasting for an impressive length of time. Malt body is very light, but present, and more depth than I expected for 4.5% ABV.
I am a fan of anything light with "hop" flavour, so if it were fresh, this beer would probably rate very high on my list!
★
672 characters
3.7
/5
rDev
+5.1%
look: 3.5 | smell: 3.5 | taste: 4 | feel: 3.5 | overall: 3.5
A: cloudy lighter hue of amber
S: maltier nose, some sweet stonefruit aromas, not much floral going on
T:pretty standard fare - quality but nothing unique or stand out - has a decent bitterness that stays on the palate for a while, balanced well
M: has a lagery mouthfeel
Solid performer, would have expected a bit more hops on the nose though.
★
348 characters

3.8
/5
rDev
+8%
look: 3 | smell: 3 | taste: 4.5 | feel: 3 | overall: 4
Pours with a initially large but insubstantial head. Unsure if it is my serving temprature or vessel but very "bubbly". Taste is short and sharp while the beer is in your mouth. Do find the mouthfeel / gravity is a bit lighter than i was expecting. Is seriously tasty though.
★
275 characters
3.8
/5
rDev
+8%
look: 4 | smell: 4 | taste: 3.5 | feel: 4 | overall: 4
Crystal clear, golden colour with a good, creamy off-white head. Nice persistence to the head too. The aroma is of moderate citrus hops with a really present bitterness on the palate and a good bit of citric hop character. The slight caramel malt note is also good. The medium-light body and moderately high carbonation accentuate the flavours.
★
344 characters

3.97
/5
rDev
+12.8%
look: 3.5 | smell: 4 | taste: 4 | feel: 4 | overall: 4
Discovery Pale Ale has the colour of papaya skin (and about the same complexion too, which is partly accounted for by a strong chill haze and heavy condensation on the glass). In the light it almost appears to have some hints of green - or maybe that's just the cloud of hop fumes.
A spring-fresh bouquet of lemon tarts, marmalade, green mango, and asian pear is laced with a strong wildflower honey note. It has tropical fruits out the wazoo and perfumy floral qualities. It has every feature desired in a hoppy pale ale (regardless of what country's name is on the label).
Just as there's no shortage of aroma hops, bittering hops were also used in abundance. It feels like drinking a tea stepped from weeds and infused with orange blossoms, grapefruit zest, lemon oil and all other things floral and fruity. Oh, and then stirred with a dollop of honey; that sweetness only enhances the fresh mint leaf taste and citrusy, tangy resins.
The concept of "terroir" is tightly embraced by the wine community. It's the notion that ingredients are inextricably entwined with the climate, geography, history, etc of where they are grown. That's easy enough where grapes are sourced from a single vineyard or region...
But it doesn't translate so neatly with beer, where one recipe can use malts, hops and yeasts from all corners of the earth. Hence why a brewery in New Zealand can with all seriousness (and considerable success) effectively brew an "American" pale ale. Ingredients matter but so does the brewers' talents - and these guys have the skills to forge passports.
★
1,575 characters
Discovery from Renaissance Brewing
3.52
out of
5
based on
25
ratings.