Enlightenment Great Punkin
| Renaissance Brewing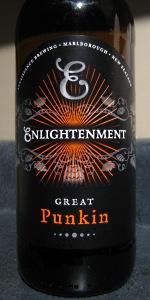 BEER INFO
Brewed by:
Renaissance Brewing
New Zealand (Aotearoa)
renaissancebrewing.co.nz
Style:
Pumpkin Ale
Alcohol by volume (ABV):
7.20%
Availability:
Fall
Notes / Commercial Description:
No notes at this time.
Added by biboergosum on 08-11-2013
Reviews: 10 | Ratings: 40
4.25
/5
rDev
+11.8%
Sampling right now on 12/4/14. Bought it yesterday for $4.00 in the discount bin at Hy-Vee over in Council Bluffs, Iowa. Comes in a single 500ml (16.9 ounce) bottle. Bottle chilled down to 36 degrees F in my beer cooler and poured in to a glass-handed stein.
Pours a hazy deep brown in color with a thin off-white head that settles down to just along the sides of the glass. Some light spotty lacing is seen when sipped that slides back down for the most part. The aroma is full of pumpkin and a few spices with a hint of roasted malt. More going on with the taste as the cinnamon with nutmeg, cloves and maybe allspice (?) comes right out with some 'pumpkin filling' in the mix as well. Nothing is overpowering. Finishes off with the roasted malts at the end. Medium-bodied with perfect carbonation. Perfect brew for this time of the year as it is a 'sipper' kind of brew.
874 characters

3.55
/5
rDev
-6.6%
look: 3.25 | smell: 3.75 | taste: 3.5 | feel: 3.5 | overall: 3.5
Great Punkin looks like you'd expect a liquid boiled with roasted pumpkin and spices would; light exposes cinnamon-coloured highlights but it's still as turbid as pumpkin pie filling. It's fairly dark, really murky, and, with bubbles that crackle like a hot fire, entirely flat - not so attractive.
The bouquet is perfumed as a scented candle in the Martha Stewart collection. It has ultra savoury notes of nutmeg, cinnamon, clove and five-spice. Something (the hops?) provide a slightly soapy note on top of all those baking spices.
Not all pumpkin ales taste of pumpkins - heck, not all pumpkin ales are even brewed with pumpkin - but this one has a good deal of the gourd. Roasting the squash, like roasting anything, brought out more of the flavour and concentrates it. Pumpkin isn't the most delicious thing in the world but there's enough spice to balance it out (kind of, the aftertaste is another story).
If you're the type of beer drinker that can't handle perfumy spice, well then pumpkin ales probably aren't for you - and Great Punkin is definitely not. The extra alcohol (7.2%) thins out the mouthfeel; some sips drink like watered down potpourri. The malts provide some caramel sweetness but the flavour fails to ever capture my palate.
Great Punkin may come from a great brewery, but it's not a great pumpkin beer. Renaissance hits only the bulls eye, the bull, or a triple ring... in this case, however, they may have missed the board. Maybe it's because they don't celebrate Thanksgiving in New Zealand, but I'm thinking this style may be better left to brewers in the Northern Hemisphere.
1,614 characters

3.73
/5
rDev
-1.8%
look: 3.75 | smell: 3.75 | taste: 4 | feel: 2.5 | overall: 3.75
500ml Bottle from the Ottawa LCBO for $6
Appearance - Hazy brown colour with a large size beige coloured head. There is a high amount of carbonation showing and there is some decent lacing. The head lasted for around 4-5 minutes before it was gone.
Smell - Malts, caramel, all spice
Taste & Mouth - There is a high average amount of carbonation and I can taste malts, caramel, and chocolate. There is also some all spice and a bit of pumpkin.
Overall - The carbonation kind of ruins this beer, but the taste makes up for it. It is one of the more interesting pumpkin themed beers I've had. Maybe some age would help the carbonation level.
642 characters

3.46
/5
rDev
-8.9%
look: 3 | smell: 3.75 | taste: 3.5 | feel: 2.75 | overall: 3.5
Off the beaten track for what usually goes for a pumpkin ale. Big alcohol, more subtly spiced - not just liquid pumpkin pie filling.
A very ordinary looking brew. Moderate head that immediately vacates the glass. No lace of any kind. Clear and dark, like cola with a reddish or orange hue. Pours spritzy.
Noticeable alcohol and some sweetness in the nose. Spicy, but gently so, not the cliche set of aroma you get from most pumpkin ales. A bit like an old-school root beer or sassafras beer, cinnamon being most notable. But the pumpkin is properly there, so the brew is earning its name. Interesting enough to inhale.
Burned caramel, toasty pumpkin and spice to taste. However big alcohol and aggressive carbonation distract from what might be something interesting. A little woodiness, some charcoal, Too much sparkle from the carbonation.
I found this a little more interesting than a typical pumpkin based brew, but too fizzy to properly enjoy.
952 characters

3.92
/5
rDev
+3.2%
look: 4 | smell: 3.75 | taste: 4 | feel: 3.75 | overall: 4
Renaissance Brewing 'Enlightenment Great Punkin' @ 7.2% , served from a 500 ml bottle purchased for $8
A-pour is a very dark brown from the bottle to a clear amber with some ruby red peeking thru the glass edge , with a small tan head leaving a minimal lace along the pint
S-New Zealand fuggle hops , caramelized malts
T-taste is more of a cooked pumpkin , strong ABV is felt
MF-low/mild carbonation , full bodied
Ov-tasty dark pumpkin ale , big beer
prost LampertLand
474 characters

3.47
/5
rDev
-8.7%
look: 3.5 | smell: 4 | taste: 3.5 | feel: 2.5 | overall: 3.25
A distinctly reddish tinge to it, as a lively light brown head fades rapidly down leaving little lace retention. Colour is a hazy reddish brown.
S – herbally pumpkin, gingerbread, caramel malts, a bit of restrained sweetness and a lot of cinnamon spice, nutmeg, some earthy spicy hop character, spicy pumpkin, with some herbal and syrupy caramel.
T – a full chewy profile, lot of creamy pumpkin character, a light cinnamon character, then caramel biscuitiness. Some strong pumpkin pie spice blended in with the malts, all around fairly balanced.
M – this has such an aggressive carbonation that it gets in the way of everything else, a sip turns into a mouthful of foam in no time and it scraps the palate dry. This was a big disappointing factor for me. Giving it time to settle helped a bit and it also produced a bit more alcohol heat and nutmeg spiciness. 2.5
I think if the carbonation issue were fixed this would be quite a good beer, roasty pumpkin notes are quite interesting, but really there isn't much here too distinguishing or at least from what I can tell. Pleasant restrained bitterness, carbonation was more sodalike than any other beer Ive had though and somewhat ruined this beer for me unfortunately. I wasn't terribly despite that, it has a lot of heat with some redeeming flavour profile to it, but wouldn't seek it out again.
1,356 characters

3.9
/5
rDev
+2.6%
look: 4 | smell: 4 | taste: 3.75 | feel: 4 | overall: 4
500ml bottle poured into tulip 4/11/13
A hazy ruby brown, two fingers of beige foam sits around for a few sips leaving a collar of lace
S apple and pumpkin pie filling, root beer and cola, brown sugar both burnt and crystal, dark bread, nutmeg and anise
T more root beer then the nose, lots of brown sugar and less of the pie filling, spice is still there with some ginger but more sugars then anything
M medium full, stays on the creamy side of foam, sweet spice linger with just a little heat
O no area lacks and it is what it claims, I thought the flavor was a small step back from the nose but still solid
I'm sure I've already said "this is my last pumpkin beer this year" but this should be the last and was perhaps the best one of this season
758 characters

4.49
/5
rDev
+18.2%
look: 4.75 | smell: 4.5 | taste: 4.5 | feel: 4.25 | overall: 4.5
Appearance: vibrant cranberry juice red; clear; vigorous carbonation builds and overflowing sand coloured head
Aroma: intense fresh spice - clove, cinnamon, nutmeg - and the zing of ginger just lightly; hint of vanilla; very sharp, defined aromas
Taste & Mouthfeel: taste matches aroma perfectly - great blend of spice, clean, fresh, and a great combination of hops and alcohol burn make for a lasting and powerful finish; hint of dark and rich caramel
Overall: everything balances so well - feels simple but no flavours are "average", it's just amazingly well constructed, restrained but makes a statement; probably the best pumpkin beer I've had
650 characters
4.03
/5
rDev
+6.1%
look: 4.5 | smell: 4 | taste: 4 | feel: 4 | overall: 4
Beer is dark brown. Very large tan head. Incredible retention- somehow this head just doesn't go anywhere at all.
Smell is strongly spice-focused. Ginger really jumps out. Nutmeg and cinnamon. Lots of pumpkin as well. Caramel malt. Some grassy hops.
Taste is similar. Ginger, nutmeg, cinnamon and pumpkin. The spices are more balanced with the pumpkin than in the nose. Caramel malt, bready. Pretty decent hopping, grassy, a touch of fruit. Well balanced between bitter and sweet. Quite good.
Medium bodied, moderate to strong carbonation level. Malty with some spicy feel.
Overall, quite an enjoyable pumpkin ale. Bold and assertive, nice mix of pumpkin and spices. Good stuff.
684 characters
3.86
/5
rDev
+1.6%
look: 3.5 | smell: 3.75 | taste: 4 | feel: 4 | overall: 3.75
500ml bottle. Brewed with an unspecified blend of spices. I know I've been railing (since yesterday, at least) against pumpkin beers being made available in August, but these guys are antipodean Kiwis, so I'll cut them some slack here.
This beer pours a crystal clear, dark ruddy amber hue, with one finger of thinly foamy, weakly bubbly pale beige head, which is sort of too bad, as it leaves pretty much nil in terms of lace around the glass as it quickly recedes.
It smells of sharp, somewhat vegetal pumpkin flesh, sweet ginger, cloves, nutmeg, and cinnamon - the veritable pie described on the label - with a decent crusty caramel malt, a mild herbal hoppiness, and some softly simmering booze. The taste is more vegetal, slightly meaty pumpkin flesh, a kind of metallic spiciness, with more of the same elements from the nose, but now more blended and indistinct, grainy, bready malt, more weedy, herbal hops, and a generally well obfuscated alcohol astringency.
The bubbles are fairly low-key, and mostly sedate, the body a near medium weight, and actually quite smooth, in a high-palate no-go zone sort of way. It finishes off-dry, the veggie pumpkin essence still strong, and coalescing again with the spices (and alcohol) to form that certain kind of boozy early Thanksgiving treat.
As already noted, the pumpkin pie quotient here is elevated, but not really on the sweet side, so that metric is tempered at best. Overall this is mostly redolent of the two things one might think of when they peruse this bottle - pumpkin and booze, in a pretty approachable way.
1,576 characters
Enlightenment Great Punkin from Renaissance Brewing
3.8
out of
5
based on
40
ratings.