Sella Del Diavolo

Birrificio Barley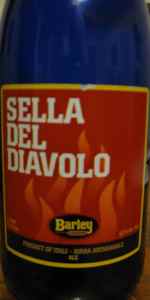 Rate It
Beer Geek Stats
| Print Shelf Talker
Style:

ABV:

6.5%

Score:

Avg:

3.71

| pDev:

9.43%

Reviews:

13

Ratings:

From:

Avail:

Year-round

Wants

Gots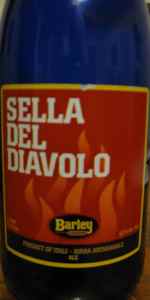 Notes:

safaricook from Netherlands
3.75
/5
rDev
+1.1%
look: 3.75 | smell: 3.75 | taste: 3.75 | feel: 3.75 | overall: 3.75
Biere de Garde with the right malt profile. This is very typical for the style and it is nice to find this from a Sardinian brewery. A very drinkable ale that showcases the toasted malts of this style and not much else. Great drinkability.
Oct 30, 2016

ngeunit1 from Massachusetts
4
/5
rDev
+7.8%
look: 4 | smell: 4 | taste: 4 | feel: 4 | overall: 4
A - Hazy amber-orange with a finger of frothy tannish head. Fades normal.
S - Sweet grainy and caramel malts, lemon and other citrus zest and hops, floral hops, Belgian yeast, banana, light spice, light vegetable.
T - Sweet grainy, wheat, and caramel malts, lemon zest, orange, citrus, and floral hops, some bitterness, Belgian yeast, some spices, light vegetable flavors, hint of vanilla.
M - Medium bodied, moderate carbonation. Smooth with a dry, estery finish.
D - Nice balanced and clean biere de garde.
Apr 10, 2013
stcules from Italy
3.44
/5
rDev
-7.3%
look: 3.5 | smell: 3.25 | taste: 3.5 | feel: 3.5 | overall: 3.5
Amber-cherry color, cream colored foam, beautiful, not too much.
In the smell dry fruit, peanuts, toasted almonds, bergamotto, and pepper.
In the mouth again dry fruit and toasted, a touch of dustiness, some plum, a light toasted and biscuit.
Pleasant, maybe a bit "warm", but relatively dry.
Anyway, good drinkability.
Mar 21, 2013

Beerenauslese from California
4
/5
rDev
+7.8%
look: 4 | smell: 4 | taste: 4 | feel: 4 | overall: 4
Appearance is amber with a foamy head with some lacing and good retention
Smells floral and tropical fruitiness.
Bready malt sweetness with a hint of pineapple and some hops in the finish.
Nice drinkable beer, it wanders a more fruity path than typical French and Belgian bièr de gardes, but it is probably better conceived as an Italian farmhouse ale.
Aug 19, 2012
seand from California
4.12
/5
rDev
+11.1%
look: 4 | smell: 4.5 | taste: 4 | feel: 4 | overall: 4
A: Pours a deep hazy amber, with a large amount of bubbly off white head. The foam dissipates moderately quickly, leaving a thin clumpy blanket which provides solid sheets of lacing.
S: Light fruit and hops, over a medium malty background. It's a nice fresh scent, evoking freshly picked flowers.
T: Light sweetness with a solid malt backdrop coming in through the mid palate. Finishes with mild hops, which drop off quickly enough that it remains light and drinkable.
M: Medium to light body, medium carbonation.
This is pretty good, overall. It's got lots of flavor and complexity, but still feels light. I would have this again, and it if it were reasonably priced and available in 6 packs it would be a strong candidate to have on hand now and then.
Feb 18, 2012
Samp01 from New Jersey
4
/5
rDev
+7.8%
look: 4 | smell: 4 | taste: 4 | feel: 4 | overall: 4
A murky amber brownish hue with a thin beige head with some lacing on the pour. Aroma of caramel malt, yeast, and a nice fruity bouquet, plums, dates, raisins. Taste is sweet caramel malt, yeasty, with a nice fruity esters, white plums, figs, raisins. Palate is a medium to full body with a slightly creamy texture and mild carbonation. Finish is sweet caramel malt, yeast, fruity, plums, figs with some bitterness for balance and slight lingering alcohol ending. Overall a good, tasty and quite enjoyable brew
Feb 14, 2012

DaveHS from California
3.97
/5
rDev
+7%
look: 3.5 | smell: 4 | taste: 4 | feel: 4 | overall: 4
A-Pours clear chestnut amber with cherry highlights and a short, bubbly off white head that leaves a thin, intricate web of lacing.
S- An enticing baked tart apple aroma plays off fresh notes of grape, banana and walnuts. Very dynamic and fruity for the style.
T/M- Wonderful muted bready malt sweetness washes over the palate, carrying complementary flavors of fresh hay, sweet butter and walnuts. The finish is marked by a delicate grassy hop bitterness that sneaks in slowly, building with each sip.
O- The end result is an elegant, beautifully composed biere de garde that engages the senses while remaining an easy drinking, approachable beer.
Jan 07, 2012

Gavage from Nevada
3.92
/5
rDev
+5.7%
look: 3.5 | smell: 4 | taste: 4 | feel: 3.5 | overall: 4
Appearance: hazy orange in color with short head that falls apart quickly. Some spotty lacing develops.
Smell: the aroma is floral and very fruity.
Taste: caramel, some grassiness, ripe fruit sweetness, moderate hop profile, and a light alcohol tones is detectable.
Mouthfeel: medium bodied. Lightly crisp throughout with a long fruity aftertaste.
Overall: a slower drinking beer that is quite flavorful but a bit too fruity.
Apr 06, 2011

SFLpunk from Vermont
2.71
/5
rDev
-27%
look: 2 | smell: 3.5 | taste: 3.5 | feel: 1.5 | overall: 1
750ml cobalt blue glass pry-top bottle. No date.
Appearance: Pours a rudy cloudy brown with no head what so ever, some off-white bubbles.
Nose: Barley and caramel plus orange juice notes. Citrus, but not hop-citrus. Dry oats and maybe wheat.
Palate: Is confusing at best. Flavors of Belgian yeast fruit comes and goes quickly, followed by caramel malt. There's an oxidized-like note and some strange bitterness that seems out of place. Carbonation is non-existent and mouthfeel is somewhat thin. Oxidized notes come out more as it warms.
Notes: This is like a non-infected, non-sour, non-carbonated amber gueuze That's an odd way to say it, but this is an ODD beer! Me thinks something bad happened here or QC is not good.
Jun 16, 2010
Sammy from Canada (ON)
3.65
/5
rDev
-1.6%
look: 3.5 | smell: 3.5 | taste: 4 | feel: 4 | overall: 3
Cole's Italian tasting.Grapefruit colour, Caesar head and still drops of lace. Slight spicey aroma. Above average mouthfeel. A good taste, with noteable bitterness, yet balanced, spicey, peppery. Limited drinkability however, perhaps you get used to it.
Nov 08, 2009
GRG1313 from California
3.26
/5
rDev
-12.1%
look: 3 | smell: 4.5 | taste: 3 | feel: 3 | overall: 2.5
A dark carmel color with a light off white thin head.
Nose of sugared light coffee, toffee, and light sherry. Hints of walnuts and cooked bananas. Complex and layered malty nose.
Mouthfeel is a bit thin and short.
Flavors unfortunately follow the mouthfeel and is very diappointing in light of the nice promising nose. Flavors are thin, weak and short with no real character; a bit like a watered belgian. Hints of coffee in flavors and in short finish. No reason for a return visit.
Oct 31, 2009

Suds from Missouri
3.14
/5
rDev
-15.4%
look: 4 | smell: 2.5 | taste: 3.5 | feel: 3 | overall: 3
Nice amber color with a thick white head, this is an attractive brew. There's a little malt in the aroma, along with some sour notes. A little apple and pear are also in the smell, which, unfortunately, is also a little sharp at times. Some chocolate notes are in the aroma as well. The flavor is malty, with very little hop character. There's bitterness, and some carbonation, as well as an alcohol warming. Toasted and biscuit-like flavors are notable. There's a little tartness as well...not sure how much that character is intended, but it's not unpleasant. The beer is not helped by the alcohol presence in the flavor...it could be much better hidden. Medium-heavy in mouthfeel, with more than a bit of carbonation. All in all, this one is just okay...nothing special.
Mar 27, 2009

Gmann from New York
3.45
/5
rDev
-7%
look: 3.5 | smell: 3.5 | taste: 3.5 | feel: 3 | overall: 3.5
Out of a 750ml capped and foiled blue bottle. Pours a deep amber color, cloudy, with a fluffy khaki colored head that slowly settles. The aroma is of sweet bready caramel malt, some rust, and a very light lemon twang. The taste is sweet from the caramel malt, rusty, and some lemon tartness or perhaps tart cherries. It does have some vinous qualities as the bottle suggests, and enough hops to give the brew a noticable bitterness and spice. The feel is moderate but feels a bit watery; sweet initially but turns tart and bitter. An average amber ale. I went with biere de garde, as all the ingredients are European so I didn't think it fit the American amber ale classification.
Ingredients: vienna, caramel, and pilsner malt with Hallertauer hops
Feb 20, 2009
Sella Del Diavolo from Birrificio Barley
Beer rating:
84
out of
100
with
20
ratings