Mi-orge Mi-houblon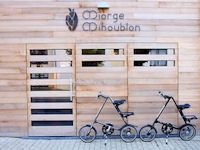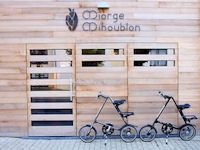 Store
Zone Artisanale 43
Arlon
, 6700
Belgium
+32 473 42 58 36 |
map
miorgemihoublon.be
Notes:
Recent ratings and reviews.
| Log in to view more ratings + sorting options.
Ratings by Ciocanelu:

Rated by Ciocanelu from Romania
4.25
/5
rDev
-11.1%
vibe: 4.25 | quality: 4.25 | service: 4.25 | selection: 4.25
Sep 03, 2016
More User Ratings:
Reviewed by BeNeLuxBeer from Pennsylvania
5
/5
rDev
+4.6%
vibe: 5 | quality: 5 | service: 5 | selection: 5
Mi-orge Mi-houblon is a fantastic beer shop right off the E25 motorway in Arlon, not far from Luxembourg. The owner, Chris, is very friendly and a wealth of knowledge on all things Belgian beer. The shop's selection focuses on the best craft brewers from Belgium but also other countries like England, France, Italy, U.S.A., Canada and others. I have visited several times over the last few years and each time I visit I find a few new beers that I hadn't heard of before and Chris will always take time to give you information on a beer or brewery if you have questions. The best beer shop in Belgium in my opinion.
May 29, 2017
Reviewed by stevoj from Idaho
4.97
/5
rDev
+4%
vibe: 4.75 | quality: 5 | service: 5 | selection: 5
Wonderful shop hidden away in Arlon. Stacked floor to ceiling with stellar beers from all over, with a focus on Belgians (of course!). Helpful service. Knocked several beers off of my must-have list. This place is a "must go" if you're in the area. Apparently there's a cellar too, if you ask....
May 07, 2015
Reviewed by Rifugium from North Dakota
4.5
/5
rDev
-5.9%
vibe: 4.5 | quality: 4.5 | service: 4.75 | selection: 4.25
Great shop, with a great atmosphere...something I normally wouldn't say about a store, but this place really had a nice feel to it. It's very small, but the walls are lined with lots and lots of bottles. The owner was a great guy; I chatted with him for a while, and he was quite knowledgeable, not only about European beer, but American beer as well, and he actually had a surprising selection of US brews for sale in the shop, notably Crooked Stave. That aside, there was also a great lambic selection, and lots of general Belgian items as well. There's actually a small bar area here that is used for occasional tastings, and I really wish I could have been there for one, but it just wasn't possible with my schedule. I'm glad I got the chance to stop here though, as it was somewhat along my Orval/Luxembourg route!
Apr 29, 2015

Reviewed by adkieffer from Washington
4.94
/5
rDev
+3.3%
vibe: 4.5 | quality: 5 | service: 5 | selection: 5
I live in Luxembourg and this is now my go to shop. Chris is extremely knowledgeable and friendly. I respect his advice and he is usually spot on with his recommendations. The shop is a good size and selection vast. Starting this weekend they now do growler fills too!! Jean Chris Numero 1 was what I filled today but many other great beers are on deck. The only drawback for some are the odd hours and fact that it can be quite busy on a Friday. Not a problem living within 20 min and visiting when I wish though. If you are anywhere close while the shop is open it is a MUST visit.
Apr 24, 2015

Reviewed by CoverMePorkins from New Mexico
4.79
/5
rDev
+0.2%
vibe: 4.5 | quality: 4.75 | service: 5 | selection: 4.75
I have been going to this shop for the past three years. I am an American and my wife is stationed at Ramstein AB in Germany.

If you are in the KMCC area, American or German, this is worth the 90-120 minute drive. If you are at Spangdahlem, it is a even shorter drive. For the Belgium beer lovers in the KMCC area, this is your best and closest option to visit. At the mall there is a kiosk that is overpriced and Cora in Forbach, Fance is another option. This is by far the best for selection, quality and service.

The shop is small and Chris has limited hours as this is a second job. If anyone is familiar with the Jean Chris beers, Chris owns and runs this shop. His beer knowledge, especially about lambics is incredible The quality and service is incredible. All of the Trappist beers, minus Westvleteren, Cantilllon and my more to find here. You will find Belgian beers here that are not available at the local drink market and more. I have also bought beers here from the UK, Italy, Holland, Norway and the USA. For the Americans reading this he has had beer from The Brewery, Sierra Nevada, Rogue, Westbrook, Lost Abbey and more. With the the current budget cuts happening for the US government this is a great place to find US beers. If you are a hop head like me and love sours, this place is a must visit.

For the locals as I said all of the Trappist beers are her. After that it is a craft shop. No Leffe or Stella, just great beer. Not your local drink market. Well worth the drive if you are in the area.

The only complaint that I have is the small size of the shop.
Jan 13, 2014
Reviewed by Dirty25 from Germany
4.86
/5
rDev
+1.7%
vibe: 5 | quality: 5 | service: 5 | selection: 4.5
What a awesome establishment. This bottle shop is right over the Luxembourg/Belgium border, a easy 2 hour drive from Ramstien Germany. The store is run by a really friendly guy who really knows beer. He speaks perfect English and is really friendly to talk to. He will make help you make a selection bases on what you are looking for or like. The store is small but the quality of the beer in it is superb. The prices are low, I belive cantillon cost the same at the brewery as he charges.

There is even a small selection of quality American beers, this particularly excites me!

The only downside to this place is the hours, if your looking to shop during the week. The store is operated as a second job so it is only open a few hours during the work week but all day Saturday.

I am extremely geeked to find this store and look forward to becoming a regular there.
Jan 01, 2014

Reviewed by Radome from Florida
4.86
/5
rDev
+1.7%
vibe: 5 | quality: 5 | service: 5 | selection: 4.5
I was in West-central Germany on business and wanted to visit WWII and beer sites in the Ardennes region during a day off. I found surprisingly few beer shops listed on BA in this part of Belgium, but this one is so good that it is the only one you need to find.

I had some trouble finding the store because the BA entry showed an old address, but a search on my friend's smart phone turned up the correct new address. [Note - until there is an update by BA, remember the actual address is 56 Rue de Gazometer, 6700 Arlon, BE]

One look through the door as I entered, and it was worth the search. The owner, Christophe or Chris, is obviously passionate and very selective about the beers in his shop. It is a tiny place, but every bottle is world-class and was selected for qualities that Chris will be happy to tell you about in perfect English. The amazing thing is that he is a school teacher who runs this shop in his spare time out of pure dedication to the Belgian art of brewing.

I found plenty of my favorites as well as beers that I had only heard of by reputation, but Chris recommended some that I was unfamiliar with, which all turned out to be among the best that I purchased that day. The big surprise was that Chris had partnered with breweries to create his own collaboration brews, among which was Jean-Chris Nomad, brewed at Cantillon in a small batch of 1,000 bottles.

I bought many bottles, all at reasonable prices and some at amazingly low ones. For instance, I got 750 ml bottles of Fantome for under 2 Euros! (Chris told me the beer was hit-or-miss, but this batch was very good. He was right--it was sublime.) My friend and I had a great discussion with Chris on Belgian beer and brewing in general, and he even gave me a complementary bottle as a gift.

I would give this shop 5's across the board, except I don't feel right about a 5 for selection just because of the shop's small size. But, boy, does Chris make good use of the space with his well-thought-out selection. If I ever get back to Germany, Luxembourg or Belgium, I will make a bee-line to this shop. Drive out of your way to get there. If you are a beer lover you will not be disappointed!
Nov 26, 2011
Reviewed by plafrance from Alaska
4.85
/5
rDev
+1.5%
What makes this shop for me is the owner. He is incredibly friendly, speaks excellent English and knows his beer. The selection is good, he tries to keep things moving through and in addition to a great variety of Belgian beers he works hard to stock beers from around the world (fine selection of Brew Dog).

He sells a beer at his store that he brews in conjunction with La Rulles brewery called Jean-Chris that I highly recommend.

The only reason that I put his selection at 4.5 instead of 5 is that his store is on the small side - he makes up for it by having very, very good beer however.

I love the store and it is completely worth the drive from Luxembourg.
Feb 06, 2011

Reviewed by ggaughan from Pennsylvania
4.65
/5
rDev
-2.7%
When I first moved to Luxembourg 3 months back with my wife, I quickly looked into this place on a review on another sight as it was only about 20 minutes from our apartment.

Miorge Mihoublon is in a little town, Arlon, that has some charm and a nice cafe or two. The shop is very well layed out with bottles lined up on shelves with wooden crates. Many of the bottles have glasses to go along with them. There is a good selection of bottles local to Arlon and the surrounding area. When we last visited around Christmas they had a list of maybe 12 or so different holiday beers. They also have every trappist beer except for Westvleteren. In the back there is a nice selection of lambic bottles including Cantillon, 3 Fontenein and others. The prices here throughout the store are very reasonable.

The owner of the shop is always there and is very helpful and speaks English well to get you what you need. I plan to make several trips back here in the next year or 2 as it is the best bottle shop I have found on this area.
Jan 08, 2008
Mi-orge Mi-houblon in Arlon, Belgium
Place rating:
4.78
out of
5
with
13
ratings