Sam's Wines & Spirits - South Loop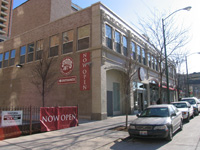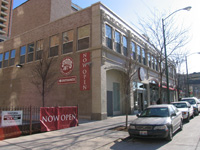 PLACE INFO
Type:
Store
50 E Roosevelt Rd
Chicago
,
Illinois
, 60605-2413
United States
(312) 663-9463
// CLOSED //
Notes:
No notes at this time.
Added by spwarty on 01-02-2008
PLACE STATS
Reviews:

10

Ratings:

pDev:

9.18%
HISTOGRAM
View: Place Reviews
Ratings: 10 | Reviews: 10
Reviews by vishneda:
3.3
/5
rDev
-20.3%
This is primarily a wine shop, but they do have a pretty extensive craft beer section. It's got a pretty massive import side, especially for German and Belgian stuff. The domestic side is somewhat small and lacking a little of the local color. Still, the selection is pretty nice at this store.
You have to be careful with the quality of things being offered in this particular Sam's store. We've walked out of here with beer from 2007 because we weren't careful enough. Also, a good chunk of the stock sits in south-facing windows where the sun beats in all day or in well-lit coolers.
Staff wise I think it's about average for this kind of place. Most of the sales people are indifferent to your existence. No one goes out of their way to help you. I did see a customer drop a 12 pack of Corona flat on the ground... but the staff was cool with him. Another guy got advice about bringing booze onto the beach (hide a pony keg in the sand was the suggestion).
Price wise, everything is about average but Binny's offers more sales.
Public Transit: This is right next to the Roosevelt train stop. It doesn't get much easier.
1,130 characters
More User Reviews:
4.3
/5
rDev
+3.9%
I was visiting a friend in Chicago and we were meandering around when we stumbled into this place. The first thing that jumped out at me was the massive wine department downstairs. There was also quite a nice cheese selection. The beer selection was one of the best I have seen. They had everything from Goose Island, Bells, Rochefort, Rogue, Dogfish Head, Lost Abbey, Three Floyds, Mikkeller, Nogne O, St. Bernardus, Pelican, Brew Dog, Peak Organic, De Dolle Brouwers, Ska Brewing, De Struise, Dieu Du Ciel, Trappist Achel, Unibroue, Shipyard, Port Brewing, Lagunitas... I could go on.
Most of the beers were not refrigerated, but they seemed to have a pretty good turn around time. The service was pretty good, I was asked if I needed help a few times and they boxed my stuff up nicely. The prices were very good, especially for being in a big city. Well worth going to Chicago for.
885 characters
3.85
/5
rDev
-7%
This is a quality store in an accessible location; I stop in here when I'm in need of a quick fix and taking the Orange or Red Line from the Roosevelt station.
The selection is good, pretty much everything you'll find at Binny's South Loop, though I've found the service isn't quite as good as Binny's. As with any good liquor store in the city there is a good selection of imported singles.
The service here is somewhat hit or miss; I've been helped quickly at times, and not at all other times. Even with this slight negative I still like this store.
554 characters
4.35
/5
rDev
+5.1%
this Sam's opened recently, and the selection here is as reputable as the others. like the other Sam's, the focus here is mainly on wine, the the beer section is still quite good. the quality is nice, with clean conditions and an organized layout. dusty bottles are few and far between, even for the obscure imports. service is good. only a few employees are geared towards beer, with the majority on the wine side. selection is great. microbrews and imports are both represented nicely, with a nice spread of belgians and german verietals. overall this is a solid stop for beer in the south loop, a block from the Roosevelt el stop. cheers!
641 characters
4.65
/5
rDev
+12.3%
I was staying downtown, and only had about 20 mins to visit Sam's. I was only in the beer section for a minute before a salesperson asked if I needed help. I was from ST. Louis, so I was looking for beers that are not available there. He was very helpful and even sold me a ST creme brulee stout that he had been saving for a friend who had not picked it up for three weeks. The only drawback was that the entrance was difficult to find due to some sidewalk construction. If you are ever downtown near Grant park and want to check out a great selection brews, I highly recommend Sam's.
585 characters
3.85
/5
rDev
-7%
When I moved to Chicago ~10 years ago Sam's was the first and foremost in beer and liquor, they were the ones that really got me into crazier styles of beers. They have shifted their focus to almost all wines but they still have a decent beer selection. This location is smaller than most but it is right beside the Roosevelt El stop so it is on my way home. They have two isles of warm beer and a long open cooler of cold beer. I have picked up six packs from the cooler and the cardboard carriers always feel a bit soggy,so I stick with the warm beer if possible. The space is very open with lots of glass windows and the beer gets full southern exposure but I have never had a bad beer from them yet.
They have a good selection of local beers and imports and get a good supply of season beers as I think they have a high turnover rate. They also have a tasting space with a nice big chess board if you want to hang out and have a beer, or wine. The roof top deck is finished although I'm not sure if it for private parties or what.
They are putting more effort into advertising and I get lots of emails about wines on sale and sidewalk sales but the only beer I have seen on sale is bud light. I take advantage of its location if I'm walking but if I'm driving/biking it is worth the trip down the road to the Binny's
1,323 characters
4.45
/5
rDev
+7.5%
Sam's Wine & Spirits is a wine, spirits, and beer store chain in the greater Chicago area. This review is for the South Loop location on the corner of Roosevelt and Wabash, within walking distance of the Green Line, Orange Line, and Red Line CTA trains. There is free parking for those who might be driving.
Quality - The beer is kept in shelving units with individual bottles, six packs, and four packs. There are also some cold storage shelving units, and there are some stacks of boxes between the shelves and the cold storage units. Everything was well stocked and appeared to be in good condition, and the area seemed to be kept at a cool temperature and out of direct sunlight. All of the beers that we have opened so far have been of high quality. One thing to keep in mind is that you can not mix or break packs (apparently it's a Chicago law, although I can't confirm that), so expect to have to buy the whole case, six pack, or four pack as the case may be.
Service - Several store clerks approached and asked if we needed assistance while we were shopping. One very knowledgeable employee talked with us for several minutes, asking if we needed him to pull any more supply of any given beer from the back and making suggestions when we asked. The clerks were perhaps a little slow at the register, but we did have a lot of individual bottles.
Selection - There was a very good variety of things to choose from, with the front and back of three full shelving units, three full cold storage units, several stacks of cases and boxes, and one side of another shelving unit being devoted to beer. The beers were divided by country, with several sections for American craft, an entire side of a shelf for German beer, another for British products, another for Belgian products, and so on. There was a good variety of Midwest breweries present, as well as decent representation from the Northeast, Northwest, and the South.
We wound up with an entire cart full of beer, and we didn't scratch the surface of what we would have liked to purchase. The prices were very competitive with other stores in the area. If I lived in the area, I'd stop in here a few times a week and always be able to try something different. If I ever drive here again, I'll need to bring a bigger vehicle.
2,288 characters
4.5
/5
rDev
+8.7%
I feel bad about the whole wholesale vs. small beer/liquor store debate, but the fact is that they have a couple of guys on staff just as knowledgeable as the little guys, a much larger and more often rotated selection, and prices that average $1-$2 cheaper on everything! I still go out and support the little guys, but when I'm looking to blow some cash and stock up for the next month, I'm headed here. Hey, I'm a college student on a limited income and if it wasn't for this place I would taste a lot less beer. I just love te brew too much and when every other place is out of Dogfish Head's Worldwide stout, after a phone call Sam's had one waiting for me and stashed it until I arrived. It just makes spider sense.
721 characters
4
/5
rDev
-3.4%
Stopped at this Sam's a week after they opened.
It was brightly lit, super-clean, and there was parking. The giant windows outside let you see everything that's happening inside the massive space.
Beer was alloted one aisle, with 2 sides, one for micro, the other imports. In between the cooler area, there were cases stacked in islands on the floor. There was a guy there, but I wasn't sure if he was the beer guy, or just circulating. He left the area after I declined any assistance.
Selection was good, not the best in Chicago, but a wide assortment was available. There were some gaps here and there, and not many limited offerings, but there were a couple here and there. De Proef Signature for example. There seemed to be alot of filler in the micro section, full lines of Tommyknocker, Flying Dog, Avery, etc. Only 2 Jolly Pumpkins 750s, a handful of 3 Floyds, generally lacking in the local dept. Broad selection of import singles, pretty much what you'll find at the other city location, give or take a few (overall less space and not as deep). They had new bottles of Weltenburger Asam-bock, which I left with several of.
Apparently there's also a wine bar where you could chill and drink your beer, but no taps. I'd rather take my beer home or to a party, but that's just me.
1,295 characters
4.2
/5
rDev
+1.4%
This is the new Sam's location in the South Loop. It's a much smaller store than the Marcey Street location, and the selection suffers a bit for it - a curse of lack of space more than anything I believe. There is a small lot to the North of the store, and I actually found a spot on one visit.
The beer selection occupies two smallish aisles, and a single cooler of equal length, with some floor stacks in between. Beer staff was present and helpful. It's a brand new store, so no out of code product was noted, and there hasn't been for anything to languish, but I'll certainly keep an eye on this as the store matures.
If there was a system of organization to the U.S. Craft section of the selection, I certainly missed it. I spent quite a bit of time slowly going through it trying to find particular selections. It was a good selection that hit a lot of high lights (Three Floyds, Brooklyn, Victory, Capital), lots of big sellers, and a limited number of more esoteric selections.
The import selection was very nice given the amount of space allotted. Again, it was a bit difficult to find things given the large number of different beers crammed into a relatively small space. Germany and Belgium were given the best treatment, but most places had a representative bottling or three.
The store is off to a good start, and it will be fun to see how the selection evolves.
1,380 characters
Sam's Wines & Spirits - South Loop in Chicago, IL
Place rating:
4.14
out of
5
with
10
ratings