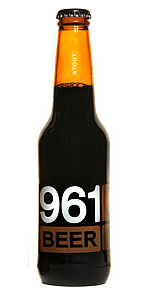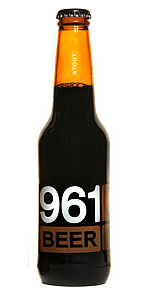 BEER INFO
Brewed by:
961 Beer
Lebanon
961beer.com
Style:
English Stout
Alcohol by volume (ABV):
7.50%
Availability:
Year-round
Notes / Commercial Description:
No notes at this time.
Added by Todd on 01-02-2008
This beer is retired; no longer brewed.
HISTOGRAM
Ratings: 8 | Reviews: 8
Reviews by Voonder:
3.63
/5
rDev
+19%
look: 3.5 | smell: 3 | taste: 4 | feel: 4 | overall: 3.5
Pours nearly black with one finger tan head. Smell - alcohol, dark chocolate, some toasted malts. Kinda one dimensional. Taste - a bit sweet upfront, some toasted malts following, chocolate and coffee al the way through. Taste is a lot better than it's aroma. It is pretty smooth, alcohol is hidden, somewhat sweet. Fairly drinkable. I would put it slightly above average, it's a decent stout.
393 characters
More User Reviews:
3.56
/5
rDev
+16.7%
look: 4 | smell: 3 | taste: 3.5 | feel: 4 | overall: 4
This beer pours a nice opaque black, with no edges, and a multitude of foamy, rocky beige head, which leaves some random curtains of lace around the glass as it wanes. It smells of caramel malt, roasted coffee, bitter chocolate, and some earthy, meaty character. The taste is chocolate malt, espresso, and earthy, somewhat tangy hops. Any effect from the elevated alcohol is well-hidden. The carbonation is moderate, the body smooth, slick, and medium weighted, and finishes with a flourish of dry chocolate and a bit more hops.
An enjoyable stout, with an uncommon heredity.
576 characters
3.15
/5
rDev
+3.3%
look: 3.5 | smell: 3.5 | taste: 3 | feel: 3 | overall: 3
Basically black in the glass with a finger of creamy chocolate malt coloured head. Head falls to a thin cap after a minute.
Smells pretty strongly of coffee(espresso) beans. Enough coffee smell to make the stout aroma difficult to note, but underneath there is some sweeter roasted malt.
Coffee also dominates the taste. Aside from the coffee, there is some sweet malt and a fair amount of astringency. Some ash taste lingers.
Not as full bodied as I would expect for a stout of this strength, but not light or watery. Fairly dull carbonation.
If you really like coffee stouts give this a shot. I'm not their biggest fan, so this beer was just alright to me.
662 characters
3.49
/5
rDev
+14.4%
look: 3 | smell: 4 | taste: 3.5 | feel: 2 | overall: 3.75
Pours black with a small head.
Nose shows fresh coffee, roasted barley and cardamon. A faint cardboard notes shows through.
More cardamon as a flavour, the coffee is much less noticeable however. Seems to fall short quickly.
Body feels a bit watery.
252 characters

3.4
/5
rDev
+11.5%
look: 4 | smell: 4 | taste: 3 | feel: 4 | overall: 3
Pitch black and densely opaque in appearance, thick creamy beige head.
Intense espresso coffee notes overlapping roasted malt and deep dark cocoa.
Flavour falls somewhat flat, thin in comparison to the robust nose on it, more roasted malt than coffee, morphing into a pleasant cafe au lait character than divulging the espresso contained within.
Decent creamy thickish mouthfeel, it definitely cannot be slighted in this department.
It's okay--I would pick it over a Guinness if offered--yet not entirely memorable when all is said and done. Great job on the mouthfeel though, that stands out.
597 characters
2.22
/5
rDev
-27.2%
look: 3 | smell: 3.5 | taste: 1.5 | feel: 3 | overall: 1.5
This interesting beer pours a very dark brown black color with a thick white head and a little lacing and a little carbonation. Smells of tasty cocoa and a little coffee and roasted malts. Taste is where it falls flat. Tastes of slight hints of coffee, cocoa, and roasted malts and then a very bland sortof alkaline taste. Mouthfeel is medium and has a little carbonation. Drinkability is alright.
397 characters
1.72
/5
rDev
-43.6%
look: 1 | smell: 1.5 | taste: 2 | feel: 1 | overall: 2
Extreme catrbonation. The first oz turned entirely into foam - about 16oz of it, when poured. Took me 3 or 4 pours and abot 10 minutes to get it all into the glass. It's dense opaque black, with a light tan head.
Lots of dark/burned sugar notes and sickly sweet maltyness. Some cherry-like coffee. Musty/dank. Reminds me of soggy, spent coffee grounds. Smoky/ashy. Sort of reminiscent of cigarette ashes.
Taste carries many of the same notes as the aroma, but here, it's almost plesant. Definitely got a caramelly sweetness to it, sort of a burnt malt-sugar. The coffee is kinda nice here too. It tastes like a dark caramel macchiato. But the ashyness is a little off-putting.
waaay too much carbonation. Turns instantly into foam when you drink it.
It has some promise, but its flaws really prevent it from being an enjoyable, drinkable brew.
this one's going down the drain. Good riddance.
898 characters
3.24
/5
rDev
+6.2%
look: 3 | smell: 4 | taste: 2.5 | feel: 4 | overall: 3.5
Got this brew from the Dalhousie Co-op liquor store.
It looks alright for a stout. Nice and dark, creamy-brown frothy head with lots of little bubbles. It looked a bit thin, kind of like cola, when it was poured.
Smell is pretty nice. Strong coffee and alcohol aroma, along with a sweet dark malt smell. Definitely made me excited to taste it...
The taste was a little disappointing. After drinking it, the first flavour that came to mind was plasticine (I tried it when I was a kid... what of it?). It was pretty sweet with an almost acidic bite, and the flavours didn't compliment the high abv. That being said, it has a nice chocolate-cappuccino after-taste.
Not too bad of a mouth feel. A bit thin.
I would definitely say this one is worth at least trying. It's not one I'd have very often. I imagine it'd be cool to try it out in its home country.
857 characters
961 Stout from 961 Beer
Beer rating:
3.05
out of
5
with
8
ratings