Big Gruesome Peanut Butter Chocolate Stout
| Spring House Brewing Company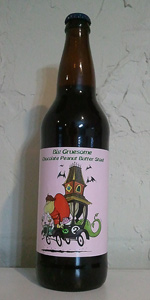 BEER INFO
Brewed by:
Spring House Brewing Company
Pennsylvania
,
United States
|
website
Style:
American Double / Imperial Stout
Alcohol by volume (ABV):
8.00%
Availability:
Rotating
Notes / Commercial Description:
Creamy, malty, and full-bodied, the Big Gruesome Stout is scary good. The intense, roasty flavor comes from two types of chocolate malt and raw cocoa nibs. The stout is then aged on whole vanilla beans and more raw cocoa nibs to enhance the chocolate flavors. Rich peanut butter is introduced throughout the entire brewing process to make this stout even more Gruesome.
Added by llllDrGONZOllll on 05-06-2011
Reviews: 128 | Ratings: 737
2.64
/5
rDev
-35.3%
look: 3.75 | smell: 2.75 | taste: 2.5 | feel: 2 | overall: 2.75
Thanks to Houser for the bottle.
Appearance: Close to straight black with some deeper richer browns at the edges. Couple cm dark brown head. Initially creamy. Drops to a small cap in short order. Pretty standard stuff. Slightly above average carbonation on the pour.
Smell: Milk chocolate sweetness up front coupled with a hint of almost lactoose. A push of slightly darker chocolate and raw nib as well. Some lingering hints of vanilla and hyper creamy peanut butter. A touch of roasted malt sweetness as well. Nice balance of nutty, sweet, and chocolate. Warming pushes a bit more of the almost artificial peanut butter up a bit. A slight candied chocolate thing.
Taste: Deeply roasted with a nutty finish. Bitter chocolate for days. Straight up baker's cocoa and unsweetened chocolate. Some roasted sweetness coupled some almost milky sweetness as well. Milk chocolate thrown in for good measure. Peanut butter is minimal and barely coasts through the back as a vague sort of nuttiness. A touch of vanilla, actually a stronger flavor than the peanut butter. A touch of something burnt on the back of it all.
Mouthfeel: Starts creamy. A medium body with a moderate to high carbonation for the style. Dry and a bit bubbly.
Overall: Merely a paper cut.
I wants me some peanut butter. Where's my peanut butter? An ok stout at the base, but it loses more and more as it warms.
★
1,382 characters

2.15
/5
rDev
-47.3%
look: 3.5 | smell: 3.5 | taste: 1.5 | feel: 2 | overall: 1.5
22oz bottle shared a few ways
A: Pours pitch black with close to four fingers of light brown, pillowy foam. Uh oh, this is beer is overcarbed and is made with peanut butter. Bad sign.
S: A bit on the light side, mostly strong roast and roasted peanuts. Some dark chocolate in the background. Very dry smelling.
T: Oh man, this bottle is infected. Strong green apple notes with light roastiness. Some funkiness as well - the taste is completely killed by the infection.
M: Light for an imperial stout with very strong carbonation.
O: I was very excited to try this beer as it seemed well received by most everyone who reviewed it and I love the peanut butter/chocolate combo. Unfortunately, this beer was severely infected and was undrinkable. Drain pour. It looks like I'm the only one to report an infection on either site - odd.
★
835 characters
1.9
/5
rDev
-53.4%
look: 2 | smell: 4.5 | taste: 1 | feel: 1 | overall: 1
First off.... Best label ever. Honestly.
And that was the best thing about this beer besides the nose.
Poured into my darkness snifter. Highly carbonated brown colored liquid with about seventy five inches of mocha colored head. Uh oh comes to mind. Smell is dead on peanut butter. It's dominating. Like those awesome Nutter Butter cookies. Man I could go for one of those right now.
When it hits your lips, all I can say is "man this a fizzy tongue tingling over carbonated sour porter!" Gee that sucked the balls. How awful. Sour green apple invades that awesome peanut butter taste.
Smell is win. Every other aspect was a colossal fail. I hope your bottle fares better than mine. I shared this bottle with my neighbors on a gorgeous Sunday afternoon. Trust me, I died a little on the inside.
★
799 characters
Big Gruesome Peanut Butter Chocolate Stout from Spring House Brewing Company
91
out of
100
based on
128
ratings.