Big Gruesome Peanut Butter Chocolate Stout
| Spring House Brewing Company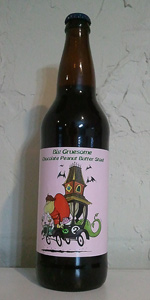 BEER INFO
Brewed by:
Spring House Brewing Company
Pennsylvania
,
United States
springhousebeer.com
Style:
American Double / Imperial Stout
Alcohol by volume (ABV):
8.00%
Availability:
Rotating
Notes / Commercial Description:
Creamy, malty, and full-bodied, the Big Gruesome Stout is scary good. The intense, roasty flavor comes from two types of chocolate malt and raw cocoa nibs. The stout is then aged on whole vanilla beans and more raw cocoa nibs to enhance the chocolate flavors. Rich peanut butter is introduced throughout the entire brewing process to make this stout even more Gruesome.
Added by llllDrGONZOllll on 05-06-2011
Reviews: 129 | Ratings: 744
4.15
/5
rDev
+1.7%
look: 4.5 | smell: 4.5 | taste: 4 | feel: 4 | overall: 4
Tall pint glass on tap at the Spring House Brewery's Taproom in downtown Lancaster PA. This beer was served MUCH too cold - I held the glass for ten minutes to warm it a bit and then took half an hour to drink.
Appearance: very dark almost black with one finger of tan head quickly fading to light lacing.
Smell: Coffee, Chocolate and roasted barley on top with some sweet undertones. Very intense.
Taste: Complex - The Chocolate and roasted some coffee on top with some slight bitterness and sweetness under. I could not pickup much Peanut Butter. This is a dry Stout so I wasn't expecting much sweetness. Hops very subtle just enough to balance all the malt.
Mouthfeel: Very dry and crisp for a Stout. Lighter than I expected.
Overall: Good stand alone beer or with dessert. I would not want to drink more than one.
★
823 characters
5
/5
rDev
+22.5%
look: 5 | smell: 5 | taste: 5 | feel: 5 | overall: 5
Poured from a 22oz bomber from Tommy's Pizza into a Flying Dog Goblet. No bottling date, but store owner informed me this was a fresh batch and brand new to the store.
A quick note: The fives above are not an exaggeration. This is possibly my "specialty" beer, with the peanut butter being a pretty rare ingredient in something approaching an imperial stout. I have also had this on tap at varying times and freshness, and it has never let me down.
Appearance: This is what I want in a stout. Thin but tan heading, quickly dissipating at that. Pitch black, even when held to a light to analyze the sides. Something about Springhouse's malt just seems to have a distinctive character that imparts that darkness to nearly any stout they make.
Smell: Peanut butter and chocolate, with peanut butter overtaking the chocolate. A more traditional, seemingly roasted malt, lingers at the back.
Taste: My favorite part. Everything said about the smell applies here, along with a better dose of malt. Hop bitterness eventually hits, but it does take a few moments of the swallow. Thankfully, the bitterness compels you to keep drinking for the thickness and sweetness. Nothing against the bitterness, but I love the effect of it. I can't imagine it being planned, and there is less of this effect when on drat.
Mouthfeel: See above for my comments on the bitterness. Otherwise, smooth drinking with no alcohol burn. Roasted malt and some hop burn linger near the gums, but oddly not the throat. No alcohol burn to speak of, which is pretty amazing at 8% and the sweetness involved.
Overall: I have driven 3 hours for this beer. I enjoy it more than almost any East Coast rarity. Just absolutely beautiful and totally worth it, considering a growler runs $11-13 and a bomber $6 at any reasonably priced store.
★
1,805 characters
3.04
/5
rDev
-25.5%
look: 4 | smell: 2.5 | taste: 3 | feel: 4 | overall: 3
Whoooo doggies...
Black beer with off white head. The nose is throwing my whole perception of this beer. Smells like sticking my nose in a glass of vanilla extract. Even more vanilla if possible as it warms. Overwhelmingly vanilla, can make out some chocolate and malt if I work at it. Taste is again getting skewed by the aroma. Smooth chocolate with some peanut butter coming in late. Very silky mouth-feel. While I say "congratulations!" for trying something new, this Spring House beer is just not for me.
★
510 characters
4.61
/5
rDev
+13%
look: 4.5 | smell: 4.75 | taste: 4.5 | feel: 4.5 | overall: 4.75
Appearance: Black as night, no light coming thru on this one
Aroma: Roasted Peanuts and Sweet Malts
Taste: Does not follow the aroma,lacks in the taste, I'm getting a watered down roasted coffee taste with no chocolate or peanut butter to speak of.
Feel: Lacks Body, very watered down. I was hoping for a thick mouth feel on this stout.
Overall: I appreciate the attempt, but I've seen this style fail too many times.
April 2015 Review
February 2016
Appearance: Same as April 2015, No Light on this one.
Aroma: Much better than last time, Fresh Roasted peanuts, Sweet Honey, as soon as I cracked the bottle I was hit. Dark Chocolate aroma just absolutely inviting.
Taste: Followed the nose with the addition of the smoothness and taste of milk chocolate.
Feel: Great Full Bodied Stout, exactly want I was looking for.
Overall: I received a second bottle as an extra in a trade from my beer brother in PA, and I am very glad I got to try this again. It was nice to see that they worked out the tweaks and this beer changed to be probably one of my favorite Choco PB Stouts. Maybe I got a bad bottle originally but after trying it again, I was so impressed I had to edit my original rating. Cheers !
★
1,200 characters
Big Gruesome Peanut Butter Chocolate Stout from Spring House Brewing Company
4.08
out of
5
based on
744
ratings.