Big Gruesome Peanut Butter Chocolate Stout
| Spring House Brewing Company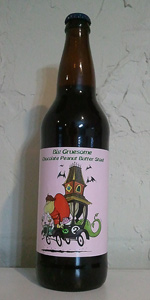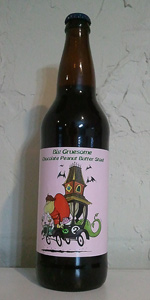 BEER INFO
Brewed by:
Spring House Brewing Company
Pennsylvania
,
United States
springhousebeer.com
Style:
American Double / Imperial Stout
Alcohol by volume (ABV):
8.00%
Availability:
Rotating
Notes / Commercial Description:
Creamy, malty, and full-bodied, the Big Gruesome Stout is scary good. The intense, roasty flavor comes from two types of chocolate malt and raw cocoa nibs. The stout is then aged on whole vanilla beans and more raw cocoa nibs to enhance the chocolate flavors. Rich peanut butter is introduced throughout the entire brewing process to make this stout even more Gruesome.
Added by llllDrGONZOllll on 05-06-2011
HISTOGRAM
Ratings: 762 | Reviews: 134

4.27
/5
rDev
+4.1%
look: 4 | smell: 4.5 | taste: 4 | feel: 4.5 | overall: 4.5
Had it on tap at the Spring House Tap Room.
A- Tar looking color with a heavy head and even lace.
S- Smell oh so good. Chocolate between dropping chocolate in the pot with heavy amount of chocolate malts and also roasty must use roasted barley and great smell of peanut butter powder. Just put up a killer aroma.
T-Taste of peanut butter and chocolate works well together. At the time I wish they serve Reese's peanut butter cups to get the way experience. This beer have a very good taste.
M- Very creamy, roasty , chocolatety and peanut butter goodness. This beer is a real treat to try and enjoy.
O- Hope this beer become a seasonal so far That beer I had is batch 2 which is a good sign this beer might be around for some time or might come back again next year.
cheers....
783 characters

4.45
/5
rDev
+8.5%
look: 4.5 | smell: 4.5 | taste: 4.5 | feel: 4 | overall: 4.5
Served on-tap at Spring House Taproom in Lancaster. Peanut Butter Chocolate stout? Sign me up! Poured into a 20 ounce nonic pint glass from the nitro tap.
A: Deep pitch black body with a rich and creamy mocha colored head. It's velvety due to the nitro and leaves some very nice web-like lacing on the glass walls. The retention is wonderful and has a lasting head throughout the entire glass.
S: Peanut butter, milk chocolate, slightly roasted chocolate malts, caramel malts and a sweet milkiness. All the elements of both peanut butter and chocolate are certainly here, it's a very rich and decadent smelling beer, simply wonderful!
T: Loads of gritty, Reeses peanut butter cup like flavor comes through immediately and consumes the palate. Towards the back end the chocolate notes start to appear, very much a milk chocolate like flavor with some roasted malts around it. As it warmed, I think the chocolate intensified and the peanut butter blended very nicely with it.
M: Velvety smooth, rich and creamy on the palate. I feel it's a bit thin on the palate but it still has a nice medium body. The nitro I thought would have helped to give this a fuller body than it does.
If you're a peanut butter and chocolate lover, this is one beer you need to try. The flavors work extremely well and is quite incredible getting that much peanut butter flavor into the beer, due to the oil difficulties. With a bit more of a thicker body this could easily top the charts.
1,469 characters
4.42
/5
rDev
+7.8%
look: 4 | smell: 4.5 | taste: 4.5 | feel: 4 | overall: 4.5
Nitro-tap at the Taproom.
The description in the notes pretty much says it all; Peanut Butter Chocolate Stout. How can one resist that? The beer is spot-on from start to finish. Perfect balance of peanut and chocolate in the palate and the nose and a silky smooth mouthfeel. Absolutely my new favorite dessert beer. Hopefully this stays in the rotation and isn't a once and done batch. Kudos to Spring House for another great stout.
432 characters

4.22
/5
rDev
+2.9%
look: 4 | smell: 4.5 | taste: 4 | feel: 4 | overall: 4.5
I enjoyed a pint of this on Nitro pour at Thirsty's in York, served in a standard pint glass at a cool temp. The beer served a little cooler than my preference so I allowed it to warm gradually before partaking.
The color is black as night with an opaque clarity. The cap of light tan settles fast to a thin coating atop the stout with very tight bead and rings of lace cling to the glass after I take each sip. The smell is just like opening a peanut butter cup wrapper, so creamy and nutty, yet has a good amount of chocolate in the aroma with some light roasted presence and subtle sweetness. The feel is good with an almost salty tinge to the creamy smoothness with mild sweet middle which fades into some roasted malt body and actually becomes bitter in the tail end with a dry finish. Some slight roasted notes linger, but hardly any alcohol is present in the feel -well done.
This tastes so nutty and smooth with a flavor that makes you believe you are enjoying a peanut butter cup -smooth but then the dark chocolate flavors envelope with a slight bitter edge and mild roasted grain character shines through. The flavor of the malt is roasted with a good amount of chocolate on its own, but the Wilbur's chocolate adds a nice sweet edge to the creamy, nutty peanut butter taste as the hops come in they add spice the stout and keep the beer on the level. The hops only add to the flavor by providing spice, but don't take anything away at all and make for a good balance to the sweet nutty and malt flavors. I really think this lives up to my expectations and more, the stout lives up to the name and this is a great beer for anyone who likes chocolate and peanut butter together, it is dangerously drinkable because for an 8% beer you don't feel it anywhere until the pint is drained. I was very pleased with how well the concept was realized and am eager to try Lil Gruesome now that I have had Big Gruesome.
1,923 characters
4.38
/5
rDev
+6.8%
look: 4.5 | smell: 4 | taste: 4.5 | feel: 4.5 | overall: 4.5
Appearance: The beer has that nitro pour look and it pulls it off quite well, sheeting lace down the side of the pint glass
Smell: Chocolate and peanut butter - a liquid Reese's
Taste: Black bread and chocolate, up front, with a growing peanut butter character; by mid-palate, the hops arrive to balance out the sweeter elements through the finish
Mouthfeel: Full bodied with gentle carbonation
Overall: Extra points to Spring House for their creativity with this brew; by creating a flavor profile where the hops are more powerful than the peanut butter, the brew really works well
586 characters

4.25
/5
rDev
+3.7%
look: 4.5 | smell: 4.5 | taste: 4 | feel: 4 | overall: 4.5
Side trip from Hop Attack with Deuane and orangesol
A - Pitch black body with a creamy, dense, tan head...the head stood about one finger tall and showed great nitro retention...nice lacing
S - Big roasted malt notes along with some roasted peanuts...bittersweet chocolate lingering as well
T - Roasty peanut butter up front...big emphasis on the roasted part...it transitions right into the chocolate part of the beer...creamy, bittersweet chocolate with a roasted cocoa bean finish
M - Full bodied...full on roast flavors linger...sometimes it comes up a tad thin
O - "Yuck"... Not really ... This is what I was expecting a chocolate peanut butter stout to taste like...both stand out in their own right with both being nicely roasted...this is a must try for chocolate and peanut butter lovers
801 characters
4.22
/5
rDev
+2.9%
look: 4 | smell: 4.5 | taste: 4 | feel: 4 | overall: 4.5
On tap at the Springhouse Taproom on 5/20/11 via a nitro pour. This brew appears black in color with a rich mocha brown head. Beautiful appearance here as it laces in a complete wall with a web-like pattern across the glassware. The head remains fairly solid across the top throughout the duration.
The smell of this brew is unquestionably the most impressive feature of this offering. Sweet aromas of rich peanut butter mix with a more deep nutty aspect which collectively comes across sweet with a mixture of cocoa and roasted malt. There is a backing of light coffee and more chocolate sweet indications come forward as the brew warms.
The taste is roasty grain with a light bittersweet cocoa note. Peanut butter is present throughout the body with much less assertiveness then the aroma led on. A light citrus hop tang is present bringing this brew back into more of a "beer realm." There is a bitter almost herbal aftertaste present from the hops which is a little distracting from the overall theme of this beer. It isn't bad, heck it's actually pretty good. It just seems a little disjointed and lacking a driving factor to blend and mesh the flavors.
This is a medium bodied brew with a light, smooth level of carbonation that is slick in the feel. Quite drinkable but the tangy alcohol aspect that is evident at times clashes a bit with the chocolate, peanut butter and roasty qualities of the brew. As with the other stouts by Springhouse, the alcohol is very surpressed for what it is listed at. It's certainly a brew I would have again and I'd love to see them tweak the recipe and clown around with this to be released again. It's a very decent offering, maybe not as exceptional as others have made it seem but it's certainly worth a glass or two.
1,764 characters

4.05
/5
rDev
-1.2%
look: 4 | smell: 4 | taste: 4 | feel: 4.5 | overall: 4
On nitro-tap @ the Spring House Taproom (Lancaster, PA) back on 5/7/11. Served in a pint glass.
Pours black in the glass, with a finger of tight and foamy mocha-colored head. This retains with a rich ¼ finger that leaves back a good bit of sticky lacing. That peanut butter character jumps right at you, backed in the nose by darker flavors of bitter chocolate and burnt roast. Some green citrus sits way in the back, as the scent of peanut butter pretty much controls this.
Things are a good bit more integrated here in the taste, but you can still definitely pick the peanut butter flavors up, especially along the back of the profile. The bulk of this however has more of a big American Stout presence, with additional notes of chocolate and caramel, a firm hop bitterness, and burnt malts that spread out into a dry and roasty finish. The mouthfeel is fuller bodied, with a strong aggressive prickliness that soothes out into more of a creamy crispness from the nitro addition. That 8% ABV is VERY well hid, giving this an overall impressive drinkability, and only starting to show it's beefy power as things warm up.
Wow, another very nice Stout here from Matt, which seems to be really becoming his forte here. While I'm not quite totally blown away by these specialty-type beers like I once was, I will say that this was definitely one of the better executed examples that I've had recently. This is one worth checking out.
1,443 characters
4.54
/5
rDev
+10.7%
look: 4 | smell: 5 | taste: 4.5 | feel: 4 | overall: 4.5
On nitro-tap at Spring House Taproom on 5/17/11.
A - Menacing midnight black body with a finger's width of dense burnt tan foam on top, which reduced to form lacing reminiscent of cake batter all around the glass.
S - Once the head dissipated, I was greeted by an amazing peanut butter cup candy bar aroma chock full of bitter dark chocolate, semi-sweet cocoa and sweet peanut butter. A hint of alcohol also emerged as the liquid warmed up.
T - Surprisingly, the flavor is not as sweet as I was anticipating, which is something I really liked about this stout. The bitterness of the chocolate works really well with its sweeter peanut butter counterpart, giving amazing balance to the flavor. Finishes rather bitter with a slight herbal tinge in the backend, although the peanut butter character gives a final push just to give the finish a bit more balance.
M - Medium bodied with a really smooth, creamy texture, although not too thick. Mouthfeel is velvety and soft. Finishes bittersweet on the palate, although a tad heavier on the bitter versus the sweet.
D - Who put their chocolate in my peanut butter?! OK, it is official... Matt's forte is definitely brewing stouts! Planet Bean, Kerplunk, and now this masterpiece!
1,230 characters

4.64
/5
rDev
+13.2%
look: 4 | smell: 5 | taste: 4.5 | feel: 4 | overall: 5
My initial reaction---Sweet Mother of Pearl!
A-A thick tan, dense nitro head lies a top a black body of goodness. Head slowly reduces to a thin cap and leaves nice ringing lace.
S-Freshly ground Zimmerman's peanut butter up front with crushed, earthy cacao beans with just a hint of astringency---AMAZING!
T-A healthy dose of chocoalte and earthy bitterness up front with just a touch of peanut butter sweetness to mellow things out. Certainly very good but not quite not as awesome as the aroma.
M-Medium bodied with the smooth nitro delivery one would expect. Nice lingering chocolate and hop bitterness with a subtle peanut butter sweetness sneaking in on the backside.
O-Simply put--An absolute masterpiece! This is, without question, one of the finest "speciality" stouts I have ever had! Amazingly delicious and insanely drinkable!
842 characters
4.17
/5
rDev
+1.7%
look: 4 | smell: 4.5 | taste: 4 | feel: 4.5 | overall: 4
A nitro pour at the Taproom on a busy Friday night.
A: The stout is dark, pitch black with a creamy-looking au lait head. Dense and creamy, the head looks very nice.
S: The nose is nutty and chocolatey, a combination of legumes and roasted malts. Plenty creamy, the stout has a noticeable sweetness. A much better take on Chocolate Peanut Butter than the aborted version at Al's.
T: The nutty chewiness continues unabated, a peanuty sweetness that has Peanut Butter Cup elements. Smooth stout, roasted and dark, is alongside the nuttiness, providing the proper amount of balance. I'm surprised at how well the two different flavors come together. Easily the best Peanut Butter Stout that I've had to date.
M: The creamy smoothness of the nuts and chocolate provide a rich flavor. The fullness lingers long after a sip is gone.
O: Much better than I expected it to be, the stout hits all the right notes. Color me impressed.
928 characters

4.62
/5
rDev
+12.7%
look: 4 | smell: 4.5 | taste: 5 | feel: 4 | overall: 4.5
On tap at the Spring House Taproom, nitro pour and the outstanding reccomendation of Bethany the punk ASSed bartender.
The apperance is that of black velvet excellence, creamy off white head and the body of night herself. The aromas of fresh roasted nuts and toast come through first. The initial taste is nothing but stout, while the middle of the tongue produces chocolate and peanut butter on toasted wheat bread. The proclaimed 8% ABV sneaks by undetected while your pallet revels in the peanut butter goodness. I am praying this stout comes my way again and becomes more than a memory to brag of.
603 characters
Big Gruesome Peanut Butter Chocolate Stout from Spring House Brewing Company
Beer rating:
4.1
out of
5
with
762
ratings