Satan's Bake Sale Mint Chocolate Chip Stout
| Spring House Brewing Company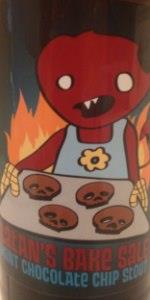 BEER INFO
Brewed by:
Spring House Brewing Company
Pennsylvania
,
United States
springhousebeer.com
Style:
American Double / Imperial Stout
Alcohol by volume (ABV):
8.40%
Availability:
Fall
Notes / Commercial Description:
This stout is smooth, dark, full-bodied, and satisfyingly rich. This brew is aged on fresh peppermint leaves and dark Wilbur Chocolate, giving this stout a powerful aroma and pronounced mint chocolate chip flavor.
Added by thain709 on 10-05-2011
Reviews: 37 | Ratings: 241

3.77
/5
rDev
-3.8%
look: 4 | smell: 4.5 | taste: 3.5 | feel: 3.5 | overall: 3.5
1445th Review on BA
Growler to CBS Snifter
64oz
Thanks to Troy2352 for this one
App- Inky black pour which I can say was a VERY dark brown. Big highlights make this look very dense in the middle. 1st pour was a good 1-1/2 finger head that was light brown. No dotted cling, but 1st pour impression was good.
Smell- Well I liken it more to a creamy mint ice cream. A little sweet, a little thin, a little chocolate and a bit cloying. I dig the shit out of the aroma with a good malty backbone from the stout profile. A little boozy which is good. Brings it all together.
Taste- Well for what it is, its pretty tasty. It has the mint going for it, but its a bit thin. The overall flavors of the beer meld well together with the mint, chocolate, malts and booze, but its got a weird twinge to it from I think a grainular feel that makes it a bit semi-cohesive.
Mouth- A bit of a thin light medium body with a thin medium carbonation. Needs a bit more behind it with a bit more of a thin mint flavor, minus the grain cookie feel.
Drink- Pretty damn tasty, The growler leaked a bit in transit but really didnt see a lot of suffering on my side with it. Tasty beer, just needs more behind it to tie it all together.
1,214 characters
3.82
/5
rDev
-2.6%
look: 4 | smell: 4.5 | taste: 3.5 | feel: 4 | overall: 3.5
I had this on-tap at the brewpub in Lancaster. Served in a sample glass.
Appearance: Pours almost black with a layer of smooth tan head that fades to a ring around the edge of the glass.
Smell: Smells a lot like a thin mint. Wintergreen and dark chocolate with a pleasant sweetness.
Taste: Not as much mint as there is in the smell. Roasty dark chocolate is quite apparent. The mint lingers through the finish along with the roast.
Mouthfeel: Medium body with smooth carbonation and a dry finish.
Overall: Several beers from this brewery have smelled fantastic and then tasted ok. The flavor of this one was a bit weird. I'd probably pass in the future, but really glad I tried it.
686 characters

3.61
/5
rDev
-7.9%
look: 3 | smell: 4.5 | taste: 3.5 | feel: 3.5 | overall: 3
Served on-tap at Spring House Taproom. My girlfriend and I were both really looking forward to trying this one, as part of an awesome line-up they had last night. Poured into a 10 ounce miniature pint glass.
A: Black body with some dark brown hues at the top of the glass. A dark tan head topped the beer but it faded almost instantly. Really no lace or retention, other than a thin ring that eventually died out.
S: Wow, loads of pure peppermint and dark, roasted chocolate malts. There's also a very pure chocolate flavor, like a bakers chocolate coming through with some little notes of vanilla and pine. Very sweet smelling, in a way, but really intoxicating. That's simply awesome.
T: Well it's like the nose but the translation isn't as great. It's still good don't get me wrong. My first impression was that this tasted like a liquid form of a Girl Scout Thin Mint cookie. Tons of peppermint and chocolate combined together, with a slight sweet vanilla and coffee element towards the back end. The lingering finish is just mint leaves through and through. Not bad, but the peppermint is overwhelming to the point where it gets sickening after a while.
M: Carbonation is on the lower end, giving this one a nice body. As it warmed it did seem like it thinned out a bit, but nothing detrimental. Slick and oily on the palate.
This was interesting. I couldn't enjoy more than a 10 ounce pour of this at any given time, simply due to the over-the-top peppermint aspect of it. But, that's what the beer is! I mean really, if you're a mint and chocolate fan, obviously check this one out.
1,594 characters

3.72
/5
rDev
-5.1%
look: 4 | smell: 4.5 | taste: 3.5 | feel: 3 | overall: 3.5
Growler shared by of yourefragile; thanks Michael.
a - Pours a pitcj black color with light carbonation evident and one inch of tan head.
s - Smells exactly like a York peppermint patty. Tons of peppermint, sweet milk chocolate, and roasted malts. Some may think it has too much peppermint in the nose but loving York's, I thought it was awesome. I'm guessing it's exactly what they were going for.
t - Tastes of peppermint, chocolate, roasted malts, cream, vanilla. Lots of mint again here; unfortunately it doesn't seem to transfer as well in the taste as it did in the nose, as it seemed to have a little bit of a weird aftertaste to me.
m - Thin body and low carbonation. A bit watery mouthfeel to it, and a bit too thing for me.
o - Overall a very interesting beer I'd like to have again. I thought the nose was awesome and spot on, though the tast and mouthfeel were lacking. Would like to visit and try this on tap.
927 characters

3.53
/5
rDev
-9.9%
look: 4 | smell: 3.5 | taste: 3.5 | feel: 3.5 | overall: 3.5
Growler courtesy of yourefragile.
Served in an Alvinne mini snifter. Pours near black with a in light tan head and a collar throughout. The nose is loaded with mint. A touch of chocolate. Reminds me of the green Girl Scout cookies. More chocolate comes through in the flavor. Medium body with a spicy peppermint finish. Pretty good.
334 characters
4.15
/5
rDev
+5.9%
look: 4 | smell: 4 | taste: 4 | feel: 4.5 | overall: 4.5
On tap at the Spring House Taproom.
A quickly receding light tan head with thick rings of lace settles on a dark chocolate, opaque body. Aroma is liquified Andes mint. No reason to think about/decompose the nose further. As with Big Gruesome, let this warm up before tasting. Body has a robust roast malt body with hints of ground coffee and stronger dark chocolate notes before holy peppermint. Liquified Andes/York/whatever you want to call it. Not overly sweet, more refreshing and crisp, but geez, this is nearly too much for me not being a fan of those chocolates. I'll give this credit for what it is, but while I'd recommend Big Gruesome to nearly anyone to try once, I can imagine this being a massive no-fly zone for many.
732 characters

4.47
/5
rDev
+14%
look: 4 | smell: 4.5 | taste: 4.5 | feel: 4.5 | overall: 4.5
Nonic pint glass at the restaurant in Lancaster
Short head over opaque black body. Tons of lacing
Aromas are full of peppermint candy, dark chocolate, and a slight roastiness
Wow, unique and completely awesome. Full on peppermint, roasted malt, dark chocolate, and a faint coffee grind. This is like drinking a York peppermint patty. Amazing.
Well carbonated but not over the top. Really easy drinking for the ABV... goes down like a 6 % stout. Just wish they would serve it a little warmer.
A must try - especially this time of year.
543 characters
4.12
/5
rDev
+5.1%
look: 4 | smell: 4.5 | taste: 4 | feel: 4 | overall: 4
This beer is certainly not for everyone. Poured from a growler obtained at the taproom.
A - Pours a nice deep brown with a small tan head that pulls back after some time. Swirly and oily looking as you drink from the glass.
S - Wow, have obviously never smelt something like this before. The roast and chocolate is overpowered by the peppermint. This reminded me of an Andes mint.
T - Again, the peppermint overpowers. Really tastes like an Andes mint reduced to a glass. This will certainly turn a lot of people off as you have to remind yourself that you are drinking a beer at times. I really enjoyed the first experience but this is a beer that you can't drink much of before it gets a little one-dimensional. The chocolate is there but sits behind the peppermint.
M - Whereas some of the reviews of Planet Bean pointed to its thin character, I really found this one to much more rich and certainly thicker. Very nice.
A really fun beer and something that would make a nice dessert beer with some chocolate cake. I liked it even though some may find it a bit over the top minty.
Bravo to S-house for another cool offering. Good job Matt, keep it up.
1,159 characters
4.62
/5
rDev
+17.9%
look: 4.5 | smell: 5 | taste: 4.5 | feel: 4.5 | overall: 4.5
My first beer from Spring House and and all I can say is WOW!
A - Beautiful dark body with a nice brown 2 finger head. Head retention was great and lasted to the end.
S - Absolutely amazing chocolate peppermint patty smell. Reminds me of winter. I couldn't keep my nose out of the glass.
T - Peppermint is at the front and pretty powerful. It is not one of those stouts that advertise x ingredient then you spend the whole glass trying to taste it. The Chocolate is a little more relaxed and follows nicely.
M - The peppermint is up front and melds nicely with the chocolate notes, very smooth beer. Even at 9% everything compliments each other.
O - Great winter brew, I would definitely recommend to anyone who likes a good stout. Got a growler at the local 6-pack shop. Now I really wish I was able to try the PB stout before they kicked the keg.
857 characters

4.12
/5
rDev
+5.1%
look: 4 | smell: 4.5 | taste: 4 | feel: 4 | overall: 4
Served on-tap at the Tasting room.
A - Pours jet black with a light cascade of two finger tall off-white head leaving light lace down the glass.
S - Smells of, you guessed it, peppermint, and lots of it. There are other flavors like chocolate and dark roasted malts but the peppermint is extreamly strong and overpowers most of the other flavors.
T - Starts off with a HUGE dose of peppermint and never really goes away throughout the entire glass. As the peppermint dies down a bit you get hints of chocolate and the dark roasted malt core but then the peppermint comes back and pushes them back into the shadows. The finish is a mix of spicy peppermint and even more peppermint. It is really that much peppermint.
M - Heavy body and flavor with moderate carbonation. Roasty, minty, feel that lingers LONG after consumption. Peppermint burbs over an hour later? Yup.
O - This one is spot on. It has a little too much peppermint in the taste but it isn't really a big deal. It really does taste like they just took a box of thin mints, crushed them, and threw them into the keg.
1,083 characters
3.87
/5
rDev
-1.3%
look: 4 | smell: 4.5 | taste: 3.5 | feel: 3.5 | overall: 4
At the taproom.
A: Black as night, the same deep hue as Planet Bean, Big Gruesome, Kerplunk and every other Spring House stout. An off-white head laced in a few spots.
S: Peppermint patty, liquified, with alcohol thrown in for good measure. This one'll clear up your sinuses. Chocolate, deep roasted stout scents, are present too. But the peppermint is really, really tough to overlook.
T: The stout body, well-roasted and thick, makes an initial appearance up front, a reminder of what lurks. The stout, though, is no match for the peppermint that quickly follows. This is in-your-face peppermint, a York peppermint patty pureed into liquid form. It lasts, providing interesting hiccups the whole way home. I'll throw my vote behind Braaaiins! over this one.
M: Imagine a pepper mated with a mint in some type of forbidding Dr. Moreau island lab. Drink it up, feel the burn.
879 characters

4.32
/5
rDev
+10.2%
look: 4 | smell: 4.5 | taste: 4.5 | feel: 4 | overall: 4
Made with real peppermint and added throughout the brewing process.
A - Served with a pitch black body and a one finger, brown head...the head fell to a wispy cap that held itself until the last sip...lacing was scattered down the sides of the glass
S - Unbelievable...you can smell the peppermint from an arms length away...at first whiff I was reminded of a Peppermint Patty/Andes Mint/Thin Mint...it's just the perfect combination of peppermint and chocolate
T - There is gobs of peppermint right from the get-go...you can tell that it's very fresh and, of course, very minty...the chocolate flavors roll in and balance out some of the intense-ness that the peppermint is providing...the chocolate shows some sweetness and makes you think milk, but it also had a slightly bitter side that makes you think dark...the peppermint does come back right at the end to provide a minty blast
M - Medium bodied...it's not quite full enough...the peppermint adds a brightness and the chocolate takes the edge off of the peppermint so it doesn't become too much
O - Wow, this give Big Gruesome a run for it's money...I could drink more of Big Gruesome because I like chocolate and peanut butter but the peppermint and chocolate are ridiculous in this beer...the nose is spot on Peppermint Patty and the flavors reminded me of an Andes Mint...well done Matt!
1,354 characters
Satan's Bake Sale Mint Chocolate Chip Stout from Spring House Brewing Company
3.92
out of
5
based on
241
ratings.