Bakalář 555 Jubileiní Speciál
| Pivovar Rakovnik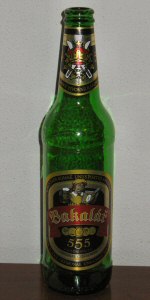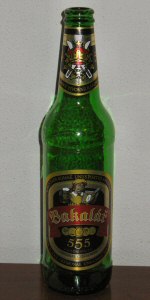 BEER INFO
Brewed by:
Pivovar Rakovnik
Czech Republic
rakovnikbeer.cz
Style:
Doppelbock
Alcohol by volume (ABV):
7.50%
Availability:
Rotating
Notes / Commercial Description:
No notes at this time.
Added by stcules on 08-15-2009
HISTOGRAM
Ratings: 10 | Reviews: 8
Reviews by AltBock:
3.29
/5
rDev
+3.5%
look: 3.5 | smell: 3.25 | taste: 3.25 | feel: 3 | overall: 3.5
Long neck 500ml green bottle with a black and gold label. On this label is a creepy 18th Century European man reading a book with a frosty mug of beer in one of his hands. He has the look on his face that he took a swig of a really bad or good beer. The back label has all the mandatory US info, the beer's slogan, and the ingredients in two different languages. I like green bottles with a date if some sort, but this bottle had none.
I used my Samuel Smith Imperial Smith for this Czech born Doppelbock. This Doppelbock had a nice color to it. It poured a semi dark cherry amber with a touch of tangerine orange at the bottom of the glass. On top was a decent 1/2 an inch paper white head of foam. After about 30 seconds, it fizzled down to a tiny string of bubbles along the edge. If you're lucky, you might catch a few spots of lace around the glass. I enjoyed the color, but the head of foam didn't stick around for my eyes to enjoy.
I wasn't all that impressed with had this Doppelbock had to offer in the aroma department. In the beginning the aroma was bitter with a faint aroma of caramel malts and fruits. When it warmed up a little more, the hops diminished and the caramel malts came out shined more. Along with the malts, there was also more fruits, and some minor floral notes. The floral notes came out of nowhere. Not bad, but not all that good either. With the green bottle this beer came in, I'm lucky that aroma wasn't skunked.
This Doppelbock was lightly malty at first with the toasted caramel malts. These sweet malts were followed by fruits and flowers. Yeah, it was a bit on the weird side. After the floral note leaves the tongue, in comes a slight bitterness. It was just a simple bitterness. It wasn't until after the bitterness that this beer started to show its 7.5% ABV.
This was a medium bodied Doppelbock with a decent level of carbonation and a grainy aftertaste. This grainy aftertaste had the taste of watered down caramel malts, a fruit or two, and a subtle hoppy bitterness. This aftertaste didn't bother to stick around.
That undated green bottle has to go. I found this Doppelbock more bitter than malty. I didn't really care for that. It was basically an average drinkable Doppelbock. The one thing going for this beer was the price. It was only a few bucks for a big bottle.
2,325 characters
More User Reviews:
2.57
/5
rDev
-19.2%
look: 4 | smell: 2 | taste: 2.5 | feel: 3.5 | overall: 2.5
It's light for a doppelbock, a ruddy sort of bronze color, but a prettier than expected swirl and cascade effect forms a thick and dense orange-tan head about a finger tall that leaves patchy lacing in good quantity. Other than the interesting color, nothing's too unusual yet.
Then I open the bottle. Immediately a skunky sort of sulfuric component reaches my nose, and I wonder for a second if this is a Euro pale or...oh, right. It's a doppelbock. I do get some caramel from the aroma with a touch of anise or licorice with a spicy hops bite as well as an herbal/leafy thing. This has a bit more hops to it than a traditional doppelbock. It isn't bad, though it isn't exactly right, and some grainy, zesty and skunky notes throw me off.
This reminds me of a doppelbock in very few ways. It's herbal and leafy foremost and the skunkiness comes out in the flavor while grains linger underneath. This needs to be in a new category and labeled "Euro Amber Lager." It does have some redeeming qualities, though, as a touch of anise/licorice typical to the style peeks through and lightly but a bit more strongly comes a bit of molasses as well. A spicy bite prevails throughout, as does a caramel note.
The feel isn't bad but it's too thin for the style. It is smooth and crisp, but I have to give it time for a sharpness to dull. Other than that it flows well.
1,359 characters


3.08
/5
rDev
-3.1%
look: 3 | smell: 2.5 | taste: 3.5 | feel: 3 | overall: 3
pours a clear light brown with a small beige head, heavy carbonation, and good lacing.
smell is of malt, a touch of spice, and toffee.
taste is somewhat watery, sour malt, brown sugar, toffee, roasted nuts, and a sweetness in the back, ends on the dry side.
259 characters
3.4
/5
rDev
+6.9%
look: 3.5 | smell: 3.5 | taste: 3.5 | feel: 3.5 | overall: 3
My randomness encouraged the purcahse of this Czech beer. Comes in a 500 ml green bottle. On to the beer:
Electric orange in color with a darker tone of amber mixed in. The head retention is solid and leaves a few spots of lacing inside the flute-like glass. Aroma is different, or at the least from the tradtional doppelbock. Its got plenty of spicy and herbal hoppiness and something that else like cinnamon and plum. Taste is fine, though again different from expectations. It's not often you find hops dominating this style, but the spiciness provided here is the major component. Not really malty as one would find, light maltiness with some cinnamon (which I don't know where it's coming from) and vague spice. Moderately spicy in the mouth with a kick of carbonation, medium bodied.
It's an oddball alright, though at least it's a more than decent beer.
863 characters

2.45
/5
rDev
-23%
look: 2.5 | smell: 2.5 | taste: 2.5 | feel: 2 | overall: 2.5
A - looks like MGD, or maybe his a little darker. Large bubble white head.
S - smells like a slightly sweet lager.
T - tastes like a light beer with a packet of sweetener.
M - thin and just a little tingle on the front of the tongue.
D - there really is no reason to drink this unless the only other brew in the house is a Bud.
331 characters
3.33
/5
rDev
+4.7%
look: 3.5 | smell: 3 | taste: 3.5 | feel: 3 | overall: 3.5
Reddish color, chestnut. One finger of tan head.
A good amount of caramel in the smell, with malt and toasted notes.
The taste is less caramel than you can expect. Some alcohol hint, but it has 7 ABV, and it can fit in it.
Overall, quite balanced.
Better taste than smell.
Maybe hints of tamarind?
Full but balanced body.
327 characters
3.67
/5
rDev
+15.4%
look: 3.5 | smell: 4 | taste: 4 | feel: 3 | overall: 3
A: Dark bronze balanced colour with no carbonation.
S: Caramel malts with alcohol.
T: Light taste with brown sugar. Cinnamon with forest fruits.
M: Alcoholic after-taste. Medium body with low carbonation.
D: My favourite special beer from Olomouc beerfest 2010.
265 characters
2.53
/5
rDev
-20.4%
look: 2.5 | smell: 2 | taste: 3 | feel: 2 | overall: 2.5
Pours a short head that dissipates very quickly. No lacing around perimeter of glass, hence no lacing on sides of glass either. Beer is mostly transparent copper-amber color with a bit of murkiness.
Smell is of slightly metallic caramel malts. Not particularly appetizing or the cornucopia of complex malt varieties that I've come to expect in a doppelbock. One might say much too simple.
I taste relatively plain maltiness, a bit more substantial than average. Not much complexity (roasted, smoked, chocolate, burnt, etc) to its character, which I desire from a doppel. There's a faint hint of good, brown toast in the finish.
There is far too much carbonation for the style, which actually makes this a bit unpleasant to drink. The finish is primarily dry and satisfying, but again, too much carbonation!
If this was the only doppelbock ever available, I'd pick this up again. With choices, though, I don't see myself seeking this out.
941 characters
Bakalář 555 Jubileiní Speciál from Pivovar Rakovnik
Beer rating:
3.18
out of
5
with
10
ratings