The Windber Hotel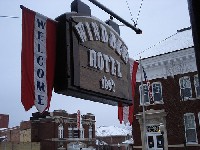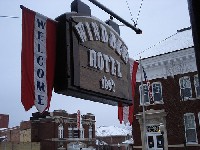 PLACE INFO
Type:
Bar, Eatery
502 15th St
Windber
,
Pennsylvania
, 15963-1604
United States
(814) 467-6999 |
map
thewindberhotel.com
Notes:
No notes at this time.
Added by HenryKDuff on 01-04-2008
PLACE STATS
Reviews:

9

Ratings:

pDev:

8.39%
HISTOGRAM
View: Place Reviews
Ratings: 12 | Reviews: 9
Reviews by AdamBear:

4.38
/5
rDev
+5%
vibe: 5 | quality: 4.5 | service: 4.5 | selection: 4 | food: 4
Atmosphere:
The inside is perfect. It has a beautiful large bar along with some good seating areas for the family or if you want something to eat.
There is also a good secluded pool room off to the side.
Service:
The service has always been great, friendly, and helpful.
Selection:
The tap list is fairly large and along with the usual suspects it has a good list of some rare beers. The cooler is small, but it makes up for that in rarity. Some of the beers found here, I've not been able to find anywhere else in the area. They have some good Southern Tier beers, which can be found no where else in the area and I've also found West Coast Brewery here which i've found no where else as well. The selection isn't as good as Tulune's however the owner of this place makes a point to have a much different selection. So its definitely worth any effort to make a trip out here every once in awhile.
Food:
I've had their burgers and pizzas. They're both great and go wonderful with beer.
Overall its a great place that would be able to stand its ground in any city. Considering it is in the Johnstown area, this place is a gem.
1,129 characters
More User Reviews:
4.03
/5
rDev
-3.4%
vibe: 4 | quality: 4 | service: 4 | selection: 4 | food: 4.25
4.4
/5
rDev
+5.5%
vibe: 4 | quality: 4.5 | service: 4 | selection: 5 | food: 4
Absolutely Love this place! The atmosphere is fantastic...live bands every Friday & Saturday nights. The Hotel has a lot of character and charm. A great mix of people stopping by to have a drink or food. Excellent choices on the menu and the beer selection is "bar-none" considering its the only place you can enjoy craft brew!
My service has been great, but I always watch for the Southern Gal with a big smile and plenty of charm!! This girl definitely has a way with people! Where is she by the way???? I havent seen her lately....hopely she'll be there on my next adventure to Windber, PA!
Good job Windber Hotel! Keep up the great work! I definitely recommend your establishment to my family and friends!
711 characters
3.7
/5
rDev
-11.3%
vibe: 4 | quality: 4 | service: 2.5 | selection: 4.5 | food: 3.5
Not Johnstown, but it might as well be. Except, I'm thinking that they'll be okay if it starts raining a-plenty as they're on the back side of the up high. Exactly the opposite way from the hotel, I like to mix it up some...
Late 1800's hotel turned bar as that goes. Fixture on the strip with big brick play and a strange arch piece to the rear from one room to the next, worn plank floorings, and a sharply done gold pressed tin ceiling with black trim and crown molding. Colored glass lamps & spinny fans down center, and brewery mirrors & pub signage adorn. To the left running nearly the length of the room, a long straight varnished bowling lane topped bar with a brass rail digging into your chest (not in a good way), seating 18 on backed stools too low. Enormous bar back unit that they probably had to build the building around, with massive mirroring on center, and smaller panels on each end around pillars with fit inlayed pieces atop. The top is done ornately with red bulb glow eyes & mouth lion heads along the way. Small skeletons on fuzzy strung twine dance across the way. Slightly slighter matching units on the ends with shirts, snacks, glassware, brewerania and other. They have some cool shirt designs, one of which looks very (copyrightinfringementlike) Troeg's logoesque.
Wine & booze lying down shelved below, and more tiered on the barback counter sharing space with a Frigogranita (frosty) machine, a baby energy drink cooler, and a set of 4 Kiss shotglasses. Do they use them, I wonder, and for what special occasion? Flat screen on the middle of the barback with small new arrival/on deck & staff picks beer boards to both sides, and single flat screens down on the ends.
Taped up on the corner of the barback mirror, there's an autographed picture of boy Eddie Munster (with wear wolf doll). Seems that whole media thing with Butch Patrick earlier this year, where some woman had written him fan mail as a kid 45 years ago and recently reconnected with him via email, hit home here when she hooked up with him having come out to meet him at something called DraculaCon II, in scenic sunny Windber. I'm sure that explains some things, and probably makes for more questions (as they met in May, married in July, and have now split as of 3 weeks ago, coupled with his entering rehab, naturally). Moving right along...
A single large table up front in the big windows, and through to a frontside banquet room. Some hightop tables and bar counter space run adjacent to the bar, and a dozen fat raised roundy tables & red leather booths mix in a side room further back. And a rear rear room with a single pool table.
Draft selections are printed on small horizontal chalkboards behind you dealt slat in 3 rows ala Gilded Otter. 15 taps spread across a worn copper roundy of 6, and a trio of tree each on the bar. Always a mix of good craft beer and a few macros & meh imports thrown in there. I come in about once every 3rd week and have always seen at least a few PA micros on each time (East End Monkey Boy, Rivertowne Old Wylies IPA & Babbling Blonde, Penn Weizen, Full Pint Chinookie IPA & AZO Impy Red, Stoudts Heifer-In-Wheat & Smooth Hoperator, Troegs Javahead Stout, Erie Railbender & Heritage Alt, Victory Hop Devil, Weyerbacher Harvest, Sly Fox 113 IPA), as well as some good craft selections for me to comb through otherwise (Hooray Oberon & Two Hearted!)
And bottles coolered on the end of the bar; singles, 7fidy's and 22's. Roughly 80 micros + cider & maltos. Some nice offerings bottled, I like to pick at them from time to time (Founders Porter, Anchor OSA, Bell's Java & Winter White, Voodoo Wynona's Big Brown).
Werfel and I did din & drinks there one night. I had wings, done mild as requested, and an okay chicken sandwich grilled. Wefel's somethingorother did not come with the fries we all agreed on (there is no joy in Mudville). As such, she is "so done with that place".
And service = suck. From the bartender who plays a deaf ear to the tale of servers not delivering drinks (as told by some guy who came up to the bar to get 2 beers because his server never served them). And then the other night, I just couldn't get a beer as the bartender was too consumed with root beer & Jager shots for the kids. It was sad. Sat talking with some nice folks who seconded and thirded my opinions there.
Monty Python Holy Grail showing now on the corner flatscreen. Yes, people are quoting aloud, and no, they should not. On a revisit, I found myself in on trivia night. I got smoked pretty badly overall, but I do know the 3 R's (Reduce, Reuse, Recycle) in the right config, so I've got that going for me.
Decent crowds overall, they're just not really drinking craft beer here for the most part, although someone must be, I mean they seem to be rotating through stuff pretty quickly. Always some solid selections, works for me...
4,883 characters

4.05
/5
rDev
-2.9%
vibe: 4 | quality: 4 | service: 4 | selection: 4 | food: 4.5
Things are relative and subjective, for the location and not being a local I would give this place an A+. A local may not rank it as high because this place has a beer palate that is very unique for the area and probably has beers that are a little more expensive. Coming from NY I thought the beers and food were a bargain. Any, in general this is a must visit place if you are a visitor in the Johnstown area. If I lived there, it would definitely be on my short list of watering holes. It has a world class beer selection that you won't find any other place in that region. The food selection does have local dishes, but is still a little eclectic. For instance I had pot roast over pirogies with a side of halushki. If you are from that region you know exact what this is, but probably have never had this particular combination. The chef is very innovative. And it was fantastic, and very reasonably priced IMO. We were a little disappointed when a group of us stopped by Saturday night to have a beer, but couldn't get in without paying $5 each cover for the band. We really only planned to have a single beer so we decided not to enter. I did return the next day because of the intrigue I had. And I'm glad I went. I hope they keep up their passion for craft beer. If so they will easily become "the" beer bar in the Johnstown area. Good job fellas!
1,356 characters
4.65
/5
rDev
+11.5%
vibe: 4.5 | quality: 5 | service: 4 | selection: 5 | food: 4.5
My kind of place. I couldn't leave. The food is deliciouse and well priced. You can't find a better beer bar in the area, especially with food to mach.They are always busy on the weekends with bands and everything although I prefer it quite with just me and my beer. There really arn't enough good things to say about the place it rates right up there with some of the best beer bars in pittsburgh. The closest competition would be in Frostburgh, MD but after discovering this place I wouldn't waist the drive. They don't need your business they're always busy but you'd never guess that from the service you get. Our waitress was very attentive and knowlegable about the menu as well as the beer! On the menu it say's that they hope you like it so much you come back everyday. Well since I was passing through the area the next day I couldn't help myself but to stop. Glad I did because our bartender just happened to be part owner and gave my girlfriend and I a grand tour. He was quite but the nicest guy you'll ever meet and him and his partner worked hard for three years to bring us this gem of a place. I would highly recomend stopping in if your passing by in any proximity definatly will not dissapoint!
1,212 characters

3.65
/5
rDev
-12.5%
vibe: 4 | quality: 4 | service: 3.5 | selection: 3.5 | food: 3
This place has a laid back vibe typical of a smalltown, western PA type bar. But instead of just some crappy macros it also has about 60 microbrews in the cooler, some hard to get, and a few more on tap that I normally don't see tapped. The service was a little slow but the bartender and I bullshat about beer, among other things, for quite a while. The prices are a bit steep and they get worse for when you buy anything to go, but nothing outrageous. As far as the food it is cheaply priced and for very good reason - some of the dullest, ho-hum bar food I've had in awhile. Wasn't bad - wasn't memorable.
608 characters
4.08
/5
rDev
-2.2%
vibe: 4.5 | quality: 4 | service: 4.5 | selection: 4 | food: 3
I stopped at the Windber Hotel for the first time last night, and from the moment I walked in, I had no doubt that I was about to enjoy my evening!
The first thing I noticed was the 40 foot bar complete with a brass rail... the second thing I noticed was the Gonzo Imperial Porter tap handle... that alone would have made it a good evening, right?
Anyway, the atmosphere is excellent. Nice restoration of an old building. Lots of wood near the bar, brick walls, subdued lighting, high tin ceilings, and a spacious yet inviting vibe. Good selection of micros and regionals on the 15 taps. Troegs, Victory, Green Flash, DFH, Flying Dog, Clipper City, Southern Tier to mention a few. The bottle selection is pretty good... most of the brands on tap are represented plus some Weyerbacher, Bear Republic, Voodoo, Stone, you get the point! The service was good... ran into a BA behind the bar... so conversation was good as well. The food is your typical bar/pub style. Sandwiches, Burgers, Salads, Appetizers, and a few dinners... oh and don't forget pizza. The food vas very reasonable in price. The draft beer was also reasonable (my most expensive pint was $4.00), however, break out the wallet if you want beer to go.
I enjoyed my visit to the Windber Hotel, and I know you will too, so get your ass down there now. See you there sometime!
Cheers!
1,352 characters
3.75
/5
rDev
-10.1%
vibe: 4.5 | quality: 3 | service: 4 | selection: 4 | food: 4
This place has recently reopened after being beautifully restored; a building that once housed the town's riff-raff is now a quality establishment. First, the good: There are plenty of great things to say about this place. It has been lovingly restored and it is a very comfortable place to hang and drink (or eat). The food is good and they usually have entertainment Wed. or Thurs. through Sat. Also, and most importantly, the tap list is pretty phenomenal and the bottled beer menu seems to be expanding weekly. As of this writing they had Bell's Oberon, Stoudt's Double Maibock, Troeg's Sunshine Pils, Dogfish Aprihop, Sam Adams Summer Ale, Weyerbacher Merry Monks, and others on tap. Anyone in the area will tell you that selection like this is unheard of in the Johnstown area. They seem to rotate the draft selection pretty frequently though and are always adding new bottled beer. Oh, and no smoking!!
All good, right? Unless you want to take beer home! My girlfriend picked up a sixer of Nugget Nectar for me and, without paying attention to the credit card receipt, was charged $21.00. Yes, twenty-one dollars for the sixer. I called because I knew this couldn't be right and, after being kinda blown off by a waitress who didn't care, was told to call back and speak with the owner. The owner informed me that, because alot of their beers were hard to get, they had to charge bottle price even for sixers. $3.50 x 6 = $21.00. I couldn't believe it. I've never heard of any place charging bottle price for sixers without knocking off a dollar per bottle. I still love this place and it's a mile from my house so it's an incredible find for a local watering hole with good beer. But unfortunately I will still have to travel outside of the area for beer to take home. And I'm still not sure why. Are the sixers of Coors Light $12.00 or $15.00? I hope not.
1,866 characters

4.05
/5
rDev
-2.9%
vibe: 4.5 | quality: 4 | service: 4 | selection: 4 | food: 4
Just reopend in November of 2007 after an extensive three year remodeling project, the Windber Hotel is serving great beer and good food. The atmospehere is amazing, restored original tin ceilings, an amazing back bar that dates to the building's original construction in 1897, a 40+ foot long bar and lots of unique reuse of building materials and creative lighting. Prior to its reopening, the Hotel was more or less a dive bar and flophouse that was nearly condemend for code violations but the new owners have made drastic, full scale changes. The 6 rooms availabel for rent (in the summer of 08) will all be themed rooms that highlight some local history, motorcycles, luxury, gothic, front porch and log cabin themes. Although the place is located in a small town, it would not be at all out of place in a metropolitan area
There are 15 taps, all but 4 feature craft beers (one has Guinness) that include rotating offerings from Troeg's, Dogfish Head, Weyerbacher, Victory, Clipper City (Heavy Seas), Sam Adams, Penn Brewery, Flying Dog and a few others. The owners plan on adding more breweries to the rotating tap selection as time goes on. There are another 70+ bottled craft selections.
The food is good. Nothing fancy, it is not upscale dining, more along the lines of casual/pub. Lots of munchies, sandwiches and salads, some seafood and some entree selections. The food prices are very reasonable. Since the place is new, there is room for improvement in the service department but it is still generally average to above average.
Children are welcome for dinner but after 10PM the place is for 21+. There is entertainement eveyr Thursday, Friday and Saturday nights featuring local and regional entertainment.
1,726 characters
The Windber Hotel in Windber, PA
Place rating:
4.17
out of
5
with
12
ratings