Cellar Wine & Spirits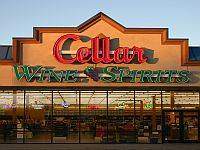 PLACE INFO
Type:
Store
555 W Main St
Norman
,
Oklahoma
, 73069-7060
United States
(405) 329-9463 |
map
Notes:
No notes at this time.
Added by starflyer58 on 01-05-2008
Reviews: 18 | Ratings: 30
4.65
/5
rDev
+6.4%
Stopped in for the first time ever today to this Cellar branch in Norman and was greatly impressed. The store is large, only one other store in Hill Country of Texas was larger. The beer selection is awesome, if it comes to Oklahoma, they have it here. Also a superb wine and spirits selection is present with some very special treats sitting behind the counter.
I came in looking for Bigfoot as this was reported to be one of the last sightings in the state. Not only did they have it, but actually had a lot. One of the reps came by, saw my cart holding Bigfoot, Chimay, Rouge Double Dead Guy, Mephistopheles, and Kwak and asked what styles of beer I prefer. This quickly turned into a discussion of regional and world offerings of IPA's, DIPA's, Stouts, Belgian's, and Barleywine's. By the time it was done, I had four beers I had not even heard of riding home with me, and of the two I have sampled, I am mightily impressed with the knowledge and expertise.
The prices are a bit higher than some "bargain" stores, but the knowledge and expertise of the staff is what your paying for. Anytime you go in, just ask what's new on the beer wall, you may discover a gem.
1,170 characters

4.5
/5
rDev
+3%
Great liquor store... massive selection of wines and spirits... pretty much anything you could possibly want. Great beer selection as well (at least for Oklahoma). You can even pick out individual beers from a large wall and make your own six pack. The staff is very knowledgeable and very useful in helping you pick out what you are looking for. They also feature seasonal and specialty brews so they are easy to find and try out. They often advertise new arrivals timely. Overall my favorite liquor store in Norman.
517 characters

4.3
/5
rDev
-1.6%
This is another branch of The Cellar family. This store is no exception to quality and service. The store is large and spacious and is one of the better store downtown Norman. It was nice to see this store go in. The store offers a wide array of liquors, wine and beer. The beer selection is one of the best in Norman. The quality of the beer is no exception, they take good care of there customers here. The service is top notch also. The will ask you what your looking for and try to help you find the beer or help educate you on beer styles for the beginner. The selection is great also, there are over 500 different brew from a plethora of brewers all over the united states and world. The store is slightly pricey but you pay for what you get. If you want great service, great quality, and great selection in Norman then you go here.
838 characters
4.65
/5
rDev
+6.4%
I have been going there since moving to the area about 6 months ago. Selection is better then any shops that I usually frequented in the Los Angeles area. Only down side is because of the OK liquor laws, which limits what they actually can offer.
Service is really exceptional, as somebody mentioned they will talk to you all you want or just let you browse around. From my non beer purchases they also seem very knowledgeable about their other offerings.
Was very surprised with some special offering they have. I am now sipping an Avery Mephistopheles from 2007 that they aged on site. Very good and quite a nice bit of service. I hope they have aged some other brews that can be better when aged.
702 characters

4.8
/5
rDev
+9.8%
The Cellar is going for quantity AND quality. Excellent selection to be had here... perhaps the best in the state of Oklahoma. Best I've seen anyhow. They won't win any price contests but I don't think that is the point at this location or The Cellar up in The Village.
Everytime I go in there I'm the proverbial kid in a candy store as I go through the new beers and then the old familiars and attempt to decide what new beer I'll try next. Picked up 4 singles today that I've never had and a sixer of Indica IPA which is another new one for me. Sweeet.
I'd be remiss if I didn't mention the service. They won't bother anyone who just wants to browse... but they're more than happy to engage anyone who wants to talk beer. And they know what they're talking about. Seems as if the denizens of the beer section were hand picked by management out of a group where only beer lovers need apply.
895 characters

3.8
/5
rDev
-13%
This has been my go to liquor store for about the past year. On the plus side the store is massive and boasts a nice selection of beers, at least for OK. Another benefit is that you can buy any beer there as a single rather than as part of a 6/4 pack (although they don't offer a make-your-own-6 at a flat rate - you have to purchase each one individually). However, I have found that they have some offerings there which are past their prime. Therefore, I recommend checking the dates of anything you purchase there, or at least stick to the seasonals or new releases. The price of having such a huge selection is that sometimes certain brews might sit of the shelf for a long time...
685 characters

4.5
/5
rDev
+3%
Figured since I've always had so much luck with the Cellars in OKC, I should stop by this one and see what's kickin' as my wife and I were in Norman for a doctors appointment. After deducing that the Cellar had taken the place of the old Hobby Lobby, and speculating on why Hobby Lobby was gone as it was always fairly busy, we pulled into the parking lot and moseyed on in.
We were greeted at the door by a friendly lady and gentleman and by a vast space full of tons of wine, liquor and beer. My wife perused the wine while I headed to the back for the beer wall where I was met by a section of "New" beers. I like this, as all the newer brews are in one place, and you don't have to peruse the fairly vast selection to seek out seasonals or new releases.
As with the other cellars, the selection is very nice, with your usual suspects, as well as a bunch of new beers by Great Divide, Rogue, Sam Adams, Boulevard etc. The Belgian section also has a nice group of offerings. If you're in Norman you should not want for just about any type of beer you want. If you're looking for a hop fix, they got it. If you're looking for some hefes or Belgians, they got it.
While Oklahoma's beer laws are pretty screwy, places like the Cellar are helping by keeping a good stock of brews and keeping up on the new release. I only see it getting better.
1,348 characters
5
/5
rDev
+14.4%
Its not always easy giving out a 5/5 in every category for a store, but The Cellar definately deserves it! This isn't your typical hole-in-the-wall liqour store. No, this is something else. The service was amazing. From spirits to wine and booze, these people know their stuff!! Also, if you've seen the size and layout of the store, you know this place deserves an exceptional rating for the selection category. Its like the Whole Foods of Liqour! I've always bounced around to different liqour stores in Norman, but now I've found my new home:)
546 characters
Cellar Wine & Spirits in Norman, OK
4.37
out of
5
based on
30
ratings.