Dismiss Notice
Extreme Beer Fest:Los Angeles
Join us December 9th in Los Angeles for the ultimate throwdown of craft beer creativity!
Learn more...
Dismiss Notice
Deon's 1 Stop Beverage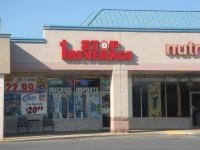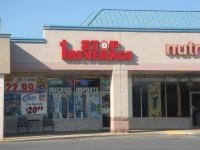 PLACE INFO
Type:
Store
1101 Woodland Rd
Wyomissing
,
Pennsylvania
, 19610-1214
United States
(610) 371-9636 |
map
1stopbeverage.com
Notes:
No notes at this time.
Added by yourefragile on 01-06-2008
PLACE STATS
Reviews:

9

Ratings:

pDev:

11.55%
HISTOGRAM
Ratings: 9 | Reviews: 9
Reviews by runesead:
4.45
/5
rDev
+9.3%
I have patronized 1 Stop for a few years now and it truly is a diamond in the rough.
The front offers the common beers such as Yuengling, Coors, Sam Adams (a good selection, mind you) and several malt beverage and wine cooler cases.
But do not let this average selection deter you, beer fans, for once you step in the back, you feel like you have stumbled on a secret beer lair. Suddenly the selection seems more for the true followers of beerdom, with local microbreweries like Stoudt's, Sly Fox, and Victory and famous craft breweries like Stone, Dogfishhead, and Magic Hat. They also carry imports like Young's, Grolsh, Delirium, and Japanese beer. Even better, most beers in the back list the Beer Advocate rating so there is no need to scope out beers you haven't heard of and spend time looking up if it's any good.
The owner (whose name escapes me now) and I have become aquaintences and he has, on occasion, informed me a day in advance of beer specials.
The one unique trait that this place offers that I haven't seen any where else is that they always have three beers on tap for sampling. This introduced me to Bud American Ale, my guilty pleasure beer.
I have spoken with the owner about ordering beers, recently Alba Scots Pine Ale. He quickly ordered the case and called me when it got in.
Apparently, for his frequent customers, the owner cuts deals on certain beers, sometimes shaving off 5 or 10 bucks off cases he feels are overpriced. (But you didn't hear that from me.)
There is another, secret perk that I can't discuss, but hang around there enough and you'll hear about it...
1,606 characters
More User Reviews:
4.86
/5
rDev
+19.4%
vibe: 5 | quality: 5 | service: 5 | selection: 4.5
This store was taken over by a new owner just after Thanksgiving. The old store was kind of cramped and dark before. This new store is bright, friendly and inviting! The staff is very knowledgeable and are very willing to help. The craft beer selection has moved from the back to the aisles on the left side of the store. Just take a left after you walk in the door. There is an AWESOME selection of beer. Lots of stuff that you don't see at any other stores in the area. If there is anything you don't see just ask and they can order it for you. They have a few 1/6 but they said that they will be carrying a lot more in a few months. If you need macros for your friends they have pretty good prices on them too. The prices of a lot of the micros went down as well.
766 characters
3.14
/5
rDev
-22.9%
vibe: 3 | quality: 3 | service: 3 | selection: 3.5
Some decent craft beer in the back. Junk mass produced swill is in the front stacked high for the masses. Overall this is a small space, but they do a nice job w the size limitation. The catch w this place is they are located next to a liquor store, hence the name... You can get your liquor and beer at the same time, cure what ails you. The problem w that though is the rent is high in this strip mall, and that gets reflected in the prices. (as told to me by an insider) An example of that would be a case of Hopslam I got last year for $70 was selling here for $84. I still stop in though to see what they have. I've definitely seen the best selection of DFH here for the area. Not the most mind you, but they get stuff like Bitches Brew and Squall rather than just offering stacks of 90 and 60 minute IPA. Founders selection is decent too. Be sure to check the dates though, I've seen some ancient IPA cases here. Pretty common I guess, but annoying nonetheless.
** UPDATE: This place is currently trying to sell a case of Victory Dark Intrigue for $220. It was $150 at the brewery and I've seen it as low as $130 at other distributors. Big time 'booo' for the pricing. Some poor unsuspecting person is going to get raked. Not cool at all...
1,246 characters

4
/5
rDev
-1.7%
don't totally skip the front "macro" room, as there were some decent options there too, sam adams variety packs and the like. the back room is, however, where it's at. other than my obvious objection to everything being case only, the selection was great.
great prices on local beers like stoudts, sly fox, weyerbacher, victory and troegs, with some impressive out of town selections. tons of cases of founders, for example.
import selection is good but it's hard to compare prices since i so rarely see imports by the case.
staff was hands off, as mentioned, but helpful and knowledgeable when i approached them with any questions. did not sample anything from the three taps, but it was a nice feature. had a long list of sixtels available too.
752 characters
3.8
/5
rDev
-6.6%
I've been in here a few times while the wife goes to A.C. Moore. Great way to pass the time. The first room you walk into has mostly macros and a few specials on display. The room in the back is where all the good stuff is.
I was surprised by the selection the firsy time I went in. It is absolutely stellar! Last night I saw a wide range of offerings from Founders (incl. Breakfast Stout, 4 cases!), Sly Fox (incl. an interesting looking big bottle variety case), Bells, Victory, Troegs, Stone, Stoudts, and quite a few others. I didn't spend much time in the import section, but it did look pretty extensive. The prices were as good or a little better than I've seen elsewhere.
I don't know how quick their inventory moves, so watch your dates in here. I saw a few things that I know would have to have been there for a while. True some of them would age well, but still, keep your eyes open. Overall though, I have no problem recommending a visit.
953 characters

4
/5
rDev
-1.7%
I was at the Berkshire Mall yesterday and I've heard about this place being right across the street so I figured I'd check it out.
From the outside you could miss it. It's overshadowed by the liquor store right next to it. It's small from the outside, but it stretches back pretty far.
When you first walk in you are presented with your basic beer store beer. They have your Miller Lite, Coors Light, Bud, and Sam Adams. They have cold beer too, but it's PA so it's only cases. If you walk straight back from the front door, you've found out why to go there.
In the back room is where they hide all the imports and micros. You first walk into a wall of variety cases. I really liked this. They had a great selection of variety cases from Victory to Brooklyn to Southern Tier. The great selection continued for two more rows of your imported cases.
I was very impressed with the selection at this place. As for the service, no one really came to ask me questions, but I didn't care because I was happily looking around. The prices are pretty good too. I think the next time I'm at the mall, I'll drop my girlfriend off there and head over to 1 Stop for a case!
1,166 characters
3.85
/5
rDev
-5.4%
I've worked in the same strip as 1 Stop for a while, so i finally decided to go down there and check it out.
The main room is full of the usual stuff, sam adams, miller, coors, bud, yuengling and all the cheaper stuff. However, they did have some founders in the main room because they had it on sale. They were also having a free tasting of founders red rye which was pretty cool.
They have a back room, which they call their "specialty" shop. This is where they hide all the craft brews. They had a pretty good selection of american crafts, like DFH, founders, bells, stoudt's, troegs, bear republic, southern tier, great divide, boulder beer company, among others. Their selection of belgians was less extensive but they still had them.
The employees are very hands off, which is ok as long as you know what you're looking for or recognize what you're looking at. I never bothered asking questions to see if they knew anything about what they carried, so who knows.
They don't get a lot of business because the local PD harass a lot of the younger looking customers coming out of there. There is usually an undercover parked in the lot outside keeping an eye on things and i routinely see cops stopping people or pulling over cars of people who have just come out of there. It must be because of the colleges that are in close proximity and they try to bust the underage kids getting alcohol from their older friends. Its a shame really, it has to hurt business. But, if you're 21, no problems there.
1,507 characters
4.05
/5
rDev
-0.5%
Located across from the Berkshire Mall, two doors from A.C. Moore, 1 Stop Beverage is easy to miss given its size and appearance.
The main floor carries much of your macro fare and has coolers dedicated to the same. The back area features a pretty impressive selection of micros to include Stone Brewing, Bell's, Founder's, Troegs, Anderson Valley, Green Flash, Ithica and Great Divide to name a few. Unfortunately, most of their product line is sold in cases, which is pretty standard for this area when it comes to craft beer. I feel privileged that Connecticut has stores that feature 6-pack and single purchases, but I'll take the selection of 1 Stop Beverage any day.
I've been here a few times now, and the staff is always hands off. I have never required any help, so I can't speak on their assistance from that end. They are courteous, and that goes a long way in my book. Still, I like when an owner or manager introduces themselves, lets me know they can be of assistance, and informs me of special interest items.
Overall, I enjoy shopping at 1 Stop Beverage. My preferred place to obtain quality beer in the Berks County area. Each time I visit, they always feature new products. Definitely worth a visit.
1,220 characters
4.5
/5
rDev
+10.6%
Located in Berkshire Mall West (the strip mall with Circuit City, Outback, etc, across the street from the mall proper) right next door to the State Liquor Store.
I guess the store has been open for a little over a year now and I had always driven by assuming it was just your typical stop for BMC products given it's unassuming size, appearance and location. While shopping on Black Friday I was bored and stopped in to kill some time, encouraged when I noticed the words "Micros" and "Imports" printed on the front windows.
The main room looks like exactly what I expected, some sodas, snacks, lots of BMC, a few coolers on back wall, only thing catching my interest were a few gift packs that seemed out of place with all the beer around it. However, in the back right corner is a sign that says something like "Micro room" (I don't remember exactly). Along the wall walking back into the room you notice a nice selection of variety cases from places like Yards, Stoudts, Bells, Great Divide, etc and in the back are greeted with a small room with two aisles of shelves.
Given the amount of space here, there isn't a whole lot of room for beer, but they make up for it in selection. One row of imports, some belgians, didn't spend too much time looking at them. What first really excited me was finding a few cases of Founder's Breakfast Stout on the floor under a case or two of Middle Ages. I've also found some cases of Port Brewing Hop 15, Hoppin Frog, and some other harder to find beers that I can't regularly find in Reading or Lehigh Valley easily. Plenty of Stone, Rogue, DFH, other Founders, Bell's, etc.
Prices are slightly higher than you would find at places like Shangys, Tanczos, Beer Yard, Stockertown, or Beer Mart (but only by a few dollars a case most times), but I don't mind given the convenience, variety and selection offered by such a small place compared to the others at a much closer location.
Service has also been excellent every time I visited, as whoever is working usually is more than happy to talk about beer (and are generally knowledgeable) or help locate something and try to order things they might not currently have in stock.
If you are in the Reading area, I highly recommend stopping by here, especially if you were skeptical of them based on their location and appearance like I had been. You'll be pleasantly surprised by what you find
2,393 characters
Deon's 1 Stop Beverage in Wyomissing, PA
Place rating:
4.07
out of
5
with
9
ratings