The Terminal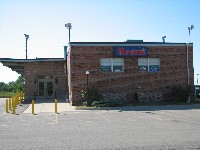 PLACE INFO
Type:
Bar, Eatery
5917 S Howell Ave
Milwaukee
,
Wisconsin
, 53207
United States
(414) 489-7746
// CLOSED //
Notes:
No notes at this time.
Added by BeerBelcher on 01-06-2008
Ratings: 9 | Reviews: 9
Reviews by jim102864:
3.95
/5
rDev
+9.7%
vibe: 4 | quality: 4 | service: 4 | selection: 4 | food: 3.5
This former truck terminal set back and somewhat hidden from the main road was purchased by the owner of the now closed beer bar, Landmark 1850 Inn. It's easy to miss. They've done what they can to make the place more visibile by placing a large sign with red letters at the entrance, but according to the bar manager, people still pull in, look at what appears to be a tiny building and for whatever reason, leave. There's also been a fair amount of grumbling by the former Landmark regulars since the current tap selection has been reduced from 40 something at Landmark to 12, resulting in dwindling attendance by the former loyalists. The plan though is to eventually double the available tap handles. And due to lack of refridge space, the bottle selection has also been reduced.
Terminal's owner took seven years to purchase and renovate the place which is actually quite spacious. The entrance on the first level is a large area with several pool tables and tables for dining. The second level is the bar area which is quite large. There is a strange looking suspended copper tile ceiling that weighs heavy over the bar and reduces the possibility of increasing the existing dim lighting. I think it does little to add to the ambiance. Lots of carved wood behind the bar. There is a giant hutch for lack of a better description, containing 1800's era wooden-doored coolers with chrome handles and an antique tube radio system that the owner is apparently very proud of. He also has a small area fenced off with an old Wurlitzer juke box and a few others on display. He bought wrought iron fencing from a local cemetery and used it as a railing overlooking the lower level. The fencing is posted with large brick columns with lanterns atop each. Interesting but all of this decoration makes for a rather heavy atmosphere. The place is spacious but somewhat over the top.
More importantly, the beer selection was very respectable. How often can you track down either a 2005 vintage bottle of JW Lees Harvest Ale Sherry Cask or 2005 JW Calvados Cask never mind both in the same place! Also De Dolle Dulle Teve, and a small supply of micros. On tap, Dark Horse Crooked Tree IPA, Paulaner Hefeweiss, a Russian Imperial Stout (the brewery eludes me), and several others including Miller freaking light (for god's sake!). Efficient and pleasant bar help. In fact, the bar manager, seemed eager to tell us what seemed like the entire history of the place and Landmark. She intimated that there is no concrete plan for reopening the Landmark since this placed just opened three months ago.
If you're taking a flight from the airport which is adjacent to the building, the location cannot be beat, considering that the rental return center is 1 mile down the road. A worthy beer bar, worthy of support by both locals and visitors alike.
2,837 characters
More User Reviews:
3.85
/5
rDev
+6.9%
vibe: 5 | quality: 4 | service: 3.5 | selection: 3.5
I'll be honest, the only reason I went here for a pint was because I heard it was closing (well, turning into a banquet hall or something). After hearing about it for a while I figured I'd swing down there for a brew before it's gone.
I'm glad I did.
The atmosphere was absolutely incredible. We walked into a massive expanse that seemed to go on forever. Empty tables lined the floor and wood and metal railings surrounded us on the way up. The bottom was completely empty and the place looked amazing! It felt like I was walking into an old English train station! We walked up the stairs and across from this little cat-walk was the bar. Everything was made out of nice, decorative wood and had such a fantastic atmosphere to it!
Our group popped a squat and ordered a brew. I got a Weyerbacher Hops Infusion which was ok. Poured to the top of the stemmed glass and served by a bartender who was very moderately friendly. The selection wasn't lacking but it wasn't great either. Some fridges with bottles were down below and from what I remember, one large tap selection was in the middle with around 10 taps or so.
I couldn't begin to imagine that place packed. It would be ridiculous. The amount of space there that can be used seemed to be gone to waste, but on the same hand, that's one of the best things about the place; the feeling of being in an incredibly massive area, decorated wonderfully, but seeming like a little speck.
If you get the chance to make it out there for a beer before it's gone, take some time to soak in the wonderful atmosphere of it.
1,571 characters
4
/5
rDev
+11.1%
vibe: 4 | quality: 4 | service: 4.5 | selection: 3.5
Finally got to this place this weekend. It's a mere 5 minutes from my house and yet it took me this long to check it out.
The first thing you notice when you enter id the massive size of this place. It's freakin huge. I was there on a Saturday night at about 11 and was able to find plenty of stools for me and my friends. The staff was plentifuland and very attentive. Everytime I ordered a beer while my server was turned around filling my glass, another server would ask if I needed anything. I love bars that are over staffed with young aggressive servers. The beer selection although not expansive in size was good enough for my tastes. Southern Tier Pumpking on tap was a pleasant suprise along with Rogue and a few other micros to boot.
I didn't try the food although the stuff coming out of the kitchen looked real tempting.
Overall a decent place to have a beer or two. I would love to go back again.
915 characters
2.4
/5
rDev
-33.3%
vibe: 4 | quality: 2 | service: 2 | selection: 2 | food: 4
The location of this bar is set way in the back from the road, I think if the old landmark bar wasn't there you would very easily pass this place by. On that note thou the place inside is massive, with an equally as big beer garden. (which is nice in the summer and fall to sit out on and enjoy a few)
The atmosphere of this place is very nice, they have a lower level with pool tables, and the upper level has the bar and kitchen. The bar itself is small, I mean for as big of a place they could have made it bigger. Plenty of tables and room for moving around it.
As far as the quality it's pretty much like any bar you would find in downtown Milwaukee which in part is what saddens me. Their selection, is very minimal at best they have nothing that makes them stand out, and with a selection that you can find anywhere it defiantly doesn't do it for me.
The service the last several times that I have been there have not been good, no knowledge on selection, not very in tune to the customers. I had to ask every time I wanted something which was a turn off for me.
The food was one of the better experiance that I had there, they have a good selection, from appatizers, to pizza, it all was good, I would go as far as to say go there for the food first and the beer second, but if your in the area it's not a bad place to stop for a bite and a beer, pricing was reasonable.
Over the value is like any other bar in Milwaukee, I can't say it's a bad place just not outstanding, if your tired of the downtown bars, it might be a good place to stop, it won't cost you anymore than what you would pay downtown milwaukee
1,625 characters
2.55
/5
rDev
-29.2%
vibe: 2 | quality: 2 | service: 4 | selection: 2
The Terminal looked impressive from the outside. The building is a rather large brick building. It is an old freight dock that has been converted (the old Tax Air dock I believe). It has a large attached and elevated wooden deck. The deck faces one of Gen. Mitchells main runways. It is a nice set up.
I walked in about an hour after it opened. The staff was still turning on the decorative lights. There were only two people in the bar.
The first thing that I noticed was that the place stinks. The air reminds me of an old wet ash-tray. The stench assaulted my nose.
Other than that the place was very clean and orderly.
On the inside it is a nice split level design. Brick, wooden paneling and nice iron work really give the place a comfortable old feel. There were numerous places to sit. Really nice and spread out. There were video games, darts, pool tables and several flat screen TV's. The place was really set up to entertain the patrons.
The bar is really nice, but when I sat down at it I realized something. Eather the bar, the bar back-drop, the cash register, etc... are replicas or the owner cannabilized the Landmark 1850. I am not sure what that means for the 1850.
There was 12 taps, numerous bottles. The selection was not impressive. I saw 1 Lakefront beer, 1 Sprecher beer and 2 New Glarus beers. Everything else was eather BMC or on contract here in the States to be distributed by BMC.
The service was quick and friendly, but the place was empty, so I am not sure what that means.
This place is definately not high on my list of bars. I would have given it a higher Atmosphere/vibe score but the stench killed it for me. If I could give the owner two points of advice they would be; 1. Do something about that cigarette stench. I could not smell my beer. 2. Dump all of that BMC beer to bottles and get some real taps.
1,849 characters

4.45
/5
rDev
+23.6%
vibe: 4.5 | quality: 4.5 | service: 4.5 | selection: 4.5 | food: 4
Thanks to Shawn of Three Cellars, I stopped in at this place on my way back to the airport and home. I loved it!
A converted railroad terminal (I think), the place has a great look. It has been rehabbed very nicely with lots of dark wood, a long L-shaped bar and plenty of tables. And an outside deck that I saw from the outside.
I was looking for some good craft tap handles and The Terminal delivers. IT looked like 10 taps, with only 1 BMC. I had a New Glarus Spotted Cow and a Tyranena "Devil Over a Barrel" (that beer rocks!). Also saw Founders Dirty Bastard, a Sprecher and some other cool stuff. Service was very nice and friendly.
I had a steak sandwich (not a Philly steak sandwich, the kind where they put a steak on a toasted bun) that was quite good. The fries tasted like the were sliced fresh and then cooked, unlikely as that is. Nice coleslaw too.
I almost forgot to mention the free wifi. It was nice to be able to check my work email while unwinding with a fine craft beer.
Highly recommended!
HV
1,023 characters

3.8
/5
rDev
+5.6%
vibe: 4 | quality: 4 | service: 4 | selection: 3 | food: 4.5
Landmark Tavern has become "The Terminal" Atmosphere: 4.0; from the outside, it's unimpressive, sort of a truck loading warehouse that has been cleaned up. Inside, it is loaded with architectural details from old Chicago and Milwaukee buildings. The restrooms are from a hotel in Chicago. The bar is made of pieces from an old bank. Lots of other artifacts including bits of the Schlitz brewery. This is a huge beer hall: room for about 250 indoors and another 200 in the beer garden.
Selection: 3.0; from reading previous reviews, the Landmark had about 50 taps and comparable bottled selection. The Terminal, unfortunately, has only 12 taps and half of them are macros. On tap during my visit: Guinness, Harp, Sierra Nevada ESB, Bells Expedition Stout, Hacker Pschorr Wiess, Tyranena Bitter Woman, Sprecher Amber, Bell's Hop Slam, Miller Lite, Smithwicks, New Glarus Spotted Cow, Leinenkugel Red Lager. I had the Hop Slam and Sierra Nevada which were both excellent.
Service: 4.0; I visited during the middle of a cold rainy afternoon and was one of only five customers. That said, the service was very attentive and friendly. The manager was happy to talk about the operation, fate of the Landmark, local history and beer. She sounded very optimistic about the future of the Terminal.
Quality: 4.0; Everything seems to be well thought out and technically well done. It was a bit lonely being in a small island of people in this enormous place. Some decorating items seemed a bit incomplete but work in progress. The only big issue would be the location: way off the road in a sort of industrial region of the Milwaukee airport.
Food: 4.5; I ordered the cheeseburger with fresh made French fries and cole slaw. It was all excellent and fairly priced.
I would definitely come back here for another visit. I sincerely hope they make a go of it. I think the size and location might be a big handicap.
1,906 characters
4
/5
rDev
+11.1%
vibe: 4 | quality: 4 | service: 4 | selection: 4
I am disappointed. The 1850 was the penultimate beer bar in town. Yeah i know the really hard to find vinatages are available, but this is one of those places i used to love to bring true acolytes to christen them into the world of really good beer. Went there on a business meeting with my boss, who is trying to get away from Michelob. He was looking to try a few things, so we stopped by the Terminal (landmark 1850) to sample some wares. 12 taps is not a lot. I was at a loss for inspiration. Not something that happened at the old place.
The space itself is amazing. 7 years of very good labor went into making this beauty of a space. I think though that it is laid out for events more than a bar. The upper space has the majority of serving capacity, and the larger lower area is dry. There is a small banquet bar set-up in the lower area, but it will not do. I know other posters talked about the lack of fridge space limiting the selection, but come on, they had 7 years. They could have made more room for more beer.
1,027 characters

3.4
/5
rDev
-5.6%
vibe: 3 | quality: 3.5 | service: 3.5 | selection: 3.5 | food: 3
The Terminal opened behind the Landmark 1850 (billed as Milwaukee's Oldest Tavern), and my understanding is that the Landmark moved its operations to The Terminal while the Landmark 1850 building undergoes renovations. The waitstaff, clientele, and some of the beer selection also migrated to The Terminal.
The building is BIG, much bigger inside than I anticipated, and it appears to be freshly renovated. I visited on a Thurs after work, and the upstairs bar was quite busy but the large downstairs dining room/reception hall was unused. Service was quick and efficient while still being decently friendly. There were a few bar-tendresses behind the bar working a large crowd, so there wasn't a lot of time to chat. Beer selection was quite a bit smaller than Landmark's but there was some discernment and thought put into it. There were about 8 taps, and draft selections included Anchor Christmas, Big Eddy RIS, Chimay, Bell's Double Cream Stout, and Goose Island IPA. Bottles included two different JW Lee beers. Unlike Landmark (which I've been critical of), everything tasted fresh and as it should. Like Landmark, the crowd is decidedly not beer-geeky. Most folks seemed to have mainstream beer or mixed drinks. I had a burger/fries/coleslaw, and it was pretty decent but far from gourmet food. This isn't a bad place, and I'd throw it in the mix of bars that I visit.
1,384 characters
The Terminal in Milwaukee, WI
3.6
out of
5
based on
9
ratings.